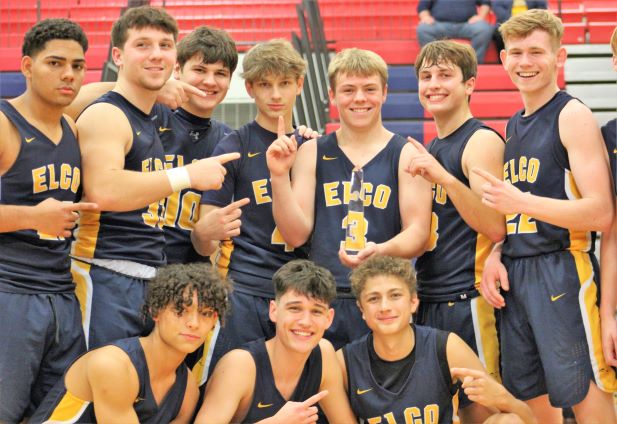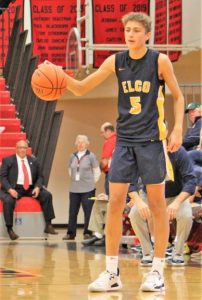 BY JEFF FALK
Editor
LEBANON – To calm some qualms.
To answer some questions.
To gain some confidence.
To build some momentum.
It's no cure-all. But man, there's just nothing like an early-season championship.
On Saturday night at Lebanon High School, the Elco boys captured the title at the Cedars' annual tip-off tournament with a 64-56 victory over Spring Grove in the final game. After gaining control of the championship contest late in the third quarter, the Raiders just made plays and nailed free throws down the stretch.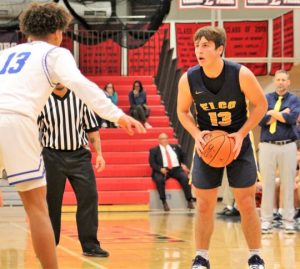 The championship was Elco's third overall at the event and lifted it to 2-1 on the young season. Raider junior forward Camden Marquette was named the tournament's most valuable player.
The result left Spring Grove 1-2 overall.
"That's a good win for us," said Elco head coach Brad Conners. "We love playing in this tournament. We look forward to it every year. It's like these games in this gym against these teams prepares us for section (Three of the Lancaster-Lebanon League) play.
"You've heard it a hundred times and you'll hear it again," continued Conners. "Our goal is just to get better every day. That's always going to be a goal. I'm not going to put a number on it. I'm not going to put limitations on it."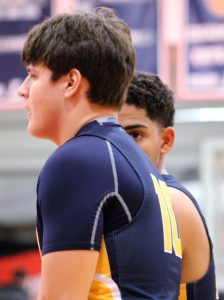 Although they weathered a number of Spring Grove storms, the Raiders never relinquished the lead after Logan Kless' three-ball to open the fourth quarter gave them a 38-31 advantage.  Later in the stanza, a 7-0 Elco runm consisting of five Marquette points and two Dallas George foul shots, gave it a 55-46 advantage, with 1:57 to go.
Elco went 14-for-15 at the charity stripe in the fourth quarter alone.
"Just the fact that they (Spring Grove) kept coming at us, and that we didn't melt," said Conners of his club's performance in crunch time. "None of our guys batted an eye. We ran our offense and ended up with good shots.
"We were just executing," added Conners. "I remember the execution and us just being fearless. It's good for these guys to be able to pull out a game like that."
After Spring Grove had extended its three-point halftime margin to 29-23, Elco held the Rockets without a score for a 4:35 stretch of the third quarter. The Raiders took the lead for good on a pair of foul shots from Kless, before teammate Kody Boyer beat the third-quarter buzzer with a three-pointer, to push the lead to 35-31.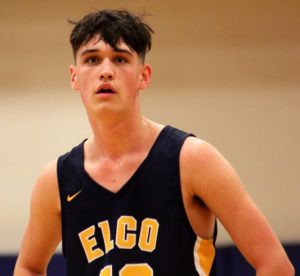 "Our focus all preseason, and even tonight, has been defense," said Conners. "We want to be defined by our defense. It's a work in progress. Practice is interesting. There's a lot of stopping and a lot of learning.
"I know we have a standard we want to play to," Conners continued. "It starts on the defensive end. We're not where we want to be. But we're a lot closer than we were a week ago."
Marquette notched 15 of his team-high 19 points in the final period. George pumped in 16 points and joined Marquette on the all-tournament team, while Kless contributed 13 points.
Boyer was also named to the all-tournament team for Elco, which converted 18 of its 21 free throw attempts overall.
"Dallas is tough," said Conners. "We just ask him to do so much. His on-ball defense is great. He gets his hands on so many balls. He's just a gritty kind of kid. He might miss a shot on the free throw line, but he's never going to choke."
An inside move from Marquette staked Elco to an early 14-11 lead. Then back to back three-pointers from Raider Aidon Fritsch knotted the score at 23 in the middle of the second stanza.
"I saw a lot of positives from the Pottsville game (on Tuesday) to last night," said Conners of a 63-49 victory over North Schuylkill on Friday. "We saw a big jump."
To purchase images in this article please email jeff@lebcosports.com.
2022 Elco Boys' Basketball Schedule
| | | | | | |
| --- | --- | --- | --- | --- | --- |
| 2022-12-06 | A | vs | Pottsville(11) | L | 37-51 |
| 2022-12-09 | N | vs | North Schuylkill(11) | W | 63-49 |
| 2022-12-10 | N | vs | Spring Grove Area(3) | | 0-0 |
| 2022-12-13 | A | vs | Hamburg(3) | | 0-0 |
| 2022-12-15 | A | vs | Lampeter Strasburg(3) | | 0-0 |
| 2022-12-19 | A | vs | Wyomissing(3) | | 0-0 |
| 2022-12-22 | H | vs | Middletown(3) | | 0-0 |
| 2022-12-29 | A | vs | Eastern York(3) | | 0-0 |
| 2022-12-30 | N | vs | TBA() | | 0-0 |
| 2023-01-03 | A | vs | Northern Lebanon(3) | | 0-0 |
| 2023-01-05 | H | vs | Lancaster Catholic(3) | | 0-0 |
| 2023-01-06 | A | vs | Blue Mountain(11) | | 0-0 |
| 2023-01-10 | A | vs | Cocalico(3) | | 0-0 |
| 2023-01-13 | H | vs | Octorara(3) | | 0-0 |
| 2023-01-17 | H | vs | Donegal(3) | | 0-0 |
| 2023-01-19 | H | vs | Lampeter Strasburg(3) | | 0-0 |
| 2023-01-25 | A | vs | Annville-Cleona(3) | | 0-0 |
| 2023-01-27 | H | vs | Northern Lebanon(3) | | 0-0 |
| 2023-01-31 | A | vs | Lancaster Catholic(3) | | 0-0 |
| 2023-02-03 | H | vs | Cocalico(3) | | 0-0 |
| 2023-02-07 | A | vs | Octorara(3) | | 0-0 |
| 2023-02-09 | A | vs | Donegal(3) | | 0-0 |