The Lebanon County Youth Football Weekly Round-Up is proudly presented by TJT Sports, 2022 Best of the Lebanon Valley Award Winner.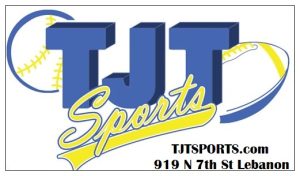 Click to find out more.
This feature recaps last weekend's action from the youth football organizations that chose to partner with LebCoSports. Much of the reporting below is written by the dedicated volunteers within these organizations.
---
Palmyra Cougars
CFA – Liberty Conference Age group information
Midgets (10-2) Cougars 0 v Hershey Trojans 12
Ponies (8-3) Season complete
Peewees (12-0) Cougars 6 v Good Shepherd Rams 0
Smurfs Season complete
The Palmyra Youth Cougars ended their season at Bishop McDevitt's Rocco Ortenzio Stadium at CFA Super Bowl 50 – Liberty Conference, with both the Midget and Peewee teams taking the field for a chance to bring the title back to Lebanon County.
The Midget Cougars engaged in a hard-fought defensive battle with the Trojans from the opening whistle, while eventually seeing their season end with a loss. While the other team celebrated, the rain began to fall around the 13U team as they huddled together for their final team talk from the coaches. The scoreboard did indeed reflect a victory for Hershey, but the Middle School Palmyra Cougars Team had an aura of accomplishment. The imprint they left over their past seasons with the Palmyra Midget Football Association has forever changed the landscape of football in Palmyra, as is evident throughout the season and the success of the other younger teams.
The Peewee Cougars plunged head-first into a stubborn Rams defense. Through the first 3 quarters, the game felt like it was only played between 40 yard lines. As the game progressed, tension and apprehension began to mount amongst all those in attendance. Slowly, the 9U Cougars defensive and offensive combination moved the battle lines deeper and deeper into Good Shepherd territory. With little time to spare, they ran a quarterback sneak and pushed the pile over the goal line to complete their undefeated season, along with a Super Bowl Championship.
The Cougars fall season has ended, but any time you earn the privilege of practicing beyond daylight savings is a blessing. Look for all these youth Cougars in their winter sports from wrestling to basketball. You can expect this team to be even more hungry next season now that they've collectively tasted what competing for, and playing in, a championship feels like.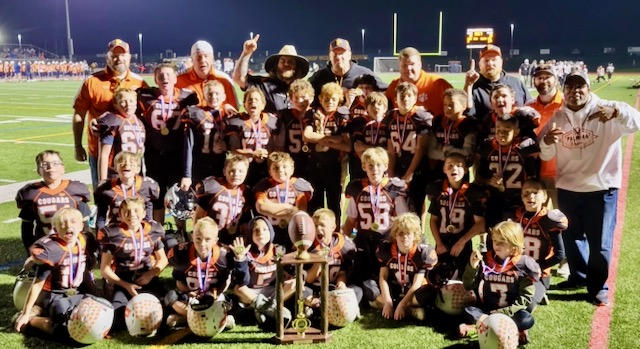 CFA Super Bowl 50 Liberty Conference Peewee Champions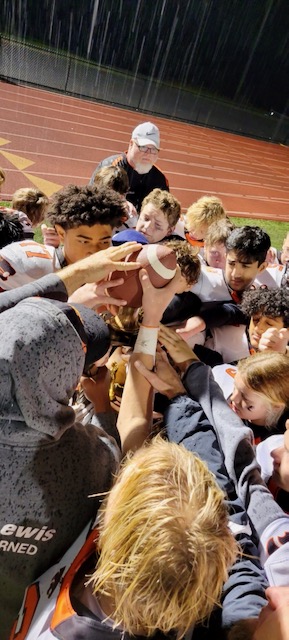 CFA Super Bowl 50 Liberty Conference Midget Runner Up
Photo Credits: Mike Smith
Palmyra Peewee Super Bowl Championship Roster
1 Derek Doster
2 Ian Montalto
3 Colstin Robinson
5 Bentley Buffington
7 Brogan Risser
9 Vincent Loew
10 Karson Sitch
14 Blake Yoder
18 Owen Czuday
19 Max Riess
32 Maurice Skipper
34 Anthony Zimmerman
38 Jaxson Matthews
39 Joseph McCracken
45 Battal Aljadani
50 Travis Lawson
51 Grayson Sager
52 Kaiden Whitman
55 Adrian Hauser
58 William Bleiler
64 Augustine Czarnecki
65 Derick Rosenbaum
66 Landon Foehlinger
67 Elijah Good
72 Wylden Conklin
73 Tyson Vannoy
86 Bryce Yoder
---
If you are looking to provide feedback or are a business or individual interested in providing sponsorship to aid our mission at LebCoSports, you are asked to contact Dan by emailing dan@lebcosports.com.

Lebanon Federal Credit Union