This section was started as a way to share some of the many noteworthy items that occur on a regular basis.  We get some of it out via Facebook, but keeping up with every item can prove difficult.  We hope you enjoy this section.  If you have anything for us, please reach out on our social media or send an email dan@lebcosports.com.
This edition of Sports Shorts is proudly presented by our friends at Wengert's Home Center.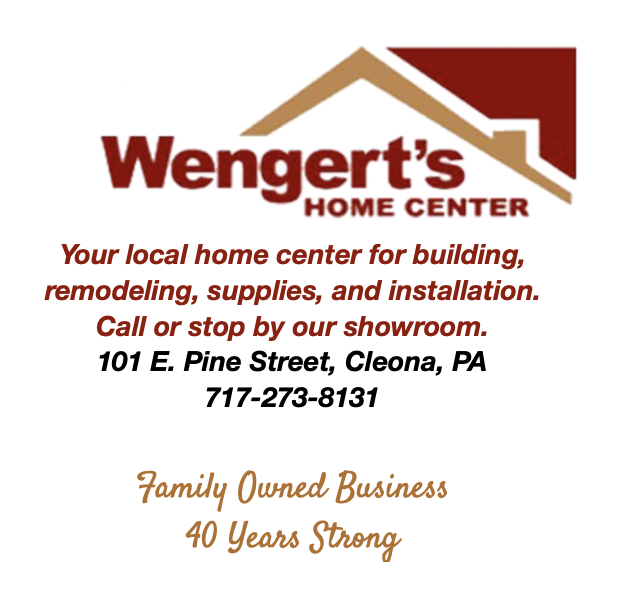 ---
In honor of Veteran's Day, we'd like to recognize the recent accomplishment of Vietnam Veteran, Joe Farrell. On October 30th, the veteran of the US Army impressively completed the Marine Corps Marathon at the age of 77.  His time for the 26.2 mile course was 6:17, placing him 9th in his age division.  Farrell, a Palmyra-based lawyer, took up running about fifteen years ago and had been training for this event diligently for the past year.  To give you a clue as to how rare this is, he was only one of nineteen men over the age of 75 to take on this challenge.  A huge congratulations to Joe on this feat.  And a huge thank you for your service to our nation!
---
Shifting the attention from one type of senior to another, it was Northern Lebanon volleyball senior Sam White who eclipsed the 1,000 kill milestone on November 8th.  This was her last high school contest, as Northern Lebanon fell to Cardinal O'Hara in tough five set match in the opening round of the PIAA Tournament.  White was undoubtedly one of the main weapons on a Viking team that had an undefeated regular season to clinch the Section 3 title and then finished as the District 3 runner-up.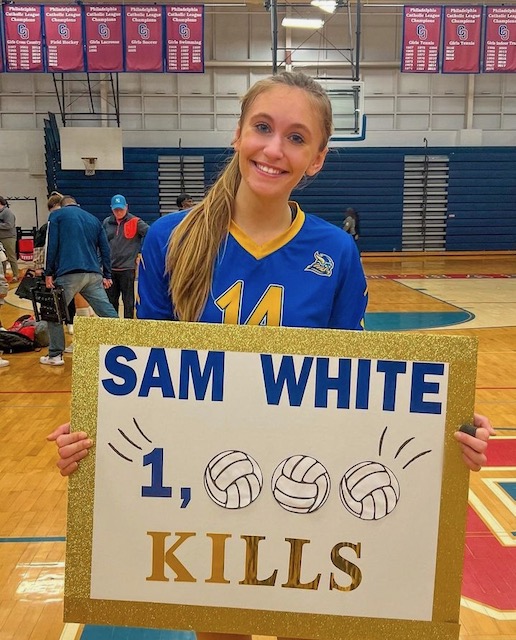 ---
In the last edition of Sports Shorts, we covered Lauren Wadas, the Palmyra Field Hockey alumna who is currently using her talents at Northwestern.  Wadas is a key member of the Wildcat squad that snagged the #2 seed in the NCAA Tournament as they defend their 2021 NCAA Championship.  In their first game on November 11th, Northwestern met Miami of Ohio, where Wadas recorded a key defensive save during regulation before scoring the game winning goal during an overtime shootout that allowed her team to advance to the quarterfinals.  On Sunday, Northwestern downed Iowa in another shootout that allowed them to advance to the Final Four.  In the contest, Wadas recorded three shots on goal and also had a key takeaway in overtime. Northwestern will play #3 Maryland on Friday afternoon for a chance to go back to the finals.
---
For all of your home improvement needs, check out what Wengert's may be able to do for you.
---
Another Lebanon County alum who helped her team to an NCAA Playoff berth is Ashley Jocham.  A graduate of Lebanon High School, Jocham is now a freshman playing soccer at Penn State – Berks.  On November 5th, Jocham scored a key goal in overtime that was part of her team's victory over Penn State – Harrisburg as Berks claimed the United East Conference title.  This gave them an automatic bid into the NCAA Division 3 Soccer Playoffs, where they were handed a first round match-up with #5 Messiah.  In their meeting on Saturday, PSU-Berks held Messiah scoreless during the first half before eventually losing the game 3-0.
It was another Lebanon County native, Brianna Seip, who scored one of those goals for Messiah.  Seip, now a senior at Messiah, is a graduate of Northern Lebanon.  Yesterday, her team defeated Wesleyan to advance to the Sweet 16.  Messiah will play Emory next weekend.
---
On Saturday, LVC Cross Country competed at the NCAA Mid-Atlantic Regional Championships.  The men finished a program history best 6th place.  Noah Griffen led the way for the Dutchmen, finishing 12th and earning an automatic invite to the NCAA Championships.  Senior Jordan Berger, a Northern Lebanon alum, finished 15th and, while awaiting an at-large bid, is likely to join Griffen in Michigan for the next round of racing.
---
Cheyenne Sprecher finished up her collegiate field hockey career at UConn.  Playing as a graduate student, the Palmyra native played goalkeeper for a Husky team that went 11-7 (5-2 conference).  For her efforts, Sprecher was named to the All-Big East 2nd Team.
---
In addition to college football being played and several Lebanon County natives recording key stats, several other area athletes got their basketball seasons started over the weekend.  We will work to update you as much as possible regarding their performances.
---
If you are looking to provide feedback or are a business or individual interested in providing sponsorship to aid our mission at LebCoSports, you are asked to contact Dan by emailing dan@lebcosports.com.