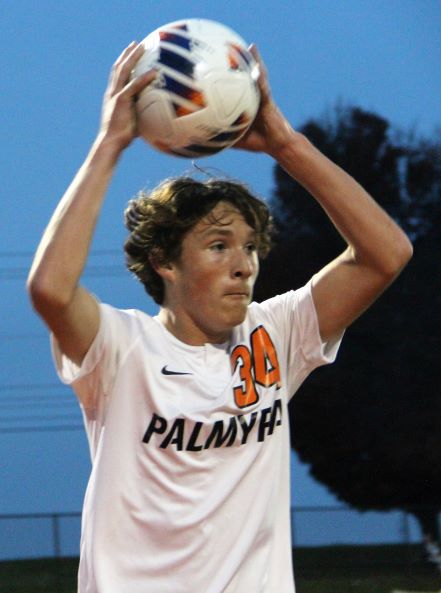 BY JEFF FALK
Editor
HERSHEY – Championships don't define the Palmyra-Hershey boys' soccer rivalry. Those duties fall to respect and excellence and emotion.
But championships do serve to intensify it.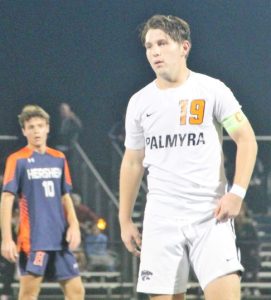 On a damp Monday night at Hershey High School, it was the Trojans who enjoyed the better of the Palmyra-Hershey rivalry, during a 4-1 triumph over the Cougars, in the semifinals of the District Three Class AAA postseason. After Palmyra opened a 1-0 edge at the break, Hershey netted three goals in a 4:56 span right after halftime to gain control of the outcome.
It was another momentous outcome in a two-year backyard draw that has determined titles and playoff seedings – and bragging rights.
During the regular season, the third-seeded Cougars, now 17-3-1 on the fall, had bested the Trojans twice – 2-1 in Palmyra on September 9 and 1-0 at Hershey on October 4. But last season, Hershey defeated Palmyra in the District Three Class AAA championship game.
With last night's victory, the second-seeded Trojans moved to 17-3 overall and into Thursday's 7 p.m. District Three Class AAA title tilt, opposite Cocalico, which edged Lower Dauphin 3-2 in OT, at Cumberland Valley Eagle View Middle School. That contest will decide whether Palmyra will be seeded third or fourth for the upcoming PIAA Class AAA tournament.
"We felt like Hershey was the best team we saw all season," said Palmyra head coach Jeff Wilver. "Over the past two years, we've been two of the best teams in the mid-state. The fact that we're just a couple of miles down the road just adds to it. There is mutual respect there.
"Tonight was a different event," added Wilver. "Statistically, it's very difficult to beat a good team three times in the same year. To beat Hershey three times, we would've had to play six great halves, and we played five."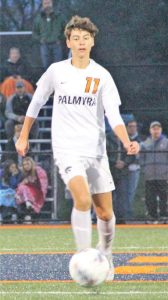 The Cougars performed quite well over the first half, and it was that play that helped them earn a 1-0 lead, with 11:54 left in it. Junior Matthew Bordner was the recipient of energetic senior Rennie Paye's creative set-up.
From the right side of the field, Paye broke toward the Hershey net and took a couple of Trojan defenders with him. When the defense came to him, Paye dropped the ball to a wide-open Bordner, who made no mistakes with his right foot inside the near post.
"Rennie gave us great work on the outside," said Wilver. "He's got quick feet. He had a ball in the box and made a guy miss, and put the ball in a dangerous place. Matthew Bordner finished like he has all year for us.
"It was the tale of two halves," continued Wilver. "I thought we played one of our best halves of the year in the first half. But then we followed it up with one of our worst halves of the year."
Bordner's goal would prove to be Palmyra's final highlight of the evening. Hershey scored on its first three shots of the second half to assume a 3-1 lead that was never threatened.
The Trojans' first two goals came from unmarked attackers in-close. The third was a hard ball from distance that squirted through the Palmyra goalkeeper's gloves and into the net.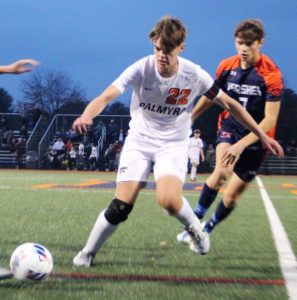 "It was a couple of fluky plays," said Wilver. "One was an odd deflection off a defender. When we were up 1-0, it felt like we were in control. We felt like we should've had two or three more in the first half. But in the second half, you could feel the momentum shift to Hershey."
Palmyra never seriously threatened afterwards, then the Trojans tallied their final goal with 13 seconds left.
In the final tally, Palmyra out shot Hershey 10-8.
"We have a good group of guys," said Wilver. "We're a team that wins together and loses together. We have great chemistry and great character. We're going to rebound. I have no doubts. Now you know that your next loss can be your last, so it rekindles that sense of urgency."
To purchase images in this article please email jeff@lebcosports.com.
2022 Palmyra Boys' Soccer Results
| | | | | | |
| --- | --- | --- | --- | --- | --- |
| 2022-09-01 | H | vs | Elizabethtown(3) | W | 4-3 |
| 2022-09-03 | A | vs | Cedar Crest(3) | W | 6-2 |
| 2022-09-06 | H | vs | Mechanicsburg(3) | W | 2-1 |
| 2022-09-08 | H | vs | Hershey(3) | W | 2-1 |
| 2022-09-10 | H | vs | Susquehannock(3) | W | 3-0 |
| 2022-09-12 | A | vs | Lower Dauphin(3) | W | 4-1 |
| 2022-09-14 | H | vs | Mifflin County(6) | W | 7-0 |
| 2022-09-17 | A | vs | Conestoga Valley(3) | L | 1-2 |
| 2022-09-22 | H | vs | Waynesboro(3) | W | 8-1 |
| 2022-09-26 | A | vs | Central Dauphin East(3) | W | 5-1 |
| 2022-09-28 | A | vs | Mechanicsburg(3) | T | 2-2 |
| 2022-10-01 | H | vs | Donegal(3) | W | 2-1 |
| 2022-10-04 | A | vs | Hershey(3) | W | 1-0 |
| 2022-10-06 | H | vs | Lower Dauphin(3) | L | 3-5 |
| 2022-10-08 | A | vs | Exeter Township(3) | W | 4-0 |
| 2022-10-11 | A | vs | Mifflin County(6) | W | 9-0 |
| 2022-10-15 | A | vs | Waynesboro(3) | W | 7-0 |
| 2022-10-19 | H | vs | Central Dauphin East(3) | W | 7-0 |
PIAA District Three Class AAA Power Rankings
| | | | | | | | | | | | |
| --- | --- | --- | --- | --- | --- | --- | --- | --- | --- | --- | --- |
| AAA | School |  W |  L |  T |  Rating |  TWP |  OWP |  TWPW |  OWPW |  TWPL |  OWPL |
| 1 | Elizabethtown | 13- | 2- | 1 |  0.760598 |  0.893443 |  0.598233 |  16.35 |  169.30 |  1.95 |  113.70 |
| 2 | Hershey | 14- | 3- | 0 |  0.756984 |  0.875622 |  0.611982 |  17.60 |  187.45 |  2.50 |  118.85 |
| 3 | Palmyra | 15- | 2- | 1 |  0.750245 |  0.905797 |  0.560126 |  18.75 |  178.40 |  1.95 |  140.10 |
| 4 | Kennard Dale | 14- | 1- | 1 |  0.737325 |  0.924581 |  0.508456 |  16.55 |  138.30 |  1.35 |  133.70 |
| 5 | Cocalico | 14- | 3- | 0 |  0.725157 |  0.861538 |  0.558469 |  16.80 |  171.45 |  2.70 |  135.55 |
| 6 | Conrad Weiser | 14- | 2- | 2 |  0.719056 |  0.857143 |  0.550284 |  16.80 |  174.55 |  2.80 |  142.65 |
| 7 | Eastern Lebanon County | 15- | 2- | 1 |  0.704064 |  0.878238 |  0.491185 |  16.95 |  158.80 |  2.35 |  164.50 |
| 8 | Northern York | 15- | 3- | 0 |  0.699809 |  0.867021 |  0.495439 |  16.30 |  157.50 |  2.50 |  160.40 |
| 9 | Lower Dauphin | 11- | 6- | 1 |  0.697590 |  0.728426 |  0.659902 |  14.35 |  214.60 |  5.35 |  110.60 |
| 10 | York Suburban | 12- | 3- | 1 |  0.676792 |  0.814917 |  0.507972 |  14.75 |  137.00 |  3.35 |  132.70 |
| 11 | Donegal | 13- | 5- | 0 |  0.670218 |  0.775000 |  0.542152 |  15.50 |  172.35 |  4.50 |  145.55 |
| 12 | Bishop McDevitt (3) | 12- | 4- | 0 |  0.642644 |  0.773810 |  0.482330 |  13.00 |  133.75 |  3.80 |  143.55 |
| 13 | Lampeter Strasburg | 10- | 6- | 1 |  0.637658 |  0.678571 |  0.587653 |  12.35 |  172.30 |  5.85 |  120.90 |
| 14 | Greencastle Antrim | 12- | 5- | 0 |  0.604089 |  0.729282 |  0.451076 |  13.20 |  134.15 |  4.90 |  163.25 |
| 15 | Octorara | 10- | 7- | 0 |  0.599818 |  0.648045 |  0.540875 |  11.60 |  159.45 |  6.30 |  135.35 |
| 16 | Susquehannock | 8- | 9- | 0 |  0.591399 |  0.562874 |  0.626263 |  9.40 |  186.00 |  7.30 |  111.00 |
| 17 | Middletown | 9- | 6- | 3 |  0.589657 |  0.621387 |  0.550875 |  10.75 |  170.00 |  6.55 |  138.60 |
| 18 | Boiling Springs | 11- | 6- | 1 |  0.588164 |  0.660428 |  0.499841 |  12.35 |  157.30 |  6.35 |  157.40 |
| 19 | Muhlenberg | 10- | 7- | 0 |  0.574336 |  0.631579 |  0.504373 |  10.80 |  149.95 |  6.30 |  147.35 |
| 20 | Garden Spot | 7- | 8- | 2 |  0.559311 |  0.554286 |  0.565454 |  9.70 |  166.30 |  7.80 |  127.80 |
| 21 | Red Land | 6- | 12- | 0 |  0.550089 |  0.462500 |  0.657143 |  7.40 |  211.60 |  8.60 |  110.40 |
| 22 | Daniel Boone | 8- | 10- | 0 |  0.547101 |  0.500000 |  0.604669 |  8.80 |  192.95 |  8.80 |  126.15 |
| 23 | Manheim Central | 6- | 9- | 1 |  0.525657 |  0.493711 |  0.564702 |  7.85 |  157.10 |  8.05 |  121.10 |
| 24 | Spring Grove Area | 5- | 12- | 1 |  0.519321 |  0.423077 |  0.636952 |  7.15 |  201.85 |  9.75 |  115.05 |
| 25 | Shippensburg | 7- | 10- | 1 |  0.498423 |  0.456757 |  0.549347 |  8.45 |  172.55 |  10.05 |  141.55 |
| 26 | Milton Hershey | 8- | 9- | 1 |  0.485131 |  0.500000 |  0.466957 |  8.85 |  144.85 |  8.85 |  165.35 |
| 27 | Exeter Township | 4- | 13- | 1 |  0.456525 |  0.328221 |  0.613342 |  5.35 |  194.00 |  10.95 |  122.30 |
| 28 | Eastern York | 4- | 13- | 1 |  0.432643 |  0.311429 |  0.580795 |  5.45 |  175.40 |  12.05 |  126.60 |
| 29 | Northern Lebanon | 7- | 11- | 0 |  0.406085 |  0.342697 |  0.483559 |  6.10 |  150.00 |  11.70 |  160.20 |
| 30 | Gettysburg | 3- | 10- | 2 |  0.402586 |  0.299320 |  0.528800 |  4.40 |  142.30 |  10.30 |  126.80 |
| 31 | Twin Valley | 3- | 15- | 0 |  0.393845 |  0.201220 |  0.629275 |  3.30 |  200.55 |  13.10 |  118.15 |
| 32 | Susquehanna Township | 4- | 13- | 1 |  0.391303 |  0.274566 |  0.533981 |  4.75 |  165.00 |  12.55 |  144.00 |
| 33 | East Pennsboro | 3- | 13- | 0 |  0.381170 |  0.217105 |  0.581695 |  3.30 |  162.70 |  11.90 |  117.00 |
| 34 | Big Spring | 2- | 15- | 1 |  0.329740 |  0.157143 |  0.540692 |  2.75 |  173.40 |  14.75 |  147.30 |
| 35 | West York | 1- | 14- | 0 |  0.313012 |  0.085271 |  0.591363 |  1.10 |  154.05 |  11.80 |  106.45 |
| 36 | James Buchanan | 0- | 18- | 0 |  0.253018 |  0.000000 |  0.562262 |  0.00 |  177.00 |  17.60 |  137.80 |