Over the past couple of months, we have expanded our reach as a result of readers like you taking time out of your day to take interest in what is going on within the sports scene of Lebanon County.  Due to this simple fact, we are having more and more brought to our attention that we think deserves recognition, but unless you are following our Facebook page religiously, these items could easily be missed.  Therefore, we've decided to start a new piece that we can run from time to time in order to help encapsulate some of these noteworthy items all in one place.  If you have anything for us, please reach out on our social media or send an email dan@lebcosports.com.
---
We lead off today's Sports Shorts on a serious note, as we have gotten word that former Penn State Nittany Lion standout and current area resident Bani Gbadyu was recently diagnosed with advanced pancreatic cancer.  A native of Liberia, a ten-year-old Gbadyu escaped the war-torn country with his father and brother and settled in Gaithersburg, Maryland.  His football abilities landed him at Penn State, where he adorned #15 and was a major contributor as a linebacker in Happy Valley from 2007 – 2009.  Following a brief stint with the Raiders, Gbadyu settled in this area with his wife Molly, a graduate of Cedar Crest whom he met through roommate Jared Odrick.  The couple now has three young children, a son and two daughters.
Everyone who knows Bani considers him to be a joyful individual who is always trying to help others, which has included taking the opportunity to volunteer in recent years with the Lebanon Cedars football program.  Now, he is in a tough battle where he and his family would appreciate any help that can be provided.  If you are able to assist, a GoFundMe has been set-up on his behalf.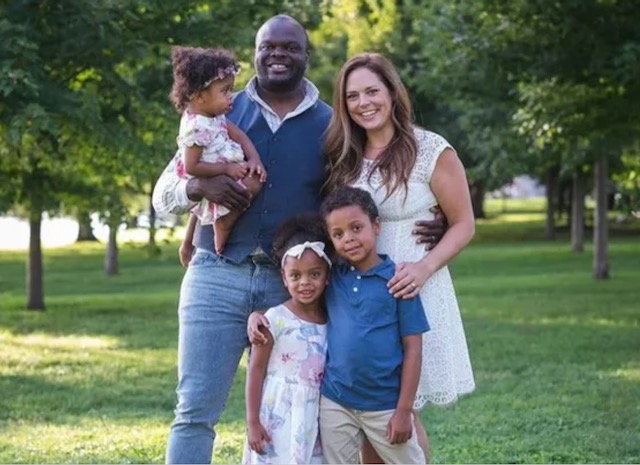 ---
When talking about community coming together for a common purpose, the Lebanon Cedars and Cedar Crest Falcons met up at South Hills on Monday afternoon for the 2022 Cedar Relays, a fun meet / training session ahead of next week's Lancaster-Lebanon League Meet.
The junior high runners competed in a one-mile race.  Lebanon's Jaeqwon Johnson was the top boy, leading the Cedars to a team victory as teammates Samuel Hershey and Thadeaus Gilbert finished 2nd and 3rd in the race.  The girls race was won by Clara Schneider of Cedar Crest.
The high school races consisted of teams of two in a 4 x 1-mile structure.  The first runner ran a mile, the second runner ran  the second mile, the first runner ran another, etc.  The winning boys team was Max Wauhop and Ben Causak of Cedar Crest (21:07), beating out the top Lebanon team of Ramon Urena andGavin Sheetz (21:15).  The girls edition was won by Maggie Chernich and Ellie Schneider (25:03).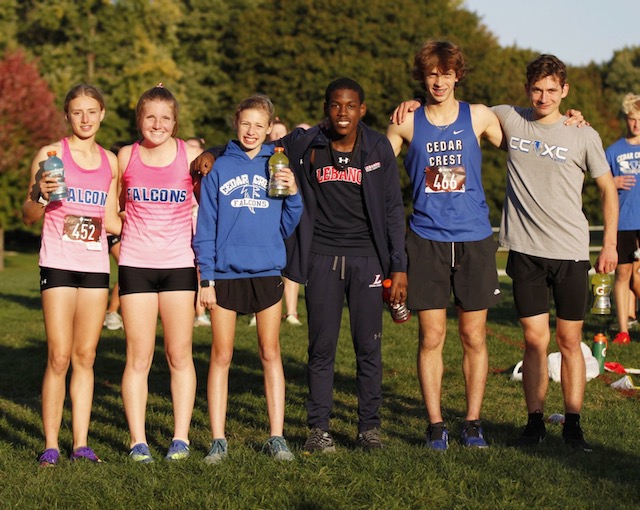 The 2022 Cedar Relay Winners, L-R Ellie Schneider, Maggie Chernich, Clara Schneider, Jaeqwon Johnson, Ben Causak, Max Wauhop  Photo Credit: Mr. Causak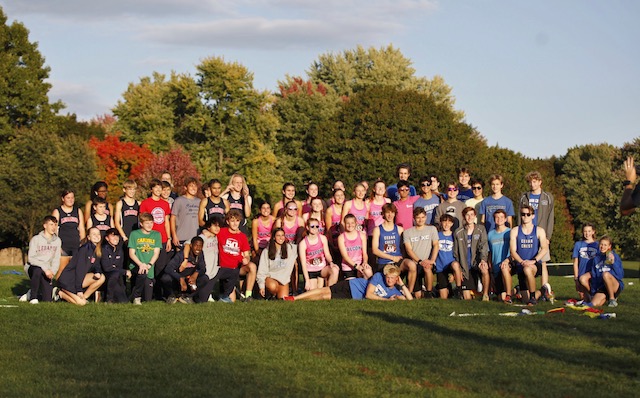 Photo evidence of a friendly exchange between Cedar Crest and Lebanon
---
It's been championship week here in Lebanon County, with several teams winning their Section titles in the Lancaster-Lebanon League over the past couple of days.
The ELCO Boys and ELCO Girls soccer teams both won Section 3.  For the boys, it's their first title since 2016 and they are a lock for Districts (no take-backs this year).  After a rough start, the girls team won 7 straight games to win their 8th straight Section 3 crown on the final day of the regular season.  To start the Lancaster-Lebanon League tournament, the boys will host Ephrata on Saturday at noon, while the girls will host Elizabethtown at 2 pm.
The Northern Lebanon girls volleyball team clinched the Section 3 title on Tuesday night with their win over Lancaster Mennonite.
The Annville-Cleona cross country program won the boys and girls Section 4 titles this past Tuesday.
Watchlist: Today, the Annville Field Hockey team has a chance to win Section 4.  Palmyra Boys Soccer has a chance to win the Keystone Division and is in control of their own destiny with 2 games remaining.
---
The District 3 Tennis Championships will begin this Friday. In AAA Singles, Palmyra's Nitya Patel will face Lexi Lakatosh of Red Lion in the opening round.  In AA Singles, Ali Bender of ELCO will play Abby Miller of York Suburban.  The second round will follow completion of the first round.  Doubles will begin on October 21.
---
Annville-Cleona's Casey Hess, now a sophomore at Penn State – Altoona was named the Allegheny Mountain Collegiate Conference's Player of the Week in men's tennis.  See the news release here.
---
Another Annville-Cleona grad won honors this week, this time in football.  Jeremy Bours, Jr., now a junior at LVC was named the MAC Special Teams Player of the Week for his role in the Dutchmen win over Misericordia.  See the news release here. For his efforts, he was also recognized by d3football.com as part of the "Team of the Week".
---
Also at LVC, another Lebanon County native is playing a large role in her team's success. Skyler Dise, a junior neuroscience major and Palmyra alum, has started all 13 games for the Dutchmen Field Hockey team. Over the past four games, she has found the back of the cage twice, including scoring the first goal of last night's one goal win over Eastern.
---
If you are looking to provide feedback or are a business or individual interested in providing sponsorship to aid our mission at LebCoSports, you are asked to contact Dan by emailing dan@lebcosports.com.