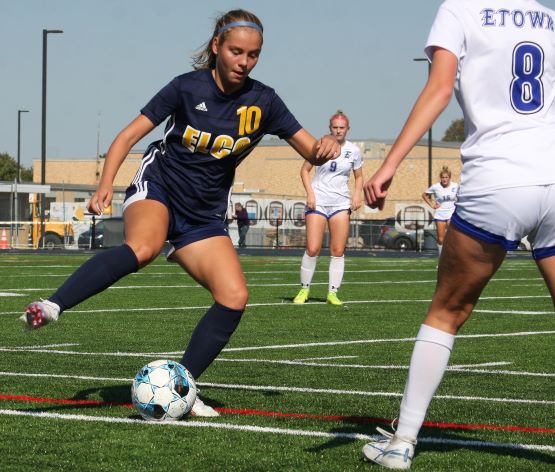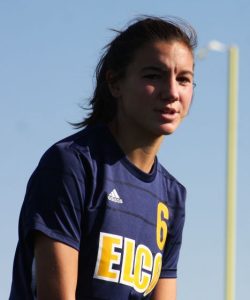 BY JEFF FALK
Editor
MYERSTOWN – Defense, offense, midfield. Leadership based chemistry and camaraderie.
By coming together, the Elco girls' soccer team has really started to piece it all together.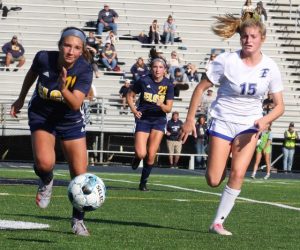 On a warm Saturday afternoon at Elco Stadium, the Raiders' late season improvement and momentum spilled over into the postseason, in the form of a dominant 5-0 blanking of Elizabethtown, in the quarterfinal round of the Lancaster-Lebanon League playoffs. Elco netted four first-half goals, and kept the Bears' offense at a distance throughout.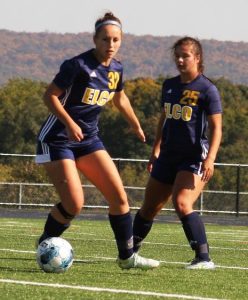 Sharp-shooter Carsyn Boyer led the Raider attack with a couple of goals and an assist, while fellow forward Julia Bidelspach netted a pair of Elco tallies. Senior Sam Nelson was her usual active self in goal.
The triumph was Elco's eighth straight and lifted it to 12-4-2 on the season. In those last eight games, the L-L Section Three champion Raiders have outscored their opposition by a combined total of 31-2.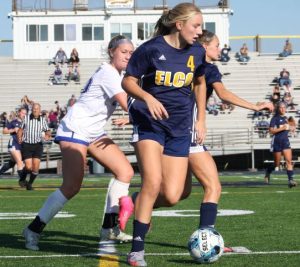 Elco will attempt to keep the temperature of its hot streak high on Tuesday at 7:30 p.m. at Lancaster Catholic, when it  meets powerful and undefeated Manheim Township, in the semifinals of the Lancaster-Lebanon League postseason. The Raiders are also positioned third in the District Three power rankings, for its upcoming Class AA playoffs.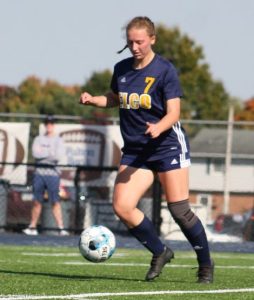 With the loss, Elizabethtown, the runner-up from Section Two, fell to 13-4 overall.
"I think part of it was that we finished the season on a high note," said Elco head coach Derek Fulk. "I guess the goal coming in was to just keep that going. That was the important thing, and I thought we did that today. I'm not sure we got E-town's best game, but the goal was to just keep things going in the right direction.
"It may have been one of the best games we've played all year," Fulk added. "We played well, created some chances and maybe got a little lucky. Sometimes things just go your way."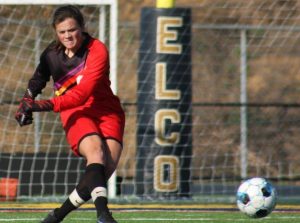 Things certainly went the Raiders way from the start, or at least 14:57 into the contest, when Bidelspach put them on top with a well-placed left-footer from the left side of the field. After accepting a feed from Boyer, Bidelspach sailed a shot over Bear goalkeeper Keegan Miller's head and into the far corner of the net.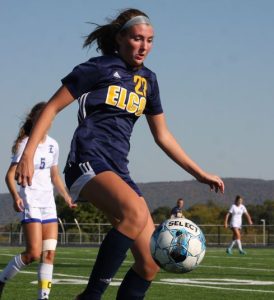 Then, 13 minutes later Carley Kleinfelter made it 2-0 Elco off a corner kick taken by teammate Sophie Irvin. Irvin's service from the left flag traveled to the right post, where Kleinfelter volleyed it out of the air and into the goal.
"I thought we did a good job of putting balls in dangerous positions," Fulk said. "When you do that, I think you get some lucky breaks. We also scored some goals off set pieces. That's not something we normally do. But I was happy with the number of chances we created.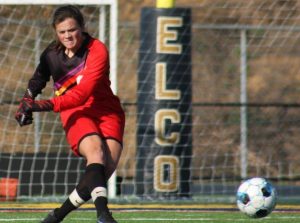 "I thought we did a good job of possessing the ball and moving the ball, and I thought we played well defensively," continued Fulk. "We did a good job of not allowing them dangerous chances."
Boyer tallied both of her goals 4:30 apart late in the first half, to help the Raiders extend their advantage to 4-0. Both of them came off restarts and both came off her accurate left foot.
The initial goal was a 35-yarder that caromed down off the crossbar and in. The second originated from the right side of the pitch and came to rest inside the near post.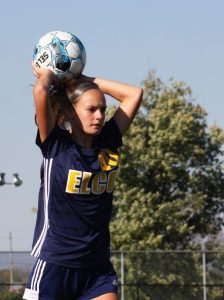 "She's very good with her left foot," said Fulk of Boyer. "If you don't see her, it's probably different off of her foot. Not everyone's predominantly left-footed. She's one of our most technical players. She's scored goals for us in a lot of different ways this season.
"I don't know that there's been one key to our success," added Fulk. "We've been playing really, really well defensively, and Sam Nelson has been very good for us in goal. That helps. Our seniors have done a fantastic job, and I think the maturity level has helped. Offensively, we've gotten to the point where we're creating dangerous opportunities. I think it's been combination of those things."
Bidelspach rounded out the Elco scoring 17:25 into the second half, with a helper from Kenzie Eckhart. Eight of the Raiders' shots came in the first half, as they out shot the Bears 11-7.
"They're very good," said Fulk of the impending battle with the Blue Streaks of Manheim Township. "I'll try to find some kind of film on them. They play in Section One (of the L-L), which traditionally has some really good teams. I know they've got great players. I know it's going to be a difficult game. We'll go and see what happens."
To purchase images in this article please email jeff@lebcosports.com
2022 Elco Girls' Soccer Results
| | | | | | |
| --- | --- | --- | --- | --- | --- |
| 2022-08-29 | H | vs | Palmyra(3) | W | 1-0 |
| 2022-09-01 | H | vs | Wyomissing(3) | L | 0-3 |
| 2022-09-06 | A | vs | Northern York(3) | L | 0-1 |
| 2022-09-08 | A | vs | Lebanon(3) | W | 8-0 |
| 2022-09-10 | H | vs | Garden Spot(3) | W | 2-1 |
| 2022-09-14 | H | vs | J P McCaskey(3) | W | 5-0 |
| 2022-09-17 | A | vs | Cedar Crest(3) | L | 0-2 |
| 2022-09-19 | A | vs | Octorara(3) | T | 1-1 |
| 2022-09-20 | H | vs | Donegal(3) | T | 0-0 |
| 2022-09-22 | A | vs | Cocalico(3) | L | 0-1 |
| 2022-09-24 | A | vs | Conrad Weiser(3) | W | 2-0 |
| 2022-09-26 | H | vs | Lebanon(3) | W | 10-0 |
| 2022-09-27 | H | vs | Octorara(3) | W | 3-0 |
| 2022-09-30 | H | vs | Berks Catholic(3) | W | 5-1 |
| 2022-10-06 | A | vs | Donegal(3) | W | 1-0 |
| 2022-10-10 | H | vs | Cocalico(3) | W | 2-1 |
| 2022-10-11 | A | vs | J P McCaskey(3) | W | 3-0 |
PIAA District Three Class AA Power Rankings
| | | | | | | | | | | | |
| --- | --- | --- | --- | --- | --- | --- | --- | --- | --- | --- | --- |
| AA | School |  W |  L |  T |  Rating |  TWP |  OWP |  TWPW |  OWPW |  TWPL |  OWPL |
| 1 | Trinity (3) | 12- | 1- | 0 |  0.754856 |  0.925620 |  0.546145 |  11.20 |  136.70 |  0.90 |  113.60 |
| 2 | Wyomissing | 16- | 1- | 0 |  0.714500 |  0.927152 |  0.454593 |  14.00 |  131.15 |  1.10 |  157.35 |
| 3 | Eastern Lebanon County | 11- | 4- | 2 |  0.665239 |  0.748634 |  0.563311 |  13.70 |  160.60 |  4.60 |  124.50 |
| 4 | Boiling Springs | 12- | 4- | 0 |  0.655134 |  0.784810 |  0.496642 |  12.40 |  140.50 |  3.40 |  142.40 |
| 5 | Millersburg | 13- | 2- | 1 |  0.618450 |  0.806569 |  0.388526 |  11.05 |  107.00 |  2.65 |  168.40 |
| 6 | Susquenita | 11- | 4- | 0 |  0.563595 |  0.689922 |  0.409194 |  8.90 |  108.15 |  4.00 |  156.15 |
| 7 | Berks Catholic | 10- | 7- | 1 |  0.545829 |  0.559880 |  0.528656 |  9.35 |  160.50 |  7.35 |  143.10 |
| 8 | Eastern York | 7- | 9- | 0 |  0.543339 |  0.506579 |  0.588268 |  7.70 |  156.95 |  7.50 |  109.85 |
| 9 | East Pennsboro | 8- | 6- | 0 |  0.528262 |  0.578947 |  0.466314 |  8.80 |  110.05 |  6.40 |  125.95 |
| 10 | Pequea Valley | 10- | 7- | 1 |  0.510732 |  0.522857 |  0.495913 |  9.15 |  139.55 |  8.35 |  141.85 |
| 11 | West Perry | 7- | 9- | 1 |  0.502201 |  0.454268 |  0.560786 |  7.45 |  151.30 |  8.95 |  118.50 |
| 12 | Kutztown | 10- | 6- | 1 |  0.499201 |  0.565625 |  0.418017 |  9.05 |  126.45 |  6.95 |  176.05 |
| 13 | Octorara | 5- | 10- | 3 |  0.475269 |  0.401639 |  0.565262 |  7.35 |  166.30 |  10.95 |  127.90 |
| 14 | Annville-Cleona | 6- | 8- | 0 |  0.450820 |  0.397059 |  0.516527 |  5.40 |  129.70 |  8.20 |  121.40 |
| 15 | Biglerville | 8- | 8- | 1 |  0.436967 |  0.437500 |  0.436315 |  7.35 |  131.20 |  9.45 |  169.50 |
| 16 | Hamburg | 8- | 9- | 0 |  0.436366 |  0.427746 |  0.446901 |  7.40 |  128.35 |  9.90 |  158.85 |
| 17 | Schuylkill Valley | 6- | 10- | 1 |  0.428105 |  0.383152 |  0.483048 |  7.05 |  135.35 |  11.35 |  144.85 |
| 18 | Lancaster Catholic | 6- | 11- | 0 |  0.418508 |  0.349206 |  0.503210 |  6.60 |  141.10 |  12.30 |  139.30 |
| 19 | Big Spring | 5- | 11- | 0 |  0.408997 |  0.318750 |  0.519298 |  5.10 |  148.00 |  10.90 |  137.00 |
| 20 | Bermudian Springs | 6- | 11- | 1 |  0.378919 |  0.314208 |  0.458011 |  5.75 |  136.35 |  12.55 |  161.35 |
| 21 | Littlestown | 4- | 13- | 0 |  0.304638 |  0.223350 |  0.403989 |  4.40 |  114.45 |  15.30 |  168.85 |
| 22 | Kennard Dale | 1- | 15- | 0 |  0.297213 |  0.047945 |  0.601873 |  0.70 |  157.45 |  13.90 |  104.15 |
| 23 | Oley Valley | 2- | 14- | 0 |  0.242669 |  0.078652 |  0.443135 |  1.40 |  118.45 |  16.40 |  148.85 |
| 24 | Hanover (3) | 1- | 16- | 0 |  0.218462 |  0.067358 |  0.403145 |  1.30 |  112.80 |  18.00 |  167.00 |

Lebanon Federal Credit Union