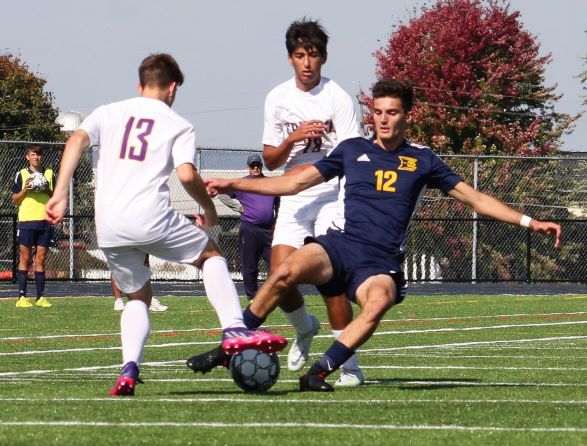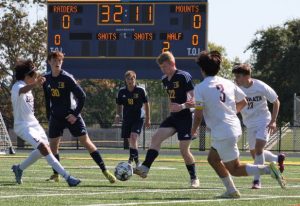 BY JEFF FALK
Editor
MYERSTOWN – Although they don't talk about it all that often, this current crop of Raiders is very much in tune with the Elco boys' soccer tradition. You can just tell by looking at them.
Because not only do the Raiders' actions speak for themselves, they also speak volumes.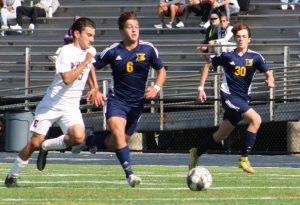 On a clear Saturday afternoon at Elco Stadium, the Raiders evoked memories of their glorious past while very much living in the moment, during a 1-0 overtime triumph over Ephrata, in the opening round of the Lancaster-Lebanon League playoffs. With an assist from junior teammate Camden Marquette, senior David Plasterer netted the decisive goal, 4:17 into the extra session.
While certainly no strangers to the postseason or the Lancaster-Lebanon League playoffs specifically, the Raiders' victory was their first in the league tournament in quite some time. For a proud program that's been down for the better part of the last decade, Elco's L-L Section Three championship this fall has signaled a return to prominence.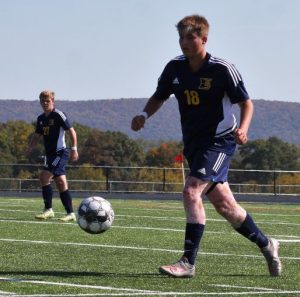 All yesterday's OT win did was reaffirm their resurgence.
With the outcome, the Raiders moved to 16-2-1 and into Tuesday's semifinal round of the Lancaster-Lebanon League playoffs. Elco will take on Section Four runner-up Lancaster Catholic, which shocked Hempfield 1-0, at 7:30 p.m. at Manheim Central.
The Raiders are also very much in line for a District Three Class AAA playoff berth, thanks in part to their current eighth-place standing in the power rankings.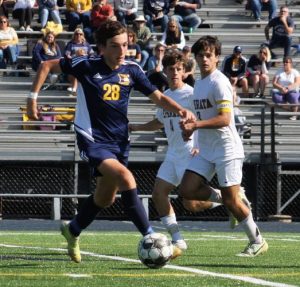 The loss dropped Section Two runner-up Ephrata to 13-5 on the year.
"Elco soccer has always been about playing with your heart," said Elco head coach Jamie Cascarino. "That's what got us here. That was the message after the game. Elco soccer has always been about the pride of your heart, and that's what you saw here today.
"Our guys do know about the Elco soccer tradition," continued Cascarino. "Since the 1960s, we've had some level of success in each decade up until now. But from 2010 to 2020, it was missing and Elco soccer lost some of its fizzle. We've had some former coaches come back to talk to us. There are gentlemen who have seen the boys in the community, and they've spoken to them. Here, it's a soccer community, and it always has been."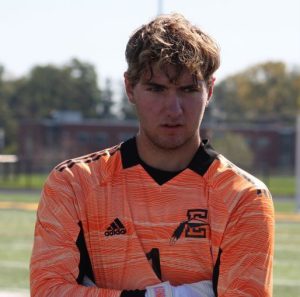 Following a tightly-marked, defensive struggle during 80 minutes of regulation, the contest went to a sudden-victory overtime session. Plasterer was at the right place at the right time, and his hustle goal was a game-winner.
From the left side of the pitch, a ball was played into the Ephrata goal mouth and on to Mountaineer goalie Chase Willwerth. Willwerth appeared to control the ball, but it squirted loose.
Marquette collected it and got it to Plasterer, who finished from in close.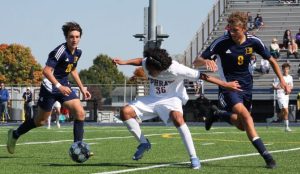 "What I know about it is that the ball was played in on goal," said Cascarino. "The keeper had difficulty controlling the ball. Camden played it back to David or touched it to the side, and David put it in.
"It absolutely was a hustle goal," added Cascarino. "The skill stuff is a result of your mind and body working together. The hustle stuff is putting your heart and effort into every game."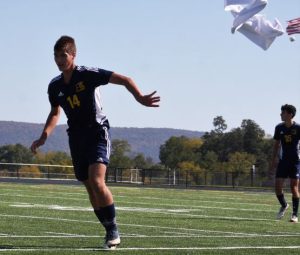 Although there weren't a ton of dangerous chances during regulation, they were equally distributed between both sides.
But the best chance went to Elco, with 12:02 left in the first half, when the Raiders were awarded a free kick from 25 yards out. Faced with the Mounts' four-man wall, Marquette blistered his attempt over the crossbar, and the score remained tied at 0-0.
"I thought it was evenly-matched," said Cascarino of the flow of play. "The number of opportunities were matched on both sides. They had quality chances and we had quality chances. They were able to break down our defense when they had the wind. The wind was definitely a factor.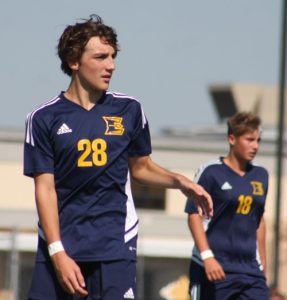 "Let's give credit where credit is due, Ephrata has a great program," Cascarino continued. "They're well-coached, and they know the expectations of their coach. It was about who was going to finish and who was going to finish first."
In the final tally, Elco out shot Ephrata 12-11. The Raiders took three corner kicks compared to the Mounts' two.
"I feel like we're continuing to develop and continuing to improve," said Cascarino. "Obviously, we have things to work on. But it's really about a progression, continuing to progress.
"Historically, Lancaster-Lebanon has been a really formidable league in the state," added Cascarino. "To be able to participate in the Lancaster-Lebanon League tournament is a big achievement. It can really catapult you into those other tournaments (districts and states)."
To purchase images in this article please email jeff@lebcosports.com.
2022 Elco Boys' Soccer Results
| | | | | | |
| --- | --- | --- | --- | --- | --- |
| 2022-08-31 | H | vs | Conrad Weiser(3) | L | 0-2 |
| 2022-09-03 | A | vs | Wyomissing(3) | W | 6-1 |
| 2022-09-03 | N | vs | Kutztown(3) | W | 3-2 |
| 2022-09-06 | H | vs | Berks Catholic(3) | W | 3-1 |
| 2022-09-08 | H | vs | Lebanon(3) | W | 5-0 |
| 2022-09-15 | A | vs | Solanco(3) | W | 2-0 |
| 2022-09-17 | A | vs | Cedar Crest(3) | W | 5-0 |
| 2022-09-19 | H | vs | Octorara(3) | W | 4-0 |
| 2022-09-20 | A | vs | Donegal(3) | W | 1-0 |
| 2022-09-22 | H | vs | Cocalico(3) | L | 1-2 |
| 2022-09-26 | A | vs | Lebanon(3) | W | 3-0 |
| 2022-09-28 | A | vs | Octorara(3) | W | 1-0 |
| 2022-09-30 | A | vs | Blue Mountain(11) | W | 2-1 |
| 2022-10-04 | H | vs | Solanco(3) | W | 8-1 |
| 2022-10-06 | H | vs | Donegal(3) | W | 1-0 |
| 2022-10-08 | H | vs | Eastern York(3) | W | 4-0 |
| 2022-10-10 | A | vs | Cocalico(3) | W | 1-0 |
| 2022-10-12 | A | vs | Pequea Valley(3) | T | 0-0 |
PIAA Class AA Power Rankings
| | | | | | | | | | | | |
| --- | --- | --- | --- | --- | --- | --- | --- | --- | --- | --- | --- |
| AAA | School |  W |  L |  T |  Rating |  TWP |  OWP |  TWPW |  OWPW |  TWPL |  OWPL |
| 1 | Elizabethtown | 13- | 2- | 1 |  0.760094 |  0.893443 |  0.597112 |  16.35 |  165.40 |  1.95 |  111.60 |
| 2 | Palmyra | 13- | 2- | 1 |  0.745563 |  0.892265 |  0.566261 |  16.15 |  162.80 |  1.95 |  124.70 |
| 3 | Hershey | 10- | 3- | 0 |  0.741121 |  0.832215 |  0.629783 |  12.40 |  174.45 |  2.50 |  102.55 |
| 4 | Kennard Dale | 14- | 1- | 1 |  0.735824 |  0.924581 |  0.505121 |  16.55 |  133.15 |  1.35 |  130.45 |
| 5 | Cocalico | 14- | 3- | 0 |  0.723460 |  0.861538 |  0.554698 |  16.80 |  168.85 |  2.70 |  135.55 |
| 6 | Conrad Weiser | 14- | 2- | 2 |  0.718223 |  0.857143 |  0.548433 |  16.80 |  173.25 |  2.80 |  142.65 |
| 7 | Lower Dauphin | 10- | 5- | 1 |  0.705667 |  0.737288 |  0.667019 |  13.05 |  189.30 |  4.65 |  94.50 |
| 8 | Eastern Lebanon County | 15- | 2- | 1 |  0.701979 |  0.878238 |  0.486550 |  16.95 |  155.55 |  2.35 |  164.15 |
| 9 | Northern York | 13- | 3- | 0 |  0.689546 |  0.849398 |  0.494172 |  14.10 |  139.90 |  2.50 |  143.20 |
| 10 | York Suburban | 12- | 3- | 1 |  0.673634 |  0.814917 |  0.500955 |  14.75 |  131.10 |  3.35 |  130.60 |
| 11 | Donegal | 13- | 5- | 0 |  0.668022 |  0.775000 |  0.537270 |  15.50 |  166.50 |  4.50 |  143.40 |
| 12 | Lampeter Strasburg | 10- | 6- | 1 |  0.634308 |  0.678571 |  0.580208 |  12.35 |  167.10 |  5.85 |  120.90 |
| 13 | Bishop McDevitt (3) | 9- | 4- | 0 |  0.611354 |  0.718519 |  0.480375 |  9.70 |  110.15 |  3.80 |  119.15 |
| 14 | Octorara | 10- | 7- | 0 |  0.605042 |  0.648045 |  0.552483 |  11.60 |  156.85 |  6.30 |  127.05 |
| 15 | Middletown | 8- | 5- | 2 |  0.590470 |  0.627586 |  0.545106 |  9.10 |  142.00 |  5.40 |  118.50 |
| 16 | Susquehannock | 8- | 9- | 0 |  0.590082 |  0.562874 |  0.623336 |  9.40 |  177.90 |  7.30 |  107.50 |
| 17 | Greencastle Antrim | 10- | 5- | 0 |  0.584372 |  0.691824 |  0.453042 |  11.00 |  119.15 |  4.90 |  143.85 |
| 18 | Boiling Springs | 9- | 5- | 1 |  0.583287 |  0.655063 |  0.495560 |  10.35 |  139.50 |  5.45 |  142.00 |
| 19 | Muhlenberg | 10- | 7- | 0 |  0.576494 |  0.631579 |  0.509168 |  10.80 |  149.95 |  6.30 |  144.55 |
| 20 | Red Land | 6- | 11- | 0 |  0.562692 |  0.483660 |  0.659286 |  7.40 |  184.60 |  7.90 |  95.40 |
| 21 | Garden Spot | 7- | 8- | 2 |  0.559311 |  0.554286 |  0.565454 |  9.70 |  166.30 |  7.80 |  127.80 |
| 22 | Daniel Boone | 8- | 10- | 0 |  0.548420 |  0.500000 |  0.607601 |  8.80 |  194.25 |  8.80 |  125.45 |
| 23 | Manheim Central | 6- | 9- | 1 |  0.525240 |  0.493711 |  0.563776 |  7.85 |  154.70 |  8.05 |  119.70 |
| 24 | Spring Grove Area | 5- | 12- | 1 |  0.516742 |  0.423077 |  0.631221 |  7.15 |  190.25 |  9.75 |  111.15 |
| 25 | Shippensburg | 6- | 10- | 1 |  0.483072 |  0.422414 |  0.557209 |  7.35 |  155.35 |  10.05 |  123.45 |
| 26 | Exeter Township | 4- | 13- | 1 |  0.454431 |  0.328221 |  0.608689 |  5.35 |  188.45 |  10.95 |  121.15 |
| 27 | Milton Hershey | 6- | 8- | 1 |  0.453797 |  0.447917 |  0.460983 |  6.45 |  118.15 |  7.95 |  138.15 |
| 28 | Gettysburg | 3- | 8- | 2 |  0.423512 |  0.346457 |  0.517692 |  4.40 |  122.90 |  8.30 |  114.50 |
| 29 | Eastern York | 4- | 13- | 0 |  0.421027 |  0.290909 |  0.580061 |  4.80 |  171.35 |  11.70 |  124.05 |
| 30 | Northern Lebanon | 7- | 11- | 0 |  0.406093 |  0.342697 |  0.483577 |  6.10 |  148.70 |  11.70 |  158.80 |
| 31 | Susquehanna Township | 4- | 11- | 0 |  0.399681 |  0.293706 |  0.529206 |  4.20 |  135.90 |  10.10 |  120.90 |
| 32 | East Pennsboro | 3- | 11- | 0 |  0.395918 |  0.250000 |  0.574262 |  3.30 |  130.30 |  9.90 |  96.60 |
| 33 | Twin Valley | 3- | 15- | 0 |  0.395068 |  0.201220 |  0.631995 |  3.30 |  199.90 |  13.10 |  116.40 |
| 34 | Big Spring | 2- | 13- | 1 |  0.337194 |  0.175159 |  0.535237 |  2.75 |  148.10 |  12.95 |  128.60 |
| 35 | West York | 1- | 13- | 0 |  0.315491 |  0.090164 |  0.590891 |  1.10 |  148.55 |  11.10 |  102.85 |
| 36 | James Buchanan | 0- | 15- | 0 |  0.249469 |  0.000000 |  0.554375 |  0.00 |  156.50 |  14.50 |  125.80 |
Elco Boys' Soccer History
Lancaster-Lebanon, Section Champions – 1970, 72, 73, 75, 77, 78, 79, 80, 83, 84, 85, 86, 90, 92, 94, 97, 99, 2000, 01, 03
Lancaster-Lebanon League Champions – 1962, 63, 64, 65, 66, 68, 69, 72, 73, 77, 79, 83, 84
District 3 Champions – 1964, 68, 77, 90, 98, 99, 02, 03
PIAA State Champions – 1977, 79, 86, 98, 2003

Lebanon Federal Credit Union