Dylan Ramsey led all Section 1 Lancaster-Lebanon League golfers with the lowest regular season average (70.4). He helped Cedar Crest roll to the Lebanon County Championship. He helped Cedar Crest to a victory at the League Championship. He finished in a tie for 6th place at the District 3 Championship. Simply put, Ramsey had a great season. Though, he is a freshman and the PIAA State Championship has broken many, much more experienced golfers.
On Monday, Ramsey started on the back-nine of the Penn State White Course in the first round. He was not intimidated. In fact, he was a man on fire, as he shot -5 over the first nine holes and soared to the top of the leaderboard. After making the turn, he continued his consistency and completed the round with a 5-under par 67. One of the main contributors to this score was the fact that Ramsey birdied each of the four par 5 holes, including #18. Going into Tuesday's final round, Ramsey (a freshman) was leading his next closest competitor by three strokes.
The golf gods are fickle and they seemed to know that there has never been a freshman male (on record) to win the PIAA Golf State Championship.
Teeing off at 11:00 am with the top foursome, Ramsey showed that he was not going to wilt, as he executed on the par 4, hole #1. However, on hole #2, Ramsey struggled and recorded a double bogey on his scorecard. This began to open the door for Rocco Salvitti, a senior from Central Catholic (Pittsburgh), who is a Notre Dame commit. Through two holes, Ramsey was only leading by one stroke.
Golf is a cruel game. And after all, Ramsey is a freshman.
Ramsey was not phased, as he dug in and birdied the par 5, #5, which allowed him to open up a three stroke lead over Salvitti. This caused Salvitti to fade and by the time they made the turn from the front nine to the homestretch, Ramsey had a two stroke lead over the second place golfer and Salvitti was three strokes back.
Ramsey. Freshman.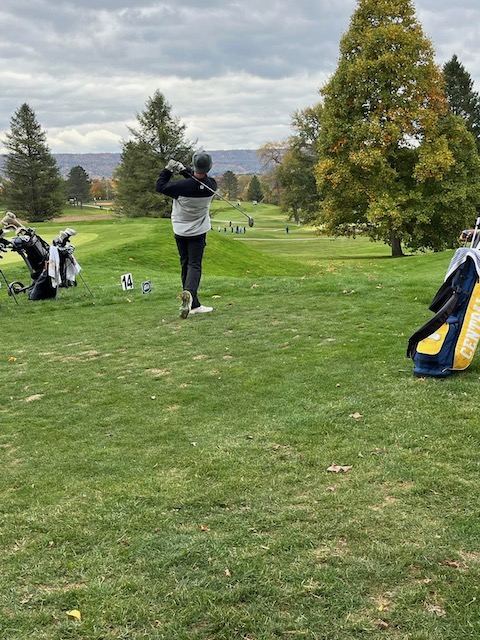 On #10, Ramsey birdied another par 5. Through #14, he was up two strokes at a +1 for the day (-4 overall), with Salvitti once again sitting in second place. On #15, Salvitti applied more pressure on the young golfer in the form of a birdie that cut Ramsey's lead to one. On #16, Ramsey had an untimely bogey, which allowed the experienced Salvitti to move into a tie at the top of the leaderboard.
Ramsey and Salvitti each matched each other on #17, each recording par to remain at -3 for the tournament. This meant that #18 would essentially become the first sudden death playoff.
This is something with which Ramsey is familiar, as he was in two sudden death situations in recent matches. At Leagues, Ramsey was defeated in a two-hole playoff by Falcon teammate Ben Feeman. At the County championship, Ethan Rader defeated Ramsey in a playoff, following their tie over the first eighteen holes.
However, Salvitti is not a teammate. Also, in this tournament, Ramsey had birdied eight of the nine par 5 holes he had faced, including this hole.
Rocco Salvitti found the cup first, recording par. The pressure was now on the "rookie". Ramsey made it to the green in two strokes after hitting a 225-yard shot with his 3 wood in an aggressive move. On his third shot, he landed a forty-foot putt within six-feet of the pin. To win the championship without additional golf being played, Ramsey would have to sink it.
A ninth grader, lining up a putt for a state title. Ramsey, not your average young golfer, struck the ball perfectly and as it hit the bottom of the cup, he pumped his fist in celebration.
Dylan Ramsey. State Champion.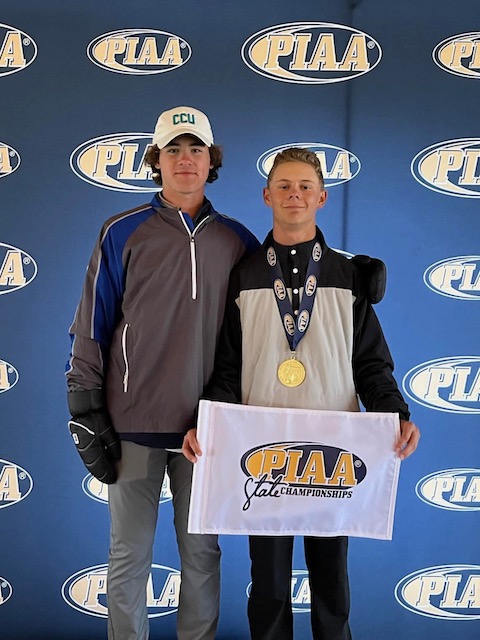 Ramsey & Feeman celebrate together
---
Dylan Ramsey – Cedar Crest – Finished the tournament with a -4 (67/73) in 1st place as the first male freshman to win a state title. He joined Blaine Peffley (2001) and Stu Ingraham (1977) as the only Falcon and Lebanon County golfers to win a high school state title. Oddly enough, the last time PIAAs were held at Penn State was in 2001.
Ben Feeman – Cedar Crest – The senior struggled mightily during the first round, ending the first day with an 83 (+11), 67th AAA. The state championship veteran kept an even keel and bounced back on day two, shooting a 75 (+3), finishing the tournament with a +14, good enough to place in a tie for 48th. Feeman was also the first to congratulate his young teammate on his accomplishment.
Jill Fidler – Cedar Crest – Finished the first day with an 85 (+13) and sat in a tie for 22nd in the girls' tournament at the end of the first day. Finishing 24th a year ago, this would have been a year over year improvement for the senior, but she was not done. On Tuesday, she shot a 79, including a birdie on hole #17. With that, she finished the tournament and her high school career with a tie for 17th place (+20) in the state of Pennsylvania.
Reagan Flynn – Annville-Cleona – Golfing in the AA tournament, the junior finished the first day on the Blue Course shooting a 78 (+6). On the second day, Flynn lost two strokes on Monday's score, finishing the 18 holes with an 80. With that, he finished the tournament with a +14, good enough for a 25th place tie.
---
If you are looking to provide feedback or are a business or individual interested in providing sponsorship to aid our mission at LebCoSports, you are asked to contact Dan by emailing dan@lebcosports.com.