PIAA District Golf Championship Tournament
AA Boys
The AA Boys competition was held at Honey Run Golf Club and featured members of the Annville-Cleona golf team, who won the Lancaster-Lebanon League Championship last week.  In addition to qualifying as a team, the Dutchmen qualified two individuals, junior Reagan Flynn and freshman Logan Francis.
In the individual competition:
Logan Francis, shot a respectable 89 in the first round, but missed the cut by 4 strokes.
Regan Flynn, 2nd at Leagues, shot an 80 in the first round and ended Friday tied for 7th on the leaderboard. On Saturday, Flynn improved his score by one stroke, shooting a 79.  Through 27 holes, he had moved up to 4th  Over the course of the back-nine, Flynn moved up on the leaderboard even further, finishing the tournament tied for 2nd place with Pequea Valley's Matt Lapp.  The winner was Lancaster Country Day's Winston Thai, who finished with a 151, ahead of Flynn's 159 total.  This trio, which includes Flynn, all golfed against one another in Section 4 and will golf against each other once more at the PIAA State Championship at Penn State Golf – Blue Course on Monday, October 17 and Tuesday, October 18.
In the team competition that took place on Friday, Francis and Flynn were joined by sophomore Wesley Heller and junior Andrew Heller.  The Dutchmen finished 4th overall, with a team score of 364, 22 strokes behind 1stplace Delone Catholic.
Flynn – 80
Francis – 89
Heller – 94
Heller – 101
Total Score – 364
AAA Team
The AAA District 3 Golf Championship was held at Briarwood East Golf Club.  Representing Lebanon County were members of the Cedar Crest Falcon Golf Team, who had won the Lancaster-Lebanon League title last week.  The team competition was held on Friday and featured the foursome of senior Ben Feeman, freshman Dylan Ramsey, junior Dayton DiBiaso, and senior Jill Fidler.
This team finished in 2nd place, 5 strokes behind the Dallastown Wildcats.  Below are the scores from each Falcon.
Feeman – 74
Ramsey – 76
DiBiaso – 77
Fidler – 79
Total Score: 306
AAA Girls
In the girls' competition, the focus was on Jill Fidler, as she was on a quest to qualify for the PIAA State Championship, where last year she finished tied for 24th in Pennsylvania.
After the first 18 holes on Friday, Fidler's 79 shot performance had her positioned 5th on the leaderboard.  With the top nine girls getting an invite to the PIAA Championship, Fidler had to maintain her level of play on the challenging Briarwood Course.
On Day 2, Fidler not only maintained her level of play, but surpassed what she had done on Friday.  Through 32 holes, Fidler had moved into 4th.  Over the final 4 holes, she remained strong and finished the round with a 76.
Her scorecard total for the 36 holes was a 155, good enough for 3rd place and a PIAA State Tournament berth for the second time in her high school career.
AAA Boys
In the boys' competition, four Cedar Crest Falcons took to the links on Friday. In addition to the aforementioned Feeman, Ramsey, and DiBiaso, sophomore Ethan Rader also qualified after his 14th place finish at leagues.  Palmyra's junior Sean Kelly was also a qualifier and helped to represent Lebanon County.
Sean Kelly shot an admirable 84 on Friday, but missed the cut.
Ethan Rader, the Lebanon County champ, shot an 80 over the first 18 holes, narrowly missing the cut by a single storke.
Dayton DiBiaso's scorecard read 77 after Friday, placing him 22nd overall and earning him another day on the course. Golf can be a cruel game and on Saturday DiBiaso shot an 87, finishing the competition with a 164 over the 36 holes, which placed him tied for 37th
Dylan Ramsey, the runner-up at the Lancaster-Lebanon League Championship, finished Friday with a 74 and sat 5th on the leaderboard. With the top 18 boys moving onto States, Ramsey was seemingly in good position to advance.  Through the first Saturday's 7 holes, he had slipped to 8th  Over the final 11 holes, Ramsey did not fold under pressure and finished the round with a 75 and in doing so, finished in a tie for 6th place.  This finished qualifies him to the PIAA State Championship.
Ben Feeman, who last week at the L-L Championship won a 2-hole playoff over his teammate, entered this tournament hoping for a return visit to the State Championship. In 2021, Feeman finished tied for 23rdin the Commonwealth.  On Friday, he finished with a 76 and was in 15th  Experienced in challenging situations, a hard-charging Feeman emerged on Saturday.  Through the first 9 holes, he was 1 stroke ahead of Friday's performance and had moved up 11 spots to 4th place.  He did not let off the gas and shot the final 9 in 3 fewer strokes than Friday, finishing the day with a 72.  His 148 total, was good enough to a 3rd place tie, just 3 strokes behind the winner, Dallastown's Lane Krosse.  Feeman will again get a chance to show off his golf swing on the biggest high school stage that the PIAA offers.
Cedar Crest
Fidler, Ramsey, and Feeman will all compete at the PIAA State Championship at Penn State Golf – White Course on Monday, October 17 and Tuesday, October 18.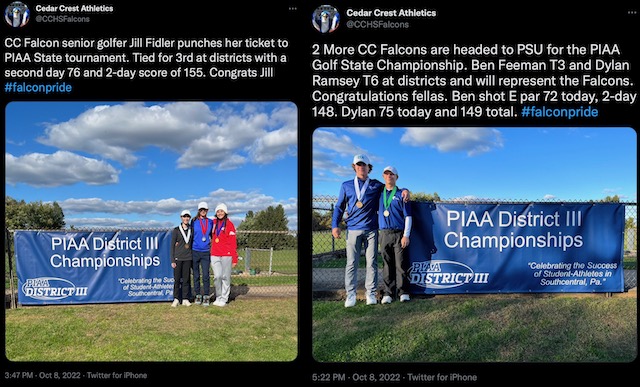 Bonus County Golf – "Battle of the Blues"
In additional golf action, the ELCO and Northern Lebanon teams met up for a final, non-league match.  The 3rdannual Battle of the Blues was held on Thursday, October 6th at Pine Meadows.  It featured modified rules that are based on the Ryder Cup with 6 holes of 2-man scramble, 6 holes of better ball partners, and 6 holes head-to-head action.
When all was tallied, it was ELCO who won by a score of 13.5 to 5.5.  The Raiders were led by Cole Weaver, Brady Keath and Colin Bogard and Ethan Spang.
Even though ELCO won the trophy, this is a fun event for both teams, with coaches from both teams joining in on the action (Northern Lebanon – Chris George; ELCO – Dave Meyer & Todd Gaffney).  After 42 years of coaching in a variety of capacities, this was Coach Meyer's last official coaching duty.
---
If you are looking to provide feedback or are a business or individual interested in providing sponsorship to aid our mission at LebCoSports, you are asked to contact Dan by emailing dan@lebcosports.com.

Lebanon Federal Credit Union