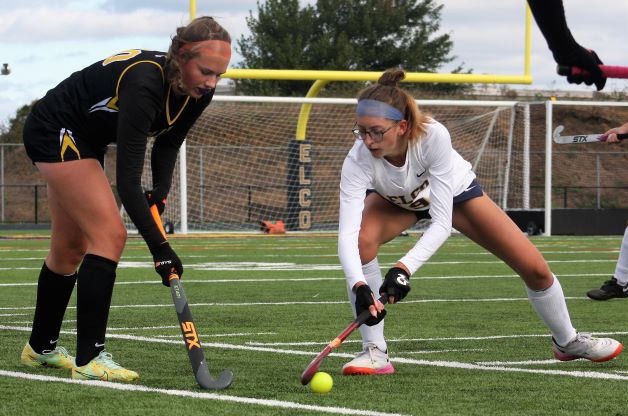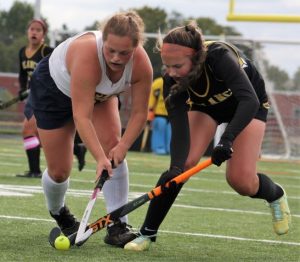 BY JEFF FALK
Editor
MYERSTOWN – It's not that they haven't grown.
It's not that they haven't improved.
It's not that they haven't come together as a unit.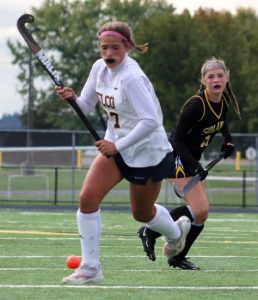 It's more like the Elco field hockey season has just happened, simply unfolded. In one sort of generic way, the Raiders are realizing their destiny.
On a nippy Saturday morning on the brand-new turf of Elco Stadium, the Raiders continued their apparent late-season surge with a 2-1 triumph over Solanco. Elco netted a goal in each of the first-half periods, then did enough good things in the second 30 minutes of action to make its 2-0 lead stand up.
The victory pushed Elco to 9-6-1 on the fall. Not bad for a Raider squad that opened the campaign with four straight losses.
A perennial contender for the postseason, the Raiders were positioned 13th in the latest District Three power rankings, for an A classification which takes 16 teams for its playoffs.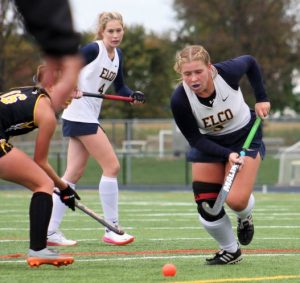 With the setback, Solanco slipped to 3-12-1 overall. Back on September 23rd in Quarryville, the Mules dropped a 1-0 decision to visiting Elco.
"We started 0-4, but we played some hard teams," said Elco head coach Kelsey Thorley. "We're playing a stronger schedule this year. We kind of found ourselves and found what we needed to do to win. I feel like the section (Three of the Lancaster-Lebanon League) is very competitive. But our losses weren't bad losses.
"I'd say we're growing and maturing," said Thorley. "I honestly think it's maturity and learning how to handle a game. I wouldn't say that their (her players') skills haven't improved, they've just learned how to apply them better in games."
The Raiders didn't generate a bunch of scoring opportunities. But when they did, they were opportunistic.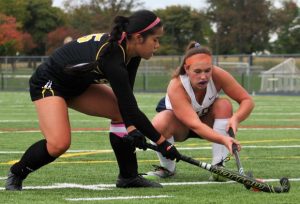 Some 11:20 into the contest, forward Leah Bradnick converted Elco's initial shot on goal. From the right side of the circle, Bradnick beat Solanco netminder Caitlin Bennethhum to a loose ball and banged it by her and into the cage.
"We talk about finishing," said Thorley. "We talk about having chances to score, about making plays and making things happen. We put ourselves where we needed to be to get those loose balls.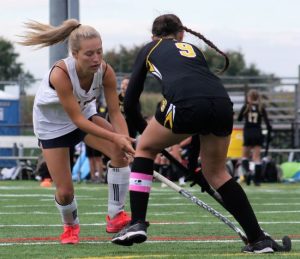 "We've been holding our own offensively," added Thorley. "Addie Weiler has been leading us in goals, and she's a freshman. With our youth mixed in, we haven't played the same lineup in any game. We have to have the mindset that our mids are shooters and that our forwards are finishers."
With 3:41 left before halftime, the Raiders added what would prove to be some very important insurance. From a similar spot in the circle, forward Megan Hauck accepted an Ayla Zwally feed, before wristing a ball to the far corner of the net.
"I thought we played OK," said Thorley. "We talked about how this was going to have to be a gritty win. We're very young and we're learning through experience. I think we're growing each game."
"I thought we played well," said Solanco head coach Whitney Hawkins. "We were moving well. I thought from the middle of the third quarter and into the fourth quarter, we played more aggressive."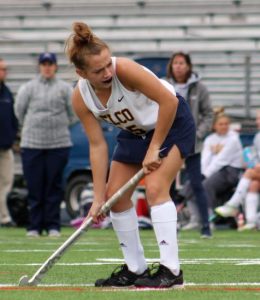 Elco's 2-0 lead held up for nearly 30 minutes, until Solanco's Sadie Cook broke Aeryn Marks' shutout bid, with 4:49 remaining. A long ball was played off of Marks' pads, and Cook was there to deposit the rebound.
"We've been talking about not playing not to lose, and playing to win," said Thorley. "We've also been talking about having the goals we give up being hard-earned. We try to make sure our goals aren't mental breakdowns. When we have a lead, we want to continue to push offensively and not fall off on defense."
In the final tally, Elco out shot Solanco 9-5.
"We could still get second in the section and make the league playoffs," said Thorley. "Honestly, I think we're game-to-game. I think when you look too far out you lose sight of what's important, and that's the game in front of you."
To purchase images in this article please email jeff@lebcosports.com.
2022 Elco Field Hockey Results
| | | | | | |
| --- | --- | --- | --- | --- | --- |
| 2022-08-29 | A | vs | Northern York(3) | L | 0-8 |
| 2022-08-31 | H | vs | Manheim Central(3) | L | 0-4 |
| 2022-09-07 | A | vs | Conrad Weiser(3) | L | 2-3 |
| 2022-09-09 | A | vs | Annville-Cleona(3) | L | 1-4 |
| 2022-09-10 | N | vs | Daniel Boone(3) | W | 3-2 |
| 2022-09-10 | A | vs | Muhlenberg(3) | W | 1-0 |
| 2022-09-13 | A | vs | Northern Lebanon(3) | W | 3-1 |
| 2022-09-15 | A | vs | Lancaster Catholic(3) | W | 2-0 |
| 2022-09-19 | H | vs | Cocalico(3) | L | 0-3 |
| 2022-09-21 | H | vs | Octorara(3) | W | 6-0 |
| 2022-09-23 | A | vs | Solanco(3) | W | 1-0 |
| 2022-09-27 | A | vs | Lebanon(3) | W | 3-0 |
| 2022-09-29 | H | vs | Garden Spot(3) | L | 0-2 |
| 2022-10-03 | A | vs | Cocalico(3) | T | 0-0 |
| 2022-10-05 | A | vs | Octorara(3) | W | 4-3 |
| 2022-10-08 | H | vs | Solanco(3) | W | 2-1 |
| 2022-10-11 | H | vs | Lebanon(3) | | 0-0 |
| 2022-10-13 | A | vs | Garden Spot(3) | | 0-0 |
PIAA District Three Class A Power Rankings
| | | | | | | | | | | | |
| --- | --- | --- | --- | --- | --- | --- | --- | --- | --- | --- | --- |
| A | School |  W |  L |  T |  Rating |  TWP |  OWP |  TWPW |  OWPW |  TWPL |  OWPL |
| 1 | Oley Valley | 12- | 1- | 1 |  0.787343 |  0.916667 |  0.629281 |  13.20 |  147.00 |  1.20 |  86.60 |
| 2 | Boiling Springs | 13- | 0- | 0 |  0.761075 |  1.000000 |  0.469055 |  12.00 |  115.20 |  0.00 |  130.40 |
| 3 | Greenwood | 12- | 2- | 0 |  0.686206 |  0.806452 |  0.539239 |  10.00 |  133.30 |  2.40 |  113.90 |
| 4 | Berks Catholic | 15- | 2- | 0 |  0.685454 |  0.884615 |  0.442034 |  13.80 |  118.20 |  1.80 |  149.20 |
| 5 | West Perry | 12- | 3- | 0 |  0.672623 |  0.810127 |  0.504563 |  12.80 |  132.70 |  3.00 |  130.30 |
| 6 | Bishop McDevitt (3) | 11- | 2- | 0 |  0.638963 |  0.813559 |  0.425568 |  9.60 |  101.20 |  2.20 |  136.60 |
| 7 | Newport | 12- | 3- | 0 |  0.628806 |  0.768116 |  0.458539 |  10.60 |  111.70 |  3.20 |  131.90 |
| 8 | Annville-Cleona | 12- | 4- | 0 |  0.588849 |  0.708861 |  0.442167 |  11.20 |  120.80 |  4.60 |  152.40 |
| 9 | Lancaster Mennonite | 11- | 4- | 1 |  0.547756 |  0.666667 |  0.402421 |  10.40 |  109.70 |  5.20 |  162.90 |
| 10 | Littlestown | 9- | 4- | 0 |  0.533929 |  0.616667 |  0.432805 |  7.40 |  103.70 |  4.60 |  135.90 |
| 11 | Wyomissing | 12- | 4- | 0 |  0.529943 |  0.705128 |  0.315828 |  11.00 |  86.60 |  4.60 |  187.60 |
| 12 | Kennard Dale | 8- | 5- | 0 |  0.517797 |  0.603175 |  0.413447 |  7.60 |  107.00 |  5.00 |  151.80 |
| 13 | Eastern Lebanon County | 9- | 6- | 1 |  0.509356 |  0.570513 |  0.434610 |  8.90 |  120.30 |  6.70 |  156.50 |
| 14 | Susquenita | 9- | 6- | 0 |  0.505020 |  0.532468 |  0.471474 |  8.20 |  119.00 |  7.20 |  133.40 |
| 15 | Schuylkill Valley | 7- | 5- | 2 |  0.492610 |  0.523077 |  0.455372 |  6.80 |  110.20 |  6.20 |  131.80 |
| 16 | Biglerville | 10- | 6- | 1 |  0.491188 |  0.556962 |  0.410798 |  8.80 |  105.00 |  7.00 |  150.60 |
| 17 | Forbes Road | 3- | 1- | 0 |  0.486369 |  0.666667 |  0.266004 |  2.40 |  24.10 |  1.20 |  66.50 |
| 18 | Fleetwood | 5- | 8- | 1 |  0.457869 |  0.397059 |  0.532192 |  5.40 |  130.60 |  8.20 |  114.80 |
| 19 | Bermudian Springs | 8- | 7- | 1 |  0.457314 |  0.459459 |  0.454691 |  6.80 |  113.40 |  8.00 |  136.00 |
| 20 | Lancaster Country Day School | 9- | 7- | 0 |  0.456068 |  0.512821 |  0.386705 |  8.00 |  108.20 |  7.60 |  171.60 |
| 21 | Camp Hill | 5- | 6- | 0 |  0.422967 |  0.418182 |  0.428815 |  4.60 |  100.60 |  6.40 |  134.00 |
| 22 | East Pennsboro | 3- | 13- | 0 |  0.409949 |  0.177215 |  0.694401 |  2.80 |  176.10 |  13.00 |  77.50 |
| 23 | Eastern York | 4- | 8- | 1 |  0.391566 |  0.355072 |  0.436170 |  4.90 |  110.70 |  8.90 |  143.10 |
| 24 | Octorara | 5- | 9- | 1 |  0.391019 |  0.350000 |  0.441153 |  5.60 |  110.20 |  10.40 |  139.60 |
| 25 | Big Spring | 2- | 9- | 1 |  0.367248 |  0.204918 |  0.565652 |  2.50 |  130.10 |  9.70 |  99.90 |
| 26 | Hanover (3) | 6- | 9- | 0 |  0.356470 |  0.320513 |  0.400417 |  5.00 |  96.10 |  10.60 |  143.90 |
| 27 | Delone Catholic | 5- | 8- | 0 |  0.346481 |  0.328571 |  0.368370 |  4.60 |  76.40 |  9.40 |  131.00 |
| 28 | Brandywine Heights | 6- | 10- | 0 |  0.337179 |  0.309524 |  0.370980 |  5.20 |  101.50 |  11.60 |  172.10 |
| 29 | Hamburg | 4- | 10- | 0 |  0.319640 |  0.253521 |  0.400452 |  3.60 |  106.20 |  10.60 |  159.00 |
| 30 | Northern Lebanon | 2- | 9- | 1 |  0.307799 |  0.161290 |  0.486866 |  2.00 |  107.50 |  10.40 |  113.30 |
| 31 | Tulpehocken | 3- | 12- | 1 |  0.286309 |  0.183908 |  0.411466 |  3.20 |  113.40 |  14.20 |  162.20 |
| 32 | Kutztown | 2- | 12- | 1 |  0.254716 |  0.142857 |  0.391433 |  2.40 |  106.00 |  14.40 |  164.80 |
| 33 | Fairfield | 1- | 10- | 1 |  0.244585 |  0.130435 |  0.384103 |  1.80 |  74.90 |  12.00 |  120.10 |
| 34 | Lancaster Catholic | 0- | 15- | 0 |  0.236547 |  0.000000 |  0.525660 |  0.00 |  139.30 |  16.60 |  125.70 |
| 35 | Southern Huntingdon County Senior | 1- | 5- | 0 |  0.194787 |  0.117647 |  0.289070 |  0.80 |  32.00 |  6.00 |  78.70 |

Lebanon Federal Credit Union