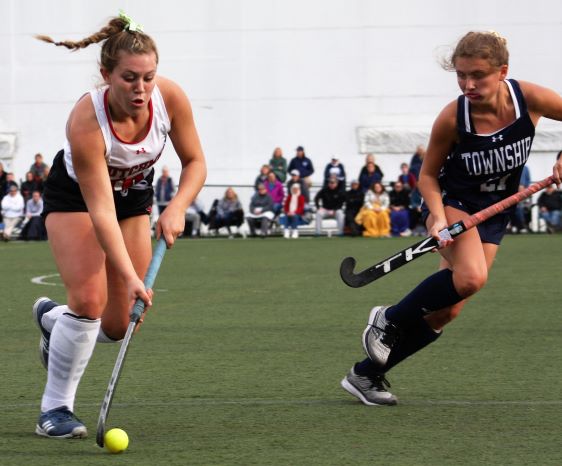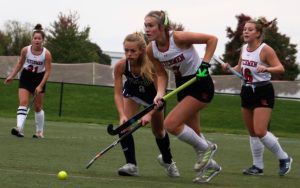 BY JEFF FALK
Editor
ANNVILLE – The Lancaster-Lebanon field hockey league divides its 23 members into four section based on enrollment and PIAA classifications. The L-L league uses a regular season to determine each section's top teams, then pits them against one another to decide a champion.
Although it's the best the league can do, the platform is far from perfect.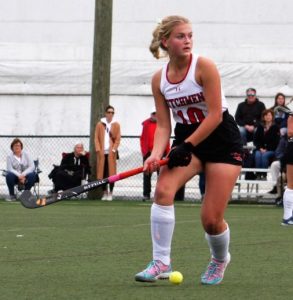 But that doesn't mean that Annville-Cleona doesn't want to be a part of it.
On an overcast Monday evening at In The Net Sports Complex, the underdog Little Dutchmen put forth a solid effort before falling to Manheim Township 3-0 in the quarterfinal round of the Lancaster-Lebanon League playoffs. Blue Streak Brooke Weaver netted a pair of tallies 7:14 apart in the second period, before assisting on teammate Nia Mountis' insurance goal early in the final quarter.
The setback dropped Annville-Cleona, champions of Section Four, to 14-5 on the season, but did not end it. Currently positioned eighth in the power rankings, the Little Dutchmen are in line to quite possibly host a District Three Class A opening round game on Wednesday, October 26.
With seven Class A teams from District Three qualifying for the PIAA postseason, an opening-round victory would assure Annville-Cleona at least two more games this fall.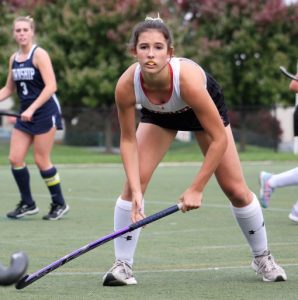 Manheim Township, the co-champion of Section One, moved to 15-4 on the year and into Tuesday's semifinal round of the Lancaster-Lebanon League playoffs.
"I'd be curious to know if any Section Three or Four teams have ever won a league championship," said Annville-Cleona head coach Carrie Gingrich. "That's the thing. There are no expectations to win. I told them (her players) to play their hardest. It makes me proud because this shows me they still wanted to play and that we're ready for the playoffs.
"It is a reward," continued Gingrich. "But people don't think of it that way. It's an honor to be in the league playoffs. Only the top two teams in each section make it. How many other teams are playing today?"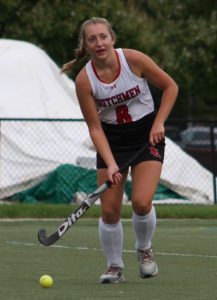 Annville-Cleona competed throughout. The Little Dutchmen performed better defensively than the final score might indicate, but encountered difficulties sustaining their attack.
The score was tied at zero over the first 21 minutes of action, until a Manheim Township corner produced the Weaver goal that made it 1-0. From the left part of the circle, teammate Rhylee Givens fed Weaver at the right post, and she made no mistakes from the door step.
Then with 1:23 left in the first half, Weaver pushed the Blue Streak lead to 2-0, converting a rebound from the same right side of the cage.
"I'm proud of how we played," said Gingrich. "We hung in there. We played all four quarters. I thought we played great defensively. Usually when we play bigger teams like this, it's shot after shot after shot.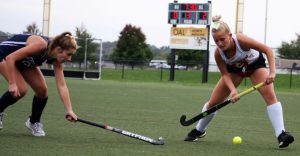 "It's Manheim Township," added Gingrich. "They're one of the top (Class AAA) teams in the district and in the state. I told them (her players) pre-game, I just want them to play 100 percent. If we play as hard as we can, it's a victory. But we're not going to see a team as good as this in the playoffs."
Following a scoreless third period, Mountis notched the Blue Streaks' third goal 5:38 into the fourth. With a long shot from just inside the circle, Mountis beat Annville-Cleona netminder Ava Wentling to the far side of the goal.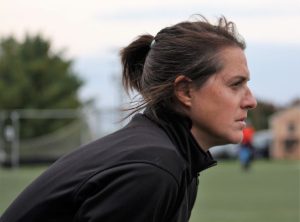 "I think it helps us," said Gingrich. "It's going to get us ready for the playoffs. This like a top team in our (District Three) classification. We could've done a couple of things differently, yeah. But I was proud of how we played."
The final stats revealed Manheim Township's 11-6 advantage in shots. The Blue Streaks also won the corner battle, 11-2.
"We've had a great season," said Gingrich. "We lost five games, and of those five, only one did I think we should've won. The loss to Lancaster Mennonite was a tough loss, but the girls bounced back from it. The teams that win at the end of the season are the ones who want to keep playing."
To purchase images in this article please email jeff@lebcosports.com.
2022 Annville-Cleona Field Hockey Results
| | | | | | |
| --- | --- | --- | --- | --- | --- |
| 2022-08-31 | A | vs | Berks Catholic(3) | L | 2-1 |
| 2022-09-02 | H | vs | Lampeter Strasburg(3) | L | 4-1 |
| 2022-09-06 | A | vs | Cedar Crest(3) | W | 4-3 |
| 2022-09-09 | H | vs | Eastern Lebanon County(3) | W | 4-1 |
| 2022-09-13 | A | vs | Solanco(3) | W | 7-1 |
| 2022-09-15 | H | vs | Garden Spot(3) | W | 2-0 |
| 2022-09-17 | H | vs | East Pennsboro(3) | W | 3-1 |
| 2022-09-19 | A | vs | J P McCaskey(3) | W | 3-0 |
| 2022-09-21 | H | vs | Lancaster Mennonite(3) | W | 4-3 |
| 2022-09-23 | A | vs | Northern Lebanon(3) | W | 5-0 |
| 2022-09-24 | A | vs | Bishop McDevitt (3)(3) | L | 3-1 |
| 2022-09-27 | A | vs | Lancaster Country Day School(3) | W | 2-1 |
| 2022-09-29 | H | vs | Lancaster Catholic(3) | W | 4-0 |
| 2022-10-03 | H | vs | J P McCaskey(3) | W | 3-2 |
| 2022-10-05 | A | vs | Lancaster Mennonite(3) | L | 3-0 |
| 2022-10-07 | H | vs | Northern Lebanon(3) | W | 4-0 |
| 2022-10-11 | H | vs | Lancaster Country Day School(3) | W | 5-1 |
| 2022-10-13 | A | vs | Lancaster Catholic(3) | W | 7-1 |
PIAA District Three Class A Power Rankings
| | | | | | | | | | | | |
| --- | --- | --- | --- | --- | --- | --- | --- | --- | --- | --- | --- |
| A | School |  W |  L |  T |  Rating |  TWP |  OWP |  TWPW |  OWPW |  TWPL |  OWPL |
| 1 | Oley Valley | 14- | 1- | 1 |  0.787784 |  0.925926 |  0.618944 |  15.00 |  171.20 |  1.20 |  105.40 |
| 2 | Boiling Springs | 15- | 0- | 0 |  0.752197 |  1.000000 |  0.449327 |  14.00 |  126.80 |  0.00 |  155.40 |
| 3 | Berks Catholic | 16- | 2- | 0 |  0.688164 |  0.890244 |  0.441176 |  14.60 |  135.00 |  1.80 |  171.00 |
| 4 | West Perry | 14- | 3- | 0 |  0.682601 |  0.833333 |  0.498372 |  15.00 |  153.10 |  3.00 |  154.10 |
| 5 | Greenwood | 13- | 3- | 0 |  0.677119 |  0.777778 |  0.554093 |  11.20 |  155.70 |  3.20 |  125.30 |
| 6 | Newport | 14- | 3- | 0 |  0.639995 |  0.792208 |  0.453957 |  12.20 |  126.20 |  3.20 |  151.80 |
| 7 | Bishop McDevitt (3) | 12- | 3- | 0 |  0.611426 |  0.768116 |  0.419916 |  10.60 |  120.60 |  3.20 |  166.60 |
| 8 | Annville-Cleona | 14- | 4- | 0 |  0.602307 |  0.735632 |  0.439355 |  12.80 |  136.20 |  4.60 |  173.80 |
| 9 | Littlestown | 12- | 5- | 0 |  0.555469 |  0.645570 |  0.445346 |  10.20 |  126.30 |  5.60 |  157.30 |
| 10 | Lancaster Mennonite | 12- | 4- | 2 |  0.553478 |  0.678161 |  0.401088 |  11.80 |  125.30 |  5.60 |  187.10 |
| 11 | Wyomissing | 14- | 4- | 0 |  0.549513 |  0.735632 |  0.322034 |  12.80 |  102.60 |  4.60 |  216.00 |
| 12 | Susquenita | 11- | 6- | 0 |  0.531642 |  0.581395 |  0.470833 |  10.00 |  135.60 |  7.20 |  152.40 |
| 13 | Kennard Dale | 11- | 7- | 0 |  0.517359 |  0.602273 |  0.413576 |  10.60 |  131.60 |  7.00 |  186.60 |
| 14 | Eastern Lebanon County | 10- | 7- | 1 |  0.509993 |  0.567416 |  0.439809 |  10.10 |  138.10 |  7.70 |  175.90 |
| 15 | Bermudian Springs | 10- | 7- | 1 |  0.493901 |  0.518072 |  0.464358 |  8.60 |  138.10 |  8.00 |  159.30 |
| 16 | Biglerville | 10- | 7- | 1 |  0.481895 |  0.523810 |  0.430667 |  8.80 |  129.20 |  8.00 |  170.80 |
| 17 | Schuylkill Valley | 8- | 7- | 2 |  0.456045 |  0.475000 |  0.432877 |  7.60 |  126.40 |  8.40 |  165.60 |
| 18 | Lancaster Country Day School | 10- | 8- | 0 |  0.451471 |  0.500000 |  0.392157 |  8.80 |  124.00 |  8.80 |  192.20 |
| 19 | Octorara | 7- | 9- | 1 |  0.436268 |  0.428571 |  0.445675 |  7.80 |  128.80 |  10.40 |  160.20 |
| 20 | Fleetwood | 5- | 11- | 1 |  0.414187 |  0.317647 |  0.532180 |  5.40 |  153.80 |  11.60 |  135.20 |
| 21 | East Pennsboro | 3- | 15- | 0 |  0.405179 |  0.157303 |  0.708139 |  2.80 |  212.30 |  15.00 |  87.50 |
| 22 | Delone Catholic | 7- | 8- | 0 |  0.396138 |  0.426829 |  0.358626 |  7.00 |  89.80 |  9.40 |  160.60 |
| 23 | Eastern York | 6- | 11- | 1 |  0.395570 |  0.363158 |  0.435185 |  6.90 |  136.30 |  12.10 |  176.90 |
| 24 | Forbes Road | 4- | 3- | 0 |  0.394507 |  0.500000 |  0.265571 |  3.20 |  30.70 |  3.20 |  84.90 |
| 25 | Camp Hill | 6- | 9- | 0 |  0.387095 |  0.358974 |  0.421464 |  5.60 |  118.60 |  10.00 |  162.80 |
| 26 | Hamburg | 7- | 10- | 0 |  0.379334 |  0.361446 |  0.401198 |  6.00 |  120.60 |  10.60 |  180.00 |
| 27 | Hanover (3) | 6- | 11- | 0 |  0.344370 |  0.277778 |  0.425760 |  5.00 |  123.30 |  13.00 |  166.30 |
| 28 | Big Spring | 2- | 11- | 1 |  0.341661 |  0.173611 |  0.547055 |  2.50 |  152.30 |  11.90 |  126.10 |
| 29 | Brandywine Heights | 6- | 12- | 0 |  0.317422 |  0.270833 |  0.374364 |  5.20 |  117.70 |  14.00 |  196.70 |
| 30 | Northern Lebanon | 2- | 11- | 1 |  0.299418 |  0.138889 |  0.495621 |  2.00 |  124.50 |  12.40 |  126.70 |
| 31 | Tulpehocken | 3- | 14- | 1 |  0.281751 |  0.164948 |  0.424510 |  3.20 |  134.40 |  16.20 |  182.20 |
| 32 | Fairfield | 2- | 11- | 1 |  0.277129 |  0.185185 |  0.389505 |  3.00 |  91.30 |  13.20 |  143.10 |
| 33 | Kutztown | 3- | 13- | 1 |  0.271520 |  0.178947 |  0.384665 |  3.40 |  119.40 |  15.60 |  191.00 |
| 34 | Lancaster Catholic | 1- | 17- | 0 |  0.256145 |  0.040404 |  0.519828 |  0.80 |  157.30 |  19.00 |  145.30 |
| 35 | Southern Huntingdon County Senior | 1- | 9- | 0 |  0.167514 |  0.076923 |  0.278237 |  0.80 |  40.40 |  9.60 |  104.80 |

Lebanon Federal Credit Union