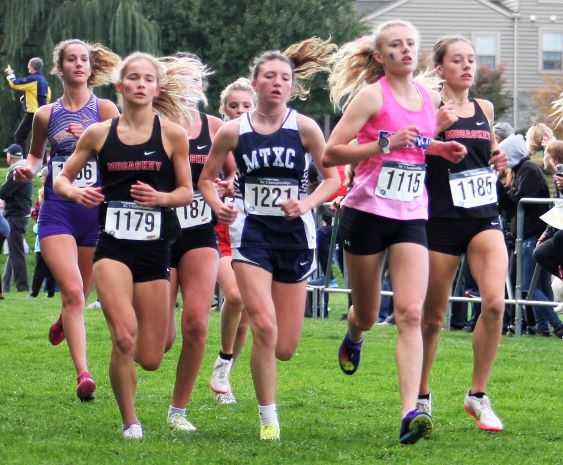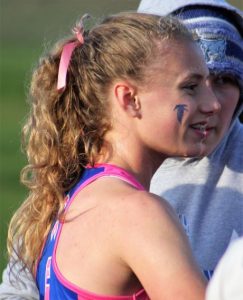 BY JEFF FALK
Editor
EPHRATA – It wasn't a perfect day. It wasn't a great day. It wasn't even one of our better days.
But the sun was shining, the competition was fierce and friendly, and student-athletes learned lessons that will stick with them for a lifetime.
It was a good day. Any day that involves cross country is a good day.
On a cool Tuesday evening at Ephrata Middle School, a handful of highly-motivated competitors from Lebanon County put their collective best foot forward during the annual staging of the Lancaster-Lebanon League Cross Country Championships. While there were no championships, no really shiny medals, for local student-athletes, there were plenty of personal records, peaking and district qualifiers.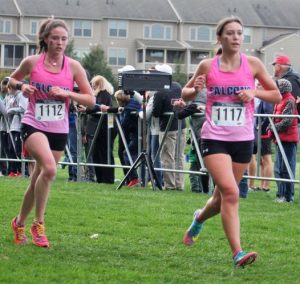 Highlighting the Lebanon County performance was Cedar Crest freshman Eliana Schneider, who finished a solid fourth as an individual and paced the Falcon females to a surprising second-place showing in the team competition. With Grace Tadajweski taking 15th, Lizzie Lowe coming in 24th, Audrey Fugate finishing 29th and Jillian Tobias running 35th, Cedar Crest compiled 107 team points to take the runner-up spot behind only league champion Manheim Township, which counted 74 points.
During the regular season, the Falcons had finished third in Section One of the L-L to champion Hempfield and second-place finisher Manheim Township.
On the boys' side, Cedar Crest junior Ben Causak showed off his improvement, taking home 13th-place hardware, as Lebanon County's top finisher. Lebanon 11th-grader Ramon Urena ran 20th and Annville-Cleona sophomore Landon Hostetter was 24th.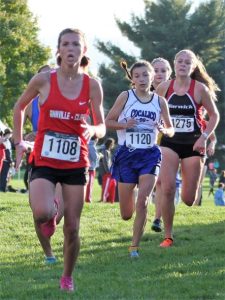 "It was a good day. It was a beautiful day for running cross country," said Cedar Crest head coach Brandon Risser. "It's been a great season for the girls. This Cedar Crest girls team is one of my favorite teams I've ever worked with. They show up. They do work. Not cutting corners. They buy-in. Their toughness. On days when it all comes together, it's amazing. That's a good second-place finish."
"I know everyone in the competition," said Causak. "I know who I have to pace against. It's a fun race. There are a lot of tough competitors here."
Schneider ran far and strong and long. She got off to a solid start, then rubbed elbows and nipped at the heels of the lead pack the entire way.
But ultimately her time of 19:46.2 was about 20 ticks off the winning pace of McCaskey's Isabella Shertzer, who repeated her 2021 victory at the L-L League championships.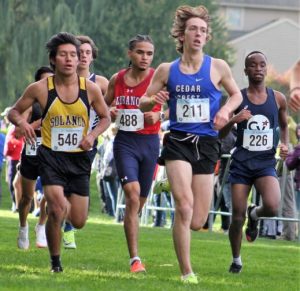 "Fourth-place is very good," said Risser, of Schneider's medal. "I thought today was a tough day for her. If you watched the race, everyone was keying off Eliana Schneider. She was out there. Of all the things that can happen, getting pulled along is better than taking the lead. I thought she was making her move the best she could.
"Our last cross country race was October 4," added Risser. "Here it is two weeks later and I wanted to see improvement. I wanted to see the team take the next step. We knew it wasn't going to be easy. People were going to have to tough it out, and that's the value of a team."
Meanwhile, another freshman, Mackenzie Stellmach of Annville-Cleona posted a 20:16.3 to finish tenth in the girls' race.
After finishing 47th at the league meet a year ago, Causak's 13th-place performance represented a stark improvement. Although he never seriously threatened winner Colin Whitaker of Lampeter-Strasburg or the rest of the lead pack, neither did he lose contact with it.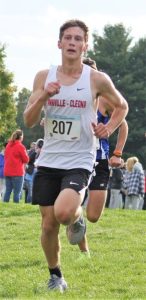 "At the beginning, I didn't want to go out too hard, but I wanted to stay with the pack," said Causak. "I thought I did well with it. I stayed within three positions of the people I wanted to be with. I ran my race. I gave it my all.
"Last year, I didn't have my best race here," continued Causak. "This year, the goal was to medal. I thought I would, but it's still cool to do it. I wanted to beat the kids who beat me during the regular season."
"That's one way to measure improvement," said Risser of Causak's jump in the individual standings. "It's a mindset. It speaks to the value of stacking training season on top of training season on top of training season. He's out there in the spring. He's out there in the summer. He's out there in the fall. And he does the work. I'm pleasantly surprised by Ben Causak's improvement.
"Our guys ran well," added Risser. "But it seemed like we didn't get established in the race like we could have. They did a good job of fighting their way up. In this race, when you get pushed to the back, it gets harder to move your way up. I was pleased with our overall effort and toughness. We should advance to districts, where we can work on our race execution."
To purchase images in this article please email jeff@lebcosports.com.
2022 Lancaster Lebanon League XC Championships
Boys Individual Results
Place Team Place No. Name Year School Time
1 1 469 Colin Whitaker 11 Lampeter Strasburg 15:49.9
2 2 450 Aidan Hodge 12 Hempfield (3) 16:00.7
3 3 448 Joseph Fahrney 12 Hempfield (3) 16:07.8
4 4 464 Ben Devine 12 Lampeter Strasburg 16:29.7
5 5 503 Cole Stevens 10 Manheim Township 16:36.1
6 6 499 Gunner Geib 11 Manheim Township 16:39.1
7 7 500 Adam Kingston 10 Manheim Township 16:40.2
8 8 526 Kaleb Kabakjian 11 Penn Manor 16:46.8
9 9 453 Sam Meyer 10 Hempfield (3) 16:48.3
10 10 551 Jake Forgione 12 Warwick 16:51.3
11 11 452 Emerson Long 11 Hempfield (3) 16:51.6
12 12 449 Sam Freedman 11 Hempfield (3) 16:56.6
13 13 211 Ben Causak 11 Cedar Crest 17:05.0
14 14 457 Derek Kendig 12 J.P. McCaskey 17:08.2
15 15 546 Anthony Solis-Morale 12 Solanco 17:13.7
16 16 451 Isaiah Hollinger 12 Hempfield (3) 17:16.9
17 17 468 Parker Stoner 12 Lampeter Strasburg 17:17.6
18 222 Matthew McNair 10 Columbia 17:18.7
19 18 554 Summit Smoker 11 Warwick 17:19.4
20 19 488 Ramon Urena Batist 11 Lebanon 17:20.2
21 20 502 Ethan Peffley 10 Manheim Township 17:21.1
22 21 501 Luke Papadimitrio 12 Manheim Township 17:24.4
23 22 498 Dylan DelVecchio 11 Manheim Township 17:24.7
24 23 504 Aaron Wood 12 Manheim Township 17:25.3
25 24 207 Landon Hostetter 10 Annville-Cleona 17:28.9
26 25 422 Jaysen Conrad 11 Elizabethtown Area 17:30.0
27 26 467 Luke Smith 11 Lampeter Strasburg 17:31.5
28 27 454 Christopher Titter 12 Hempfield (3) 17:32.3
29 28 216 Jake Perhonitch 11 Cedar Crest 17:32.4
30 29 427 Jack Myers 9 Elizabethtown Area 17:33.0
31 30 425 Jackson Kay 11 Elizabethtown Area 17:33.1
32 31 460 Sam Richard 10 J.P. McCaskey 17:40.2
33 32 514 Tyler Shunk 11 Northern Lebanon 17:42.6
34 33 520 Finley Reynolds 12 Octorara 17:45.2
35 34 412 Landen Brubaker 12 Eastern Lebanon Coun 17:46.8
36 35 60 Nicholas Mascia 12 Elizabethtown Area 17:47.4
37 36 557 Troy Weidler 10 Warwick 17:50.8
38 37 458 Tyran London 9 J.P. McCaskey 17:54.2
39 447 Frank Christoffel 12 Hempfield (3) 17:54.3
40 38 218 Owen Sparks 12 Cedar Crest 17:55.4
41 39 213 TRAVIS FURMANSKI 9 Cedar Crest 17:55.8
42 40 443 Gavin Reimers 11 Garden Spot 17:57.5
43 41 439 Alan Krock 12 Garden Spot 17:58.2
44 42 556 Lincoln Weaver 9 Warwick 17:59.3
45 43 226 Timothy Gitonga 11 Conestoga Valley 17:59.5
46 44 416 Chad Keller 10 Eastern Lebanon Coun 18:01.7
47 45 549 Jordan Barge 10 Warwick 18:02.5
48 46 547 Wyatt Tomison 11 Solanco 18:03.5
49 47 521 Lucas Thaler 12 Octorara 18:05.3
50 48 426 Bradley Kreider 11 Elizabethtown Area 18:06.7
51 49 219 Max Wauhop 12 Cedar Crest 18:07.8
52 497 Breven Baublitz 10 Manheim Township 18:08.9
53 50 290 Josh Yoder 9 Conestoga Valley 18:09.2
54 51 553 Cooper Hollinger 10 Warwick 18:09.3
55 52 421 Dante Checco 9 Elizabethtown Area 18:10.9
56 53 531 Tristan Weaver 10 Penn Manor 18:12.1
57 54 217 Kyle Rauchut 12 Cedar Crest 18:19.5
58 55 431 Cayden Landis 10 Ephrata 18:23.9
59 56 487 Gavin Sheetz 10 Lebanon 18:24.6
60 57 424 Dalton Fink 10 Elizabethtown Area 18:25.3
61 58 477 Alexander Sheaffer 11 Lancaster Catholic 18:26.1
62 59 543 James Hartigan 12 Solanco 18:31.7
63 60 486 Brendon Shaak 11 Lebanon 18:33.9
64 61 410 John Spackman 12 Donegal 18:34.1
65 423 Ethan Cronin 12 Elizabethtown Area 18:35.0
66 62 249 Carson Miller 10 Conestoga Valley 18:35.1
67 63 518 Jack Holub 11 Octorara 18:36.9
68 64 214 VISETH MENG 10 Cedar Crest 18:37.1
69 65 530 Carter Vinson 11 Penn Manor 18:37.3
70 66 432 Jack Martin 9 Ephrata 18:37.4
71 67 542 Isaac Esh 9 Solanco 18:37.8
72 68 445 Josiah Smucker 12 Garden Spot 18:38.4
73 69 484 Tyler Long 11 Lebanon 18:39.4
74 70 372 Ethan Kanagy 12 Lancaster Mennonite 18:40.2
75 71 203 Matt Clemson 10 Annville-Cleona 18:41.6
76 72 517 Jared Hodorovich 11 Octorara 18:42.5
77 73 550 Rhys Craver 11 Warwick 18:43.3
78 74 406 John Hinkle 11 Donegal 18:44.0
79 75 463 Andrew Cramer 12 Lampeter Strasburg 18:44.8
80 76 205 Andrew Dorsey 12 Annville-Cleona 18:45.0
81 77 516 Aristidis Gourgoulis 10 Octorara 18:45.3
82 78 470 Owen Witmer 11 Lampeter Strasburg 18:45.7
83 79 524 Aidan Gerlach 11 Penn Manor 18:47.7
84 80 403 Braden Bistline 12 Donegal 18:48.1
85 81 223 JOEY CASTRONOVA 11 Conestoga Valley 18:50.1
86 82 525 Jack Hightower 10 Penn Manor 18:50.7
87 83 493 Cameron Evans 12 Manheim Central 18:51.0
88 84 430 Tristan Hart 11 Ephrata 18:51.0
89 85 528 Donavon Landis 12 Penn Manor 18:52.9
90 86 462 Michael Colosi 9 Lampeter Strasburg 18:53.1
91 87 428 Miles Campbell 12 Ephrata 18:53.7
92 88 456 Henry Clapper 12 J.P. McCaskey 18:53.8
93 89 491 Carter Bruckhart 11 Manheim Central 18:54.4
94 90 204 Samuel Domencic 11 Annville-Cleona 18:56.4
95 91 246 Micah Kao 11 Conestoga Valley 18:56.7
96 92 532 Cameron Beiler 12 Pequea Valley HS 18:57.0
97 93 402 Cadel Barber 10 Donegal 19:00.6
98 548 Jacob Adamson 10 Warwick 19:01.7
99 94 483 Owen Kreider 10 Lebanon 19:02.0
100 95 509 Luke Hentz 9 Northern Lebanon 19:02.2
101 96 508 Joseph Escobales 11 Northern Lebanon 19:03.6
102 97 77 Austin Krantz 12 Cocalico 19:04.1
103 98 208 David Moran 9 Annville-Cleona 19:06.0
104 99 106 Cyprus Rohrer 11 Cocalico 19:07.6
105 100 166 Connor Nuckols 12 Octorara 19:08.4
106 101 472 Grant Hall 10 Lancaster Catholic 19:12.1
107 212 ANTHONY FIGUEROA 9 Cedar Crest 19:14.2
108 102 210 Luke Tshudy 9 Annville-Cleona 19:14.7
109 103 459 Carlos Medina 12 J.P. McCaskey 19:17.1
110 104 206 Oliver Funck 9 Annville-Cleona 19:17.4
111 105 461 Max Wiggins 11 J.P. McCaskey 19:18.8
112 106 408 Dylan Lenhart 12 Donegal 19:19.9
113 107 437 Lance Wilson 11 Ephrata 19:20.7
114 108 258 Dominic Santamaria 9 Conestoga Valley 19:23.3
115 109 536 Hugh Johnson 12 Pequea Valley HS 19:24.0
116 110 401 Remi Mackay 11 Lancaster Mennonite 19:26.6
117 466 Jacob McClune 11 Lampeter Strasburg 19:30.4
118 111 476 Jack Senkowski 9 Lancaster Catholic 19:31.3
119 112 409 Brandon Marcelo 12 Donegal 19:37.6
Hosted By Ephrata Middle School
120 113 411 Gabe Asper 10 Eastern Lebanon Coun 19:38.4
121 114 529 Jack Steele 9 Penn Manor 19:39.5
122 115 471 John Bridgen 11 Lancaster Catholic 19:41.3
123 116 434 Milo Smee 9 Ephrata 19:41.9
124 117 455 Seth Carter 10 J.P. McCaskey 19:42.1
125 118 510 Josiah Kelly 10 Northern Lebanon 19:43.2
126 119 490 Carson Brooks 12 Manheim Central 19:44.7
127 120 513 Caleb Sanders 11 Northern Lebanon 19:48.6
128 121 414 Wesley Doll 11 Eastern Lebanon Coun 19:49.2
129 122 404 Micah Brydon 10 Donegal 19:53.3
130 123 123 Owen Arnold-Paine 12 Lebanon 19:54.9
131 124 92 Tate Renaud 10 Cocalico 19:55.8
132 125 512 Tucker Reiber 9 Northern Lebanon 19:56.3
133 126 506 Aidan Bertrand 12 Northern Lebanon 20:02.4
134 127 272 Alastair Shea 9 Conestoga Valley 20:03.7
135 407 Zachary Karpel 12 Donegal 20:05.0
136 128 220 Caden Walsh 11 Cocalico 20:05.5
137 129 139 Caleb Metzler 12 Lancaster Mennonite 20:05.7
138 130 496 Jarred Stoner 9 Manheim Central 20:06.0
139 131 44 Brady Gallagher 9 Cocalico 20:07.7
140 132 519 David Jones 12 Octorara 20:08.1
141 133 473 Danny Hoover 11 Lancaster Catholic 20:10.6
142 134 480 Samuel Davenport 12 Lebanon 20:11.3
143 135 442 Justin McFalls 9 Garden Spot 20:12.8
144 136 51 Riley Herr 10 Cocalico 20:13.4
145 224 Jordan Craighead 11 Conestoga Valley 20:14.1
146 137 433 Lorell Price 10 Ephrata 20:18.1
147 138 417 Grant Liskey 10 Eastern Lebanon Coun 20:22.6
148 523 Chase Bearden 9 Penn Manor 20:24.6
149 505 Kenneth Battistelli 12 Northern Lebanon 20:25.9
150 482 Trevor Gipe 12 Lebanon 20:29.5
151 139 538 Ian Althoff 12 Solanco 20:31.1
152 140 474 Isaac Lin 11 Lancaster Catholic 20:32.3
153 141 478 Michael Sheaffer 9 Lancaster Catholic 20:34.1
154 558 Jared Hostetter 12 Annville-Cleona 20:39.0
155 429 Noah Gray 9 Ephrata 20:39.3
156 522 Vincent Thaler 9 Octorara 20:42.3
157 475 Clark Salisbury 10 Lancaster Catholic 20:49.8
158 142 73 TREVOR JONES 10 Garden Spot 20:51.7
159 143 545 Thomas Houghton 10 Solanco 20:52.1
160 144 544 Curtis Hills 10 Solanco 20:53.7
161 145 494 Logan Gebhard 10 Manheim Central 20:54.3
162 146 221 Derrick Wenrich 11 Cocalico 20:54.5
163 147 415 Ethan Frey 10 Eastern Lebanon Coun 20:55.1
164 148 492 Caleb Creviston 10 Manheim Central 20:59.8
165 539 Rusty Armstrong 9 Solanco 21:01.2
166 20 Ashton Caulkins 11 Cocalico 21:07.3
167 149 537 Nathan Sensenig 9 Pequea Valley HS 21:12.7
168 150 495 Derek Moffett 9 Manheim Central 21:13.8
169 151 441 ASHTON MARTIN 10 Garden Spot 21:32.8
170 152 440 Seth Elias Lantz 9 Garden Spot 21:40.3
171 153 534 Ryan Flaim 12 Pequea Valley HS 21:47.5
172 154 295 Jared Bowman 10 Lancaster Mennonite 21:51.9
173 155 120 Jacob Ripperger 11 Lancaster Mennonite 21:58.9
174 446 Caleb Stefan 10 Garden Spot 22:01.0
175 156 413 Sam Davis 10 Eastern Lebanon Coun 22:21.9
176 157 535 Nathan Gehman 11 Pequea Valley HS 25:00.7
177 158 343 Logan Heisey 11 Lancaster Mennonite 30:11.4
 Boys Team Results
1. Hempfield (3)
2 3 9 11 12 (16) (27) = 37
Aidan Hodge, Joseph Fahrney, Sam Meyer, Emerson Long, Sam Freedman,
Isaiah Hollinger, Christopher Titter
2. Manheim Township
5 6 7 20 21 (22) (23) = 59
Cole Stevens, Gunner Geib, Adam Kingston, Ethan Peffley, Luke
Papadimitrio, Dylan DelVecchio, Aaron Wood
3. Lampeter Strasburg
1 4 17 26 75 (78) (86) = 123
Colin Whitaker, Ben Devine, Parker Stoner, Luke Smith, Andrew Cramer,
Owen Witmer, Michael Colosi
4. Warwick
10 18 36 42 45 (51) (73) = 151
Jake Forgione, Summit Smoker, Troy Weidler, Lincoln Weaver, Jordan
Barge, Cooper Hollinger, Rhys Craver
5. Elizabethtown Area
25 29 30 35 48 (52) (57) = 167
Jaysen Conrad, Jack Myers, Jackson Kay, Nicholas Mascia, Bradley
Kreider, Dante Checco, Dalton Fink
6. Cedar Crest
13 28 38 39 49 (54) (64) = 167
Ben Causak, Jake Perhonitch, Owen Sparks, TRAVIS FURMANSKI, Max Wauhop,
Kyle Rauchut, VISETH MENG
7. J.P. McCaskey
14 31 37 88 103 (105)(117) = 273
Derek Kendig, Sam Richard, Tyran London, Henry Clapper, Carlos Medina,
Max Wiggins, Seth Carter
8. Penn Manor
8 53 65 79 82 (85)(114) = 287
Kaleb Kabakjian, Tristan Weaver, Carter Vinson, Aidan Gerlach, Jack
Hightower, Donavon Landis, Jack Steele
9. Octorara
33 47 63 72 77 (100)(132) = 292
Finley Reynolds, Lucas Thaler, Jack Holub, Jared Hodorovich, Aristidis
Gourgoulis, Connor Nuckols, David Jones
10. Lebanon
19 56 60 69 94 (123)(134) = 298
Ramon Urena Batist, Gavin Sheetz, Brendon Shaak, Tyler Long, Owen
Kreider, Owen Arnold-Paine, Samuel Davenport
11. Solanco
15 46 59 67 139 (143)(144) = 326
Anthony Solis-Morale, Wyatt Tomison, James Hartigan, Isaac Esh, Ian
Althoff, Thomas Houghton, Curtis Hills
12. Conestoga Valley
43 50 62 81 91 (108)(127) = 327
Timothy Gitonga, Josh Yoder, Carson Miller, JOEY CASTRONOVA, Micah Kao,
Dominic Santamaria, Alastair Shea
13. Annville-Cleona
24 71 76 90 98 (102)(104) = 359
Landon Hostetter, Matt Clemson, Andrew Dorsey, Samuel Domencic, David
Moran, Luke Tshudy, Oliver Funck
14. Ephrata
55 66 84 87 107 (116)(137) = 399
Cayden Landis, Jack Martin, Tristan Hart, Miles Campbell, Lance Wilson,
Milo Smee, Lorell Price
15. Donegal
61 74 80 93 106 (112)(122) = 414
John Spackman, John Hinkle, Braden Bistline, Cadel Barber, Dylan
Lenhart, Brandon Marcelo, Micah Brydon
16. Garden Spot
40 41 68 135 142 (151)(152) = 426
Gavin Reimers, Alan Krock, Josiah Smucker, Justin McFalls, TREVOR
JONES, ASHTON MARTIN, Seth Elias Lantz
17. Eastern Lebanon County
34 44 113 121 138 (147)(156) = 450
Landen Brubaker, Chad Keller, Gabe Asper, Wesley Doll, Grant Liskey,
Ethan Frey, Sam Davis
18. Northern Lebanon
32 95 96 118 120 (125)(126) = 461
Tyler Shunk, Luke Hentz, Joseph Escobales, Josiah Kelly, Caleb Sanders,
Tucker Reiber, Aidan Bertrand
19. Lancaster Catholic
58 101 111 115 133 (140)(141) = 518
Alexander Sheaffer, Grant Hall, Jack Senkowski, John Bridgen, Danny
Hoover, Isaac Lin, Michael Sheaffer
20. Manheim Central
83 89 119 130 145 (148)(150) = 566
Cameron Evans, Carter Bruckhart, Carson Brooks, Jarred Stoner, Logan
Gebhard, Caleb Creviston, Derek Moffett
21. Cocalico
97 99 124 128 131 (136)(146) = 579
Austin Krantz, Cyprus Rohrer, Tate Renaud, Caden Walsh, Brady
Gallagher, Riley Herr, Derrick Wenrich
22. Lancaster Mennonite
70 110 129 154 155 (158) = 618
Ethan Kanagy, Remi Mackay, Caleb Metzler, Jared Bowman, Jacob
Ripperger, Logan Heisey
23. Pequea Valley HS
92 109 149 153 157 = 660
Cameron Beiler, Hugh Johnson, Nathan Sensenig, Ryan Flaim, Nathan
Gehman
Girls' Individual Results
Place Team Place No. Name Year School Time
1 1 1185 Isabella Shertzer 11 J.P. McCaskey 19:26.8
2 2 1221 Elena Barrall 10 Manheim Township 19:29.1
3 3 1187 Gabrielle Thiry 11 J.P. McCaskey 19:33.1
4 4 1115 Eliana Schneider 9 Cedar Crest 19:46.2
5 5 1179 Milana Breuninger 12 J.P. McCaskey 19:46.3
6 6 1156 Madison Kimmel 12 Ephrata 20:00.6
7 7 1258 Aubrey Ressler 9 Pequea Valley HS 20:03.0
8 8 1220 Kaila Atteberry 9 Manheim Township 20:12.0
9 9 1134 Molly Myers 9 Donegal 20:15.6
10 10 1108 Mackenzie Stellmach 9 Annville-Cleona 20:16.3
11 1120 Paige Reeser 11 Cocalico 20:17.0
12 11 1275 Grace Rudder 12 Warwick 20:17.9
13 12 1143 Jordan DiRisio 12 Elizabethtown Area 20:18.6
14 13 1261 Emma Baxter 12 Solanco 20:19.9
15 14 1177 Molly Siebert 11 Hempfield (3) 20:20.9
16 15 1116 Grace Tadajweski 12 Cedar Crest 20:21.7
17 16 1226 Lexie Kauffman 9 Manheim Township 20:23.0
18 17 1178 Ella Wolfe 11 Hempfield (3) 20:27.7
19 18 1130 Kathryn Fernald 10 Donegal 20:28.3
20 19 1260 Caleigh Vincent 11 Pequea Valley HS 20:33.2
21 20 1271 Ella Hartel 11 Warwick 20:34.4
22 21 1194 Keira Smecker 10 Lampeter Strasburg 20:35.5
23 22 1228 Marina Papadimitrio 11 Manheim Township 20:35.7
24 23 1145 Ali Fink 10 Elizabethtown Area 20:39.3
25 24 1113 Lizzie Lowe 11 Cedar Crest 20:48.8
26 25 1244 Mya Trotty 10 Octorara 20:52.8
27 26 1223 Macyn Fogleman 10 Manheim Township 20:57.2
28 27 1161 Kayla Reidenbaugh 11 Ephrata 21:01.2
29 28 1274 Leah Richie 9 Warwick 21:04.7
30 29 1112 Audrey Fugate 10 Cedar Crest 21:05.0
31 30 1192 Merin Kauffman 9 Lampeter Strasburg 21:05.7
32 31 1142 Isabel Zwally 12 Eastern Lebanon Coun 21:11.3
33 32 1106 Nory Mitchell 12 Annville-Cleona 21:11.3
34 1205 Claire Thomas 11 Lancaster Mennonite 21:14.6
35 33 1144 Lilah Drager 12 Elizabethtown Area 21:15.1
36 34 1252 Mackenzie Nafziger 11 Penn Manor 21:19.1
37 35 1117 Jillian Tobias 12 Cedar Crest 21:19.1
38 36 1265 Daria Neaves 12 Solanco 21:22.0
39 37 1129 Marleigh Ballard 12 Donegal 21:24.5
40 38 1132 Addison Houck 10 Donegal 21:25.5
41 39 1160 Ella Pfautz 9 Ephrata 21:25.7
42 40 1124 Seana Dougherty 11 Conestoga Valley 21:26.4
43 41 1176 Roz Scott 10 Hempfield (3) 21:29.4
44 42 1149 Rowan Hess 9 Elizabethtown Area 21:35.1
45 43 1242 Meghan McGinnis 10 Octorara 21:35.3
46 44 1229 Ava Shirk 11 Manheim Township 21:36.5
47 45 1227 Riley McGahren 9 Manheim Township 21:37.4
48 46 1105 Emily Maag 11 Annville-Cleona 21:38.7
49 47 1269 Sidoney Freeman 11 Warwick 21:44.8
50 48 1254 Abby Beiler 10 Pequea Valley HS 21:50.0
51 49 1164 Julia Hoover 11 Garden Spot 21:50.8
52 50 1188 Kamiah Wright 12 J.P. McCaskey 21:52.6
53 51 1214 Reagan Ibach 10 Manheim Central 21:52.9
54 52 1268 Katie Becker 11 Warwick 21:53.8
55 53 1245 Abby Ames 12 Penn Manor 21:56.1
56 54 1110 Maggie Chernich 11 Cedar Crest 21:58.9
57 1225 Ella Himelfarb 9 Manheim Township 21:59.6
58 55 1174 Ashley Page 11 Hempfield (3) 22:00.2
59 56 1153 Katie Brass 9 Ephrata 22:02.4
60 57 1181 Tessa Locke 12 J.P. McCaskey 22:04.1
61 58 1186 Morgan Stauffer 12 J.P. McCaskey 22:07.1
62 59 1267 Christine Wagner 11 Solanco 22:08.4
63 60 1175 Norah Rynier 11 Hempfield (3) 22:10.2
64 61 1151 Jillian Wivell 11 Elizabethtown Area 22:13.8
65 62 1123 Kylee Antrim 11 Conestoga Valley 22:14.6
66 63 1154 Sara Brass 11 Ephrata 22:16.6
67 1199 Eden Lin 10 Lancaster Catholic 22:20.3
68 64 1197 Morgan Wright 11 Lampeter Strasburg 22:22.0
69 65 1109 Leah Tshudy 9 Annville-Cleona 22:25.3
70 66 1171 Callie Herr 11 Hempfield (3) 22:25.8
71 67 1169 Leah Forry 11 Hempfield (3) 22:26.5
72 68 1240 Jessica Ferrara 11 Octorara 22:27.0
73 69 1266 Olivia Singleton 11 Solanco 22:27.4
74 70 1180 Anya Frey 12 J.P. McCaskey 22:28.8
75 71 1277 Kenzee Wiker 10 Warwick 22:29.8
76 72 1114 Maddie Lowe 11 Cedar Crest 22:38.3
77 73 1218 Jenna Moffett 12 Manheim Central 22:38.8
78 74 1157 Megan Martin 10 Ephrata 22:38.9
79 75 1137 Shawna Donough 10 Eastern Lebanon Coun 22:48.7
80 76 1247 Alyssa Eby 9 Penn Manor 22:56.0
81 77 1148 Kendall Hein 11 Elizabethtown Area 22:56.7
82 78 1141 Loni Ogunwusi 10 Eastern Lebanon Coun 23:00.1
83 79 1122 Belle Marie Alston 10 Conestoga Valley 23:00.3
84 1119 Nicole Ochs 10 Cocalico 23:01.8
85 80 1248 Bethany Hetrick 12 Penn Manor 23:01.8
86 1111 Sarah Durning 12 Cedar Crest 23:02.5
87 81 1127 Abigail Phillips 12 Conestoga Valley 23:14.9
88 82 1107 Emilie Stefanchik 10 Annville-Cleona 23:18.9
89 83 1239 Victoria Donovan 9 Octorara 23:23.3
90 1172 Jazahlyn Lopez 9 Hempfield (3) 23:28.8
91 84 1159 Breackann Olenhouse 9 Ephrata 23:28.8
92 85 1251 Madison Martin 10 Penn Manor 23:31.6
93 86 1103 Nadia Lezon 10 Annville-Cleona 23:34.4
94 87 1104 Madison Long 9 Annville-Cleona 23:34.7
95 88 1241 Analisa Griffiths 9 Octorara 23:42.2
96 89 1216 Julie Lindberg 11 Manheim Central 23:44.5
97 90 1147 Skylar Gubbins 11 Elizabethtown Area 23:45.7
98 91 1212 Taylor Bruckhart 11 Manheim Central 23:54.3
99 92 1232 Alyssa Marlowe 12 Northern Lebanon 23:57.5
100 93 1128 Abigail Zook 10 Conestoga Valley 23:57.5
101 94 1272 Emma Johnsen 9 Warwick 24:03.4
102 95 1249 Charity Hetrick 10 Penn Manor 24:09.9
103 1206 Amanda Yoder 12 Lancaster Mennonite 24:11.2
104 96 1139 Nina Milosevic 11 Eastern Lebanon Coun 24:13.2
105 97 1133 Emma Myers 12 Donegal 24:14.0
106 98 1246 Polina Balkenhol 9 Penn Manor 24:14.4
107 99 1126 Alyssa Hershey 11 Conestoga Valley 24:20.9
108 100 1196 Jocelyn Wolff 10 Lampeter Strasburg 24:21.9
109 101 1193 Olivia Magagna 10 Lampeter Strasburg 24:25.7
110 102 1213 Alexa Hoffman 10 Manheim Central 24:28.4
111 1121 Mallory Conroy 12 Columbia 24:32.2
112 1183 Hana Rebek 9 J.P. McCaskey 24:35.1
113 1276 Lily Sell 10 Warwick 24:35.7
114 103 1195 Abby Welchans 12 Lampeter Strasburg 24:37.7
115 1210 Kylie Rutter 9 Lebanon 24:38.2
116 1208 Mileyska Calderon Cal 12 Lebanon 24:39.9
117 1278 Colbey Brown 10 Annville-Cleona 24:40.2
118 104 1136 Bailey Shoaf 11 Donegal 24:43.4
119 105 1264 Anna Linde 10 Solanco 24:45.0
120 1207 Olivia Zook 9 Lancaster Mennonite 24:51.5
121 106 1189 Mikayla Coe 10 Lampeter Strasburg 24:52.8
122 107 1168 HAYLEY ZIMMERMAN 10 Garden Spot 24:53.4
123 1201 Kirsten Resch 11 Lancaster Catholic 24:58.1
124 108 1256 Izzy Hershey 12 Pequea Valley HS 24:59.6
125 109 1131 Natalie Greiner 11 Donegal 25:00.4
126 110 1236 Alexis Schreckengos 9 Northern Lebanon 25:00.5
127 1202 Giada Stellato 9 Lancaster Catholic 25:14.4
128 1250 Zoe King 11 Penn Manor 25:16.1
129 111 1262 Lexi Groff 10 Solanco 25:20.4
130 1204 Claire Hurst 12 Lancaster Mennonite 25:23.6
131 112 1217 Kyria Martin 10 Manheim Central 25:26.6
132 113 1230 Layla Baker 9 Northern Lebanon 25:38.5
133 114 1125 Sadie Haldeman 10 Conestoga Valley 25:52.1
134 115 1231 Toccoa Boyer 12 Northern Lebanon 25:54.2
135 1158 Ava Morgan 10 Ephrata 25:58.7
136 116 1166 Kailyn Miller 10 Garden Spot 26:03.3
137 117 1140 Desaray Nolt 11 Eastern Lebanon Coun 26:05.0
138 118 1233 Lauren Murray 12 Northern Lebanon 26:21.1
139 1135 Kaylan SHellenberge 9 Donegal 26:23.6
140 119 1234 Ash Rich 12 Northern Lebanon 26:24.4
141 120 1237 Kadence Shuey 12 Northern Lebanon 26:25.0
142 121 1165 Haylee Horning 10 Garden Spot 26:36.9
143 122 1167 Ines Tedeschi 12 Garden Spot 27:47.3
144 1191 Jenna Guyer 12 Lampeter Strasburg 27:52.9
145 1211 Ella Whalen 9 Lebanon 28:18.1
146 123 1163 Sarah Benedick 11 Garden Spot 28:44.5
147 124 1162 MAE BASEHORE 10 Garden Spot 28:58.6
148 1235 Sara Rich 12 Northern Lebanon 29:49.3
149 125 1255 Ashlee Hershey 10 Pequea Valley HS 31:07.4
150 1200 Maddalena Masciale-Wal 12 Lancaster Catholic 32:21.9
151 126 1263 Gracie Hartigan 10 Solanco 34:45.4
Girls Team Results
1. Manheim Township
2 8 16 22 26 (44) (45) = 74
Elena Barrall, Kaila Atteberry, Lexie Kauffman, Marina Papadimitrio,
Macyn Fogleman, Ava Shirk, Riley McGahren
2. Cedar Crest
4 15 24 29 35 (54) (72) = 107
Eliana Schneider, Grace Tadajweski, Lizzie Lowe, Audrey Fugate,
Jillian Tobias, Maggie Chernich, Maddie Lowe
3. J.P. McCaskey
1 3 5 50 57 (58) (70) = 116
Isabella Shertzer, Gabrielle Thiry, Milana Breuninger, Kamiah Wright,
Tessa Locke, Morgan Stauffer, Anya Frey
4. Warwick
11 20 28 47 52 (71) (94) = 158
Grace Rudder, Ella Hartel, Leah Richie, Sidoney Freeman, Katie Becker,
Kenzee Wiker, Emma Johnsen
5. Elizabethtown Area
12 23 33 42 61 (77) (90) = 171
Jordan DiRisio, Ali Fink, Lilah Drager, Rowan Hess, Jillian Wivell,
Kendall Hein, Skylar Gubbins
6. Hempfield (3)
14 17 41 55 60 (66) (67) = 187
Molly Siebert, Ella Wolfe, Roz Scott, Ashley Page, Norah Rynier,
Callie Herr, Leah Forry
7. Ephrata
6 27 39 56 63 (74) (84) = 191
Madison Kimmel, Kayla Reidenbaugh, Ella Pfautz, Katie Brass, Sara
Brass, Megan Martin, Breackann Olenhouse
8. Donegal
9 18 37 38 97 (104)(109) = 199
Molly Myers, Kathryn Fernald, Marleigh Ballard, Addison Houck, Emma
Myers, Bailey Shoaf, Natalie Greiner
9. Annville-Cleona
10 32 46 65 82 (86) (87) = 235
Mackenzie Stellmach, Nory Mitchell, Emily Maag, Leah Tshudy, Emilie
Stefanchik, Nadia Lezon, Madison Long
10. Solanco
13 36 59 69 105 (111)(126) = 282
Emma Baxter, Daria Neaves, Christine Wagner, Olivia Singleton, Anna
Linde, Lexi Groff, Gracie Hartigan
11. Pequea Valley HS
7 19 48 108 125 = 307
Aubrey Ressler, Caleigh Vincent, Abby Beiler, Izzy Hershey, Ashlee
Hershey
11. Octorara
25 43 68 83 88 = 307
Mya Trotty, Meghan McGinnis, Jessica Ferrara, Victoria Donovan,
Analisa Griffiths
13. Lampeter Strasburg
21 30 64 100 101 (103)(106) = 316
Keira Smecker, Merin Kauffman, Morgan Wright, Jocelyn Wolff, Olivia
Magagna, Abby Welchans, Mikayla Coe
14. Penn Manor
34 53 76 80 85 (95) (98) = 328
Mackenzie Nafziger, Abby Ames, Alyssa Eby, Bethany Hetrick, Madison
Martin, Charity Hetrick, Polina Balkenhol
2022 Lancaster Lebanon League XC Championships
Girls Team Score Results
Hosted by Ephrata Middle School
Motion Timing | www.motiontiming.com
15. Conestoga Valley
40 62 79 81 93 (99)(114) = 355
Seana Dougherty, Kylee Antrim, Belle Marie Alston, Abigail Phillips,
Abigail Zook, Alyssa Hershey, Sadie Haldeman
16. Eastern Lebanon Coun
31 75 78 96 117 = 397
Isabel Zwally, Shawna Donough, Loni Ogunwusi, Nina Milosevic, Desaray
Nolt
17. Manheim Central
51 73 89 91 102 (112) = 406
Reagan Ibach, Jenna Moffett, Julie Lindberg, Taylor Bruckhart, Alexa
Hoffman, Kyria Martin
18. Garden Spot
49 107 116 121 122 (123)(124) = 515
Julia Hoover, HAYLEY ZIMMERMAN, Kailyn Miller, Haylee Horning, Ines
Tedeschi, Sarah Benedick, MAE BASEHORE
19. Northern Lebanon
92 110 113 115 118 (119)(120) = 548
Alyssa Marlowe, Alexis Schreckengos, Layla Baker, Toccoa Boyer, Lauren
Murray, Ash Rich, Kadence Shuey
Incomplete Teams:
Cocalico
Paige Reeser, Nicole Ochs
Lancaster Mennonite
Claire Thomas, Amanda Yoder, Olivia Zook, Claire Hurst
Lancaster Catholic
Eden Lin, Kirsten Resch, Giada Stellato, Maddalena Masciale-Wal
Columbia
Mallory Conroy
Lebanon
Kylie Rutter, Mileyska Calderon Cal, Ella Whalen

Lebanon Federal Credit Union