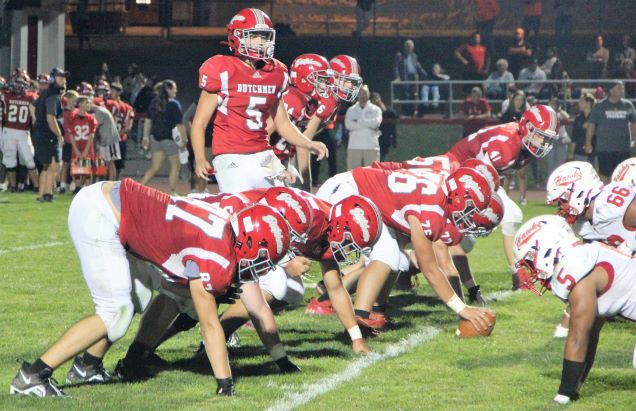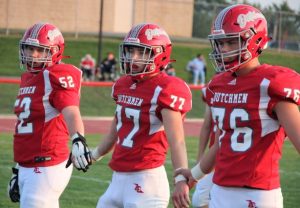 BY JEFF FALK
Editor
ANNVILLE – The remainder of the schedule is favorable, and they'll need to improve. But everything they wanted is still in front of them.
Everything is up to the Little Dutchmen.
On a clear Friday night at Annville-Cleona High School, the Little Dutchmen endured a deflating but not debilitating 39-26 loss to Hamburg. It was very much a competitive and back-and-forth game, until the Hawks used two Pierce Mason touchdowns in the final 7:07 to pull away.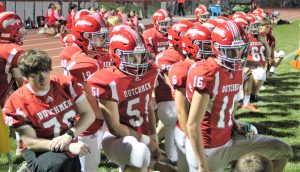 The contest served as the Lancaster-Lebanon Section Five opener for both sides, as well as the first ever league meeting between Annville-Cleona and Hamburg of Berks County. The outcome evened the Little Dutchmen's overall mark to 2-2, while the Hawks remained unbeaten at 4-0.
Hamburg now leads the all-time football series between the two schools 6-3.
"We're a two-A school and it showed," said Annville-Cleona head coach Matt Gingrich. "But we have a chance to win a district championship. The goal is to win out and become the first Lebanon County team to win a district championship. Now we've got to get in.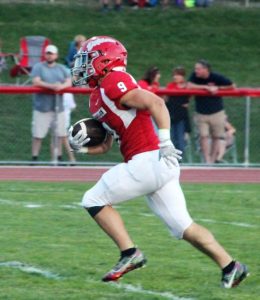 "I'm sick of losing," continued Gingrich. "If the school is OK with being average, I don't want to be here. I want an eight-win season. We're going to take every week as a one-game season. Winning breeds winning. Success breeds success. The enemy of greatness is mediocrity."
Annville-Cleona certainly had its chances in this one.
Senior quarterback Gavin Keller's one-yard sneak with 10:23 to go culminated a 14-play, 71-yard Annville-Cleona march and knotted the score at 26.  But the Little Dutchmen had no answers for Hamburg's next two possessions, both of which ended in touchdowns.
"We played as well as we could," said Gingrich. "I love my kids. But my kids aren't their kids. They're (the Hawks) a four-A school. Their tailback (Mason) is one of the best we've seen all year. They probably have six or seven kids who are as good as I've seen all year.
"They came in averaging 59 points per game and our defense gave up 32," added Gingrich. "We didn't back down. We were as physical as we are physically capable of being. When we look across the line of scrimmage, it's different."
Trailing by six points, the Little Dutchmen notched a pair of touchdowns in a 4:40 span late in the second quarter to grab a 20-13 lead. After sophomore Jonathan Shay hauled in an 88-yard touchdown toss from Keller, Phoenix Music plowed in from 15 yards away.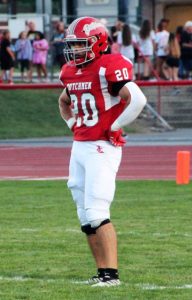 But Hamburg used a long kickoff return and an eight-yard Mason burst to score 53 seconds before the half. Then late in the third quarter, the Hawks turned a Little Dutchmen fumble into a 52-yard touchdown return and a 26-20 advantage.
"We had three major mistakes," said Gingrich. "We call a pass play and we can't protect it. Then we can't get a yard on a quarterback sneak.
"When we watched them (the Hawks) on film, it was like the Elco game and de ja vu all over again," added Gingrich. "It was a little worrisome. We knew what we were getting into."
The two teams combined for three touchdowns on the game's first three possessions.
Hamburg established a 7-0 lead just 35 seconds in. But the Little Dutchmen responded by driving 70 yards on ten running plays to get the 24-yard Music TD run that evened the score.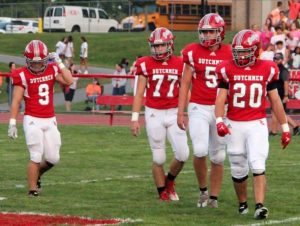 "I love Phoenix," said Gingrich. "He comes from a line of tough players. Phoenix is tough, but we have a lot of tough kids. I am so proud of what he's done, but he's no tougher than anyone else on our team.
"We are what our record says we are," Gingrich continued. "In our two losses, we left some opportunities go. They were two 50-50 games, and we're 0-2. We've got to get one of them. We're not sealing the deal when we need to seal it."
Annville-Cleona out gained Hamburg 413 total yards to 326. Music carried 31 times for 190 rushing yards.
Mason toted 'the rock' 20 times for 292 yards on the ground and five touchdowns.
To purchase images in this article please email jeff@lebcosports.com.
2022 Annville-Cleona Football Schedule
Date
Opponents
Outcomes
8/26
7:00 pm
Annville-Cleona
at Hanover
55
12
Nonleague
9/01
7:00 pm
Elco
at Annville-Cleona
22
19
Nonleague
9/09
7:00 pm
Littlestown
at Annville-Cleona
14
42
Nonleague
9/16
7:00 pm
Hamburg
at Annville-Cleona
League
9/23
7:00 pm
Columbia
at Annville-Cleona
League
9/30
7:00 pm
Annville-Cleona
at Kutztown
League
10/07
7:00 pm
Lancaster Catholic
at Annville-Cleona
League
10/14
7:00 pm
Annville-Cleona
at Pequea Valley
League
10/21
7:00 pm
Annville-Cleona
at Schuylkill Valley
League
10/28
7:00 pm
Northern Lebanon
at Annville-Cleona
League