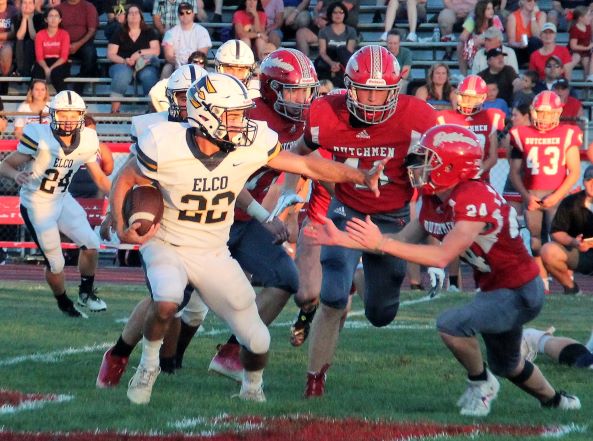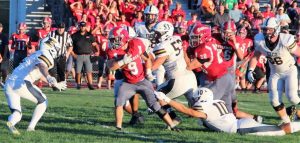 BY JEFF FALK
Editor
ANNVILLE – Elco's football culture is predicated on an existential experience, playing for each other and teaching life lessons that can't be learned anywhere else. But while winning is secondary and thus simply a result, there's no denying that it enhances the overall culture.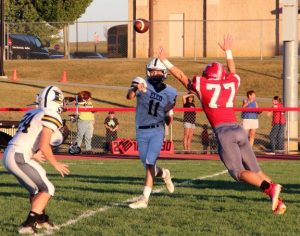 On a clear Thursday night at Annville-Cleona High School, the Raiders' football culture produced – among other things – a 22-19 triumph over their rival Little Dutchmen. After Elco had trailed 6-0 and 19-7, the Raiders tallied a pair of fourth-quarter touchdowns, the second of which came on Jake Williams' nine-yard scoring scamper with 5:33 remaining.
Annville-Cleona did drive deep into Raider territory late in the game, but had the march short-circuited by its seventh fumble of the evening.
With the positive result, Elco improved to 2-0 overall. The loss in its home opener evened Annville-Cleona's mark at 1-1.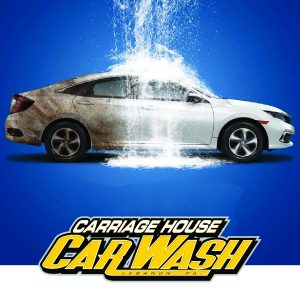 "Every day is important," said Elco head coach Bob Miller. "We talk about going 1-0, not every game, but every play. It was an important win because we faced adversity. That's the second straight week that we shut out our opponent in the second half.
"It was a great game because it epitomized what our program is about," continued Miller. "It showed out never-give-up attitude. We talk about having fun. These kids are having fun. We're raising that standard. We're 2-0, but we're 3-0 when it comes to reaching our goals."
"The effort was great," said Annville-Cleona head coach Matt Gingrich. "The issue was that the execution was not up to par. Elco has won in every single sport against us in the last five years. Elco kids get into the weight room. They expect to win. Over the last couple of years, we've lost more to them than we've won.
"We're an AA school and they're a AAAA school," added Gingrich. "It's not like we're playing the stay-puft marshmallow men. We don't have the same kind of kids any more."
With Annville-Cleona firmly in control of the scoreboard and the momentum, the turning point of the contest came late in the third quarter when the Little Dutchmen drove to the Elco five-yard line. But instead of punching it in for the TD that would've made it a three-score game, Annville-Cleona fumbled away the chance.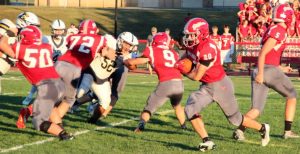 Six plays later, Elco senior quarterback Dom Thornton found teammate Elliot Kreider for a 56-yard touchdown strike that pulled the Raiders to within 19-14 of the lead, 49 seconds into the fourth quarter. Then on the Raiders' next possession, Williams' decisive run was set up by Thornton's 21-yard scramble on a fourth-down-and-15 snap.
"We played hard every play of the game," said Miller. "There's no quit in this team. There's no hanging heads. There's no looking at the scoreboard. They're (his players) excited every play. I don't feel like we had a down moment. There's never any blame.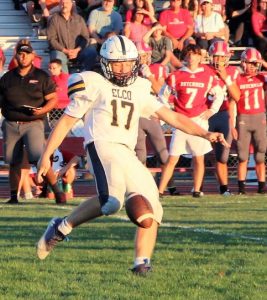 "I don't want to use the word 'gritty'," Miller continued. "It's a win that's demonstrative of the kind of team we are. It's a brotherhood."
"We didn't score when we were up 19-7," said Gingrich. "We've got to score there. We had a chance and they (the Raiders) made a play.
"The issue is execution," Gingrich added. "We do not make plays when we need to make plays. Unfortunately, we're very passive. That's why we lost tonight. We guess instead of read. Plus, you can't put the ball on the ground seven times."
With Elco protecting a 7-6 second-period edge, Annville-Cleona workhorse Phoenix Music took it in from ten yards out to put his side ahead. Then 1:32 before the half, A-C's Cam Connelly intercepted an errant Thornton aerial and took it 15 yards to pay dirt for the score that gave the Little Dutchmen their 19-7 lead at the half.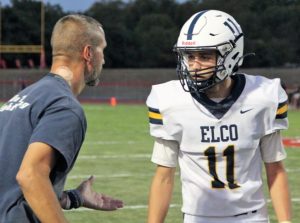 "Coach (John) Carley made some defensive adjustments and we shut them out in the second half," said Miller. "It wasn't a big rah-rah speech at halftime. I just told them (his players) not to look at the scoreboard, because they're still the better team. And boy did they show it in the second half."
"The first half was awesome," said Gingrich. "We were up 19-7 and we were playing well. I thought we blocked well. We played as good of a first half as we could have.
"We didn't handle the pressure," continued Gingrich. "But this loss is squarely, 100 percent on my shoulders. I didn't coach well. This comes from the top."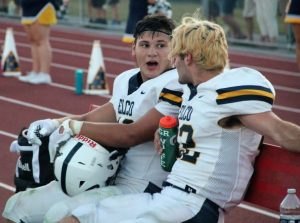 Annville-Cleona scored first, with 5:20 left in the opening quarter, as quarterback Gavin Keller's one-yard sneak gave the Little Dutchmen a 6-0 advantage. But Elco responded on the second play of the second stanza, when Thornton connected with Kreider for a ten-yard score, after J. Williams had ripped off a 33-yard gainer.
"Jake is incredibly versatile," said Miller. "At the end of the game, when we were trying to run out the clock, he was running from the fullback spot. But he can also pick up yardage on the edge with his legs."
"The game plan was to make everybody but number 22 (J. Williams) beat us," said Gingrich. "We took away their fastball and they threw their change-up."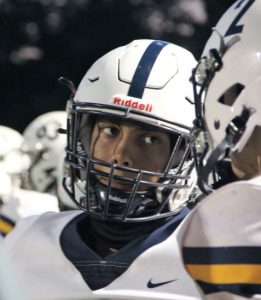 With J. Williams carrying 27 times for 176 rushing yards, Elco out gained Annville-Cleona 348 total yards to 171. Music toted 'the rock' 21 times for 120 yards.
Kreider hauled in four Thornton aerials for 95 yards.
"I think they're fairly young," said Miller of the Little Dutchmen. "They're a hard-playing team. Their coaches put us in a heck of a spot. They have tough kids. I think they're going to do well moving forward in their section (Five of the Lancaster-Lebanon League)."
"Their effort is 100 percent commendable," said Gingrich of his charges. "If you look at our schedule, this is one of the toughest teams we'll face. I'm assuming we're not going to face a team as physical as this for the rest of the year. I think this bodes well for us moving forward."
 To purchase images in this article please email jeff@lebcosports.com.
2022 Elco Football Schedule
2022 Annville-Cleona Football Schedule
Date
Opponent
Outcome
8/26
7:00 pm
Annville-Cleona
at Hanover
55
12
Nonleague
9/01
7:00 pm
Elco
at Annville-Cleona
Nonleague
9/09
7:00 pm
Littlestown
at Annville-Cleona
Nonleague
9/16
7:00 pm
Hamburg
at Annville-Cleona
League
9/23
7:00 pm
Columbia
at Annville-Cleona
League
9/30
7:00 pm
Annville-Cleona
at Kutztown
League
10/07
7:00 pm
Lancaster Catholic
at Annville-Cleona
League
10/14
7:00 pm
Annville-Cleona
at Pequea Valley
League
10/21
7:00 pm
Annville-Cleona
at Schuylkill Valley
League
10/28
7:00 pm
Northern Lebanon
at Annville-Cleona
League

Lebanon Federal Credit Union