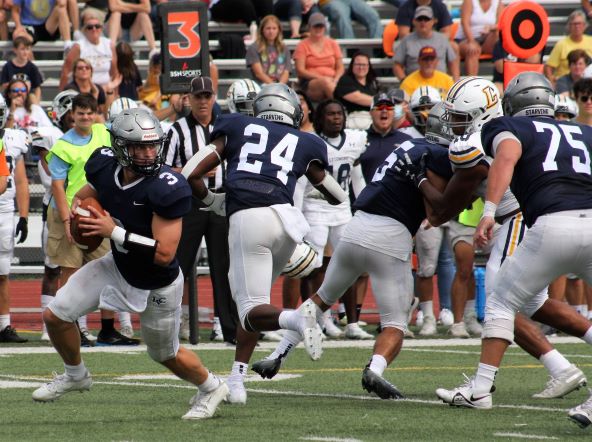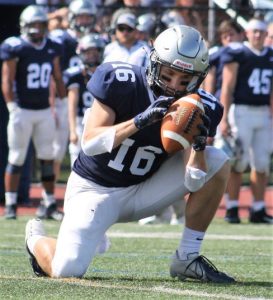 BY JEFF FALK
Editor
ANNVILLE – Despite its desire for everyday improvement, the Lebanon Valley College football team has a firm grasp on the big picture. But when they do afford themselves that opportunity, the Flying Dutchmen are always focused on the future, never the past.
One of LVC's most enduring and endearing qualities is a resiliency based in positivity.
On a comfortable Saturday afternoon at Arnold Field on the campus of Lebanon Valley College, the Flying Dutchmen dropped an extremely difficult 21-20 decision to Lycoming, in a contest that was as hotly-contested as the final score indicates. Lebanon Valley misfired on the extra point following its third and final touchdown of the game, and it proved to be decisive.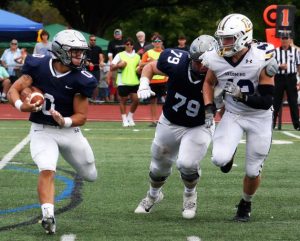 The Flying Dutchmen certainly came up with their share of big plays throughout, and there were plenty of times when they appeared to be the better team. But LVC simply couldn't seal the deal and in the end came up one play – a single point – short.
The setback dropped Lebanon Valley to 0-2 on the fall. Lycoming evened its overall record at 1-1.
The Warriors have won 23 of their last 29 meetings with LVC.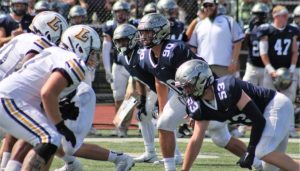 "It's easy to stay positive," said Lebanon Valley head coach Joe Buehler. "It's a great group of young men. It's about consistency. I continue to learn about our players. I'm starting to find out who these guys are and where they come from.
"The goal is to beat FDU(-Florham, next Saturday) and to be 1-0 in the MAC," added Buehler. "That's it. That's all we care about."
With the score knotted at 14 early in the second half, Lebanon Valley marched 80 yards in six plays to get a 23-yard scoring strike from sophomore quarterback Braden Bohannon to Malaki Blair and take a 20-14 lead. The go-route along the right sideline came on a fourth-down-and-three snap and was set up by a 51-yard completion between Bohannon and receiver Jay Sisko.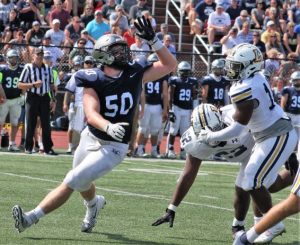 Lycoming responded with what prove to be the winning score 4:33 into the final quarter, as quarterback Elijah Shemory found Heath Jones with a two-yard touchdown pass. LVC had three subsequent possessions, but couldn't muster points from any of them.
"We had opportunities to make a play," said Buehler. "You've got to make a play, in all phases of the game. It's a bitter one. We gave up a point, and it came back to hurt us.
"I thought we fought hard for four quarters," continued Buehler. "We didn't have a letdown today. But we made some mistakes."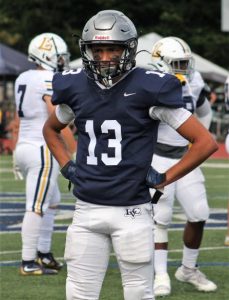 Lebanon Valley scored first, and took a 7-0 lead 7:36 into the contest. Flying Dutchmen Dion Bryant raced 17 yards into the end zone, after Bohannon, a graduate of Elco, had hooked up with Gabe Randall for 44 yards and a first down.
"I would agree with that," said Buehler, when it was suggested that his team at times appeared to be the superior one. "We are a good football team that can be great. But we're not playing well enough to win.
"This team didn't expect to be 0-2," Buehler continued. "This team has got talent. We thought we've be a 2-0 football team, but we're not."
The Flying Dutchmen enjoyed a 14-7 advantage in the halftime locker room thanks to Bohannon's five-yard touchdown strike to a sliding Rylee Stahl, 1:18 before the break. Lebanon Valley took advantage of good field position created by its defense, a short Lycoming punt and Sisko's efficient return.
"I thought we tackled pretty well," said Buehler. "I thought we got worn down a little at the end of the third quarter and at the beginning of the fourth. I think if you look at the time of possession, it favors them (the Warriors)."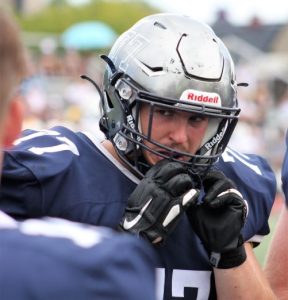 Lycoming out gained Lebanon Valley 319 total yards to 278.
Bohannon completed 15 of his 31 throws for 202 yards, the two touchdowns and three interceptions. Ryan Enright paced the LVC defense with ten total tackles, seven of which were of the solo variety.
"I know we completed some bigger plays than we have been," said Buehler. "Braden took some shots (down field). We had some opportunities.
"But we're not playing well enough offensively to win," Buehler added. "We need to play better offensively to complement our defense. We had some throws that need to be better. We had some blocks that need to be better. I don't know of any phase where we don't need to get better."
To purchase images in this article please jeff@lebcosports.com.
2022 Lebanon Valley College Football Schedule


Date           Time        At     Opponent                      Location
Sep 2 (Fri)    7 p.m.      Away   Franklin & Marshall College   Lancaster, Pa.                                    
Sep 10 (Sat)   1 p.m.      Home   Lycoming College              Annville, Pa. (Arnold Field)                      
Sep 17 (Sat)   12 p.m.     Away   FDU-Florham                   Madison, N.J.                                     
Sep 24 (Sat)   1 p.m.      Home   Wilkes University             Annville, Pa. (Arnold Field)                      
Oct 1 (Sat)    1:30 p.m.   Away   Alvernia University           Reading, Pa.                                      
Oct 8 (Sat)    1 p.m.      Away   Misericordia University       Dallas, Pa.                                       
Oct 15 (Sat)   1 p.m.      Home   Delaware Valley University    Annville, Pa. (Arnold Field)                      
Oct 22 (Sat)   12 p.m.     Away   King's College (Pa.)          Wilkes-Barre, Pa.                                 
Oct 29 (Sat)   1 p.m.      Home   Widener University            Annville, Pa. (Arnold Field)                      
Nov 12 (Sat)   12 p.m.     Home   Albright College              Annville, Pa. (Arnold Field)



Lebanon Federal Credit Union