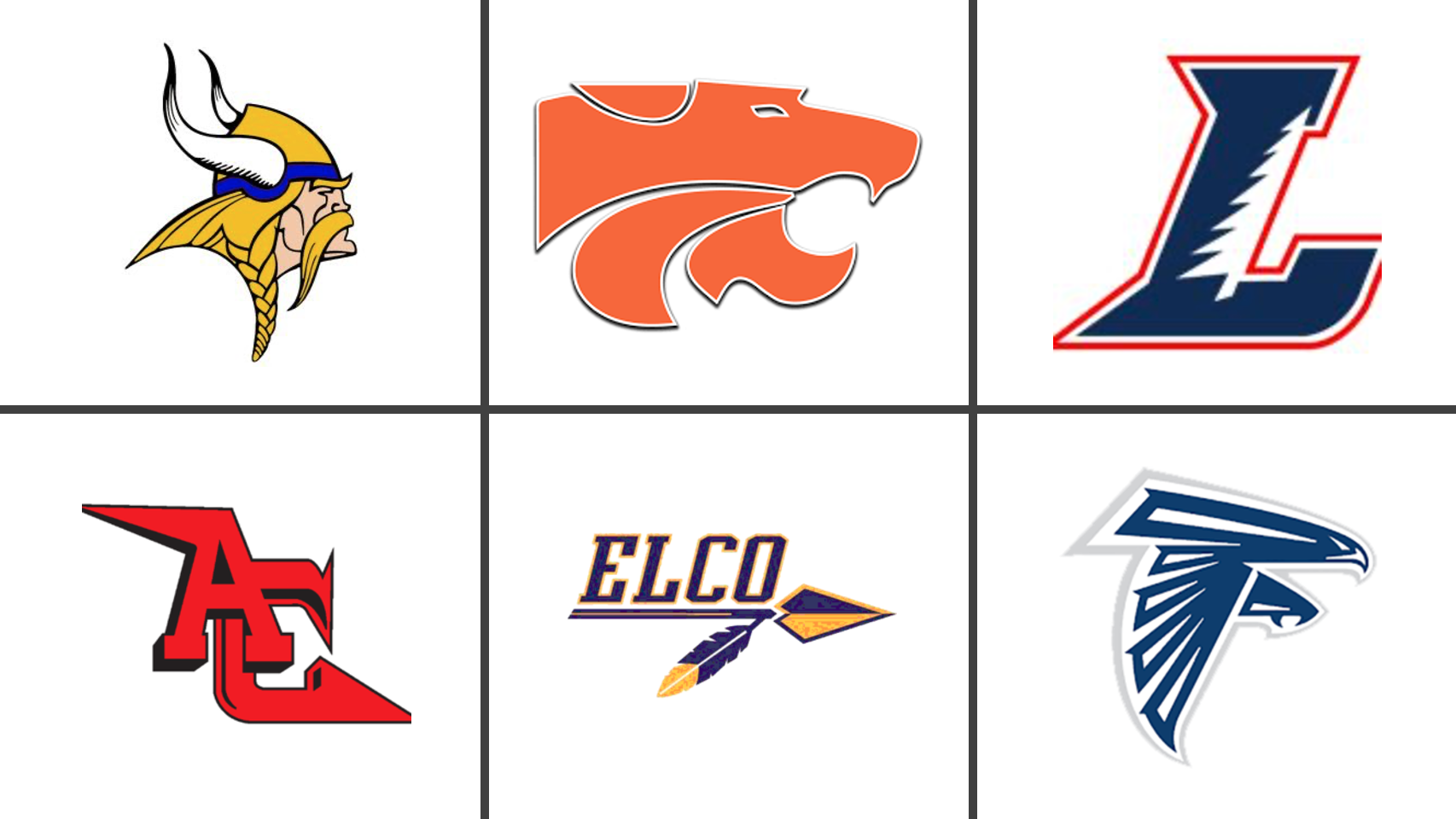 Annville-Cleona Dutchmen 
Lancaster-Lebanon League Section 4
Head Coach: Carrie Gingrich
Key Players:  Grace Francis (Jr.); Claire Hoover (Sr.);  Ainsley Sellers (Jr.);  Tori Cisney (So.); Kendall Cooper (So.); Danika Setlock (So.)
Key Losses: Allison Cooper; Erin Schrader
Outlook: With realignment in the Lancaster-Lebanon League, Annville-Cleona moved from Section 3 to Section 4 for the 2022 season.  In 2021, the team finished 2nd to Garden Spot and is confident that they are a strong contender to win their new section.  Coach Gingrich is excited to work with this group of young ladies and prepare them throughout the regular season in hopes that they can make it to the PIAA State Tournament and make some noise.
---
     Cedar Crest Falcons 
Lancaster-Lebanon League Section 2
Head Coach: Alicia Arnold
Key Players: Paige Bucher (Sr.); Hannah Klinger (Sr.); Ashley Lamson (Sr.); Hailey Newmaster (Sr.); Reese Arnold (Jr.); Sierra Margut (Jr.); Anna Moyer (Jr.); Danielle Schroll (Jr.); Ava Schreier (So.)
Key Losses: Emma Heister (LVC); Caroleena Orta (LVC); Lexie Keffer; Sorcha Murphy; Julianna Donley; Sammi McCarrick
Outlook: How does a program lose eleven seniors from last year's team and still feel good about the prospects for improvement?  Just ask Coach Arnold, who enters her second season as the head coach of the Falcons.  The core beliefs that Coach has worked on with her team are clearly understood: Believe in one another and give your best effort daily.  This culture of support and hard work translated into improvement throughout the 2021 season, which included a tight 4-3 loss to Garden Spot, the eventual Section 3 champion.  In 2022, Cedar Crest returns several key veterans who understand that they do not understand how good they can be if they just put in the work and trust the process.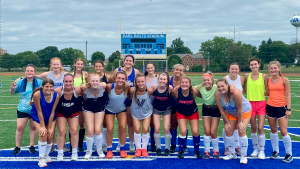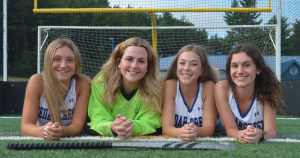 Cedar Crest Captains: Paige Bucher, Hailey Newmaster, Ashley Lamson and Hannah Klinger
---
   ELCO Raiders  
Lancaster-Lebanon League Section 3
Head Coach: Kelsey Thorley
Key Players: Kamryn Hine (Sr.); Kylie Brown (Jr.); Jordyn Fox (Jr.); Kailen Hibshman (So.); Aeryn Marks (So.); Addie Weiler (Fr.)
Key Losses: Jessica Seidel (East Stroudsburg); Myah Yesko (Millersville)
Outlook:  ELCO enters the 2022 season, having made the PIAA District 3 playoffs a year ago.  The Raiders are hopeful that they build upon the experience gained and make a return visit.  Within Section 3, Coach Thorley is quick to point out that Garden Spot could serve a roadblock to a section title.  With that being stated, she and her team also know that this tough competition will get them ready for playoff competition.
---
     Lebanon Cedars
Lancaster-Lebanon League Section 3
Head Coach: Becca Thomson
Key Players: Eve Fenstermaker (Sr.); Mya Gonzalez (So.); Zujuanlisse Figueroa (So.)
Key Losses: Madison Bishop; Olivia Uffner (Alvernia); Dorthie Zechman; Tairy Minaya; Jazmary Morales; Jeannettxi Maldonado; Emily Boger
Outlook: The Cedars find themselves in a rebuilding phase following the graduation of nine of last year's players, including seven who had tremendous chemistry after playing together for six straight seasons.  However, Coach Thomson has twenty-three players on her roster heading into the season.  The coaching staff is currently working with their players to simplify the game and making the fundamental plays, which will translate into improvement.  While the team is young and they play in a very difficult Section 3, this Lebanon team understands that they have the opportunity to learn from every challenge.  Ultimately, if these players can persevere, there is hope that Lebanon can be a worthy opponent for even the toughest of teams.
---
     Northern Lebanon Vikings
Lancaster-Lebanon League Section 4
Head Coach: Noelle Almond
Key Players: Hope Ritchie (Sr.); Kiera Anspach (Jr.);  Scarlett Naum (Jr.); Miya Neuman (Jr.); Madison Brewer (So.); Taylor Klink (So.); Sadie Ostermayer (So.); Rylee Snyder (So.); Alex Spangler (So.) Mackenzie Miller (Fr.); Soairse Phillips (Fr.);  Kasey Weimer (Fr.)
Key Losses: Anna Kolacek
Outlook:  Taking the helm of the ship for the first time to start the 2022 season is Coach Almond.  She gained a good first impression of the team, when all of the girls reported to practice in good shape.  This may seem inconsequential to most, but to a new coach it is an indicator of the type of athlete with which you will be working and will allow you to start working right away.  Coach Almond knows that there is a lot of work to be done, but there will be massive improvements made if her players continue with this work ethic and keep a good attitude along the way.
---
   Palmyra Cougars
Mid-Penn Conference – Keystone Division
Head Coach: Kent Harshman
Key Players: Liv Kirkpatrick (Sr.); Keely Bowers (Jr.); Avery Russell (Sr.); Katie Lintz (Sr.); Olivia Gain (Jr.); Alicia Battistelli (Sr.); Addie Sholly (Jr.);  Hadley Hoffsmith (So.);  Mallory Hudson (So.)
Key Losses: Alexa Derr (Richmond); Maddie Hudson (Boston U); Abby Mateer (Rochester); Anna Miller (Liberty); Emily Risser (Ohio U)
Outlook:  Palmyra is known as a field hockey town for good reason.  The Cougars are perennial favorites to make deep championship runs, while developing talent that excels at the collegiate level. In fact, Palmyra has made PIAA Championship Finals appearances six times over the past eight years, winning gold twice.  This run has also included four District 3 titles in six finals appearances.   For most programs, the 2021 quarterfinals appearance in the PIAA tournament would be an accomplishment, but this program has a different set of expectations for itself.  In 2022, Coach Harshman is confident that he has a strong team that will be able to once again reach the heights to which Palmyra field hockey has become accustomed.
---
If you are looking to provide feedback or are a business or individual interested in providing sponsorship to aid our mission at LebCoSports, you are asked to contact Dan by emailing dan@lebcosports.com.

Lebanon Federal Credit Union