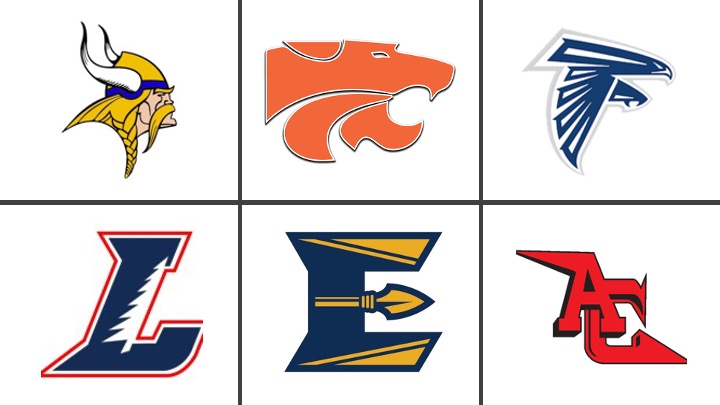 Annville-Cleona Dutchmen 
Lancaster-Lebanon League Section 3
Head Coach: Caitlin Heller
Key Runners: Cassi Clemson (Sr.); Nory Mitchell (Sr.); Emma Rexrode (Sr.); Emily Maag (Jr.); Emilie Stefanchik (So.); Nadia Lezon (So.)
Key Losses: Braetan Peters (Elon); Emily Manwiller
Outlook:  The Annville-Cleona girls are coming off a 2021 season where they were able to capture the PIAA District 3 Class A Championship.  Losing the District 3 individual champ (Peters) and the 12th place finisher (Manwiller) will slow down any team.  However, this year's squad is returning two top-10 District finishers (Clemson & Mitchell), along with three other members from the title team.  This makes A-C one of the more experienced teams you'll find, but combined with the veteran leadership there is also an infusion of new runners hoping to compete for their chance to run in the varsity line-up.  Coach Heller sees this as a positive, as she feels that some of the more novice runners will be able to learn about what it means to compete at a high level from the upperclassmen, ultimately making for a championship-caliber team this year and years beyond.
---
     Cedar Crest Falcons 
Lancaster-Lebanon League Section 1
Head Coach: Brandon Risser
Key Runners: Sarah Durning (Sr.); Grace Tadajweski (Sr.); Jillian Tobias (Sr.); Maggie Chernich (Jr.); Lizzie Lowe (Jr.); Maddie Lowe (Jr.); Audrey Fugate (So.); Eliana Schneider (Fr.)
Key Losses: Alyssa Stiver; Lizzy Vila; Katelyn Waranavage
Outlook: The Falcons return for the 2022 campaign with a fair amount of senior leadership and experienced runners from a team that qualified for Districts just a year ago following a 5th place finish at the Lancaster Lebanon League Championships.  With the addition of new runners to the varsity program, Coach Risser has been impressed with how quickly the veterans and the rookies have come together to form a cohesive unit.  Relying on the veterans who understand the culture of the program and having put in meaningful mileage over the summer, the Cedar Crest girls XC team should once again be competitive in the highly competitive Section 1.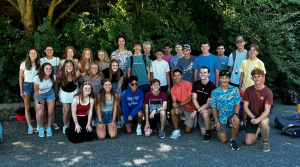 ---

 ELCO Raiders  
Lancaster-Lebanon League Section 3
Head Coach: Chuck Gerberich
Key Runners: Isabel Zwally (Sr.); Nina Milosovic (Jr.); Shawna Donough (So.)
Key Losses: Abigail Zimmerman
Outlook: The Raiders enter the 2022 season with hopes to develop the talent they have, as they look to be competitive in the newly created Section 3.  Unfortunately, Coach Gerberich is well aware that part of this plan hinges upon each girl remaining healthy as they are going into the season with the five runner minimum.  However, this will not deter his efforts to create an enjoyable atmosphere where hard work will pay dividends for his scholar-athletes.
---
     Lebanon Cedars
Lancaster-Lebanon League Section 1
Head Coach: Tom Pearson
Key Runners: Savannah Hershey (Jr.)
Key Losses: Ashley Jocham
Outlook: There is no question that coaching distance running in an urban environment has its challenges, but Coach Pearson has created a culture that breeds success among those who are willing to put in the work.  Junior Savannah Hershey knows what this means and is back as the competitive and spiritual leader of a small Cedars squad that will lace up this fall.  With that, Coach Pearson has set the goals of improvement of each of his team's members throughout the season, along with being able to post a team score at the L-L League Championship Meet.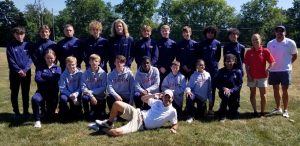 ---
     Northern Lebanon Vikings
Lancaster-Lebanon League Section 3
Head Coach: Tricia L. Schafebook
Key Runners: Alyssa Marlowe (Sr.); Lauren Murray (Sr.) Erin Shuey (Sr.); Toccoa Boyer (Sr.); Kadence Shuey (Sr.); Reilly Harmon (Sr.)
Outlook: Coming off a season where the Vikings were 2-9 in Section 2, they will make the transition to the small school Section 3 with a stockpile of strong leaders as part of their pack.  Among the returning runners are Marlowe and Murray who represented Northern Lebanon at the District 3 meet in 2021. If all goes well, Coach Schafebook is confident that others will join those two at Districts this year in route to a higher finish at the Lancaster Lebanon League Championship Meet.
---
   Palmyra Cougars
Mid-Penn Conference – Keystone Division
Head Coach: Dave Hollen
Key Runners: Abby Berarducci (Jr.); Avery Rohrer (So.); Ellie Schaffer (So.); Abby Keiner (Jr.); Carmen McConaghy (Jr.)
Key Losses: Hannah Rohrer (U of Tampa); Riley Holsople; Isabelle Marro; Marissa Mull
Outlook: Losing four of its top seven runners from last year, the Cougars could be in for a rebuild during the 2022 season.  Unlike most teams in a "rebuild", Palmyra returns Berarducci who was a 2021 state qualifier, along with two other members (Rohrer & Schaffer) of its District qualifying team.  Coach Hollen sees his goal as developing talent from the pool of girls he has this year in order to close the gaps in order to be competitive in a division that features the likes of Hershey, which they will face in the first meet of the season (Sept 6).  If all goes according to plan, this Palmyra squad will compete once again as a team at the District 3 Championship XC Meet.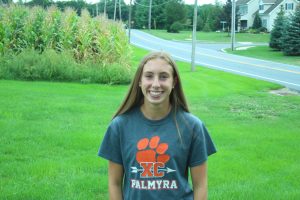 Abby Berarducci
---
If you are looking to provide feedback or are a business or individual interested in providing sponsorship to aid our mission at LebCoSports, you are asked to contact Dan by emailing dan@lebcosports.com.

Lebanon Federal Credit Union