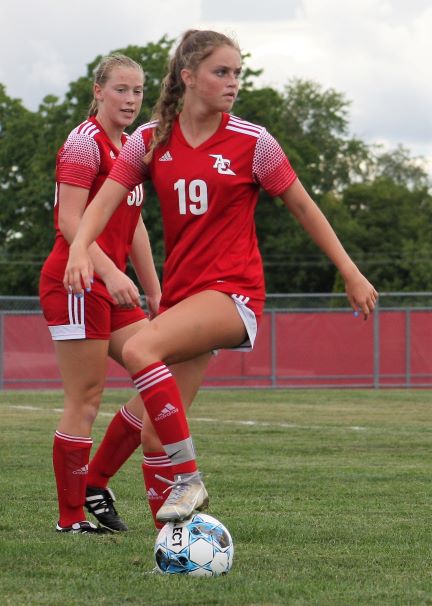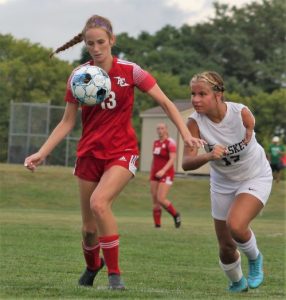 BY JEFF FALK
Editor
ANNVILLE – Here's a safe prediction: The Annville-Cleona girls' soccer team will get better. It's almost a certainty. It's a given.
The only existing variables are how much the Little Dutchmen will improve and when.
On a humid Tuesday evening at Annville-Cleona High School, the Little Dutchmen again showed positives, but lost another decision, 3-2 to McCaskey in a non-league tussle. After owning the better of the play throughout, A-C surrendered a pair of goals to the Red Tornado's fleet left wing Lucie DeSyon late in the second half, and couldn't overcome from them.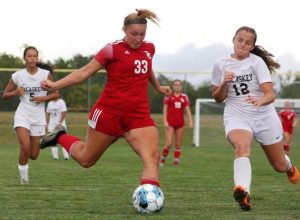 Despite out shooting McCaskey 20-10, senior-oriented Annville-Cleona fell to 1-3 on the young season. The Little Dutchmen are coming off a 2021 campaign in which they threatened to qualify for the District Three postseason.
With the victory, the Red Tornado improved to 2-0.
"Coming into the season, my expectation was building off the success of last year," said Annville-Cleona head coach Jim Blouch. "I hoped we'd come in and pick up where we left off, and that hasn't happened to this point. All I can say is we'll get there. The girls will determine when we get there. It's not like they don't have the ability.
"I guess we're not quite where we want to be," Blouch added. "I think the biggest problem is putting the ball in the net. We're creating enough chances, we're just not putting them in. We're creating opportunities."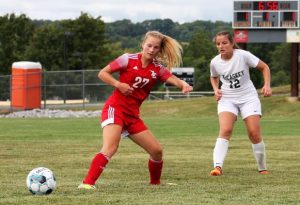 But after DeSyon had put McCaskey up 3-1, senior midfielder Sage Sherk did cash in on one of the Little Dutchmen's chances. Accepting a feed from teammate Isabel Soliday in the middle of the pitch, Sherk ripped a 25-yarder with her right foot to the far side of the net.
It pulled Annville-Cleona to within a goal of the Red Tornado with 8:10 remaining, but they never really threatened the equalizer.
"They out hustled us," said Blouch of the Red Tornado. "Our main problem was we didn't connect enough passes. The one time we got three or four passes linked, we scored. That's the key in my book.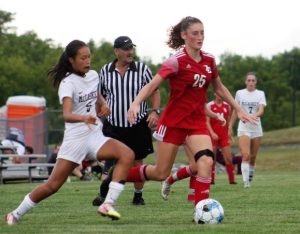 "I hate to claim that (A-C enjoyed the better of the play) when we lost 3-2," continued Blouch. "We had our chances. Their keeper (Sarah Crowley) made some saves, but we put balls right in her hands. I want them (his players) get a little closer before they shoot. How many girls are going to score from 25 yards out? They pull the trigger a little early."
"It was pretty sweet," said McCaskey head coach Christina Portelli. "The result was amazing. The last 20 minutes was chaotic. I thought we had a lot of heart at the end."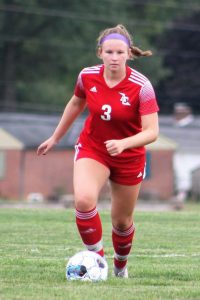 DeSyon gave the Red Tornado a 1-0 edge 7:49 into the contest, but with 12:30 to go before halftime, the Little Dutchmen responded with an own goal. Off a corner, Sherk's ball to the middle of the McCaskey goal mouth was inadvertently headed into the net by a Red Tornado defender.
"We played a little flat," said Blouch. "I don't think we were quite ready to take the game. There were periods of good, but not enough.
"I can't complain about our defense," added Blouch. "But number seven (DeSyon) took advantage of us with her speed."
The contest was tied 1-1 for nearly 40 minutes, before an unmarked DeSyon converted a cross at the left post. Exactly 1:34 later, DeSyon used a well-placed left-footer to complete the hat trick and give McCaskey a 3-1 margin.
"They're a good bunch of girls," said Blouch. "They just didn't play well today. You're going to have that. We need to have more 'on' games than 'off' games. It's up to the girls. You can only teach so much. They have to do it on the field."
"They're a good team," said Portelli. "They're a well-molded team. They have good players all over the field."
To purchase images in this article please email jeff@lebcosports.com.
2022 Annville-Cleona Girls' Soccer Schedule
Date
Opponents
Outcomes
8/27
10:00 am
Schuylkill Valley
at Annville-Cleona
4
1
Nonleague
8/29
4:00 pm
Donegal
at Annville-Cleona
2
1
Nonleague
9/01
7:30 pm
Annville-Cleona
at East Pennsboro
Nonleague
9/06
4:00 pm
McCaskey
at Annville-Cleona
Nonleague
9/08
4:00 pm
Annville-Cleona
at Lancaster Mennonite
League
9/10
10:00 am
Kutztown
at Annville-Cleona
Nonleague
9/12
4:00 pm
Annville-Cleona
at Lancaster Country Day
League
9/14
4:00 pm
Pequea Valley
at Annville-Cleona
League
9/17
10:00 am
Hamburg
at Annville-Cleona
Nonleague
9/20
7:00 pm
Annville-Cleona
at Northern Lebanon
League
9/22
7:00 pm
Lancaster Catholic
at Annville-Cleona
League
9/28
4:00 pm
Annville-Cleona
at Lancaster Country Day
League
9/30
4:00 pm
Lancaster Mennonite
at Annville-Cleona
League
10/04
7:00 pm
Annville-Cleona
at Pequea Valley
League
10/06
7:00 pm
Northern Lebanon
at Annville-Cleona
League
10/10
7:00 pm
Annville-Cleona
at Lancaster Catholic
League
10/12
7:00 pm
Annville-Cleona
at Tulpehocken
Nonleague