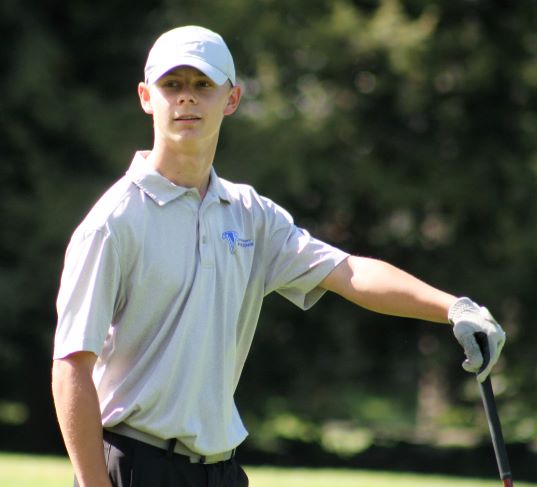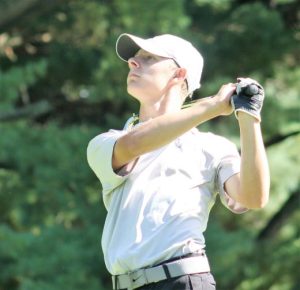 BY JEFF FALK
Editor
LEBANON – An all-inclusive playoff.
Low female medalist.
Overall winner.
Team title.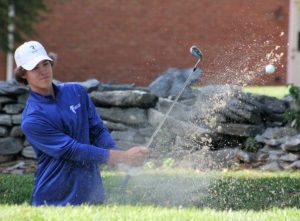 What else have you got?
Yesterday was all about high school golf, Lebanon County and Cedar Crest championships.
On a perfect Thursday afternoon at the 6,361-yard, par-72 Lebanon Country Club, Cedar Crest won everything there is to win – and more – during the annual staging of the Lebanon County Scholastic Golf Championships. Paced by three scores in the 70s, the Falcons totaled 227 team strokes to blow away defending champion Palmyra by 49 shots.
Cedar Crest freshman Dylan Ramsey garnered the individual championship, as he edged sophomore teammate Ethan Rader on the first playoff hole, after each had fired low rounds of three-over 75. Ramsey's title came three days after he lost the Lancaster-Lebanon League individual crown to senior teammate Ben Feeman, in a two-hole playoff at Fairview Golf Course.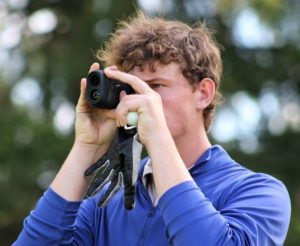 On Thursday, Feeman carded a very respectable 77.
The team title was the Falcons' second of the week, after they took home top honors at the L-L tournament on Monday at their home course. Cedar Crest, which finished second to Manheim Township during regular-season play in Section One of the L-L, has qualified as a team for the District Three Golf Championships at Briarwood in York, next week.
In addition, Cedar Crest senior Jill Fidler captured the County individual female championship by firing an 87. For Fidler, it was her fourth straight Lebanon County individual title.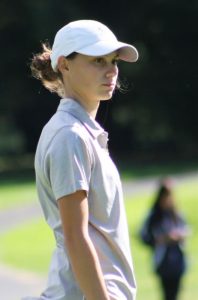 "Today was a solid day," said Cedar Crest head coach Drew Gates. "You count three scores and we had three scores in the mid 70s. We expected to do well and we wanted to get this trophy back in Cedar Crest's hands.
"Coming into the season, our goal was to compete for a section title and a league title," continued Gates. "We just missed out on the first goal and we met the second goal. We're ready to give it a shot at districts and see what happens. We have comparable scores with the top teams in the district."
"It was another playoff with another teammate," said Ramsey, referring to his loss to Feeman on Monday. "That wasn't as bad because I lost to a teammate. Honestly, I wasn't thinking about it. I wanted to beat Ben because he beat me there. But I just wanted t0 play well.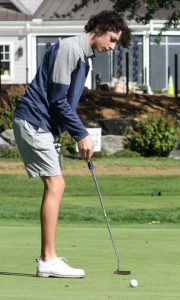 "I wasn't treating this any different than any tournament," added Ramsey. "Every tournament I'm in, I don't necessarily want to win, I want to play well. I want to have fun. I had fun today. That's how I judge myself."
Ramsey claimed the individual championship with a par on the first hole of a sudden-death playoff. Rader knocked his approach shot at the 377-yard, par-four Number One hole out of bounds, while Ramsey got up and down from the back of the green.
"My drive was in the left rough under a tree," said Ramsey, who has averaged 70.4 strokes per round this fall. "Ethan hit right and then out of bounds. I just had to keep it in bounds.
"He (Rader) hasn't been playing well lately," Ramsey added. "He's a better golfer than his scores show. At one point during the round, I heard he was one-under par."
"He's just so consistent," said Gates of Ramsey. "He won three of the five section matches as a freshman, and had the lowest average in the Lancaster-Lebanon League.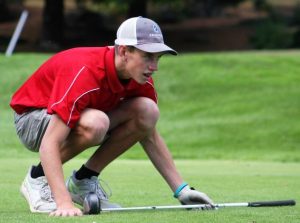 "I'm happy he was on the right side of the playoff," Gates continued. "You don't want him losing two in-a-row. I guess it might be different when you're playing a teammate. But I know he wanted to win."
Playing in the lead group with Feeman, Ramsey finished strong. With an eight-foot birdie at Number One, a short birdie at the 502-yard, par-five second hole and a ten-foot birdie at the 350-yard par-four sixth, he was one-under par over his last seven holes.
"Ben was beating me by one or two most of the time," said Ramsey. "But I tied it up and then I birdied two in-a-row. I knew Ethan was playing well too. It wasn't like I thought I had won."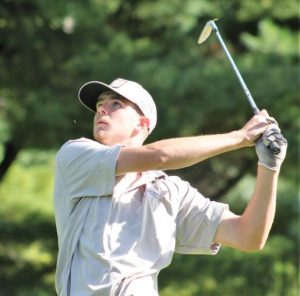 Ramsey began his round on the 159-yard, par-three ninth hole, where he rolled in an 18-foot birdie putt. But over his next eight holes he went a total of five-over par.
"I thought I hit very well, but my putting was pretty bad," said Ramsey. "I thought the greens were pretty fast. I made a few putts, but my speed was off. I knew it was going to be windy today. I knew I had to put the ball in play and keep it down."
Rader forced the playoff with a birdie at the 365-yard, par-four fourth hole, after enduring a double bogey at the hole prior. Thanks to short birdies at the par-five seventh and the par-four 11th, Rader was one-under par through nine holes.
"I thought that was great for him," said Gates of Rader's 75. "He shot a round like that at Fairview earlier this year. But him shooting a 75 the week before districts is huge.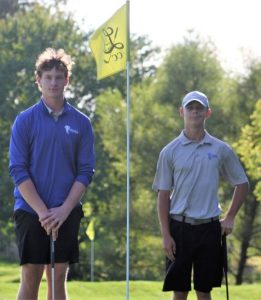 "We've had seven kids score for us this year," added Gates. "Someone is already to step in and pick everyone up. Our depth has been the key to victory."
Not unlike her team as a whole, yesterday was merely a continuation of a very good season for Fidler. With multiple outings in the 70s this fall, Fidler has averaged 81 shots per round, the lowest of her career.
"Today, I started out average, I fell off and then picked it up on the back-nine," said Fidler, who's qualified for Districts for a third time, after finishing second last year. "I'm very proud of myself. It's exciting and it's a fun event to play in. My expectation wasn't to win, it was to just play the game I showed up with.
"I've just had a really good senior year of golf," added Fidler. "Playing at districts, I just want to focus on doing the best I can. I'd love to have two rounds in the 70s. But the ultimate goal is to get to states again."
To purchase images in this article please email jeff@lebcosports.com.

Lebanon Federal Credit Union