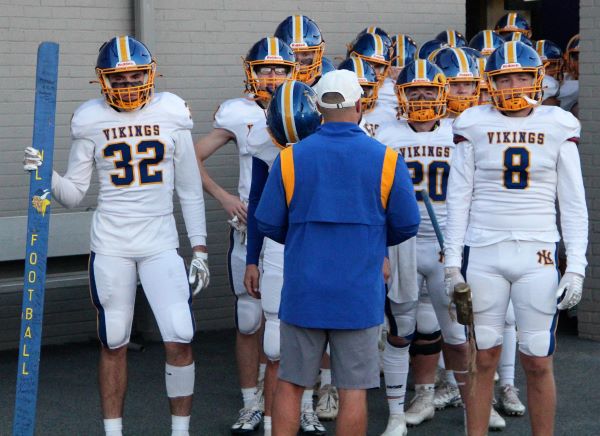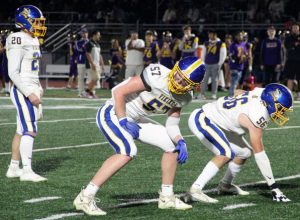 BY JEFF FALK
Editor
LANCASTER –  Staying positive and this idea of playing the next play share one really important element. For neither is there any realistic alternative.
On a cool Friday night at Lancaster Catholic High School, the Northern Lebanon football team absorbed a difficult life lesson in the face of a 55-20 setback at the hands of the hometown Crusaders. Following an absolutely horrendous start, the Vikings faced adversity with energy and effort, and neither did they give up or give in.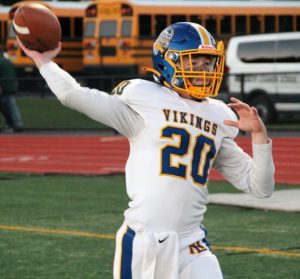 Things snowballed early and quickly on Northern Lebanon, as Lancaster Catholic registered a pair of touchdowns in the contest's opening 1:37, and led 21-0 with 7:19 left in the first quarter.
The loss dropped Northern Lebanon to 2-3 overall and 1-1 in Section Five of the Lancaster-Lebanon League. Lancaster Catholic improved to 5-0 on the fall and 2-0 in the circuit.
"My thing is trying to find positives," said Northern Lebanon head coach Jason Rice. "What we're trying to build isn't going to happen overnight. Rome wasn't built in a day, and neither is consistently winning football games on Friday nights in Fredericksburg. It comes down to not breaking down these guys and realizing this is a process.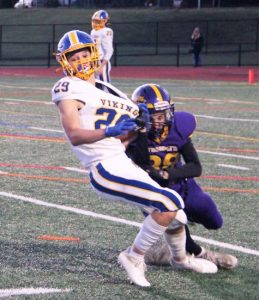 "You go into halftime down 42-7 and you make sure don't break them down," continued Rice. "They're already feeling bad enough. You try to do the best you can to keep them positive and lift them up. Regardless of the scoreboard, you have to love them and fight with these guys."
Anything that could go against the Vikings at the outset did.
Lancaster Catholic scored on the first snap of the game, on a 68-yard touchdown strike from quarterback Will Cranford to R.J. Gonzalez. Northern Lebanon fumbled on its second play from scrimmage, and that led to Crusader Jaevon Parker's 19-yard touchdown pass from Cranford, and Lancaster Catholic's 14-0 lead.
Lancaster Catholic scored its third touchdown on a Terrell Crawley's one-yard touchdown run, after the Vikings had fumbled on the ensuing kickoff.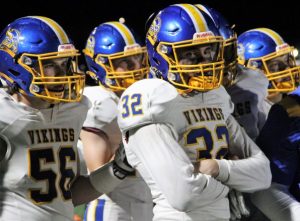 "That was the longest four or five minutes of my life," said Rice. "Just like that, they (the Crusaders) crawled up on us quick. That was a pretty intense couple of minutes.
"You've got to find the positives in all things," added Rice. "But you've also got to learn from your mistakes. You've got to flush it, but not too soon."
Trailing 28-0, the power of Northern Lebanon's positivity paid measurable dividends 10:27 before intermission when Myles Watson ran one in from 13 yards away to trim the deficit. The four-play, 66-yard possession also featured a 41-yard completion between quarterback Grady Stichler and Watson.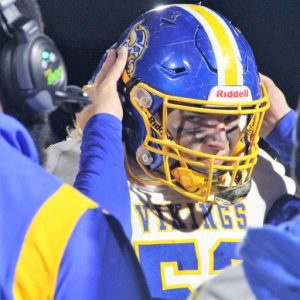 "Lancaster Catholic is a tremendous football team," said Rice. "We didn't step up to the plate. The lights shone really bright on them (the Crusaders) tonight. In these big games, when your number is called, you've got to step up, and we didn't.
"We're 1-1 in the conference and halfway through the season," Rice continued. "The first half of the season has been a rollercoaster ride. We're looking to get back on the right track. We're looking for a strong start to the second half of the season."
The Vikings scored on their initial possession of the second half to make it a 42-13 game. It came on a great individual effort from James Voight along the right sideline, and was scored as a 44-yard touchdown reception from Stichler.
In the middle of the fourth quarter, Voight hauled in a 23-yard scoring pass from Stichler to pull Northern Lebanon to within 48-20 of Lancaster Catholic.
"It was short and to the point," said Rice of the post-game address to his charges. "You've always got to start with the positives. In the second half, we responded. We went into halftime facing some real adversity. It just shows our character. We're just going to turn the page on this one."
The Crusaders piled up 410 yards of offense in the first half, as they out gained the Vikings 512 total yards to 259.
Voight caught four passes for 82 yards.
"We've got five games to play and they're games we can be competitive in," said Rice. "To be in the mix in the section and that we're willing to right, that will show our character. If we could come up with a couple of more notches, you never know what can happen. We want the playoffs to be an end goal."
To purchase images in this article please email jeff@lebcosports.com.
2022 Northern Lebanon Football Schedule
| | | | | | |
| --- | --- | --- | --- | --- | --- |
| 2022-08-26 | A | vs | Pine Grove Area(11) | L | 9-14 |
| 2022-09-01 | A | vs | Susquehanna Township(3) | L | 0-37 |
| 2022-09-09 | H | vs | York County School of Technology(3) | W | 20-7 |
| 2022-09-16 | H | vs | Pequea Valley(3) | W | 22-8 |
| 2022-09-23 | A | vs | Lancaster Catholic(3) | L | 20-55 |
| 2022-09-30 | H | vs | Schuylkill Valley(3) | | 0-0 |
| 2022-10-07 | H | vs | Kutztown(3) | | 0-0 |
| 2022-10-14 | A | vs | Columbia(3) | | 0-0 |
| 2022-10-21 | H | vs | Hamburg(3) | | 0-0 |
| 2022-10-28 | A | vs | Annville-Cleona(3) | | 0-0 |
PIAA District Three Class AAAA Power Rankings
| | | | | | | | | | | | |
| --- | --- | --- | --- | --- | --- | --- | --- | --- | --- | --- | --- |
| AAAA | School |  W |  L |  T |  Rating |  TWP |  OWP |  TWPW |  OWPW |  TWPL |  OWPL |
| 1 | Manheim Central | 5- | 0- | 0 |  0.772674 |  1.000000 |  0.494832 |  5.65 |  19.15 |  0.00 |  19.55 |
| 2 | East Pennsboro | 4- | 1- | 0 |  0.719807 |  0.838095 |  0.575231 |  4.40 |  24.85 |  0.85 |  18.35 |
| 3 | Lampeter Strasburg | 3- | 1- | 0 |  0.692948 |  0.797619 |  0.565017 |  3.35 |  24.55 |  0.85 |  18.90 |
| 4 | Bishop McDevitt (3) | 3- | 1- | 0 |  0.678082 |  0.806818 |  0.520737 |  3.55 |  16.95 |  0.85 |  15.60 |
| 5 | Milton Hershey | 3- | 1- | 0 |  0.651914 |  0.773810 |  0.502931 |  3.25 |  21.45 |  0.95 |  21.20 |
| 6 | Twin Valley | 3- | 2- | 0 |  0.636412 |  0.642105 |  0.629454 |  3.05 |  26.50 |  1.70 |  15.60 |
| 7 | Eastern Lebanon County | 3- | 1- | 0 |  0.627929 |  0.743243 |  0.486989 |  2.75 |  19.65 |  0.95 |  20.70 |
| 8 | Fleetwood | 2- | 2- | 0 |  0.562153 |  0.512821 |  0.622449 |  2.00 |  27.45 |  1.90 |  16.65 |
| 9 | Conrad Weiser | 2- | 2- | 0 |  0.553684 |  0.538462 |  0.572289 |  2.10 |  23.75 |  1.80 |  17.75 |
| 10 | James Buchanan | 2- | 1- | 0 |  0.519042 |  0.655738 |  0.351970 |  2.00 |  13.85 |  1.05 |  25.50 |
| 11 | Big Spring | 2- | 2- | 0 |  0.509302 |  0.500000 |  0.520670 |  1.70 |  23.30 |  1.70 |  21.45 |
| 12 | Susquehanna Township | 2- | 3- | 0 |  0.505449 |  0.442105 |  0.582870 |  2.10 |  26.20 |  2.65 |  18.75 |
| 13 | York Suburban | 2- | 2- | 0 |  0.479301 |  0.500000 |  0.454002 |  1.90 |  19.00 |  1.90 |  22.85 |
| 14 | Daniel Boone | 1- | 4- | 0 |  0.476978 |  0.252747 |  0.751037 |  1.15 |  36.20 |  3.40 |  12.00 |
| 15 | Susquehannock | 2- | 3- | 0 |  0.453881 |  0.417582 |  0.498246 |  1.90 |  21.30 |  2.65 |  21.45 |
| 16 | Northern Lebanon | 2- | 3- | 0 |  0.433061 |  0.419048 |  0.450189 |  2.20 |  17.85 |  3.05 |  21.80 |
| 17 | West York | 1- | 3- | 0 |  0.432594 |  0.291667 |  0.604839 |  1.05 |  26.25 |  2.55 |  17.15 |
| 18 | Boiling Springs | 2- | 3- | 0 |  0.430898 |  0.368932 |  0.506634 |  1.90 |  21.00 |  3.25 |  20.45 |
| 19 | Donegal | 1- | 3- | 0 |  0.430265 |  0.294872 |  0.595745 |  1.15 |  25.20 |  2.75 |  17.10 |
| 20 | Kennard Dale | 1- | 3- | 0 |  0.413668 |  0.269231 |  0.590203 |  1.05 |  24.70 |  2.85 |  17.15 |
| 21 | Octorara | 1- | 3- | 0 |  0.385284 |  0.256757 |  0.542373 |  0.95 |  22.40 |  2.75 |  18.90 |
| 22 | Eastern York | 1- | 3- | 0 |  0.352937 |  0.192308 |  0.549261 |  0.75 |  22.30 |  3.15 |  18.30 |
| 23 | Middletown | 0- | 4- | 0 |  0.228269 |  0.000000 |  0.507266 |  0.00 |  19.20 |  3.90 |  18.6500000000 |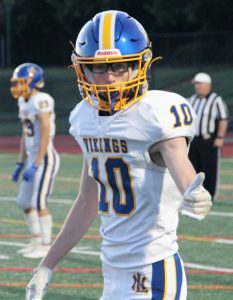 Lebanon Federal Credit Union