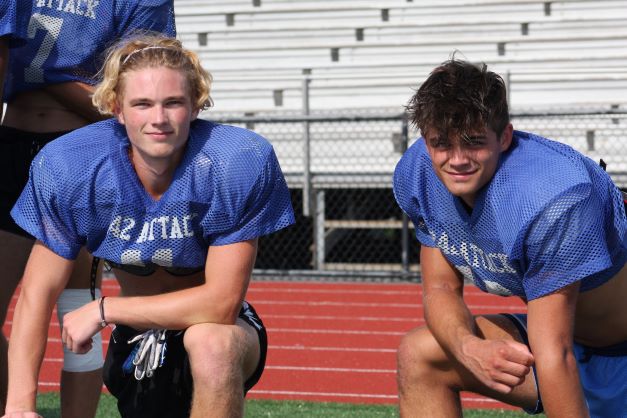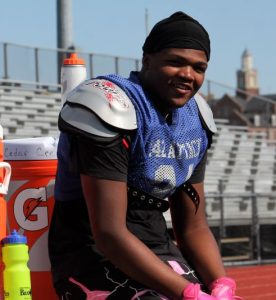 BY JEFF FALK
 Editor
 SOUTH LEBANON – They've enhanced numbers and generated greater interest in the sport.
 And that interest has filtered down into the community and the developmental levels.
 They've increased win totals and have become consistent District Three Class AAAAAA playoff contenders.
 They've raised standards and created expectations.

With a foundation solidly based in the past and with an eye to the future, the Cedar Crest football program is in a really good place right now. Now, the Falcons are not without their limitations and rarely do they afford themselves the opportunity of taking a step back to absorb the big picture, but they continue to consistently make the most of the circumstances presented them.
 "I think we're maxing out our talent, and that's what we want to do," said Cedar Crest head coach Rob Wildasin, who's in his ninth season at the helm. "The program is very different than when we took over. Exploring who we are as a program takes a little time. My staff has been the key. I've had a great coaching staff for a very long time. They've been here from the very beginning and that's made my job easier.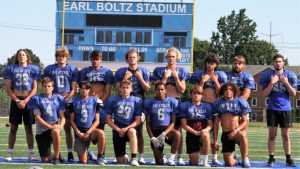 "Sure, I had some goals for the program when I took over," continued Wildasin. "One was we just wanted to get the numbers up, and we did that fairly quickly. Then on the field, the second goal was to be competitive. I had a friend tell me, 'Your job is to keep me in the stands beyond halftime.' Then the next goal was the district playoffs."
 Cedar Crest has qualified for the District Three Class AAAAAA playoffs three times under Wildasin's watch – 2015, 2017 and 2019. But Cedar Crest has been close or been in contention for them seemingly every other year, including 2021, when the Falcons went 5-4 overall.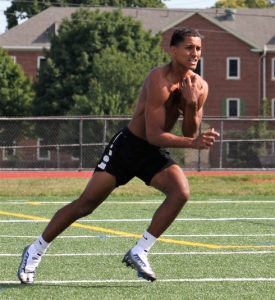 "Last year was a good bounce back year for us," said Wildasin. "We had great senior leadership. We were pretty competitive and we were able to piece things together as the season went on. We created some building blocks, and I think that will help this year. But at the end of the day, talent is talent.
 "I think you need to get better as a team and work on specific areas," Widasin added. "It's an overall improvement. But each year you have different areas to focus on. It really depends on who you have coming back."
 In 2022, it's all about who the Falcons have coming back. With nine starters returning on the offensive side of the ball and seven on defense, Cedar Crest is experienced and deep.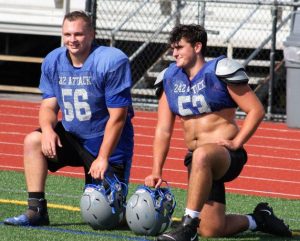 "I think we're progressing well," said Wildasin, of the early stages of training camp. "We have a lot of experienced guys who are stepping up as starters. We have guys who are starting to understand their roles. There is definitely some fight in them, which I like. Now, it's about making plays, taking on blocks, making blocks. It's real football now.
 "I think the make-up of the team is driven by (quarterback) Jay Huber on offense, and the many weapons he has at this disposal," Wildasin continued. "Our offensive line is starting to jell. On defense, it's all fun and games until someone has to make a tackle. That's the next thing for them. "
 Following a break-through junior campaign last season, the 6-2 Huber is the senior trigger man for a Cedar Crest offense that should have no trouble moving the ball or scoring points. His receiving corps features senior ends Ethan Heisey, Nolan Groff and Gabe Lewis, and junior tight-end Aiden Schomp.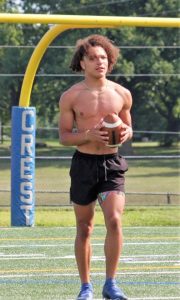 Wildasin promised to run the ball by committee, through a group that's led by junior Fernando Marquez and features junior Alex Abreu and senior Izaiah Gonzalez.
 "It starts with Jay, then it's that wide receiver group and then it's a team effort," said Wildasin. "Every year is different, but you've got to find an identity, offensively and defensively. We have to do it quickly because of our schedule. We have great opponents coming at us right away.
 "It's critical, but some of it comes naturally," added Wildasin. "We don't know definitively who's going to lead the team. Now, you've just got to do it. That's how you start to come together. But I think we have the makings for it."
 The Falcons are destined for success this season, but exactly how much will boil down to the development of the guys up front. The offensive line is anchored by junior center Nick Lambros, and built outwardly around junior guard Cam Simone, junior guard Christian Weaber and senior tackle Connor Schwartz.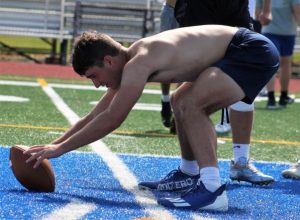 "We want to get into the playoffs," said Wildasin. "And we want to compete when we get there. Those goals are hard, but attainable. Goals should be hard.
 "For us to do that, it's about the identity," continued Wildasin. "It's about jelling. It's about becoming a team. It's about everybody knowing their roles."
 Some student-athletes, like Groff and Schwartz, will also star on the defensive side of the ball for the Falcons. There, they will be joined by senior defensive end Erik McLaughlin, senior linebacker Roman Brummel, junior safety Owen Chernich and sophomore Jack Waranavage.
 But as a whole, Cedar Crest will employ less two-way players than any team in Lebanon County.
 "Over the years, I think we've been a tough out," said Wildasin. "That's what I want us to be, with where we are in the section (One of the Lancaster-Lebanon League) and who we play. I want us to be the team that no one wants to play. I want us to fight for four quarters, and I think we typically do that."
 Cedar Crest will kick off its 2022 campaign on Friday, August 26 by hosting Abraham Lincoln High School out of Philadelphia at 7 p.m..
 To purchase images in this article please email jeff@lebcosports.com.
 2022 Cedar Crest Football Schedule
 
 
Date
Opponents
 
 
8/26 7:00 pm
Abraham Lincoln at Cedar Crest
 
Nonleague
9/02 7:00 pm
Central Dauphin East at Cedar Crest
 
Nonleague
9/09 7:00 pm
Warwick at Cedar Crest
 
Nonleague
9/16 7:00 pm
Cedar Crest Penn Manor at Chryst Field at Biemesderfer Stadium, Millersville University
 
League
9/23 7:00 pm
Cedar Crest at Wilson
 
League
9/30 7:00 pm
Reading at Cedar Crest
 
League
10/07 7:00 pm
Manheim Township at Cedar Crest
 
League
10/14 7:00 pm
Cedar Crest at McCaskey
 
League
10/21 7:00 pm
Hempfield at Cedar Crest
 
League
10/28 7:00 pm
Cedar Crest at Lebanon
 
Nonleague
Cedar Crest Football Coaching History
2014-2022 – Rob Wildasin
 2009-2013 – Tom Waranavage
 2004-2008 – Mike Robinson
 1996-2003 – Gene 'Spike' Fuhrman
 1986-1995 – Norbie Danz
 1983-1985 – Barry Heckard
 1976-1982 – Dennis Tulli
 1969-1975 – Norbie Danz
 1965-1968 – Tom Auman
2022 Cedar Crest Football Roster
| | | | | | |
| --- | --- | --- | --- | --- | --- |
| NO. | Name | GR. | Ht. | Wt. | Pos.(s) |
| 1 | Leo Tirado Jr. | 11 | 5'8″ | 140 | WR/DB |
| 2 | Owen Chernich | 11 | 6′ | 180 | WR/DB |
| 3 | J'veon Reyes-Vega | 12 | 6′ | 150 | WR/DB |
| 4 | Jack Waranavage | 10 | 5'11" | 165 | WR/DB |
| 5 | Jay Huber | 12 | 6'2″ | 195 | QB |
| 6 | Izaiah Gonzalez | 12 | 5'11" | 175 | RB/DB |
| 7 | Alex Abreu | 11 | 5'6″ | 145 | RB/DB |
| 8 | Jackson Custer | 10 | 5'11" | 165 | QB/DB |
| 9 | Jeremiah Santiago | 11 | 5'7″ | 140 | WR/DB |
| 10 | Lex Reyes-Vega | 11 |   |   | WR/DB |
| 11 | Ethan Heisey | 12 | 6'3″ | 195 | WR/DB |
| 12 | Nolan Groff | 12 | 6'1″ | 190 | WR/DE |
| 13 | Logan Oriel | 11 | 5'11" | 180 | WR/LB |
| 14 | RJ Young | 10 | 6'5″ | 205 | QB/DE |
| 15 | Cameron Hansell | 9 | 5'8″ | 145 | QB/DB |
| 16 | Gabe Lewis | 12 | 6′ | 180 | WR/DB |
| 17 | Kaeleb Fees | 10 | 5'5″ | 130 | WR/DB |
| 18 | Cam Kindt | 12 | 5'8″ | 170 | WR/LB |
| 19 | Dillon Hoffman | 10 | 5'10" | 145 | WR/DB |
| 20 | Kayden Tirado | 10 | 5'10" | 160 | WR/LB |
| 21 | Caleb Dorshimer | 11 | 6'2″ | 195 | TE/LB |
| 22 | Kenyon Figueroa | 11 | 5'7″ | 145 | WR/DB |
| 23 | Roman Brummel | 12 | 6′ | 190 | LB |
| 24 | Preston Barton | 11 | 6'2″ | 175 | WR/DB |
| 25 | Cooper Emler | 12 | 5'11" | 160 | WR/DB |
| 26 | Richie Hernandez | 11 | 5'10" | 220 | FB/LB |
| 27 | Cristhian Viveros | 10 | 5'7″ | 130 | WR/DB |
| 28 | Seth Warren | 10 | 6'2″ | 200 | TE/DL |
| 29 | Malachi Victor | 10 | 6′ | 160 | WR/DB |
| 30 | Andrew Weister | 10 | 5'10" | 130 | WR/DB |
| 31 | Alex Thies | 10 | 5'10" | 150 | WR/DB |
| 32 | Asher Ford | 11 | 5'8″ | 165 | WR/DB |
| 33 | Daulton Krall | 11 | 5'8″ | 140 | WR/DB |
| 34 | Julius Santana | 10 | 6′ | 180 | TE/LB |
| 35 | Pal Bhavsar | 11 | 5'10" | 200 | FB/LB |
| 36 | Mason Wolf | 10 | 5'7″ | 135 | WR/DB |
| 37 | Dominic Roth | 11 | 5'7″ | 145 | RB/LB |
| 38 | Diego Yanez | 9 | 5'7″ | 170 | WR/LB |
| 39 | Tre Wamsher | 10 | 5'9″ | 140 | WR/DB |
| 40 | Joe Arnt | 10 | 5'7″ | 165 | RB/LB |
| 41 | Jordan Eisenhauer | 11 | 5'8″ | 135 | WR/DB |
| 42 | Zion Rolon | 10 | 6'1″ | 205 | RB/LB |
| 43 | Noah Miller | 9 | 5'5″ | 135 | RB/LB |
| 44 | Fernando Marquez | 11 | 6'1″ | 200 | RB/LB |
| 45 | Conner Rowe | 9 | 5'11" | 140 | WR/DB |
| 46 | Landen Weaber | 9 | 5'6″ | 130 | FB/LB |
| 47 | Travis Kemberling | 9 | 6′ | 140 | WR/DB |
| 48 | Connor McCracken | 9 | 5'10" | 165 | RB/LB |
| 49 | Jayden Marley | 9 | 5'9″ | 135 | WR/DB |
| 50 | Erik McLaughlin | 12 | 6'1″ | 190 | TE/DE |
| 51 | Aidan Arnold | 10 | 6'1″ | 210 | OL/DE |
| 52 | Devin Adams | 10 | 6′ | 225 | OL/DT |
| 53 | Nicholas Lambros | 11 | 5'10" | 215 | OL/DT |
| 54 | Chase Habecker | 12 | 6′ | 190 | OL/DE |
| 55 | Cameron Simone | 11 | 5'10' | 215 | OL/DE |
| 56 | Christian Weaber | 11 | 6'1″ | 260 | OL/DL |
| 57 | Paxton Thomas | 9 | 5'7″ | 190 | OL/DL |
| 58 | Alex Kissinger | 10 | 5'11" | 210 | OL/DL |
| 59 | Christian Simpson | 9 | 5'8″ | 160 | OL/DL |
| 60 | Wyatt Fox | 9 | 5'9″ | 170 | OL/DL |
| 61 | Jordan Cullen | 10 | 5'10" | 195 | OL/DL |
| 62 | Jordan Nickens | 9 | 5'8″ | 160 | OL/DL |
| 63 | Austin Brubaker | 10 |   |   | OL/DL |
| 64 | Jayden Storm | 9 | 5'8″ | 200 | OL/Dl |
| 65 | Evan Pierce | 10 | 6'3″ | 215 | OL/DL |
| 66 | Landen Gross | 9 | 5'10" | 180 | OL/DL |
| 67 | Steven Frank | 12 | 6′ | 215 | OL/DL |
| 68 | Carter Eisenhauer | 10 | 5'10 | 230 | OL/DL |
| 69 | Jimmy Trump | 9 | 5'11" | 205 | OL/DL |
| 70 | Tristan Long | 10 | 5'10" | 290 | OL/DL |
| 71 | Tyler Toscano | 9 | 5'9″ | 200 | OL/DL |
| 72 | Carter Ober | 9 | 5'5″ | 200 | OL/DL |
| 73 | Nathanael Harbaugh | 10 | 5'10" | 275 | OL/DL |
| 74 | Isaiah Sepulveda | 11 | 6'2″ | 290 | OL/DL |
| 75 | Jake Hlatky | 12 | 6'1″ | 220 | OL/DL |
| 76 | Michael Rivera | 11 | 6'2″ | 210 | OL/DL |
| 77 | Connor Schwartz | 12 | 5'11" | 215 | OL/DL |
| 78 | Connor Shanaman | 9 | 5'10" | 225 | OL/DL |
| 79 | Gabriel Clemens | 10 | 5'9″ | 210 | OL/DL |
| 80 | Landyn Kline | 9 | 5'7″ | 185 | TE/LB |
| 81 | Tyler Reinhart | 9 | 5'11" | 155 | WR/DB |
| 82 | Grayson Frankenstein | 10 | 6'4″ | 205 | TE/DE |
| 83 | Luke Oriel | 9 | 5'9″ | 140 | WR/DB |
| 84 | Yadi Rosario | 9 | 5'8″ | 140 | WR/DB |
| 85 | Connor Thompson | 10 | 5'7″ | 140 | WR/DB |
| 86 | Noah Koehler | 10 | 5'8″ | 170 | TE/LB |
| 87 | Aiden Schomp | 11 | 6'6″ | 230 | TE/DE |
| 88 | Ryan Glover | 12 | 5'11" | 165 | K |
| 91 | Samantha Fink | 9 | 5'2″ | 130 | K |
| 99 | Dylan Fuhrman | 10 | 5'11" | 175 | TE/DE |
|   |   |   |   |   |   |
|   | Cameron Tirado | 9 | 5'3″ | 126 | WR/DB |
|   | David Snyder | 9 | 5'9″ | 115 | WR/DB |
|   | Josh Tricoche | 10 |   |   |   |
|   | Luis Orta | 9 |   |   |   |
|   | Damarius Galarza | 9 |   |   |   |
|   | Brady Shobe | 9 |   |   |   |
|   | Jayden Schneck | 10 |   |   |   |
|   | Justin Moreno | 10 |   |   |   |
|   | Kelvin Torres | 9 |   |   |   |

Lebanon Federal Credit Union