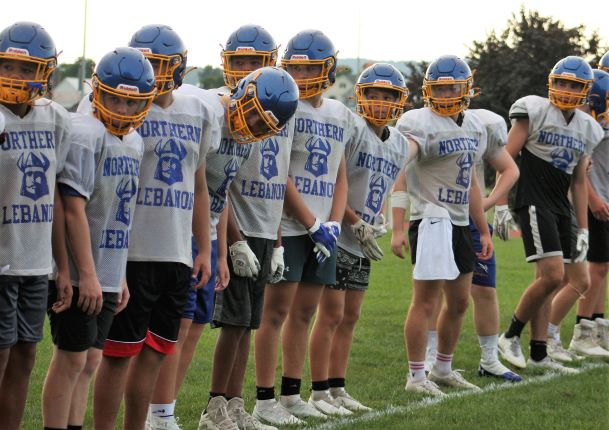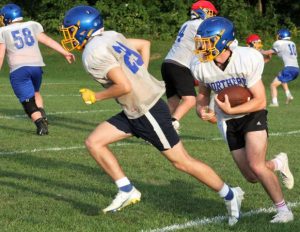 BY JEFF FALK
Editor
FREDERICKSBURG – High school football is a numbers game. In the big equation, certain numbers affect the value of other numbers. And numbers never lie.
When the Northern Lebanon gets down to deciphering, the numbers don't add up.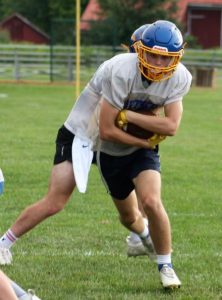 Now, instead of accepting the numbered cards that they've been dealt, the Vikings have chosen to overcome them. They were going to have face adversity at some point of the season any way – every scholastic squad does – so in that way, the Vikes may be even ahead of the game.
In just his second season, current head coach Jason Rice is facing a numbers crunch that were prevalent towards the end of the former regime. But Northern Lebanon is plowing into the 2022 season full steam ahead, stressing quality over quantity, the power of personal attention and the strength of a united underdog.
"We are where we're at because we set a standard," said Rice. "In that, we may have lost some guys, but we may have also gained some. The 30 guys we have are the best we have to offer. There are limitations in practice because you're trying to mimic opponents, but we're also able to provide more quality teaching. There are limitations, but there are also some benefits.
"I think one of our strengths is our guys' personalities, even beyond the football field," continued Rice. "We try to maintain those relationships throughout the year. We just want to be able to share the things in their lives. We have very strong relationships with our players."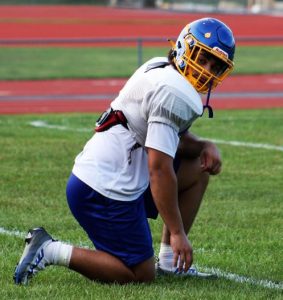 It was similarly low numbers which contributed to Northern Lebanon's 0-10 season in 2020, the year before Rice arrived on the scene. In light of those circumstances, what the Vikings were able to accomplish last season – a 4-7 overall record and a berth into the District Three postseason – was nothing short of inspirational.
"Taking over a winless team, the first goal was just getting these guys a feeling of winning," said Rice. "You could just see it on their faces. We all shared that. We built strong relationships that we're bringing into this season.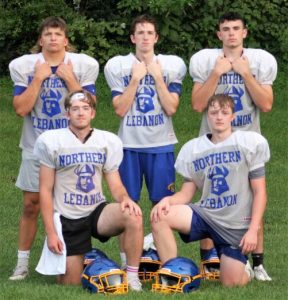 "In my mind, every year matters," added Rice. "Last season was Year One, and we were able to get into districts. Now there's a new goal. We got a little taste of the postseason, and now we're hungry for more. Now it's kind of like, 'Let's see if we can back in again and get a higher seed, and maybe even host a game.'"
"We went from a 0-10 season to a new season and a new coaching staff," said Northern Lebanon senior quarterback Grady Stichler. "The question was, 'Are we going to win?' This year it's more like 'we are going to win'."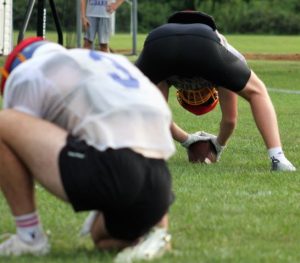 Another piece of good news for the Vikings is that they return seven starters on offense, and a similar number of starters on defense. Northern Lebanon, which has bumped up a classification from AAA to AAAA and will compete in the newly-formed Section Five of the Lancaster-Lebanon League, sports a roster that is made up of only five seniors, but ten juniors.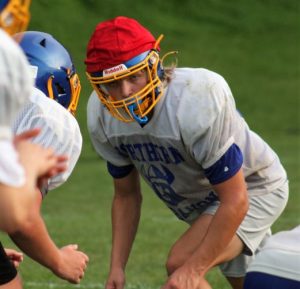 "Coming into training camp we wanted to improve overall," said Rice. "I think the biggest key is making the team better as a whole. We really want to concentrate on our base things.
"I think those guys who come after our first team have to really step up," added Rice. "An area of focus is we really need to improve our depth. We have to make sure that the guys who step in understand their jobs and can do them with effort and execution."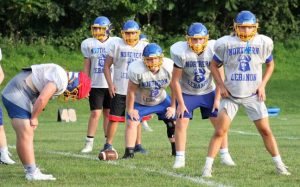 "Anything less than 8-2 would be a letdown," said Stichler. "Our schedule is pretty easy. We've been getting reps for awhile now, and a lot of guys know our offense. In practice, our offense has been rolling. We're starting to get guys to know their stuff."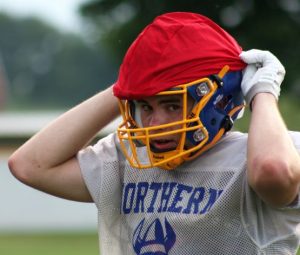 From his quarterback spot, Stichler will call the signals and initiate the offense. Offensively, Stichler will be surrounded by skilled weapons Moises Gonzalez, a junior, 11th-grader Luke Shaffer, senior Collin Wall, senior James Voight, senior Dylan Konefal and sophomore Myles Watson.
"We have great senior leadership," said Rice. "But we also have exciting underclassmen who are going to make names for themselves. What I want for this season is to compete every Friday night. There were a couple of nights last year where we didn't react and laid down. I do see a winning record as a realistic goal. I do see the playoffs as a possibility. But we have to be ready for adversity before it sets in.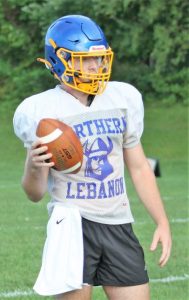 "I think it has to happen more in the locker room than on the field," Rice added. "We have to be cohesive as a team. We need to be together. If our small group of boys can stay together and be like a family, we can do anything we want to do."
"My role as the quarterback is to make guys better," said Stichler. "I've got to get guys the ball when they're open, in space. I've got to cut down on my mistakes, and I've got to help the other guys when they make mistakes. I've just got to lead by example."
The heart and soul of Northern Lebanon resides up front, in the trenches. The Vikings are building around senior Jared Ecenroad, Hayden Adams and sophomore Eli Thompson.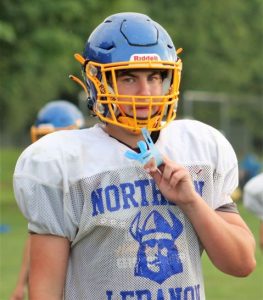 Northern Lebanon also sports Tanner Feagley as a newcomer to keep an eye on.
"For Year Two, it's a good start," said Rice. "We are heading in the right direction. We're on the way. We've developed that atmosphere and we have the support. We have to make our guys understand that they're representing more than themselves when they step on the field. We're headed in the direction of reuniting a whole community with this football team."
"My personal goal is to be a better leader, on and off the field," said Stichler. "I felt like that held our team back last year. Leaders have got to take their roles. We've got to be better prepared. We've got to be more focused."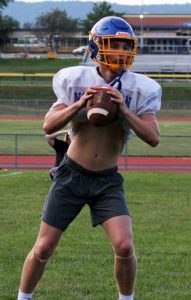 Northern Lebanon's scheduled opener on Friday, August 26 has been moved to Pine Grove.
"Our focus is always on us," said Rice. "How can we improve that one percent? How can we get better? When you do that, you gain that one percent of community support. We want people to know where we're at.
"I think teams in the section are going to see us as middle of the road," continued Rice. "But we're going to show up every night. We're going to attack those teams who aren't expecting us. We're creating an identity. We're trying to put Northern Lebanon football on the map."
Go Vikings!
To purchase images in this article please email jeff@lebcosports.com.
This preview and LebCoSports' coverage of Northern Lebanon football this season is presented by Wengert's Home Center, https://www.wengertshomecenter1.com/.
2022 Northern Lebanon Football Schedule
Date
Opponents
8/26
7:00 pm
Pine Grove
at Northern Lebanon
Nonleague
9/02
7:00 pm
Northern Lebanon
at Susquehanna Township
Nonleague
9/10
1:00 pm
Northern Lebanon
at York Tech
Nonleague
9/16
7:00 pm
Pequea Valley
at Northern Lebanon
League
9/23
7:00 pm
Northern Lebanon
at Lancaster Catholic
League
9/30
7:00 pm
Schuylkill Valley
at Northern Lebanon
League
10/07
7:00 pm
Kutztown
at Northern Lebanon
League
10/14
7:00 pm
Northern Lebanon
at Columbia
League
10/21
7:00 pm
Hamburg
at Northern Lebanon
League
10/28
7:00 pm
Northern Lebanon
at Annville-Cleona
League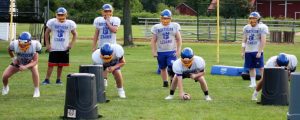 NORTHERN LEBANON FOOTBALL
       COACHING HISTORY
Jason Rice (2021)
Roy Wall (2010-221)
Jack Beidler (1999-2009)
Carl Fischl (1981-1998)
Frank Wickenheiser (1980)
Ron Brewer (1976-79)
2022 Northern Lebanon Football Roster
| | | | | | |
| --- | --- | --- | --- | --- | --- |
| No. | Name | Position | Height | Weight | Grade |
| 2 | Bryan Mitzel | WR/DB | 5'7″ | 140 | 9 |
| 3 | Moises Gonzalez | WR/LB | 6'0″ | 210 | 11 |
| 4 | Kael Erdman | QB/DB | 6'0″ | 150 | 9 |
| 5 | Junior McAdoo | WR/DB | 5'9″ | 150 | 9 |
| 7 | Brendan Ryan | WR/LB | 5'8″ | 150 | 10 |
| 8 | Luke Shaffer | TE/LB | 6'1″ | 210 | 11 |
| 10 | Collin Wall | WR/DB | 6'0″ | 160 | 12 |
| 11 | Tanner Feagley | WR/LB | 6'0″ | 185 | 11 |
| 12 | Kaleb Barr | WR/DB | 5'6″ | 145 | 9 |
| 14 | Garrett Bohn | K | 6'1″ | 170 | 10 |
| 17 | Kaden Beamesderfer | WR/DB | 5'7″ | 135 | 9 |
| 18 | Sincere Perez | RB/LB | 5'7″ | 145 | 9 |
| 19 | Dylan Konefal | RB/LB | 5'9″ | 165 | 12 |
| 20 | Grady Stichler | QB/LB | 5'9″ | 165 | 12 |
| 21 | Ethan Martino | K | 6'1″ | 180 | 10 |
| 23 | Eli Ostermayer | RB/LB | 5'10" | 175 | 11 |
| 27 | Kohen Clark | WR/DB | 5'7″ | 130 | 9 |
| 29 | Myles Watson | RB/DB | 5'11" | 160 | 10 |
| 30 | Raheim Rushton | WR/DB | 5'11" | 165 | 10 |
| 32 | James Voight | WR/DB | 6'1″ | 185 | 12 |
| 50 | Chase Engle | OL/DL | 5'9″ | 240 | 9 |
| 52 | Russell Beers | OL/DL | 5'7″ | 210 | 10 |
| 53 | Jared Ecenroad | OL/DL | 5'11" | 195 | 12 |
| 55 | Kyle Hitz | OL/LB | 5'9″ | 165 | 11 |
| 57 | Eli Thompson | OL/DL | 6'3″ | 215 | 10 |
| 59 | Gavin Bush | OL/DL | 6'3″ | 200 | 11 |
| 60 | Christian Peiffer | OL/DL | 6'0″ | 200 | 9 |
| 62 | Hayden Adams | OL/DL | 5'10" | 235 | 10 |
| 68 | Bryce Wimer | OL/DL | 6'4″ | 210 | 10 |
| 74 | Kale Loser | OL/DL | 5'10" | 210 | 10 |
| 76 | Owen Stichler | OL/DL | 5'10" | 245 | 11 |
| 77 | Brant Wimer | OL/DL | 6'4″ | 210 | 10 |
| | | | | | |
| Coaching Staff: | Jason Rice – Head Coach | | Superintendent | Dr. Gary Messinger | |
| | Mark Rice | | Principal | Dr. Peter Ebert | |
| | Josh Thompson | | Assistant Principal | Mr. David Lugar | |
| | Hunter Wallace | | Assistant Principal | Ms. Laura Woomer | |
| | Jacob Whitfield | | Athletic Director | Dr. Scott Kyper | |
| | Rusty Wallace | | Athletic Trainer | Mr. Jeremy Stevens | |
| | John Heisey | | | | |
| | Ethan Tinsman | | School Colors | Blue and Gold | |
| | Josh Wolfe | | School Mascot | Vikings | |
| | Blaise Bressler | | | | |

Lebanon Federal Credit Union