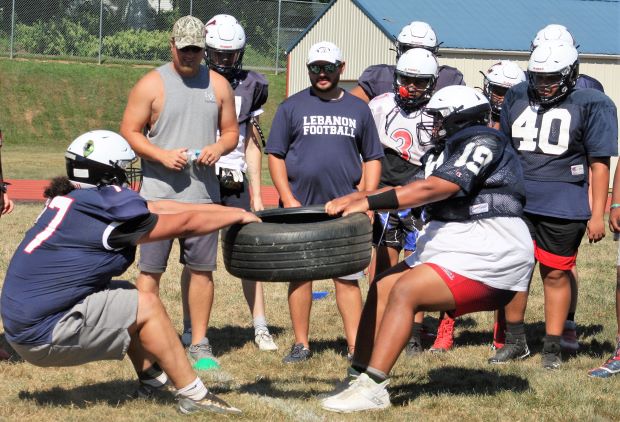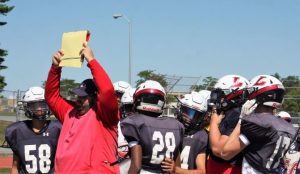 BY JEFF FALK
Editor
LEBANON – Words like 'rebuild', 'retool' and 'restructure' are floated around pretty freely at this time of the scholastic sports year. At Lebanon, they're embracing the essence of those concepts and applying them in a very literal way.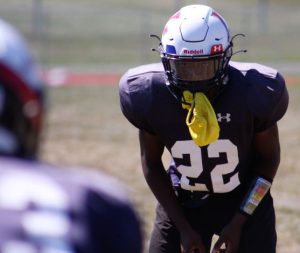 The Cedars have implemented a plan that will broaden the football experience, make it more a part of the in-school day and foster the culture of the sport within the school district. While it has proven to be effective in other areas, the approach is somewhat revolutionary – or evolutionary – in Lebanon County.
The concept involves head coach Frank Isenberg spending more time with his players in the classroom, the players spending more of their school days together and the installation of short, pre-school practices to complement after-school sessions. To participate in the program, which is being implemented this school year, student-athletes must maintain a grade level of 70 percent in their school work.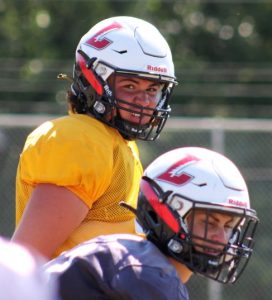 The plan is designed to create a more balanced school-sports experience, provide greater future opportunities for student-athletes, and attract and maintain a greater number of players to the program. Making Lebanon more competitive on the playing field is simply a positive side effect.
"My selling point to the administration was that the kids have to have grade levels of 70 percent to be in the program," said Isenberg. "That and also having greater community involvement. I'm trying to make this a unique situation where the community gets involved. This program is everybody's. I'm just the guy who has to make sure it goes right.
"I can't contend in the section (Two of the Lancaster-Lebanon League) we're in," continued Isenberg. "I can only get our players ready to play every week. Now we have a model that gets us closer to these schools. It's something we've got to try and build on. We've got to be able to sustain success and improve the culture of football throughout the school. I don't want people saying 'Oh, we're going against Lebanon. It's an easy win.' My job is to make sure we're competitive every game, every year."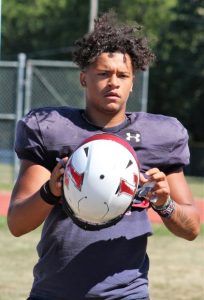 Timing-wise, the fact that the Cedars are coming off an 0-10 season is purely coincidental, but it does serve to magnify Isenberg's point. He said that he approached the Lebanon administration with the plan three years ago, prior to the outbreak of the COVID-19 pandemic.
"From the outside looking in, if you see us coming off an 0-10 season, you're thinking the program isn't in great shape," said Isenberg. "But there are community organizations getting kids involved and our numbers are pretty high. That's a positive. I'm excited about getting all the high school players together in class. In that model, our guys are out there practicing twice a day. I'm always seeing them and that's building that family atmosphere.
"I think that's important to move things forward," added Isenberg. "Some things needed to be changed. When I was hired three years ago, I introduced this model to the administration and they have bought into it. We're doing it. We're ready to go."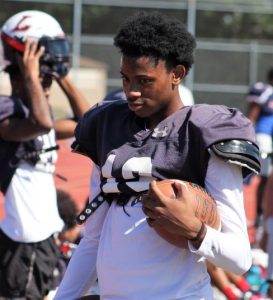 While Isenberg's model may prove to be a long-term solution for the Cedars, it doesn't necessarily address the immediacy of the current situation. This season, Lebanon needs to realize some early success, simply to gain confidence, break some lingering bad habits and start some new healthy ones.
There is some precedence for just such a turnaround at Lebanon. In 2013, the Cedars went 7-3 and qualified for the District Three Class AAA playoffs after going 0-10 the year before.
"We've got to be realistic," said Isenberg. "We went 0-10 last year. We've got to get that first win and gain some confidence. You can't look forward, but you can't look to the past. If you consistently do the right things, you're going to be more successful.
"There was definitely a lot of negativity last year," Isenberg continued. "We were a young football team. We needed to create good habits, especially in practice. There were times when we didn't do the right things. But it wasn't as much bad habits as the kids had to learn what it takes to win."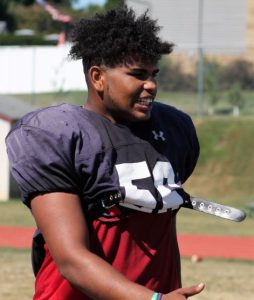 Losing has a way of forcing younger players to mature. From a roster of 52 student-athletes, the Cedars return nine starters on offense and nine on defense.
"We've talked about starting out everything strong," said Isenberg. "We can't wait. We can't wait to get punched in the face, because we want to see how we react. We can't play from behind in Section Two. It's about keeping things positive. They're (his players) going to get rewarded very shortly.
"The majority of the team has been together since January," Isenberg added. "We don't like to lose. Lebanon kids don't like losing. They take it personally."
The direction of Lebanon's success this year, as well as its degree, may hinge on the result of a training camp battle for the starting quarterback spot, between incumbent and senior captain Emanuel Mason and sophomore Brandyn Castro. Mason is more of the athletic running kind of QB, while Castro is a prototypical pocket passer.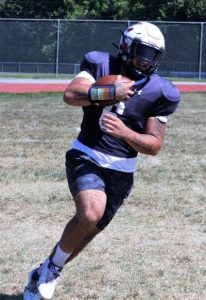 "I think our biggest areas of concern are the offensive line and figuring out the quarterback situation," said Isenberg. "Just who's going to be the guy, Emanuel Mason or Brandyn Castro? Who's going to be the trigger man?
"Almost everyone on the team is back from last year," added Isenberg. "They have a bad taste in their mouths from losing last year. They're hungry and ready to go."
That experience of last year will definitely pay off for Lebanon this season. The Cedars will rely heavily on junior lineman Josiah Wright, senior playmaker Zahir Stoner, junior receiver/linebacker Braylon Beaver, senior backer Adam Bowers, junior lineman Corbett Brickle, junior skill kid Derrick Briddle, senior tackle Keith Ellis, senior back Xavier Figueroa, junior lineman Colin Johnsen, junior back Munir Lowery, junior playmaker Alex Orosco, senior trench warrior Stephon Prester, senior playmaker Robert Spivey-Nickerson and junior running back Jerry Torres.
"They're good with each other," said Isenberg. "They're friends off the field. The chemistry is awesome. They're a loose group. But when it's time to step on the field, it's go time. It's a special group."
Lebanon will kick off its 2022 campaign on Friday, August 26 at 7 p.m. at Palmyra. The Cedars will close out their regular season on October 28 by hosting Cedar Crest in the annual Cedar Bowl backyard brawl.
To purchase images in this article please email jeff@lebcosports.com.
2022 Lebanon Football Schedule
Date
Opponents
8/26
7:00 pm
Lebanon
at Palmyra
Nonleague
9/02
7:00 pm
Lebanon
at Garden Spot
Nonleague
9/09
7:00 pm
Ephrata
Lebanon
at Alumni Stadium in Lebanon
Nonleague
9/16
7:00 pm
Lebanon
at Muhlenberg
League
9/23
7:00 pm
Exeter
Lebanon
at Alumni Stadium in Lebanon
League
9/30
7:00 pm
Lebanon
at Conestoga Valley
League
10/07
7:00 pm
Manheim Central
Lebanon
at Alumni Stadium in Lebanon
League
10/14
7:00 pm
Lebanon
at Governor Mifflin
League
10/21
7:00 pm
Warwick
Lebanon
at Alumni Stadium in Lebanon
League
10/28
7:00 pm
Cedar Crest
at Lebanon
Nonleague
2022 Lebanon Football Roster
| | | | | | | |
| --- | --- | --- | --- | --- | --- | --- |
| NUMBERS | | | Grade | Height  | Weight | Position |
| 2 | Infante | Derek | 11 | 6'00 | 150 | WR/DB |
| 3 | Orosco | Alex | 12 | 5'7″ | 145 | WR/DB |
| 4 | Spivey Nickerson | Robert | 12 | 5″11 | 135 | WR/DB |
| 5 | Herr | Jack | 11 | 5'10" | 156 | QB/DB |
| 6 | Briddell | Derrick | 11 | 5″11 | 150 | WR/DB |
| 7 | Rivera | Tayvian | 11 | 5'7″ | 145 | WR/DB |
| 9 | Torres | Jerry | 11 | 5'8″ | 220 | RB/DL |
| 10 | Castro | Brandyn | 10 | 5'11" | 230 | QB/LB |
| 11 | Beaver | Braylon | 11 | 5'9″ | 153 | WR/LB |
| 12 | Medlock | Jahkeim | 11 | 5'7″ | 137 | WR/LB |
| 13 | Stoner | Kareem | 10 | 5'10" | 160 | QB/LB |
| 14 | Cortes | Jeavon | 11 | 5'7″ | 140 | RB/LB |
| 15 | Trace | Paul | 12 | 6'2″ | 150 | WR/DB |
| 16 | Mason | Emanuel | 12 | 6'1″ | 210 | QB/LB |
| 17 | Stoner | Zahir | 12 | 6'0″ | 150 | WR/DB |
| 18 | Lowery | Munir | 11 | 5'10" | 153 | WR/DB |
| 19 | Cortes | Juan | 12 | 5'10" | 195 | RB/LB |
| 20 | Rivera | Kai | 10 | 5'10" | 195 | RB/LB |
| 21 | Watson | Blaze | 12 | 5'11" | 178 | RB/LB |
| 22 | Haddock | Achilles | 10 | 5'9″ | 166 | RB/LB |
| 23 | Selman | Julian | 12 | 5'11" | 150 | WR/DB |
| 24 | Figueroa | Xavier | 12 | 5'10" | 187 | RB/LB |
| 25 | Beniquez | Kevin | 10 | 5'9″ | 150 | RB/DB |
| 26 | Echevarria Figueroa | Jesucristo | 10 | 6'0″ | 195 | WR/LB |
| 27 | Estevez | Riquelme | 11 | 5'8″ | 145 | WR/DB |
| 28 | Furjanic Jr. | David | 10 | 5'10" | 150 | WR/DB |
| 30 | Wilson | Messiah | 10 | 5'10" | 183 | WR/LB |
| 32 | Fernandez | Aidan | 11 | 5'11" | 220 | RB/LB |
| 33 | Fenstermaker | Benjamin | 10 | 5'10 | 130 | WR/DB |
| 34 | Buchmoyer | Camron | 9 | 6'0″ | 175 | RB/DB |
| 40 | Blackburn | Jonathan | 11 | 5'11" | 205 | RB/DL |
| 44 | Gooden Jr. | Joseph | 11 | 6'2″ | 170 | WR/DL |
| 45 | Bowers | Adam | 12 | 5'11" | 195 | RB/LB |
| 50 | Ellis | Keith | 12 | 6'0″ | 220 | OL/DL |
| 52 | Aguilar-Ortiz | Omar | 10 | 5'11" | 200 | OL/DL |
| 54 | Bonilla | Yebiel | 11 | 5'8″ | 250 | OL/DL |
| 55 | Wright | Josiah | 11 | 6'2″ | 270 | OL/DL |
| 56 | Prester | Stephon | 12 | 5'8″ | 185 | OL/DL |
| 58 | Gonzalez | Nasier | 12 | 6'2″ | 220 | OL/DL |
| 60 | Baez | Dujhan | 10 | 5'8″ | 250 | OL/DL |
| 62 | Dinucola | Deovanny | 11 | 6'0″ | 315 | OL/DL |
| 65 | Cortes | Mahky | 11 | 6'3″ | 275 | OL/DL |
| 66 | Johnsen | Colin | 11 | 6'3″ | 320 | OL/DL |
| 72 | Clentimack | Cayden | 10 | 6'4″ | 325 | OL/DL |
| 74 | Acosta | Adrian | 10 | 6'0″ | 265 | OL/DL |
| 76 | Sheaf | Patrison | 11 | 6'3 | 185 | OL/DL |
| 78 | Brickle | Corbett | 11 | 6'3″ | 340 | OL/DL |

Lebanon Federal Credit Union