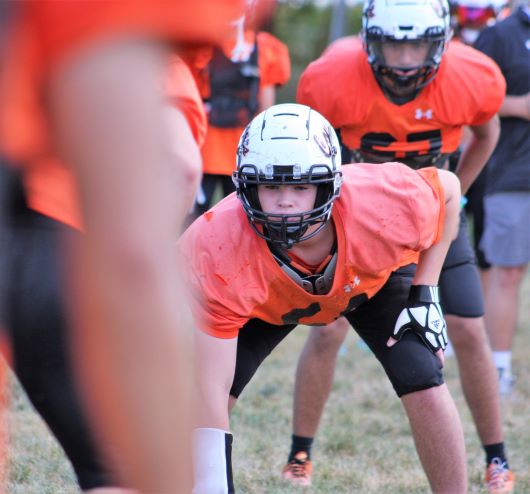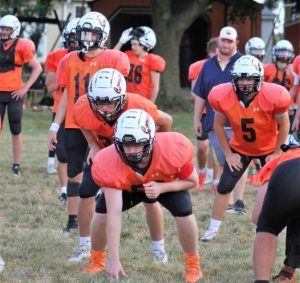 BY JEFF FALK
 Editor
 PALMYRA – New season.
 New team.
 New head coach.
 New direction.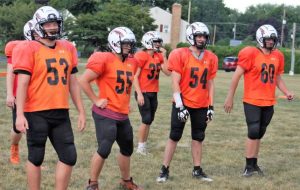 New chapter in a program's storied history.
 New is fresh and exciting and fun. New is also unfamiliar, challenging and uncertain.
 New isn't good. New isn't bad. It's just different.
 On Friday, August 26 at 7 p.m., under first-year head coach Chris Pavone, the Palmyra football team will open its very new year when it takes on Lebanon High at Buck Swank Stadium. While the Cougars are firmly embracing everything that's new, it will be adjustments that determine their successes, and ultimately the direction of the program.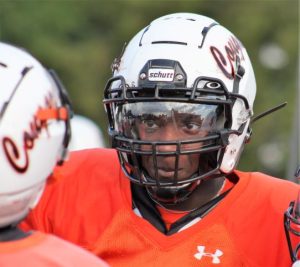 "I feel like the program is in good shape," said Pavone. "I was really excited about taking over the program because of the shape it's in. We've been in the middle of the pack for awhile, but that's a good place to grow from. Sometimes change is good. I think the changes we've been able to make in the culture will really launch the program forward. We're looking at this year as being a launching point for taking the program to the next step. The kids want to be that change.
 "We want to be competitive in every single game we play this year," continued Pavone. "We want to start fast and get on teams quickly. We talk about being the hammer and not the nail, taking that first shot and building on it. And just win the game in front of you. We want to go 1-0 every week."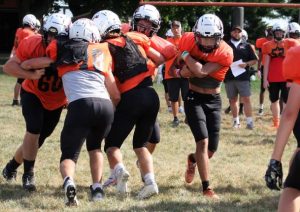 The fact that Pavone was an assistant under former head coach Chris Pope over the last five years, and that he teaches in the school district, should help smooth the transition. But the importance of the coach-player relationship in today's game can be overstated.
 The bonding that has taken place during the three-week training camp period is just as important as any installation of schemes or game preparation.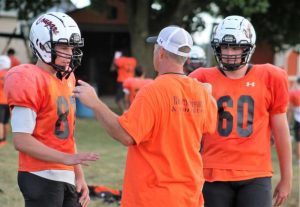 "The benefit is that I've been in the program," said Pavone. "They (the players) know me. I'm no stranger. I feel like they're comfortable with me, so when I got the job, we could hit the ground running. Being a head coach is different than an assistant coach, but they're buying into that.
 "Things are going well to this point," added Pavone. "We've had a really good off season. The kids have really bought into taking the program to the next level. Coach Pope got us out of some lean years and he change the culture of the program. Now it's the next phase and taking the next step for the program, and building on the foundation of the program. We want to be the team that punches you in the mouth right away, and stays with you for four quarters."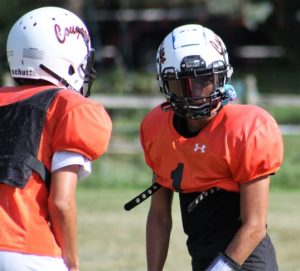 'Middle of the road' would be a good way to describe Palmyra's 2021 campaign, so would 'mediocre'. The Cougars went 5-5 overall with a fairly strong senior class.
 "I think we're starting with a fresh slate," said Pavone. "But we're using last year as motivation because we feel like we underachieved. We felt like we could've been 8-2 and a district qualifier. We've been trying to improve on some areas, like 'here's what we can do better'. We don't want to settle for mediocrity. We want to eliminate the word 'mediocrity' from our vocabulary.
 "The key thing coming into this camp was finding our identity on offense and defense, and bringing the team together," Pavone continued. "Really building bonds between the kids has been a focus. We want them to come closer together, and I think they have. That's a priority. Teams who like to be together get good results."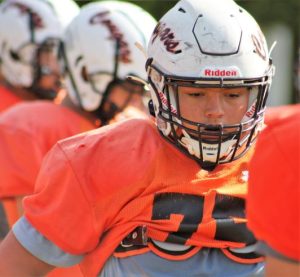 The Cougars are currently working with a roster of right around 52 student-athletes. Of those players, three are returning starters on offense and six are returning starters on defense.
  "My number for a five-A program is 60," said Pavone. "That's a consistent 20 players across the three classes (senior, junior, sophomore). That's good for depth. That's good for development. I'm pleased with 52, but that's just going to grow as word gets out about what we're doing. I think that tide is going to change soon. That's been a major point of emphasis, recruiting from other sports. We already got some guys out.
 "We're very junior and sophomore heavy, which is good for the future, but also good for the present," Pavone added. "The quicker we jell as a team, the quicker we can get a line on our goals. We have really good leadership in our program. You get there with team camaraderie as well."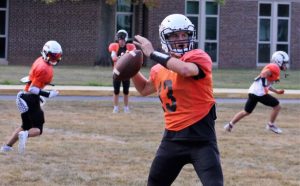 If the Cougars can get any push at all up front, create any kind of crease, they should be able to move the ball on a consistent basis.
 Junior Nate Eisenhooth appears to have emerged as the front-runner from a heated battle for the starting quarterback spot, one involving sophomore Ryan Kowalski and junior Ethan Lodish. Palmyra also possesses electric skill players in sophomore running back Juan Figueroa and senior receiver Jose Morales.
 But wait, Palmyra also features the talents of junior Keagan Kleinfelter, senior Kadan Readinger, junior Jon McDannell, senior Jacob Gooden, senior Bronson Coburn and senior Brady Ward.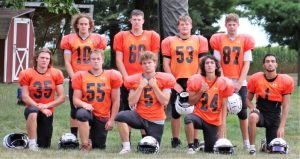 "Our running backs have impressed me," said Pavone. "They're finding the holes that the offensive line is creating. Defensively, I really feel like we've been flying around. We've changed our whole identity on that side of the ball. That's where we bring back the most experience.
 "I'm looking for consistency in our quarterback play," continued Pavone. "I  don't want our guys trying to be all-stars. We just need our quarterback to manage the offense, because we're really loaded at the skill positions. We have some talent there."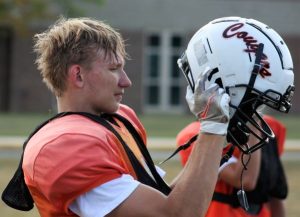 Settled as a unit, Palmyra's offensive line is currently focused on attention to details. The Cougars have sophomore Beau Toler at center, flanked by guards Kyle Chapin, a senior, and Andrew Manning, a junior, and senior tackles Colton Long and Wyatt Herr.
 Linebackers Kadin Jones, a junior, and Jake Rudy, a senior, will help anchor the Cougars' defense.
 "I'm really pleased with our offensive and defensive lines," said Pavone. "That's been a main focus point. They've really gotten after it. They've impressed me. The culture change that we talk about starts up front.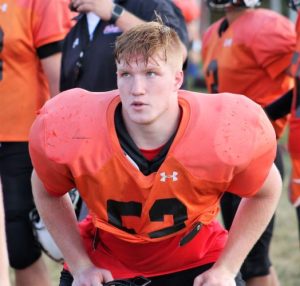 "We want to work fast," added Pavone. "We want to up our tempo on offense and defense. Our physicality and just flying around, it's something we really stressed in camp. We felt we weren't as physical as we could've been in past years."
  One local publication has picked Palmyra to finish sixth in the eight-team Keystone Division of the Mid-Penn Conference, while another tabbed the Cougars to finish last.
 "We always focus on ourselves," said Pavone. "That's the most important thing. But these kids read things and hear things, and understand how we're viewed. I've always felt that the Mid-Penn Conference has respected us, that we're not some slouch of a program.
  "We might not be viewed as much right now," concluded Pavone. "But that's a major motivator. We're going to use it as a motivating tool all year. We want to exceed those expectations."
 To purchase images in this article please email jeff@lebcosports.com. 2022 Palmyra Football Roster
| | | | | | |
| --- | --- | --- | --- | --- | --- |
| Number | Name | Class | Position | Height | Weight |
| 1 | Morales, Jose | 12 | WR/DB | 5′ 10″ | 145 |
| 2 | Kleinfelter, Keagen | 11 | WR/DB | 5′ 9″ | 150 |
| 3 | Kowalski, Ryan | 10 | QB/DB | 5′ 7″ | 135 |
| 4 | Readinger, Kadan | 11 | WR/DB | 5′ 9″ | 165 |
| 5 | Gooden, Jacob | 12 | RB/LB | 5′ 9″ | 180 |
| 7 | McCurdy, Jason | 11 | WR/DB | 6′ 0′ | 175 |
| 8 | Hodgson, Micah | 11 | WR/LB | 5′ 11″ | 165 |
| 9 | Orlando, Titus | 11 | TE/DL | 6′ 3″ | 185 |
| 10 | Rudy, Jacob | 12 | QB/LB | 5′ 11″ | 180 |
| 11 | Eisenhooth, Nathan | 11 | QB/DB | 5′ 10″ | 145 |
| 13 | Lodish, Ethan | 11 | QB/DB | 6′ 2″ | 180 |
| 14 | Snyder, Austin | 10 | WR/DB | 5′ 6″ | 125 |
| 15 | Jeffries, Isaiah | 11 | QB/DB | 5′ 11″ | 140 |
| 17 | Beam, Jon | 10 | WR/DB | 5′ 10″ | 140 |
| 18 | McDannell, Jon | 11 | WR/DL | 6′ 1″ | 175 |
| 19 | Kaplan, Justin | 10 | RB/LB | 5′ 11″ | 170 |
| 22 | Altebrando, Joseph | 10 | RB/LB | 5′ 9″ | 140 |
| 24 | Cannon, Danny | 12 | WR/DB | 5′  8″ | 130 |
| 25 | Figueroa, Juan | 10 | RB/DB | 6′ 0′ | 160 |
| 26 | LeVan, Hayden | 10 | WR/DB | 5′  8″ | 130 |
| 27 | Sherman, Jacob | 11 | RB/DL | 6′ 0′ | 185 |
| 29 | Russell, Jace | 10 | QB/DB | 5′ 9″ | 165 |
| 31 | Ferretti, Aldo | 10 | RB/LB | 5′ 7″ | 165 |
| 32 | Koennecke, Kyle | 11 | RB/DB | 5′ 7″ | 145 |
| 33 | Stewart, Charlie | 10 | WR/DB | 6′ 1″ | 150 |
| 34 | Trautman, Wade | 11 | RB/LB | 5′ 9″ | 175 |
| 35 | Coburn, Bronson | 12 | RB/LB | 5′ 10″ | 172 |
| 37 | Bordner, Matt | 11 | K | 6′ 2″ | 175 |
| 42 | Temple, Nick | 11 | RB/LB | 5′ 10″ | 165 |
| 50 | Doone, Richie | 11 | OL/DL | 5′ 11″ | 265 |
| 51 | Moreno, Dereck | 10 | OL/DL | 5′  8″ | 200 |
| 52 | Jones, Kadin | 11 | OL/LB | 5′ 11″ | 195 |
| 53 | Chapin, Kyle | 12 | OL/DL | 6′ 1″ | 230 |
| 54 | Manning, Andrew | 11 | OL/DL | 6′ 1″ | 201 |
| 55 | Herr, Wyatt | 12 | OL/DL | 5′ 9″ | 205 |
| 56 | Stichler, Noah | 10 | OL/DL | 5′  8″ | 230 |
| 58 | Howard, Logan | 11 | OL/DL | 5′ 11″ | 230 |
| 60 | Long, Colton | 12 | OL/DL | 6′ 3″ | 240 |
| 66 | Snyder, Alex | 11 | OL/DL | 5′ 8″ | 270 |
| 73 | Custer, Kale | 10 | OL/DL | 5′ 11″ | 230 |
| 75 | Toler, Beau | 10 | OL/DL | 5′ 11″ | 245 |
| 76 | Albright, Jayson | 10 | OL/DL | 6′ 2″ | 245 |
| 78 | Snyder, Anthony | 11 | OL/DL | 5′ 11″ | 175 |
| 79 | Harner, Andrew | 11 | OL/DL | 6′ 0′ | 285 |
| 80 | Isett, Carter | 10 | WR/DB | 5′ 7″ | 140 |
| 84 | Scherer, Gavin | 10 | WR.DB | 5′  8″ | 135 |
| 85 | Scherer, Ethan | 10 | WR/DB | 5′ 7″ | 130 |
| 86 | Weaver, Nathan | 10 | WR/LB | 6′ 0′ | 155 |
| 87 | Ward, Brady | 12 | WR/DB | 6′ 1″ | 180 |
| 89 | Velez, Daniel | 11 | WR/DB | 6′ 0′ | 145 |
2022 Palmyra Football Schedule
| | | | | | |
| --- | --- | --- | --- | --- | --- |
| 2022-08-26 | H | vs | Lebanon(3) |   | 0-0 |
| 2022-09-02 | A | vs | East Pennsboro(3) |   | 0-0 |
| 2022-09-09 | H | vs | Donegal(3) |   | 0-0 |
| 2022-09-15 | H | vs | Bishop McDevitt (3)(3) |   | 0-0 |
| 2022-09-23 | A | vs | Mifflin County(6) |   | 0-0 |
| 2022-09-30 | H | vs | Lower Dauphin(3) |   | 0-0 |
| 2022-10-07 | A | vs | Red Land(3) |   | 0-0 |
| 2022-10-14 | A | vs | Cedar Cliff(3) |   | 0-0 |
| 2022-10-21 | H | vs | Milton Hershey(3) |   | 0-0 |
| 2022-10-28 | A | vs | Hershey(3) |   | 0-0 |