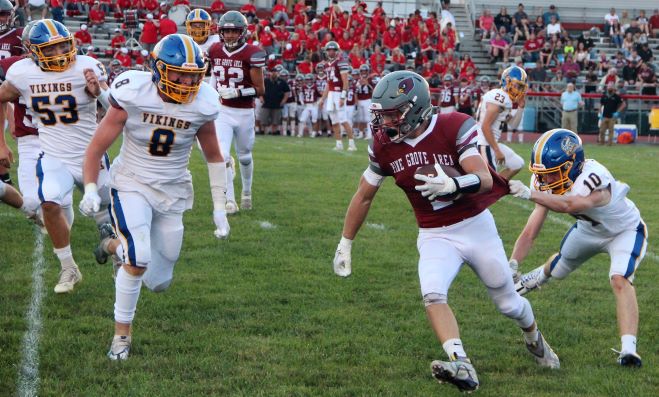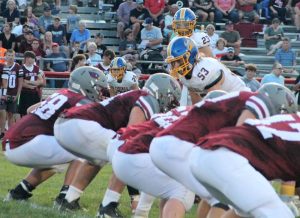 BY JEFF FALK
Editor
PINE GROVE – The Northern Lebanon football program passed the moral-victory check point miles ago. But that doesn't mean that every defeat is a failure, that they can't be learned from, that they are void of positives.
On a humid Friday night at Pine Grove High School, Northern Lebanon displayed poise, determination and  play making ability – as well as other assorted elements associated with well-coached teams – during a 14-9 season-opening loss to the hometown Cardinals. It was an outcome that the Vikings will eventually move on from, but not before storing away a bunch of positives upon which to build.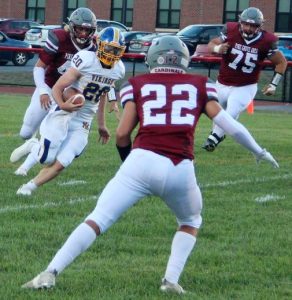 Northern Lebanon was coming off a 4-6 campaign in 2021, during which it qualified for the District Three postseason under rookie head coach Jason Rice. Last night's season opener, which was moved from Fredericksburg due to on-going construction at Fred Gahres Stadium, served as the debut of Dave Shiffer as Pine Grove's new head coach.
"You can always find a positive or a negative in anything," said Rice. "You can always take something good out of a loss. I think we now understand we have to get better in our conditioning. Another positive was that we shut them out in the first half, and made them change their game plan.
"You don't just shake off a game," added Rice. "There were a lot of positives and there's a lot more football to be played. We're going to learn from everything we do, and we're going to win football games."
Despite the fact that the Vikings scored on the last play of the game, the final score was very indicative of its competitiveness and evenly-matched nature.
Trailing 14-3, Northern Lebanon quarterback Grady Stichler connected with fellow senior James Voight for a 21-yard touchdown as time expired. The extra point was not attempted.
"There was definitely a lot of eagerness in the room," said Rice of the season opener. "But in that, I don't think we were very prepared for adversity. We may have been a little over confident. We can't just show up and win football games.
"I thought we were competitive throughout," Rice added. "I'll take the blame for us not being able to move the ball in the second half. Pine Grove out sized us and were maybe a little more physical. Although our big guys were active up front, they couldn't handle their (the Cardinals') grinding and push in the second half."

The Vikings struck first and scored on their initial possession of the season, taking a 3-0 lead on Garrett Bohn's 20-yard field goal with 4:45 left in the first quarter.
The score was set up by a 43-yard completion from Stichler to Moises Gonzalez and a 33-yard hook-up between Stichler and Voight. But Northern Lebanon's 11-play, 80-yard march stalled after reaching Pine Grove's one-yard line.
"Believe it or not, I do want to run the football," said Rice. "But to do that, you've got to stay healthy and play on their (the opponents') side of the football. I think we have to figure out ways to get our guys in space quickly.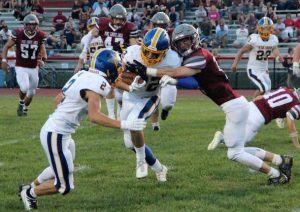 "Overall, we showed positive signs on both sides of the ball," continued Rice. "At halftime, we had them shut out. But they (the Cardinals) used their size and physicality against us."
The Vikings' 3-0 advantage held up until five minutes of the second half had elapsed, a point where the Cardinals' full commitment to the running game finally paid off. Pine Grove junior Lane Lehman broke loose down the left sideline for a 58-yard touchdown jaunt and a 7-3 Pine Grove lead.
Despite its offensive inconsistencies, Northern Lebanon came up with enough big plays on defense to keep it a one-score game. But with 1:36 remaining, Pine Grove finished off a 10-play, 69-yard march – all on the ground – to extend its lead to 14-3.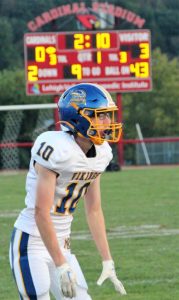 "I thought our defense was tremendous," said Rice. "We were looking to put them in a position where they had to throw the ball, but we couldn't. That took us out of our original game plan. But we played good defense."
Pine Grove outgained Northern Lebanon 308 total yards to 256. Some 296 of the Cardinals' yards came on the ground, while 210 of the Vikings' yards came through the air.
Stichler completed nine of his 25 pass attempts, and also threw a pair of interceptions. Voight caught six of those balls for 158 receiving yards.
"I love the proximity," said Rice of the Vikings' long rivalry with Pine Grove. "We're surrounded by rivals and we've got Pine Grove to the North. It's like a friendly rivalry because we're so familiar with each other. This is definitely a game I want to keep on our schedule because the programs are so similar in identities.
"It's Week One," concluded Rice. "We're going to continue to move forward. We will win football games. And as always, Go Vikings!"
To purchase images in this article please email jeff@lebcosports.com.
2022 Northern Lebanon Football Schedule
Date
Opponents
8/26
7:00 pm
Pine Grove
at Northern Lebanon
Nonleague
9/02
7:00 pm
Northern Lebanon
at Susquehanna Township
Nonleague
9/10
1:00 pm
Northern Lebanon
at York Tech
Nonleague
9/16
7:00 pm
Pequea Valley
at Northern Lebanon
League
9/23
7:00 pm
Northern Lebanon
at Lancaster Catholic
League
9/30
7:00 pm
Schuylkill Valley
at Northern Lebanon
League
10/07
7:00 pm
Kutztown
at Northern Lebanon
League
10/14
7:00 pm
Northern Lebanon
at Columbia
League
10/21
7:00 pm
Hamburg
at Northern Lebanon
League
10/28
7:00 pm
Northern Lebanon
at Annville-Cleona
League