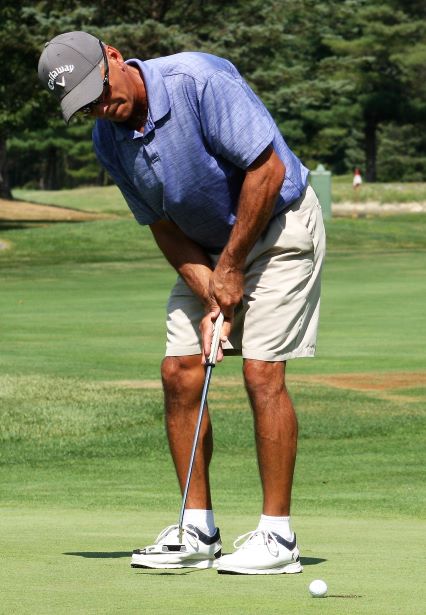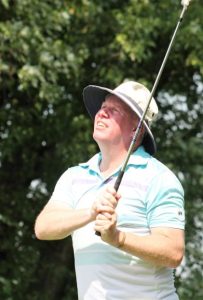 BY JEFF FALK
Editor
FREDERICKSBURG – Familiarity creates comfort. And comfort sets the stage for realizing potential.
So, if it all comes back to familiarity, which is more important, familiarity with one's partner or familiarity with the course? For Bill Massar, Jr. and Matt Anderson, there is absolutely no reason to choose.
On a warm Saturday morning, Massar and Anderson parlayed their familiarity with each other and their familiarity with Pine Meadows' 5,734-yard, par-72 layout into a three-shot, first-round lead at the 34th annual Lebanon County Better-Ball-of-Partners tournament, presented by Wyomissing Optometric Center. Anderson-Massar fired a blistering nine-under par score of 63 which featured two eagles, five birdies and no bogeys.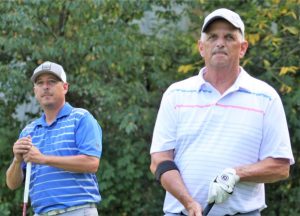 Currently sitting in second place, after firing a six-under par score of 66 is another group of Pine Meadows regulars, the father-son duo of Barry Lutz-Darren Lutz. Lurking four shots behind the leaders is a dangerous group that includes Justin Arnt-Skeet Wentling, Dan Brown-Brian Auman, Ben Feeman-Dylan Ramsey and Dave Albright-Scot Adams, all of whom carded 67s or five-under.
Posting scores of 68 were the teams of Chris Gebhard-John DiGiacomo, Perry Umlauf-Kerry Wentling and Greg Seidel-Shaun Vernesconi.
The second and final round of the popular Lebanon County Golf Association event will tee off on Sunday morning.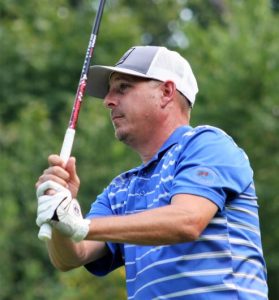 Last year at Lebanon Valley Golf Course, Massar and Anderson finished fourth in the Lebanon County Better-Ball-of-Partners tournament, in their first time playing in the event together. Yesterday they each shot 68 on their own ball.
"It's a really good team," said Massar, who won this event in with partner Dave Berkheimer in 2012. "When I play against him, he beats me, or I beat him. We just complement each other. I think the key to success in a better-ball-of-partners event is being able to pick each other up."
"You've still got to do your thing," said Anderson. "But it's nice to be able to ask someone else what your putt is going to do. If you have a bad shot, you know the other guy is going to be there for you. I know Billy isn't going to make eight bogeys."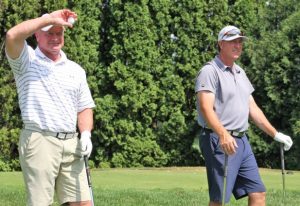 After starting on Number 13, Massar-Anderson caught fire four holes into their round. With medium-range birdies at the 314-yard, par-four 16th, the 506-yard, par-five 18th and the 394-yard, par-four first hole, then an eagle at the 247-yard, par-four second hole, Massar carried his team to five-under par.
"I made everything," said Massar. "Maybe because I didn't think about it. If you think about it, you're done. It's fun pressure. But I think as you get older, it's more fun than pressure."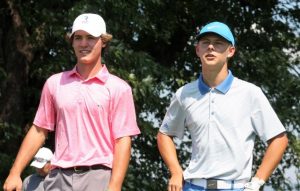 "I think it's a big deal," said Anderson of the importance of the event. "Billy played pretty good early. I played well on the back nine. We both played well."
Massar rolled in a 40-foot birdie putt at the 471-yard, par-five fifth hole, before Anderson registered a short bird at the 444-yard, par-five sixth hole. Then Anderson applied the finishing touches with an eagle at the 490-yard, par-five tenth hole.
"This is a big deal," said Massar. "Every county event is a big deal. I don't play if I don't think I'm going to have a chance to win. I don't want to be second. But you've got to play well."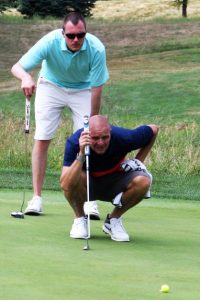 "I thought if we both played well we'd be four- or five-under," said Anderson. "I didn't expect nine-under. It's the same thing tomorrow. Hit decent shots and make putts."
Even more of a surprise was the play of Lutz and Lutz, who last played together in this event 30 years ago. The younger Lutz, Darren, did most of the heavy lifting, while father Barry provided timely and valuable support.
"My partner backed put on me, and we were sitting here one night and I said, 'Let's play,'" said Darren Lutz of his father. "He's a little intimidated with this thing. But I said, 'Let's just go and have fun', and today we had the time of our lives.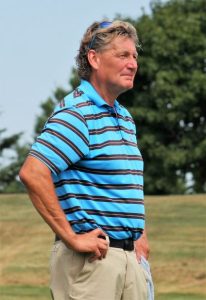 "We were thinking around even par," added Darren Lutz, "and see what happens. He helped me out on some of the holes where I needed help."
After beginning their round on Number 11, the Lutzes were two-under through eight holes. But Darren Lutz rolled in short-to-medium range birdie putts at the par-four first, par-five fifth, par-five sixth and the par-four eighth to reach six-under par.
"It was great today," said Lutz. "The course was phenomenal. The greens held well and they putted great. I think it helped with the scoring. You could throw it at the stick.
"Tomorrow we're playing with two guys (Massar, Anderson) who are also members here," continued Lutz. "We all play together, and it's going to be fun. There's no pressure. We're not here to win this thing. We'll be playing loose and care-free."
To purchase images in this article please email jeff@lebcosports.com.
Lebanon County Better-Ball of Partners Past Champions
| Player Name | Score | Course | Year |
| --- | --- | --- | --- |
| Chris Gebhard and Jim Gardner | 63-61-124 | Lebanon Valley | 2021 |
| Chris Gebhard and Jim Gardner | 66-63-129 | Blue Mountain | 2020 |
| Dan Brown and Ryan Woefling | 63-64-127 | Pine Meadows | 2019 |
| Mike Potts and Jesse Brown | 64-69-133 | Pine Meadows | 2018 |
| Justin Arnt and Skeet Wentling | 66-64-130 | Lebanon Valley | 2017 |
| Mike Schmidt, Jr and Pete Parpagene | 63-66-129 | Fairview | 2016 |
| Don Johnson and Rick Troutman | 68-64-132 | Fairview | 2015 |
| Brian Auman and Jim Gardner | 64-69-133 | Pine Meadows | 2014 |
| Mike Schmidt Jr. and Ryan Weaber | | Iron Valley | 2013 |
| Bill Massar Jr. and Dave Berkheimer | 68-69-137 | Monroe Valley | 2012 |
| No tournament due to flooding | | | 2011 |
| Steve Allwein and Mike Schmidt | 64-68-132 | Royal Oaks | 2010 |
| Jim Gardner and Brain Auman | 60-65-125 | Fairview | 2009 |
| Tom Kintzer and Greg Behney | 66-65-131 | Blue Mountain | 2008 |
| Stu Hanford and Don Johnson | 64-67-131 | Pine Meadows | 2007 |
| Perry Umlauf and Shawn Cooper | 66-66-132 | Royal Oaks | 2005 |
| Dan Brown and Andy Gibbons | 62-67-129 | Pine Meadows | 2004 |
| Dan Brown and Andy Gibbons | 66-60-126 | Fariview | 2003 |
| Dan Brown and Chad Schulze | 61-65-126 | Lebanon Valley | 2002 |
| Bob Wenrich and John Hacunda | 70-64-134 | Monroe Valley | 2000 |
| John Digiacomo and Blaine Peffley | 64-67-131 | Fairview | 1999 |
| Joe Faller and Phil Faller | 65-74-139 | Monroe Valley | 1998 |
| Jim Gardner and Jim Calhoun | 68-67-135 | Fairview | 1997 |
| Pete Gebhard and Dave Kurtz | 70-64-134 | Fairview | 1995 |
| Pete Gebhard and Dave Kurtz | 65-68-133 | Fairview | 1994 |
| Mark Ditzler and Tom Sherk | 69-68-137 | Fairview | 1992 |
| Jeff Pyles and Jeff Behney | 70-68-138 | Fairview | 1991 |
| Rick Troutman and Pete Gebhard | 70-65-135 | Fairview | 1990 |
| Joe Faller and Dave Kurtz | 66-67-133 | Fairview | 1989 |
| Bob Page and Bill Shoop | 68-65-133 | Fairview | 1988 |

Lebanon Federal Credit Union