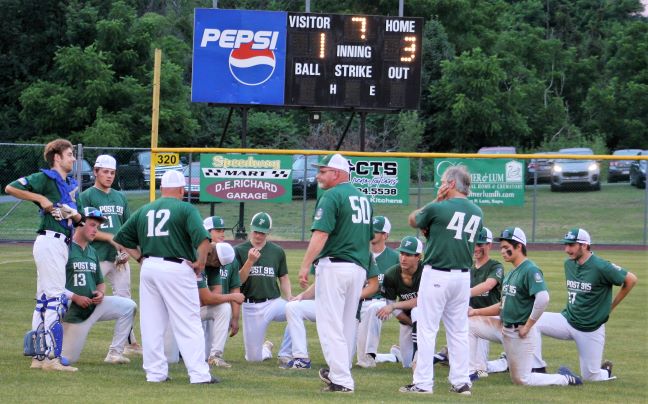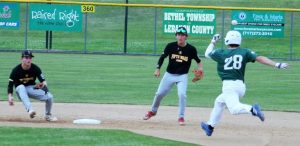 BY JEFF FALK
Editor
FREDERICKSBURG – They always say that survival is the greatest motivator. But do you know what else is powerful motivation? Pride.
Fredericksburg doesn't need to win the playoff – and overall – championship of the Lebanon County American Legion baseball league. But Post 915 sure does want it.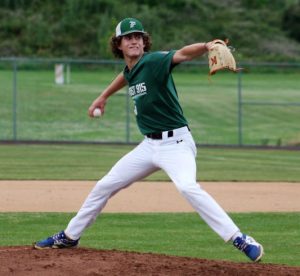 On a muggy Wednesday evening at Earl Wenger Memorial Field, the regular season champions orchestrated an important move on its goal with a 3-1 triumph over Fifth Ward, in the semifinal round of the local summer circuit's seven-team, double-elimination playoff tournament. With some key hits and stingy defense, Fredericksburg emerged victorious in what boiled down to a tense mound match-up between ace Austin Beard and Fifth Ward southpaw Braden Collazo.
The result pushed top-seeded Fredericksburg to 11-2 overall and into the undefeated game of the Lebanon County American Legion league playoffs, opposite second-seeded Annville, which edged Campbelltown 2-1 in the other semifinal, on Thursday at 7 p.m. back at Earl Wenger Field. With Fredericksburg assured of one of Lebanon County's two berths into the eight-team, double-elimination Region Four tournament – July 15-19 in Red Lion – Annville is now in the driver's seat for the second.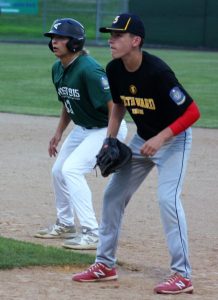 Fourth-seeded Fifth Ward, which fell to 1-1 in the postseason and 8-6 overall, can still claim the regional spot, but must now fight through the loser's bracket to do so.
"These kids want to win the playoff championship, and so do I," said Fredericksburg head coach Steve Beard. "We go 10-0, clinch the league (regular season) and then lose the next t wo. We have to win tonight. The season started all over again tonight.
"It's hard being the number-one seed," continued Beard. "We put a lot of pressure on ourselves, or we (coaches) put a lot of pressure on them (players). This doesn't happen in a vacuum. These kids know each other. Fifth Ward just knocked us off last week."
"I wanted us to win tonight (Wednesday) and I wanted us to win tomorrow (Thursday) and then not play until Sunday," said Fifth Ward head coach Greg Kreiser. "My goal is to get that regional spot. We could still come all the way back through the loser's bracket. Now it's just going to be a little tougher.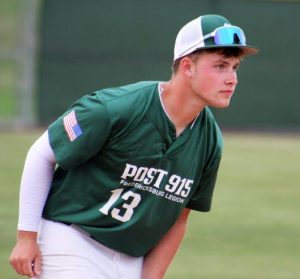 "I think we're all pretty even," added Kreiser. "Any of us could beat any of us. Annville, Campbelltown, Fredericksburg, us, even Myerstown. Sometimes you just need luck."
Trailing 1-0 and with momentum clearly on the side of Fifth Ward, Fredericksburg pieced together a crucial two-run rally in the bottom of the fourth inning to flip the switch.
It all began with back-to-back one-out singles by Beard and Jared Ecenroad. But thanks to an error and a balk, neither of the runs that Post 915 plated was earned.
"I don't think either pitcher had their best stuff, but they found ways to get outs," said Beard. "That was a team win. It reminded me of the way we played early in the season.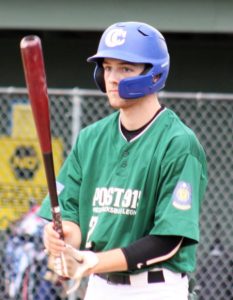 "I don't really preach an approach at the plate, because every hitter is different," Beard continued. "We want to look for the fastball and react to the curve. We didn't do a lot of that tonight, but we did enough to win."
"It was a pitchers' duel. That's what I expected," said Kreiser. "I knew it was going to be a close game. That error at third base was the difference, that and the balk. That was the game right there.
"We needed to have a little better approach at the plate," Kreiser added. "We got everything we needed out of the pitching. We just needed to be better at the plate."
Beard was downright masterful in pitching a complete-game three-hitter. He pitched to contact, struck out two and walked two.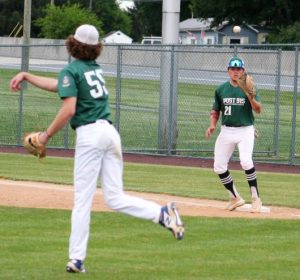 But Lebanon got to him for a run in the top of the fourth inning and assumed that one-run edge. Yostin Guerrero led off with a single, made it second on an outfield error, then was sacrificed to third by Albert Rodriguez, before Collazo brought him home with a sacrifice fly to left.
"He's (Beard) the workhorse," said Beard. "You know you're probably going to get a complete game out of him. He's going to go deep into the game, and he's a bulldog. Tonight he won without his best stuff.
"I think he certainly has to be in that (MVP) conversation," added Beard. "But I'll let someone else decide that. It's a team game. He's had a phenomenal season. But it's hard to say that because there are some pretty good baseball players in this league."
"That's the norm for him," said Kreiser of Beard. "It's always tough when he's on the mound. I'm glad I don't have to hit against him. He has a good off-speed and he keeps you off-balance."
Post 915 added a much needed insurance tally in the bottom of the sixth inning. Beard knocked in Noah Gonzalez, who had opened the at-bat with a booming triple.
Over his six innings of work, Collazo surrendered five hits, fanned eight and issued a lone free pass.
"I don't think Braden had his best stuff," said Beard. "I've seen his best stuff and it's scary. When he has good velocity, you're in trouble. Coming out here and throwing 97 pitches in a playoff atmosphere, I wouldn't expect anything else from Braden Collazo."
"That is what I expected of him," said Kreiser of Collazo. "He's going to give you a tough game every time out. I told him I needed him to go at least five innings and he went all six."
To purchase images in this article please email jeff@lebcosports.com.
Current Lebanon County American Legion Baseball League Standings
Lebanon County American Legion League
Past Champions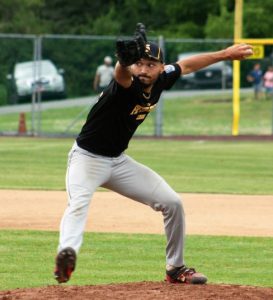 2021 – Myerstown
 2020 – COVID-19
 2019- Campbelltown
 2018 – Richland
 2017 – Fredericksburg
 2016 – Annville
2015 – Myerstown
2014 – Myerstown
2013 – Campbelltown
2012 – Campbelltown
2011 – Annville
2010 – Campbelltown
2009 — Fredericksburg
2008 — Fredericksburg
2007 — Richland
2006 — Richland
2005 — Richland
004 — Annville
2003 — Fredericksburg
2002 — Richland
2001 — Fredericksburg
2000 — Fredericksburg
1999 — Fredericksburg
1998 — Palmyra
1997 — Fredericksburg
1996 — Fredericksburg
1995 — Fredericksburg
1994 — Fredericksburg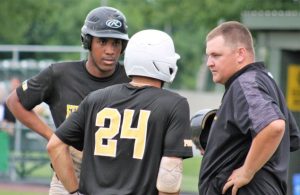 1993 — Fredericksburg*
1992 — Palmyra
1991 — Palmyra
1990 — Fredericksburg
1989 — Fredericksburg
1988 — Palmyra
1987 — Fredericksburg
1986 — Fredericksburg*
1985 — Myerstown
1984 — Richland
1983 — Lebanon
1982 — Lebanon
1981 — Fredericksburg*
1980 — Richland
1979 — Fredericksburg
1978 — Myerstown
1977 — Fredericksburg
1976 — Fredericksburg
1975 — Myerstown
1974 — Lebanon
1973 — Fredericksburg
1972 — Myerstown*
1971 — Myerstown*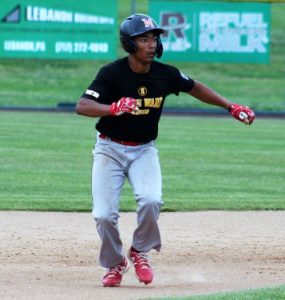 1970 — Annville*
1969 — Annville*
1968 — Myerstown
1967 — Myerstown
1966 — Myerstown
1965 — Myerstown
1964 — Richland
1963 — Lebanon
1962 — Richland
1961 — Richland*
1960 — Not Contested
1959 — Fredericksburg
1958 — Fredericksburg
1957 — Fredericksburg
1956 — Lebanon
1955 — Myerstown
1954 — Jonestown*
1953 — Myerstown
1952 — Palmyra*
1951 — Palmyra
1950 — Palmyra
1949 — Annville
1948 — Myerstown*
1947 — Lebanon
1946 — Myerstown
1945 — Not Contested (World War II)
1944 — Not Contested (World War II)
1943 — Not Contested (World War II)
1942 — Not Contested (World War II)
1941 — Lebanon*
1940 — Myerstown
1939 — Myerstown
1938 — Myerstown*
1937 — Lebanon*
1936 — Lebanon
1935 — Annville
1934 — Annville
1933 — Myerstown
1932 — Lebanon*
1931 — Orioles*
1930 — Fifth Ward
1929 — Progressive
* Denotes regional champions
Note — The 1937 Lebanon squad was the only team from the county to win a state title. The 1981 Fredericksburg, the
1948 Myerstown and the 1938 Myerstown clubs were all state runners-up.