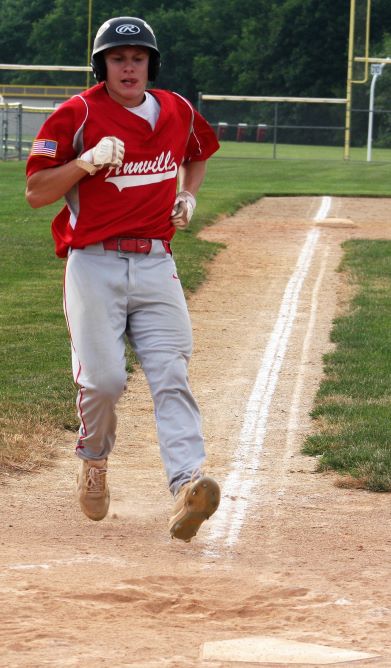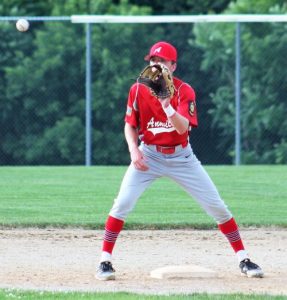 BY JEFF FALK
Editor
ANNVILLE – A plan is to execution in much the same way as a process is to steps. It's incremental.
And sometimes the most important step is the first one.
On a steamy Tuesday evening at Annville-Cleona High School, ambitious Annville opened play in the Lebanon County American Legion Baseball playoffs with a very business-like 11-1, five inning, mercy-rule drubbing of Richland. The home side excelled in all three phases of the game, pounding out 14 hits, playing error-free defense and receiving a dominant pitching performance from right-hander Cash Anspach.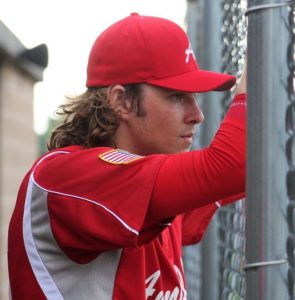 Anspach also came through with the decisive hit, an RBI-single with two outs in the bottom of the fifth inning that capped a three-run rally and invoked the mercy rule. In addition, Annville's half of the fifth inning featured Alex Lingle's RBI-single, Eli Russell's lead-off safety and walks to Jeremy Seyfert and Jake Mills.
With the triumph, second-seeded Annville improved to 9-3 overall and moved into the semifinal round of the winner's bracket, opposite third-seeded Campbelltown, which nudged sixth-seeded Myerstown, on Wednesday at 5:45 p.m. back at Annville-Cleona High School. Seventh-seeded Richland slipped to 2-11 on the summer and into the loser's bracket of the seven-team, double-elimination event.
The end goal for all of the Lebanon County American Legion postseason competitors is to capture the summer circuit's remaining spot at the eight-team, double-elimination Region Four tournament at Red Lion. Top-seeded Fredericksburg has already secured the league's initial spot in the event, by virtue of its regular-season title.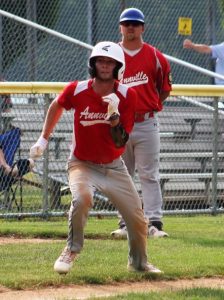 During the regular season, Annville had defeated Richland twice, 6-0 in Myerstown on June 15 and 6-3 in Annville on June 22.
"You don't want to be losing the first game of a double-elimination tournament," said Annville head coach Ken Sauley. "Anybody can beat anybody on any given day. You've got to win the first one. You have to. Now we have to go out and play with the same focus as we did today, because if we don't, we're probably going to lose.
"Our goal is to win the whole thing," added Sauley. "That's what everybody should be shooting for. Everybody is 0-0. It's all seven teams' goals. But you can't win on paper. I was nervous about this game all day."
"The goal was to win tonight and then find out who we played tomorrow night," said Richland skipper Travis Thome. "Coach (Lyle) Krall and I differ a little bit on the approach to this postseason. He wants to make sure everyone gets in. I'm of the mentality that if we still have a chance to win the ball game, it doesn't matter if everyone gets in.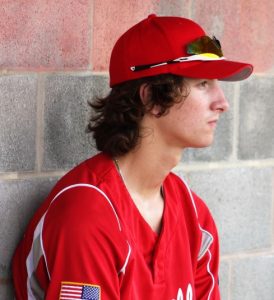 "When you have an outcome like this, it's easy to get everyone an at-bat," continued Thome. "But once you get to the high school level, the goal should be to win. If it's not your goal, I'd question why you're playing."
Anspach was in control the entire time. After surrendering back-to-back singles to Lance Weidman and Robert Best with two outs in the top of the opening inning, Anspach retired the next nine Richland batters in-a-row.
Anspach lost his shutout bid in the top of the fifth, following singles by Lance Batdorf and Ryan Whitehead, and a sacrifice fly from Carter Lutz. But by that time, Annville was sitting on an 8-0 cushion.
Anspach finished with four strikeouts and no walks, on 57 total pitches.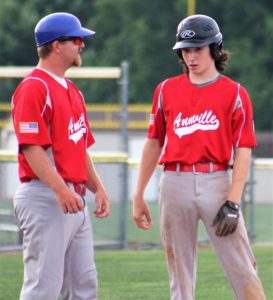 "He's probably our number-three starter," said Sauley of Anspach. "He's sort of been up and down with his control, so I told him to pitch to contact. He didn't throw as hard as he usually does, but he threw strikes. He made them put the ball in play. He did his job, no walks.
"He hadn't pitched for a week," continued Sauley. "He knew he was on a short leash. But you can't ask for anything more than Cash gave us. It was a phenomenal job."
"He (Anspach) was solid," said Thome. "Obviously, he kept us off balance. His control tonight was much better. With the lead, he could pitch more free and loosely. He kept us to one run, so he must have been doing something right.
"(Richland starter Carter) Lutz threw well, but they were on it," Thome added. "They're the number-two seed for a reason. They don't have many guys, but they put the ball in play and they throw strikes."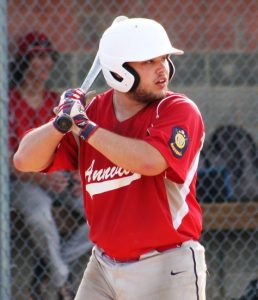 Annville provided Anspach with some margin for error by notching two runs in the bottom of the first inning. Isaac Good and Corey Swingholm posted RBIs for the home team.
Then in the third, Annville made it a 4-0 game. Julian Biondollo ignited the rally with a lead-off triple, ahead of RBI-hits from Lingle and Good.
"When Cash got through the first inning and we scored some runs, I felt like the kids were focused," said Sauley. "They were probably as focused as a team as they were all year.
"No walks, no errors and we hit the crap out of the ball," Sauley added. "That's the first time that's happened all year. Pitching and defense is what wins this. But our bats just exploded."
By scoring four more runs, Annville created some distance between itself and Richland in the bottom of the fourth inning. Annville batted around and received RBIs from Good, Seyfert and Mills.
"The score reflected the game," said Thome. "They ten-runned us. They hit the ball. Their pitcher did a good job and we didn't play stellar defense by any means. It was little league stuff, and if you go it here, they're going to score runs."
To purchase images in this article please email jeff@lebcosports.com.
Lebanon County American Legion League Regular Season Standings
Lebanon County American Legion League Past Champions
Lebanon County American Legion League
Past Champions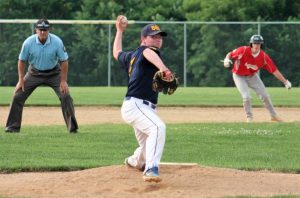 2021 – Myerstown
 2020 – COVID-19
 2019- Campbelltown
 2018 – Richland
 2017 – Fredericksburg
 2016 – Annville
2015 – Myerstown
2014 – Myerstown
2013 – Campbelltown
2012 – Campbelltown
2011 – Annville
2010 – Campbelltown
2009 — Fredericksburg
2008 — Fredericksburg
2007 — Richland
2006 — Richland
2005 — Richland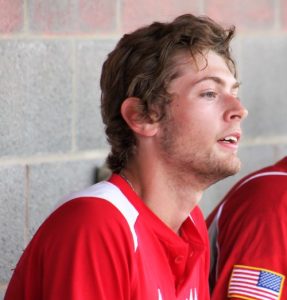 2004 — Annville
2003 — Fredericksburg
2002 — Richland
2001 — Fredericksburg
2000 — Fredericksburg
1999 — Fredericksburg
1998 — Palmyra
1997 — Fredericksburg
1996 — Fredericksburg
1995 — Fredericksburg
1994 — Fredericksburg
1993 — Fredericksburg*
1992 — Palmyra
1991 — Palmyra
1990 — Fredericksburg
1989 — Fredericksburg
1988 — Palmyra
1987 — Fredericksburg
1986 — Fredericksburg*
1985 — Myerstown
1984 — Richland
1983 — Lebanon
1982 — Lebanon
1981 — Fredericksburg*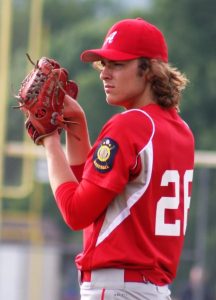 1980 — Richland
1979 — Fredericksburg
1978 — Myerstown
1977 — Fredericksburg
1976 — Fredericksburg
1975 — Myerstown
1974 — Lebanon
1973 — Fredericksburg
1972 — Myerstown*
1971 — Myerstown*
1970 — Annville*
1969 — Annville*
1968 — Myerstown
1967 — Myerstown
1966 — Myerstown
1965 — Myerstown
1964 — Richland
1963 — Lebanon
1962 — Richland
1961 — Richland*
1960 — Not Contested
1959 — Fredericksburg
1958 — Fredericksburg
1957 — Fredericksburg
1956 — Lebanon
1955 — Myerstown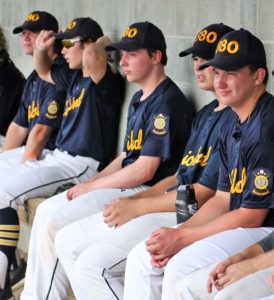 1954 — Jonestown*
1953 — Myerstown
1952 — Palmyra*
1951 — Palmyra
1950 — Palmyra
1949 — Annville
1948 — Myerstown*
1947 — Lebanon
1946 — Myerstown
1945 — Not Contested (World War II)
1944 — Not Contested (World War II)
1943 — Not Contested (World War II)
1942 — Not Contested (World War II)
1941 — Lebanon*
1940 — Myerstown
1939 — Myerstown
1938 — Myerstown*
1937 — Lebanon*
1936 — Lebanon
1935 — Annville
1934 — Annville
1933 — Myerstown
1932 — Lebanon*
1931 — Orioles*
1930 — Fifth Ward
1929 — Progressive
* Denotes regional champions
Note — The 1937 Lebanon squad was the only team from the county to win a state title. The 1981 Fredericksburg, the
1948 Myerstown and the 1938 Myerstown clubs were all state runners-up.