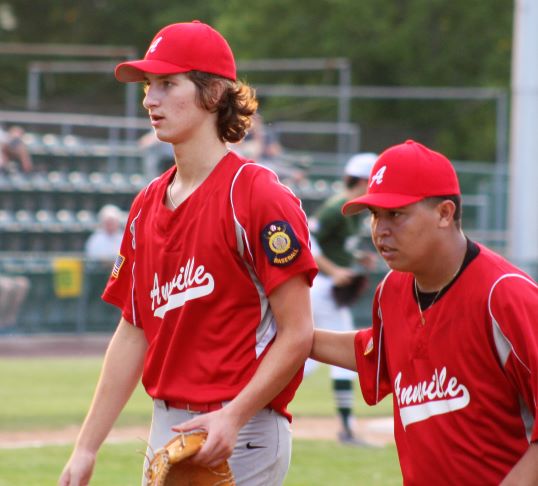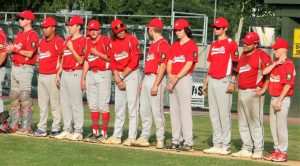 BY JEFF FALK
Editor
FREDERICKSBURG – Fredericksburg believes its been the best team all summer long. Annville is of the belief that all things being equal, when it plays its game and when everyone is there, it's the best team, on any given day.
There's a clash of perceptions currently playing out in the Lebanon County American Legion baseball league, one whose resolution will come with major implications.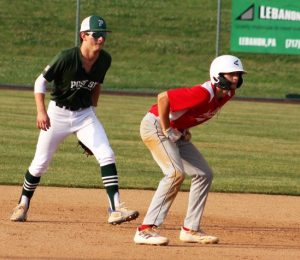 On a seasonable Thursday night at Earl Wenger Memorial Field, Annville dismantled Fredericksburg 6-1 in the undefeated game of the local summer circuit's seven-team, double-elimination postseason tournament. Annville scored runs in four of its first five at-bats to jump out to a 6-0 lead, and that was more than enough for southpaw ace Isaac Good.
With the outcome, second-seeded Annville moved to 3-0 in the postseason, 11-3 overall and into Sunday's championship game of the Lebanon County American Legion playoff tournament. The result also pushed Post 559 even closer to Lebanon County's second of two spots in the eight-team, double-elimination Region Four tournament, which will be contested in Red Lion, July 15-19.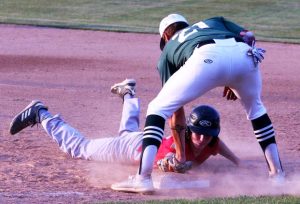 The loss was regular-season champion Fredericksburg's third in its last four outings and dropped it to 11-3 overall and into the loser's bracket of the league tournament. On Saturday at 7 p.m. back at Earl Wenger Field, Fredericksburg will host the final game in the loser's bracket, and ironically a positive result for Post 915 there would give Annville the berth to regionals.
"We are. I've got to say it," said Annville head coach Ken Sauley when pressed for the County Legion league's best team. "Right now, we are. Will we be able to say that on Sunday or Monday? I don't know. But today, we're the best team in the league.
"We've won like five in-a-row," added Sauley. "We're on a roll. We just need to keep it going."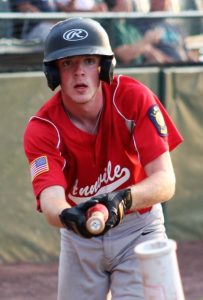 "I'm careful to talk about peaking, because we're the same baseball team," said Fredericksburg head coach Steve Beard. "Much of the same might not be true now. It's situational. Early in the season, we were scoring a lot of runs with two outs. Now, we're not taking advantage of our opportunities.
"You have to have an approach at the plate," added Beard. "The goal when facing a good pitcher is to get into the other team's bullpen. Give them credit. They played well tonight (Thursday)."
After Annville's first two batters of the game – Eli Russell and Julian Biondollo – singled, Good staked himself and his side to a 1-0 edge with an RBI-grounder.
Then in the top of the third, Post 559 padded its lead with two more runs. Good plated one of those runs with a similar ground out, before Jeremy Seyfert stroked a two-out single.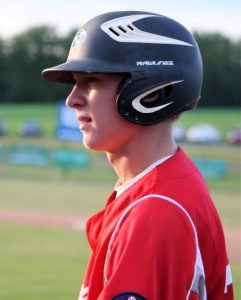 "We jumped on them early," said Sauley. "We scored that first-inning run, then left everything take its course. They're (Fredericksburg) a solid team. They've got good pieces here.
"Their kid (Fredericksburg starter Hunter Zohn) kept us off-balance," continued Sauley. "We didn't get good swings. But we got hits when we needed them. They gave us a couple of outs to extend innings."
"I'd like to have five pitches back," said Beard. "Hunter pounded the zone. But I thought he got elevated in key situations, and they made us pay for it. They hit the ball and we had a couple of mistakes. Baseball is a game of momentum."
Good worked out of some early trouble before really settling into a good groove. The slinging southpaw finished what he started, allowed five hits, struck out eight and walked two.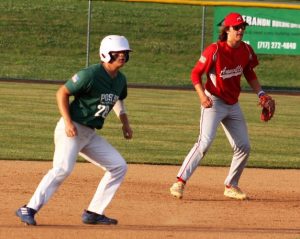 Good carried a shutout and a six-run lead into the bottom of the sixth inning, when F-burg parlayed Noah Gonzalez's lead-off triple and Austin Beard's RBI into its only run.
"He battled," said Sauley of Good. "They've (Fredericksburg) got some good hitters over there. His pitch count stayed down. He had a couple of one-pitch outs and two-pitch outs. That helps. But I wouldn't say he had his best, best stuff.
"Basically, we decided to go with Jake (Mills), Cash (Anspach) and Isaac to start this thing," Sauley continued. "Now we've got to get beat twice to lose it. At that point, we might not have all of our pitchers, but neither does anyone else. Isaac is one of the best pitchers in the county. If you lose to him, you can't hang your head."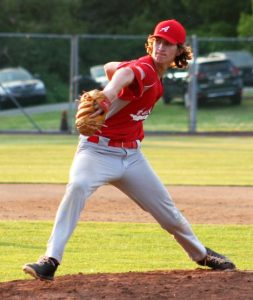 "Isaac was what he's been the last couple of years," said Beard. "He's a low 80s-guy who hits the strike zone. He had good stuff. He kept us to one run. What else can you really say about it?
"But I think (catcher) Jeremy Seyfert behind the plate is the key to their team," Beard continued. "He's one of the good guys in the game."
Annville turned Mills' lead-off single and a couple of throwing errors into a run and a 4-0 lead in the top of the fourth inning, In the fifth, another Post 915 error and an intentional walk to Jeremy Seyfert preceded Anspach's key two-out, two-run double.
"It's a guarantee if they're (Fredericksburg) in the finals," said Sauley of the ticket to regionals. "The ultimate goal at the beginning of the season wasn't necessarily the best record. People don't remember who had the best record."
"The goal is still to win it," said Beard. "Now we have to do it through the loser's bracket. It's home cooking. We're here (Earl Wenger Memorial Field) for the rest of the tournament."
To purchase images in this article please email jeff@lebcosports.com.
Lebanon County American Legion League
Seven-Team, Double-Elimination Playoff Tournament Standings
Team  Won  Lost
Annville 3 0
Campbelltown 2 1
Myerstown 2 1
Fredericksburg 1 1
x-Fifth Ward 1 2
x-Conrad Weiser 1 2
x-Richland 0 2
x-eliminated
Overall Lebanon County American Legion League Standings
x-regular season champions
Lebanon County American Legion League
Past Champions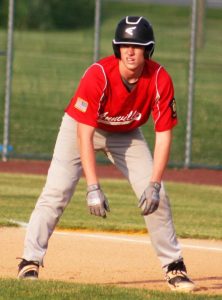 2021 – Myerstown
 2020 – COVID-19
 2019- Campbelltown
 2018 – Richland
 2017 – Fredericksburg
 2016 – Annville
2015 – Myerstown
2014 – Myerstown
2013 – Campbelltown
2012 – Campbelltown
2011 – Annville
2010 – Campbelltown
2009 — Fredericksburg
2008 — Fredericksburg
2007 — Richland
2006 — Richland
2005 — Richland
004 — Annville
2003 — Fredericksburg
2002 — Richland
2001 — Fredericksburg
2000 — Fredericksburg
1999 — Fredericksburg
1998 — Palmyra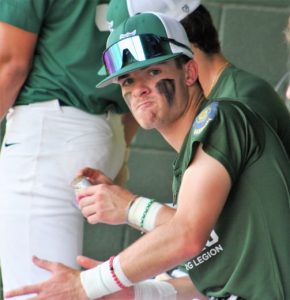 1997 — Fredericksburg
1996 — Fredericksburg
1995 — Fredericksburg
1994 — Fredericksburg
1993 — Fredericksburg*
1992 — Palmyra
1991 — Palmyra
1990 — Fredericksburg
1989 — Fredericksburg
1988 — Palmyra
1987 — Fredericksburg
1986 — Fredericksburg*
1985 — Myerstown
1984 — Richland
1983 — Lebanon
1982 — Lebanon
1981 — Fredericksburg*
1980 — Richland
1979 — Fredericksburg
1978 — Myerstown
1977 — Fredericksburg
1976 — Fredericksburg
1975 — Myerstown
1974 — Lebanon
1973 — Fredericksburg
1972 — Myerstown*
1971 — Myerstown*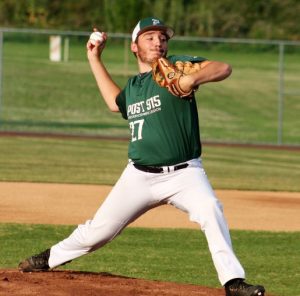 1970 — Annville*
1969 — Annville*
1968 — Myerstown
1967 — Myerstown
1966 — Myerstown
1965 — Myerstown
1964 — Richland
1963 — Lebanon
1962 — Richland
1961 — Richland*
1960 — Not Contested
1959 — Fredericksburg
1958 — Fredericksburg
1957 — Fredericksburg
1956 — Lebanon
1955 — Myerstown
1954 — Jonestown*
1953 — Myerstown
1952 — Palmyra*
1951 — Palmyra
1950 — Palmyra
1949 — Annville
1948 — Myerstown*
1947 — Lebanon
1946 — Myerstown
1945 — Not Contested (World War II)
1944 — Not Contested (World War II)
1943 — Not Contested (World War II)
1942 — Not Contested (World War II)
1941 — Lebanon*
1940 — Myerstown
1939 — Myerstown
1938 — Myerstown*
1937 — Lebanon*
1936 — Lebanon
1935 — Annville
1934 — Annville
1933 — Myerstown
1932 — Lebanon*
1931 — Orioles*
1930 — Fifth Ward
1929 — Progressive
* Denotes regional champions
Note — The 1937 Lebanon squad was the only team from the county to win a state title. The 1981 Fredericksburg, the
1948 Myerstown and the 1938 Myerstown clubs were all state runners-up.

Lebanon Federal Credit Union