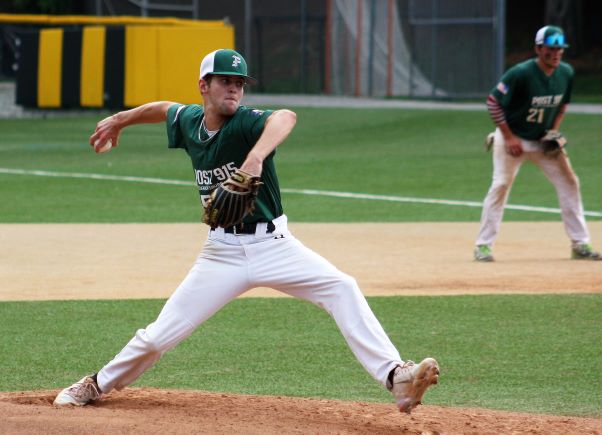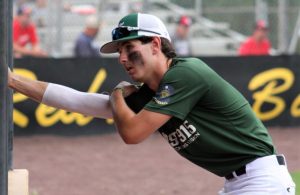 BY JEFF FALK
Editor
RED LION – There were plenty of ups and downs. A fair share of back and forths. And enough hots and colds.
Maybe it didn't play out exactly the way they wanted it to. But there were enough positives to say that it turned out the way it was meant to.
On a muggy Monday evening at Red Lion High School's Horn Field, Fredericksburg was eliminated from the eight-team, double-elimination Region Four American Legion baseball tournament by a 4-3 loss to Waynesboro. F-Burg carried a precarious 2-1 edge into a fifth-inning rain delay, but then surrendered three decisive runs on the other side of it.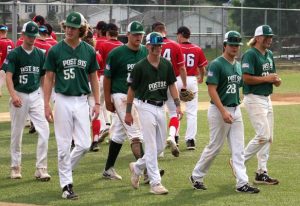 With the defeat, Post 915, the regular season champion of the Lebanon County American Legion League, concluded its summer 2-2 at regionals, as a fourth-place finisher in the prestigious tournament and 14-6 overall.
"It was kind of the tale of three seasons," said Fredericksburg head coach Steve Beard. "We went 10-0 out of the gate and no one was touching us. Then we went 2-3. We had the expectation of coming down here, playing loose and making some noise, and we did. These kids gave us a heck of a ride this year. This tournament was a blast.
"My favorite part was being around the kids and enjoying all the things they do," Beard continued. "Young men this age are a different breed. Coming down here, people were looking at us like 'Who are they?' But by the middle of the tournament everyone knew we were a legit team."
Fredericksburg went down, but not without a fight.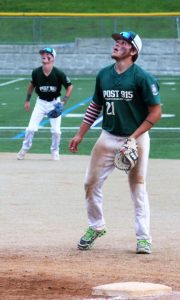 Trailing by a pair or runs, Austin Beard was hit by a pitch leading off the top of the seventh inning, and an out later, Ian Herman singled. After Zach Johnson knocked in Beard with a single, the contest ended with the potential tying run at second base.
"Legion is playing baseball with kids in a defined area," said Beard. "But for six or seven weeks you come together three or four times a week and you grow that bond. There is that element of taking pride in your community and taking pride in your nation. I think travel ball and legion ball can co-exist, but legion baseball has to adjust.
"I like this tournament, and the fact that because teams have to stay engaged throughout, the team that wins it is the best from top to bottom," added Beard. "I have to tip my cap to Hampden (Township) and Waynesboro. The three best teams (along with Paxton) are left in the tournament."
While the threat of impending weather hung over the contest throughout, play was finally halted in the bottom of the fifth inning, with Post 915 up 2-1 and a Waynesboro batter on second base with one out. When play resumed, Waynesboro strung together a single, an intentional walk, a single and a walk, and turned them into three runs and a 4-2 lead.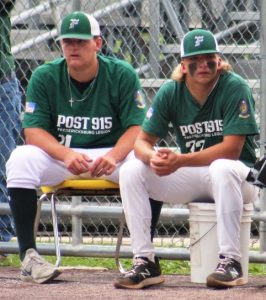 "You never want to give excuses," said Beard. "But a rain delay is always going to hurt one team and help another. I thought Bailey (starting pitcher Wagner) looked the same. I thought he made some good pitches and they hit some good pitches. He elevated a little and they put some balls in the gap.
"Bailey was kind of our swing man this year," added Beard. "He started for me, he relieved for me, he closed for me. That was probably the longest he went for me this season. He threw well."
Fredericksburg jumped out to a 2-0 lead in the top of the opening inning.
Deklyn Marks wrapped a one-out single, and Noah Gonzalez drove him in with a well-struck triple. Gonzalez scored on a wild pitch.
But Fredericksburg was retired in order over its next five at-bats.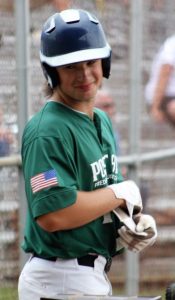 "In that first inning, we had two hitter who ambushed him," said Beard of Waynesboro's starter Bryce Shaffer. "That young man pitched a phenomenal game. That was the best pitcher we saw all year. He held us down. He was a really good pitcher for the fourth day of a tournament. I really thought the difference was his pitching."
On the other side, Wagner struck out four and walked three.
"I probably coach a little different if we don't have a regional spot locked up," said Beard of his showing in the Lebanon County American Legion league postseason "Maybe things work out and maybe they don't. You had two teams (Fredericksburg, Annville) down here who could've been really competitive. We had a little swagger at the beginning of the season. Then we came here and had nothing to lose. For the most part, we were a pretty good baseball team.
"I'm done (coaching Fredericksburg)," concluded Beard. "I always knew I was going to be a transitional coach. We have a young man lined up with college experience. My goal was to be a good steward for the next guy, and I thought I did that."
To purchase images in this article please email jeff@lebcosports.com.

Lebanon Federal Credit Union