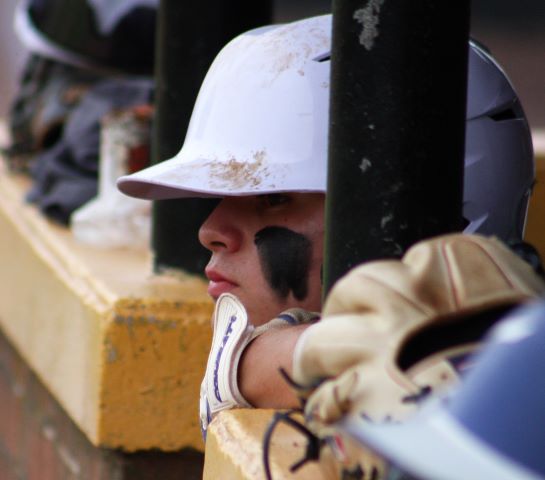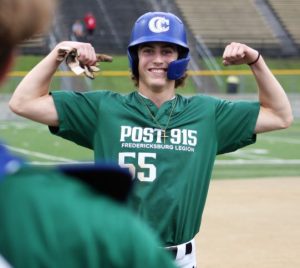 BY JEFF FALK
Editor
RED LION – If you do the right things, keep your nose down and play hard, and represent yourself, your teammates and community with class and honor, you're not necessarily going to win baseball games. But you will be guaranteed to be a winner in life.
On a humid Sunday night at Red Lion High School's Horn Field, during the third day of the eight-team, double-elimination Region Four American Legion baseball tournament, Fredericksburg gave a powerful account of itself, during a 10-3 setback to mighty Paxton. Post 915 was competitive through the middle innings, before the defending champions posted seven late runs to pull away.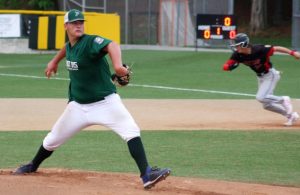 Earlier in the day, Fredericksburg had advanced to its meeting with Paxton in the undefeated game of the tournament by shading Hampden Township 5-3. In that contest, Fredericksburg posted single runs in the first and second innings, then turned things over to starter and winner Hunter Zohn and reliever Bailey Wagner, who picked up the save.
In light of its 1-1 Sunday, Fredericksburg is now 14-5 overall, 2-1 in the tournament and one of four teams left standing. Post 915 will try to keep it going on Monday at 4 p.m. back at Red Lion High School, during an elimination game with Franklin County champion Waynesboro.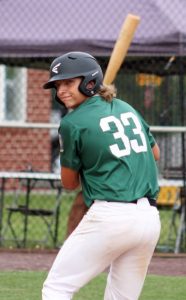 With the result, Dauphin County champion Paxton remained the only unbeaten team in the Region Four tournament and improved to 19-3 on the summer.
"They have represented the community well," said Fredericksburg head coach Steve Beard of his troops. "There was some chirping between the two teams, but they've represented themselves with class and dignity. We came here and we're competing. They're high character guys. I've gotten a lot of compliments on them down here.
"We're ecstatic," continued Beard. "The reality is you come down here and try to be as competitive as you can. You've got to grind. I'm so proud of my kids. At the end of the day, these guys have jelled. They came down here with their eyes wide open."
Courtesy of a controversial solo home run, Fredericksburg faced a 1-0 deficit against Paxton in the bottom of the third inning. But the regular season champions of the Lebanon County American Legion League registered a pair of runs in the bottom of the third to take the lead.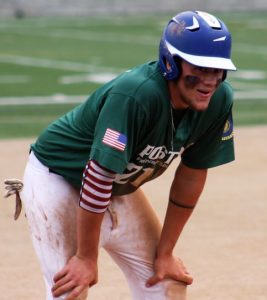 The rally featured three straight singles by the top of the order, Jared Ecenroad, Deklyn Marks and Austin Beard, as well as two costly throwing errors by Paxton.
"I thought we hung in there against a really, really good team," said Beard. "There's little doubt in my mind that Paxton is the best team in the tournament. They've got college-level talent. Sometimes you've got to tip your hat to a talented squad.
"I thought Colden (starter, Rambler) threw well," added Beard. "You can't rattle the kid. He's one of those kids whose teammates are attracted to. At the end, he got fatigued and got up in the zone. I might have left him in two outs too long. But in this tournament, you've got to save as much pitching as you can."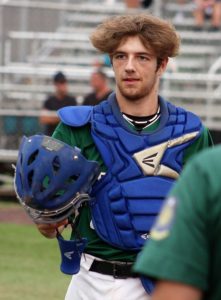 Down a run in the bottom of the fifth, Fredericksburg tied the score at three on Marks' RBI-single. Brian Lowen had gotten things started for the 'Burg with a single, and Maverick Swingholm followed with a base on balls.
"This is Fredericksburg baseball," said Beard. "The kids sat all day yesterday (Saturday because of rain), and there was that kind adrenaline dump. And then they came out today (Sunday) and beat a real good Hampden (Township) team. You can't ever question the effort.
"Our pitching this weekend has been phenomenal," Beard continued. "Paxton is a really good baseball team. We got to the final four of the tournament and all that is left are really good teams. The lesser teams are out. We've had kids show up because they're committed to what we're doing. Their loyalty is to their teammates."
Paxton's three-run rally in the top of the sixth broke the tie and gave it a comfortable 6-3 advantage. Then Paxton plated another four runs in the top of the seventh, after its first two hitters had been retired.
"We want to win the game in front of us," said Beard. "And then come back and do the best we can to win a championship."
To purchase images in this article please email jeff@lebcosports.com.

Lebanon Federal Credit Union