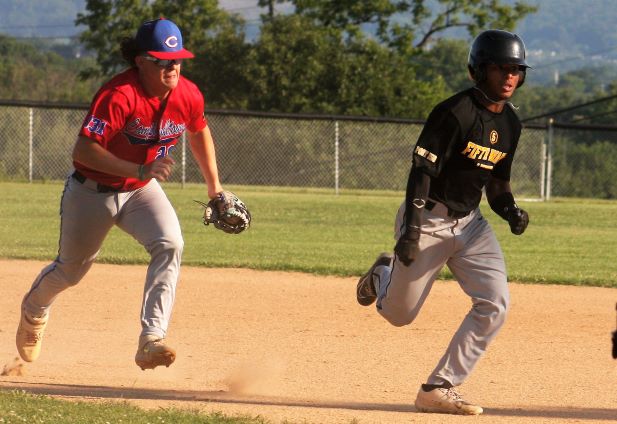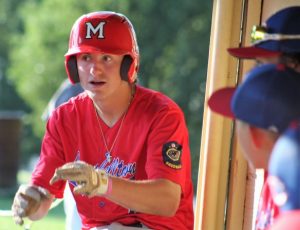 BY JEFF FALK
Editor
LEBANON – One of six teams vying for either a first-, or what could quite possibly be a second-place finish.
Campbelltown likes its chances. And so does Fifth Ward.
On a toasty Thursday night at Fifth Ward Athletic Field, Campbelltown whitewashed the home team 4-0 in a late regular season game in the Lebanon County American Legion baseball league, that served as a tune-up for the local summer circuit's upcoming playoff tournament. Starter Peter Stoner and reliever Bryer Echternach combined on the shutout, while the opportunistic Campbelltown offense needed just one hit to score four times.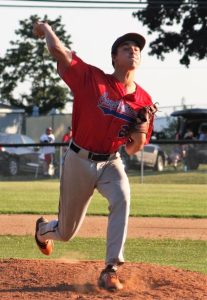 With the positive result in its regular-season finale, Campbelltown moved to 8-4 and secured either the second or third seed for the Lebanon County American Legion baseball league's seven-team, double-elimination postseason, which gets underway on Tuesday. Because Fredericksburg has already captured the regular-season crown, the second of Lebanon County's two berths into the eight-team, double-elimination Region Four tournament will go to the team other than F-burg which fares best in the playoffs.
At 6-5 overall and with a make-up game against Richland remaining, Fifth Ward appears to be locked into the third- or fourth-seed for the county playoffs.
Back on June 5th in Palmyra, Fifth Ward had defeated Fifth Ward 10-2.
"I think we have a good chance," said Campbelltown head coach John Binner. "But every team does. Any team can win it. That's why you play the game.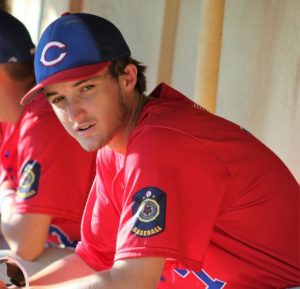 "We've just got to keep hitting the ball and get clutch pitching," Binner added. "It comes down to hitting and pitching. That's what the game is all about."
"We needed to win tonight to get second-place," said Fifth Ward assistant coach Brad Kreiser. "But if you're not the number-one seed, you don't get that first-round bye, and it doesn't really matter. Anybody can get hot in the playoffs. Anybody can beat anybody.
"We're already missing one starter for the playoffs," added Kreiser. "Other than that, we should have everybody. We've had a hard time getting people here. We're a young team. We start mostly 15- and 16-year-olds."
With Stoner and Fifth Ward starter Griffin Gonzalez firmly entrenched in a pitchers' duel, Campbelltown broke through for the contest's crucial first run in the top of the fourth inning.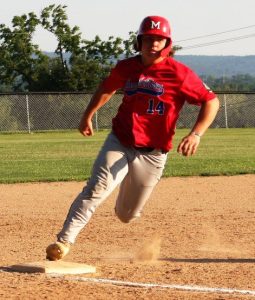 Campbelltown's Ty Peck coaxed a lead-off walk and advanced to second on a wild pitch. He came around to score on C-town's only hit of the game, Cobly Roe's RBI-single.
"I think our approach at the plate has been going pretty well," said Binner. "We've been taking a lot of pitches and waiting for one we can drive. The guys are adjusting at the plate.
"That was a great game," continued Binner. "We pitched well and got timely hitting. It's great to end the season with a win and take some momentum into the playoffs."
"We got more than we expected out of Griffin," said Kreiser. "He gave us six strong innings. When you only give up one hit and lose the game, it's a tough pill to swallow."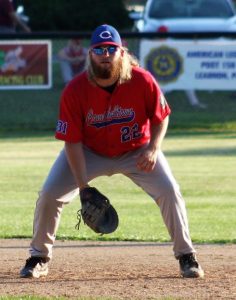 During his five innings of work, Stoner scattered three hits, struck out four and walked two. A couple of errors and a walk got Stoner into a two-on-nobody-out situation in the top of the sixth, before Echternach came on to slam the door and pick up a save.
"Peter pitched a great game tonight," said Binner. "That was a solid five innings. He's spotting balls, hitting corners and getting ground balls. That's the key, and having a defense behind him that makes the plays."
"They threw strikes," said Kreiser of Stoner and Echternach. "We just weren't patient enough. They were pounding the strike zone and being effective.
"Our approach at the plate this season has been up and down," Kreiser continued. "There have been times when we've been patient, and other times we've been up there hacking at everything."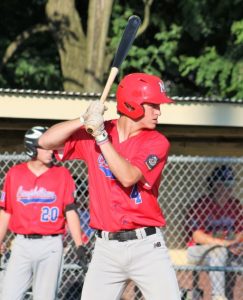 In the top of the sixth, Campbelltown added a pair of insurance tallies to its precarious 1-0 edge. Jacob Deimling and Roe each reached base and stole a bag, ahead of RBIs from Jake Dibeler and Caleb Fisher.
In its next at-bat, C-town made it a 4-0 game, on Braden Sommer's lead-off walk, a wild pitch and Deimling's sacrifice fly.
Gonzalez's outing included four strikeouts and four walks.
"We started slow, came on, and then hit a speed bump," said Binner. "But we ended well tonight. When we've had success the reason has been team camaraderie, just playing together as a team. The young guys have been getting more reps."
"Griffin has got to be able to mix in his off-speed stuff," said Kreiser. "He's not a kid who's going to blow fastballs by you. He does a good job of keeping teams off balance.
"We have strong enough pitching to carry us through the playoffs," added Kreiser. "We've thrown the ball well all year. We've got to make the plays and get timely hitting."
To purchase images in this article please email jeff@lebcosports.com.
Lebanon County American Legion Baseball Standings

Lebanon Federal Credit Union