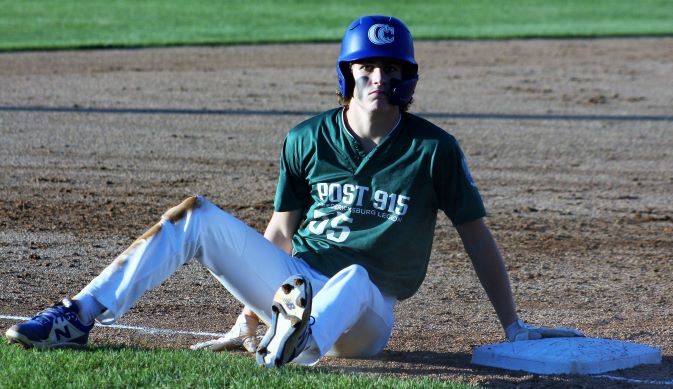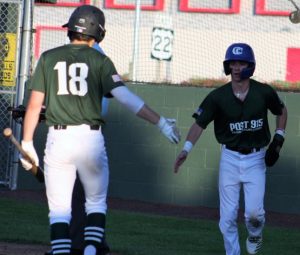 BY JEFF FALK
Editor
FREDERICKSBURG – Playoff seedings, championships, regional tournament berths. There's still much left to be decided.
But from the very beginning, Fredericksburg has appeared to be the best team. And all the Lebanon County American Legion baseball season has accomplished is to validate and reinforce that notion.
On a warm Monday night at Earl Wenger Memorial Field, Fredericksburg remained unbeaten and clinched the Lebanon County American Legion regular-season title, with a 7-2 downing of Campbelltown. Staked to an early 6-0 lead, F-burg starter Hunter Zohn and his defense made it stand up.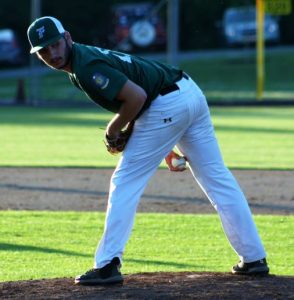 In light of the victory – as well as Annville's 9-8 loss to Fifth Ward- Fredericksburg improved to 10-0 on the summer and captured the circuit's regular-season championship, and the Region Four tournament spot that goes with it. With Lebanon County receiving two berths into this year's eight-team, double-elimination Region Four tournament, the other will go to the winner of the upcoming Lebanon County American Legion double-elimination playoff tournament, or the team which finishes second, if Fredericksburg were to also win the playoff championship.
The local playoffs are tentatively scheduled to begin July 5.
After dropping its first two decisions of the season, Campbelltown had entered Monday's contest riding a seven-game win streak. Back on June 1st in Palmyra, Fredericksburg had whitewashed Campbelltown 8-0.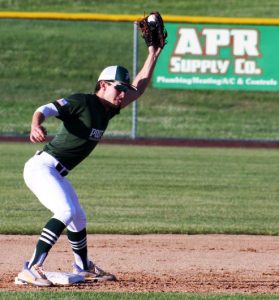 "This drops our magic number," said Fredericksburg head coach Steve Beard. "This puts us in the driver's seat for the regular season title and for regionals. But the playoff tournament means just as much.
"We haven't had a bad game all season," continued Beard. "This game was on my mind because Campbelltown wanted to knock us off. Campbelltown is hoping for the same first place we are. But if you're playing a 12-game regular season and a double-elimination playoff tournament, aren't all the games important? It doesn't matter what year it is, everyone always wants to beat Fredericksburg."
"A win would've put us right in the mix for first place," said Campbelltown head coach John Binner. "If we play like we did the last seven games, we have a chance to move on. But if we play stressful baseball, we lose our edge.
"They're (Fredericksburg) a good organization," added Binner. "They have good players and they played well tonight. They have strong pitching every game."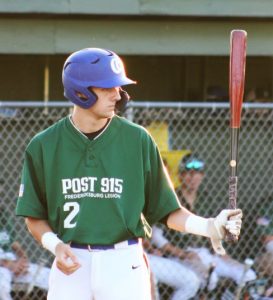 Fredericksburg pounced on Campbelltown early, scoring three times in the bottom of the first inning to set the tone. The big blow was Zach Johnson's two-run double, but it came after some aggressive base-running by F-burg and Austin Beard's single.
Then, in the bottom of the second inning, opportunistic Fredericksburg extended its lead to 4-0. After starting the at-bat with a single, Deklan Marks eventually stole home.
"I'm generally a conservative base-running coach," said Beard. "But early in the game I called some steals because I wanted to put pressure on them. I thought five runs would win the ball game. In the first inning, we scored three runs on a couple of walks, a couple of hits and by putting the ball in play.
"But that's how you win late season ball games," added Beard. "Good pitching, good defense and timely hitting."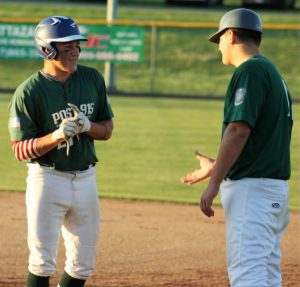 "We played behind the eight-ball tonight," said Binner. "We found out before the game that we were going to be missing some players. But they (Post 915) played their game and we didn't play ours.
"It does change things when you're playing from behind," Binner added. "You're a little more cautious on the base paths. Our guys were tight coming in and falling behind made them even tighter."
Zohn went the distance on a seven-hitter and was in control most of the way. The sturdy right-hander struck out four and walked two.
Zohn carried a shutout and a six-run cushion into the top of the sixth inning, before Campbelltown touched him for hits from Jacob Deimling and Alex Fuhrman, and RBIs by Tim Hall and Caleb Fisher. The Fredericksburg defense turned a pair of double plays behind him.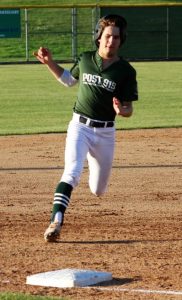 "This is how he's been all season," said Beard of Zohn's 1.40 ERA. "He pounds the strike zone. He's in and out, up and down and changes the batter's eye level. But I've got four aces. I really do.
"Our catcher, Zach Johnson, has controlled the running game, and he called a phenomenal game tonight," Beard continued. "Zach and our pitching have been huge. And look at the defense we played tonight."
"He (Zohn) threw strikes," said Binner, "and they made the plays. We didn't make the plays we needed to.
"Coming into tonight, we were hitting the ball really well, and working pitchers," continued Binner. "We didn't do as well tonight."
With two more runs in the bottom of the third inning, F-burg pushed its lead to 6-0. Johnson knocked in Beard with an RBI-triple, then came around to score on Ian Herman's single.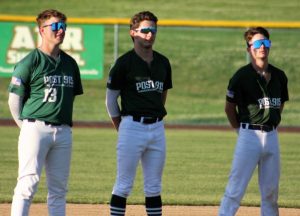 Fredericksburg plated its final run in the bottom of the sixth inning, on the strength of a triple from nine-hole hitter Bailey Wagner and Brian Lowen's run-producing safety.
"Any concern I had about this team jelling is gone," said Beard. "They (his players) have an appropriate amount of swagger. It's leadership, and then there's an element in this team that I haven't had in any other team I've coached. They have that look in their eye."
"During our seven-game win streak, the players were having fun," said Binner. "They were relaxed. Tonight, we weren't having fun. They (Fredericksburg) came out and played hard, and played their game."
To purchase images in this article please email jeff@lebcosports.com.
Lebanon County American Legion Baseball League Standings
x-clinched regular season championship