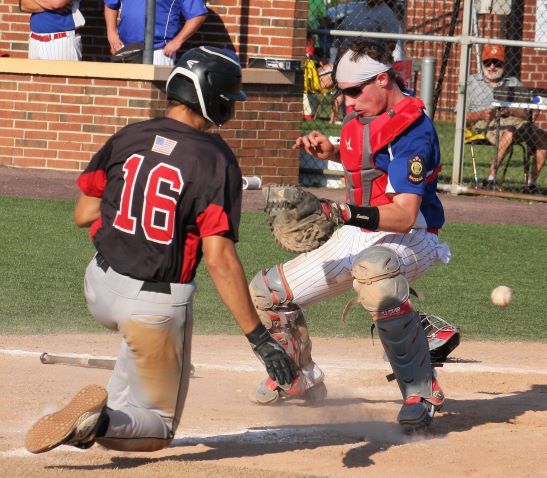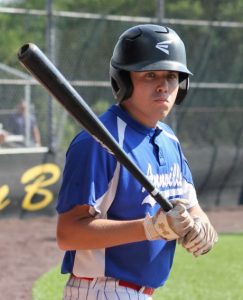 BY JEFF FALK
Editor
RED LION – Because it is so, so fleeting, you've got to hang on to momentum for dear life, for as long as you can.
For a time, momentum was carrying Annville. But then it switched.
Now it will be very difficult to regain.
On a hot Friday night at Red Lion High School's Horn Field, during the opening day of the eight-team, double-elimination Region Four American Legion baseball tournament, Annville surrendered momentum, and then ultimately the decision, in a shocking and disappointing 6-5 loss to Paxton. After establishing a 5-2 advantage in the middle innings, Annville allowed Paxton to score runs in each of its final three at-bats.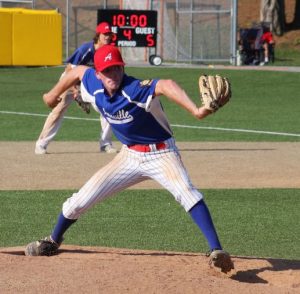 Paxton plated the winning run courtesy of a passed ball on an 0-2 count in the bottom of the seventh inning. After Annville reliever Isaac Good had retired the first two batters, Paxton loaded the bases on a hit batter, a walk and a single.
The heart-breaking conclusion was in stark contrast to the fundamentally sound play that had produced six straight Annville victories and the championship of the Lebanon County American Legion Baseball League.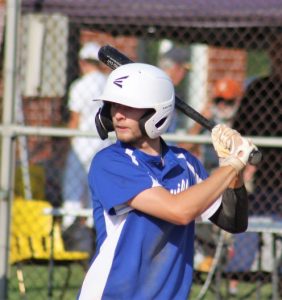 Now, Annville, which slipped to 12-4 on the season, must rediscover its mojo in the loser's bracket of the event. That long, arduous journey will begin on Saturday at 11 a.m. against Franklin County runner-up Chambersburg, back at Red Lion High School.
Dauphin County champion Paxton upped its overall mark to 17-3.
"It's an 0-2 pitch and we didn't catch it," said Annville head coach Ken Sauley. "It's just so important. We basically gave them the game. We earned all of our runs, but gave them all of theirs.
"I'm disappointed," added Sauley. "I'm pissed."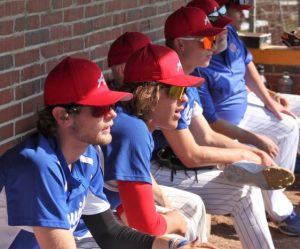 With Annville riding high and enjoying a 5-2 lead, the momentum shifted to Paxton in the bottom of the fifth inning. After Post 559 starter Jake Mills had recorded the first two outs in the frame, Paxton scored twice, on three straight hits, including a triple, to pull to within a run of the lead.
Then, in the sixth, Paxton parlayed another triple and a sacrifice fly into a 5-5 tie.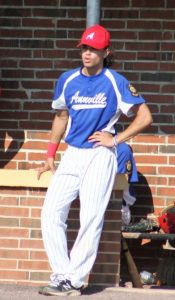 "The momentum switched when we didn't catch that ball in right field," said Sauley. "They wouldn't have scored in that inning. Ultimately, if we make that catch, the game would've been ours. They (Paxton) woke up. This is not the kind of team you can make mistakes against.
"I thought Jake got better as the game went on," continued Sauley. "We just made mistakes, and that didn't help. We played bad defense. You're not going to win many games like that. We had the game and we let it get away from us."
After relinquishing a pair of first-inning runs, Annville came storming back.
On the strength of heads-up baserunning by Good, a single from Mills and an outfield error, Annville sliced its deficit to 2-1 in the top of the second inning. In the top of the third, Cam Connelly's lead-off single, Alex Dorta's RBI-double and Eli Russell's run-scoring single added up to two runs and a 3-2 Annville lead.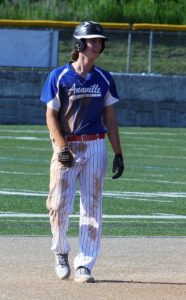 "It was 5-2 and we were zooming along," said Sauley. "I thought we had it. We hit the ball tonight. We just made too many mistakes on defense."
Annville made it a 5-2 game in the fourth, when it scored two more runs.
Cash Anspach and Good got the rally started with a single and a double, respectively. Mills and Connelly knocked them in with RBIs.
"You've got to win every game," said Sauley. "When you go into the loser's bracket on Day One, it's going to be tough. I don't think we have anything left in the tank.
"Now we've just got to take it one game at a time," continued Sauley. "If we lose, we're done. Coming in, I thought we had a good shot tonight."
To purchase images in this article please email jeff@lebcosports.com.