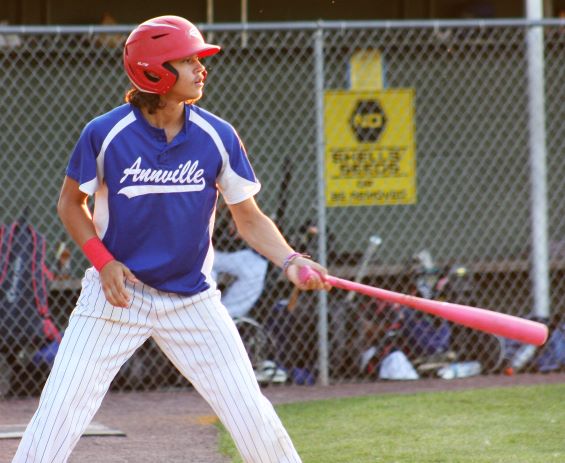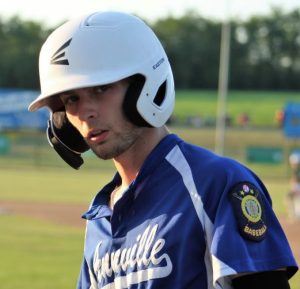 BY JEFF FALK
Editor
FREDERICKSBURG – It wasn't always the best team in the league. But Annville was clearly the best team when it mattered most.
Even more importantly, Annville faced adversity like a champion, it displayed the heart of a champion, it possessed the make-up of a champion.
On a warm Sunday night at Earl Wenger Memorial Field, Annville defeated Fredericksburg 6-4 to capture the championship of the Lebanon County American Legion baseball league. After relinquishing a 3-0 lead in the championship game of the summer circuit's seven-team, double-elimination tournament, Annville tied the score at four in the top of the sixth inning, then mounted the decisive two-run rally in the top of the seventh.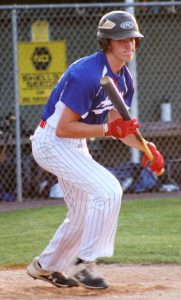 The victory was second-seeded Annville's sixth straight and pushed it to 12-3 on the season. The Lebanon County American Legion championship was Annville's first since 2016.
Annville southpaw Isaac Good was named the Lebanon County American Legion League playoffs' Warren 'Lefty' Grumbine outstanding pitcher for his performance three days earlier, in a 3-1 win over Fredericksburg in the 'undefeated game'. The event's Jack Bicher outstanding hitter award went to Alex Dorta for his game-winning hit on Sunday.
The loss was Fredericksburg's fourth in in its last six outings and dropped the regular-season champion to 12-4 on the summer. Of Post 915's four losses three came at the hands of Annville.
Despite the outcome, both overall champion Annville and regular-season champion Fredericksburg will be representing Lebanon County at the eight-team, double-elimination Region Four tournament at Red Lion High School, July 15-19. On Friday at 4:30 p.m., Annville will take on the Dauphin County representative in its opener in the event, while Fredericksburg will be opposed by the host team at 7:30 p.m..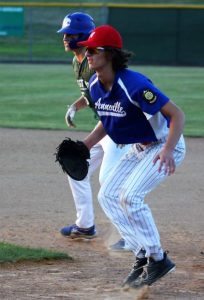 "Does it matter who had the best record in the regular season?" said Annville skipper Ken Sauley. "Or does it matter who wins the championship? Nobody remembers who had the best regular season if they don't win the overall championship.
"There were some games where we struggled a little bit and made some errors," added Sauley. "I told these guys that they had to stop walking batters and making errors, and at some point, things just changed. We were up four runs against Fifth Ward and lost in ten innings, and after the game I said, 'You're not going to be able to live like this.' After that, we came together, we didn't make errors and we didn't beat ourselves."
"Fredericksburg is the best team in the league," said Fredericksburg head coach Steve Beard. "They (Annville) beat us at the end, but I still think we're the best team. I was extremely proud of my boys after the game when they were clapping as Annville was receiving their medals. If class means anything any more, we showed it.
"Over the 12-game season, we were the best team," continued Beard. "They (Annville) got hot in the tournament and played very well."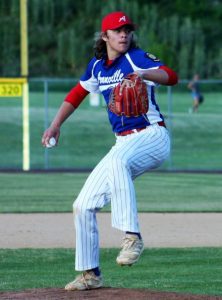 With the score knotted at four, two outs and nobody on in the top of the seventh, Annville plated a pair of runs.
Corey Swingholm started the unlikely rally with a single, and a somewhat controversial catcher's interference call kept it alive. With the table set, Dorta lined an RBI-single to left to give Annville the lead.
Courtesy of a Fredericksburg throwing error, Annville scored an insurance run on the same play.
An inning earlier, Annville had tied the score on walks to Cam Connelly and Dorta, and Alex Lingle's RBI.
"Let's face it, that was the biggest hit of the season, Dorta's line drive to left field," said Sauley. "That's huge right there. At that point emotionally, we didn't have anything left in the tank.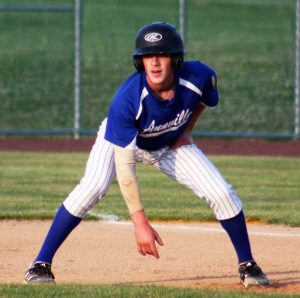 "It's (the rivalry between Annville and Fredericksburg) the kids. It's not the coaches," continued Sauley. "It is what it is. When the two best teams get to this point of the season, it gets chippy. As long as no one throws punches, I don't care."
"Dorta played a really good game," said Beard. "His defense was big early. His double plays killed us."
It was Fredericksburg's bats which came alive in the bottom of the fifth inning, as it tallied four runs to erase a 3-0 deficit.
Fredericksburg's first four batters – Bailey Wagner, Jared Ecenroad, Brian Lowen and Austin Beard – against Annville starter Cash Anspach all reached base, and all came around the score. The big blow was Gonzalez's two-run single, while Beard also drove home a run.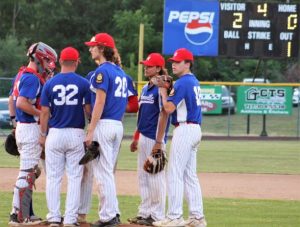 "I thought I was going to have a heart attack when they took that 4-3 lead," said Sauley of Fredericksburg. "I think we were out of gas. Over the first three or four innings, Cash threw a lot of strikes and then in the fifth inning, he just lost it. Hit batters and walks are going to kill you. We just gave it to them."
"It was a pitcher maybe losing his control a little bit," said Beard of the home half of the fifth inning. "But we were patient.
"That's something for us to build on for regionals," continued Beard. "This tournament meant something to us, even though we played spotty over the last few weeks. We're a good team. We're going to make some noise at regionals."
Annville scratched out single runs in three consecutive at-bats to build a 3-0 lead.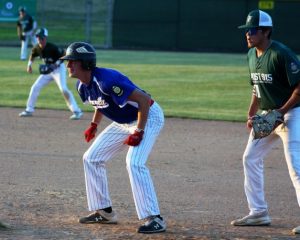 It took a 1-0 lead in the top of the third inning on Eli Russell's one-out single and a pair of wild pitches. In the top of the fourth inning, Dorta's bases-loaded walk made Annville's lead 2-0. And in the fifth, Jake Mills knocked in Lingle, who had led off with a long double to center field.
"They all get along," said Sauley of his troops. "I try to tell the kids that if you have too much dissension, you're not going to win anything. It's (chemistry) important. (Catcher) Jeremy Seyfert has been leading this team. I think kids tend to respect their peers."
"He got tired," said Beard of Anspach. "But he came out and gave his team a good performance. Dorta came in and threw very well. He pounded the strike zone. We had our chances and weren't able to capitalize."
Anspach pretty much worked his way in and out of trouble over the first four innings, before giving way to Dorta with no outs in the bottom of the fifth inning. Dorta pitched the last three frames and was credited with the win.
"We had to piece our pitching together," said Sauley. "Cash was great the first four innings and then lost it. He was amazing, and then the strike zone changed for both teams."
"I still think legion baseball in Lebanon County is important," said Beard. "I think the league has some decisions to make. I think it has some value, so we have to do everything we can to improve the product."
To purchase images in this article please email jeff@lebcosports.com.
Lebanon County American Legion League
Past Champions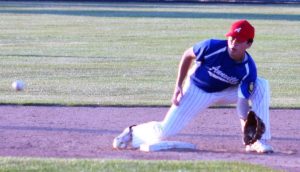 2022 – Annville
2021 – Myerstown
 2020 – COVID-19
 2019- Campbelltown
 2018 – Richland
 2017 – Fredericksburg
 2016 – Annville
2015 – Myerstown
2014 – Myerstown
2013 – Campbelltown
2012 – Campbelltown
2011 – Annville
2010 – Campbelltown
2009 — Fredericksburg
2008 — Fredericksburg
2007 — Richland
2006 — Richland
2005 — Richland
2004 — Annville
2003 — Fredericksburg
2002 — Richland
2001 — Fredericksburg
2000 — Fredericksburg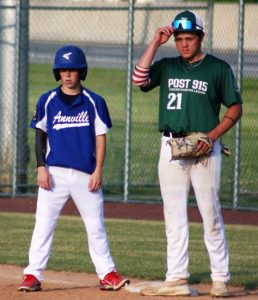 1999 — Fredericksburg
1998 — Palmyra
1997 — Fredericksburg
1996 — Fredericksburg
1995 — Fredericksburg
1994 — Fredericksburg
1993 — Fredericksburg*
1992 — Palmyra
1991 — Palmyra
1990 — Fredericksburg
1989 — Fredericksburg
1988 — Palmyra
1987 — Fredericksburg
1986 — Fredericksburg*
1985 — Myerstown
1984 — Richland
1983 — Lebanon
1982 — Lebanon
1981 — Fredericksburg*
1980 — Richland
1979 — Fredericksburg
1978 — Myerstown
1977 — Fredericksburg
1976 — Fredericksburg
1975 — Myerstown
1974 — Lebanon
1973 — Fredericksburg
1972 — Myerstown*
1971 — Myerstown*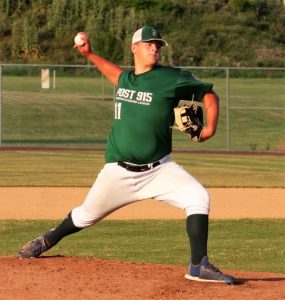 1970 — Annville*
1969 — Annville*
1968 — Myerstown
1967 — Myerstown
1966 — Myerstown
1965 — Myerstown
1964 — Richland
1963 — Lebanon
1962 — Richland
1961 — Richland*
1960 — Not Contested
1959 — Fredericksburg
1958 — Fredericksburg
1957 — Fredericksburg
1956 — Lebanon
1955 — Myerstown
1954 — Jonestown*
1953 — Myerstown
1952 — Palmyra*
1951 — Palmyra
1950 — Palmyra
1949 — Annville
1948 — Myerstown*
1947 — Lebanon
1946 — Myerstown
1945 — Not Contested (World War II)
1944 — Not Contested (World War II)
1943 — Not Contested (World War II)
1942 — Not Contested (World War II)
1941 — Lebanon*
1940 — Myerstown
1939 — Myerstown
1938 — Myerstown*
1937 — Lebanon*
1936 — Lebanon
1935 — Annville
1934 — Annville
1933 — Myerstown
1932 — Lebanon*
1931 — Orioles*
1930 — Fifth Ward
1929 — Progressive
* Denotes regional champions
Note — The 1937 Lebanon squad was the only team from the county to win a state title. The 1981 Fredericksburg, the
1948 Myerstown and the 1938 Myerstown clubs were all state runners-up.