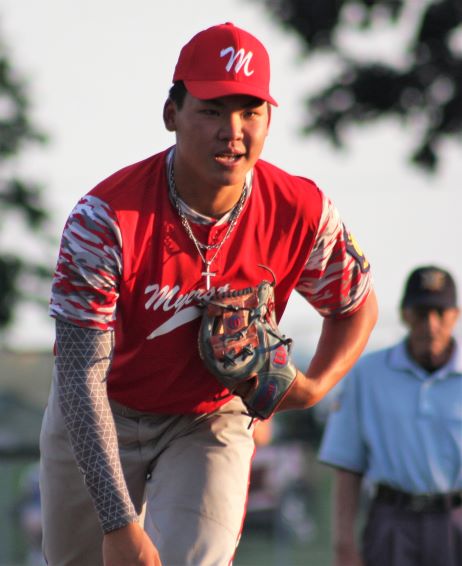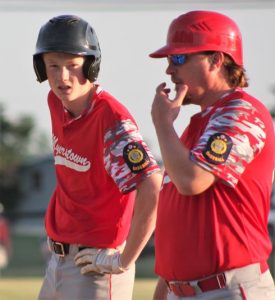 BY JEFF FALK
Editor
LEBANON – The season is so short that it's never early. Quickly, we've reached a point where progress must be turned in tangible results, and this concept of 'peaking at the right time' has become a current one.
On a warm Tuesday night at Fifth Ward Athletic Field, Myerstown blanked the home side 4-0, in a battle of Lebanon County American Legion baseball squads trying to get right in the face of an approaching postseason. Myerstown played error-free defense behind right-handed starter Jeremy Eck and employed some opportunistic offense to apply pressure on Fifth Ward.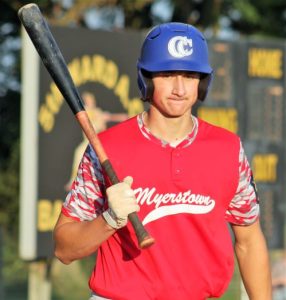 Now past the halfway point of the abbreviated summer season, Myerstown is 3-6. Fifth Ward fell to 3-4.
"The season is going fast," said Myerstown head coach Brian McDonnell. "Now we've got to try to put it all together. It's tough when you've got to get so many game in, in a short amount of time. We've just got to keep plugging away and improving.
"Coming into the season, we knew we were going to be young," continued McDonnell. "We're trying to progress. We've been in some tight games, but haven't been able to pull them out, until tonight. Tonight was a step forward."
"We've played seven games, and we've got five more and the season is over," said Fifth Ward head coach Greg Kreiser. "The season has flown along. We need to figure this out now so we can be playing our best baseball going into the playoffs. I'm not worried about our pitching.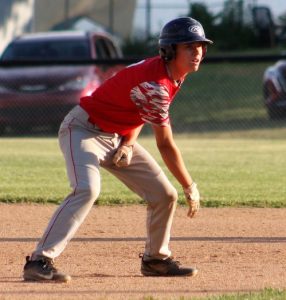 "I honestly believe we should've only lost one game so far," Kreiser continued. "It's errors. We've got the clean the stuff up on the field. And we don't get timely hitting. There's just a lot to figure out, and legion is hard because you don't get a lot of practice time."
Following a bit of a rough opening inning, Eck settled down, before really settling in. Thanks in part to Yefrandy Pena's single and a hit batter, Eck needed 30 pitches to get through the first frame.
After that, he surrendered just one hit the rest of the way. In fact, Eck retired the final 13 Lebanon hitters he faced.
Not only did he complete what he started, Eck fanned 11 and didn't walk a batter, during his 96-pitch outing.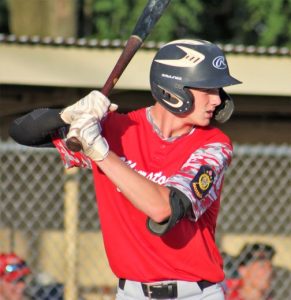 "Jeremy pitched an absolute great game tonight," said McDonnell. "He did a phenomenal job keeping them (Fifth Ward) off balance. They have some good hitters and a lot of talent over there.
"You saw the different between the first inning and the rest of the game," added McDonnell. "It was a pitchers' duel for a while. But Jeremy pounded the strike zone. He was efficient."
"Jeremy threw well," said Kreiser. "He gets all the credit. It was a pitchers' duel. That game should still be 0-0. But he kept our hitters off balance.
"In the first inning, our plate approach was great," Kreiser added. "We made Jeremy throw almost 30 pitches. But we lose focus or something. I don't know. But I told them (his players) that they've got to figure it out."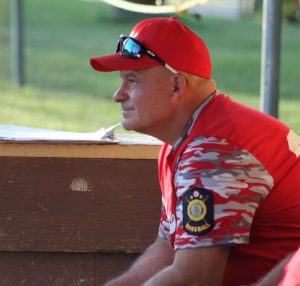 To a degree, Fifth Ward starter Ander Duran matched Eck pitch-for-pitch, but didn't receive the same type of defensive support.
In the top of the second, Myerstown assumed a 1-0 edge without the benefit of a hit. With one out, Colin Bogart and Ethan Spang drew free passes, before Bogart scored on a Lebanon error.
"I'm proud of our team," said McDonnell. "We played a great game. We got a lights-out performance from Jeremy and we got some productive outs."
"When you don't give up any earned runs, it's tough for me to lose the game," said Kreiser. "We're getting excellent starting pitching and just beating ourselves.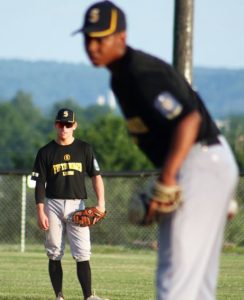 "Ander threw well," continued Kreiser. "His pitch count got up and he was tiring a little at the end. But he's been pitching great."
It was still a 1-0 game until opportunistic Myerstown plated a pair of insurance tallies in the top of the sixth frame. That rally started with a walk to Zane Ruth, and three subsequent errors preceded Bogart's run-producing grounder.
Kyle McDonnell and Eck began the Myerstown half of the seventh inning with singles. Then, following a sacrifice from Dylan McDonnell, K. McDonnell scored M-town's fourth run on the back end of a double steal.
"One of our biggest struggles has been getting guys here," said McDonnell. "We've had to rely on our young guys and they've stepped up."
"They're scrappy," said Kreiser of Myerstown. "They're young and we're young. It's a learning process for both teams."
To purchase images in this article please email jeff@lebcosports.com.
Lebanon County American Legion League Standings

Lebanon Federal Credit Union