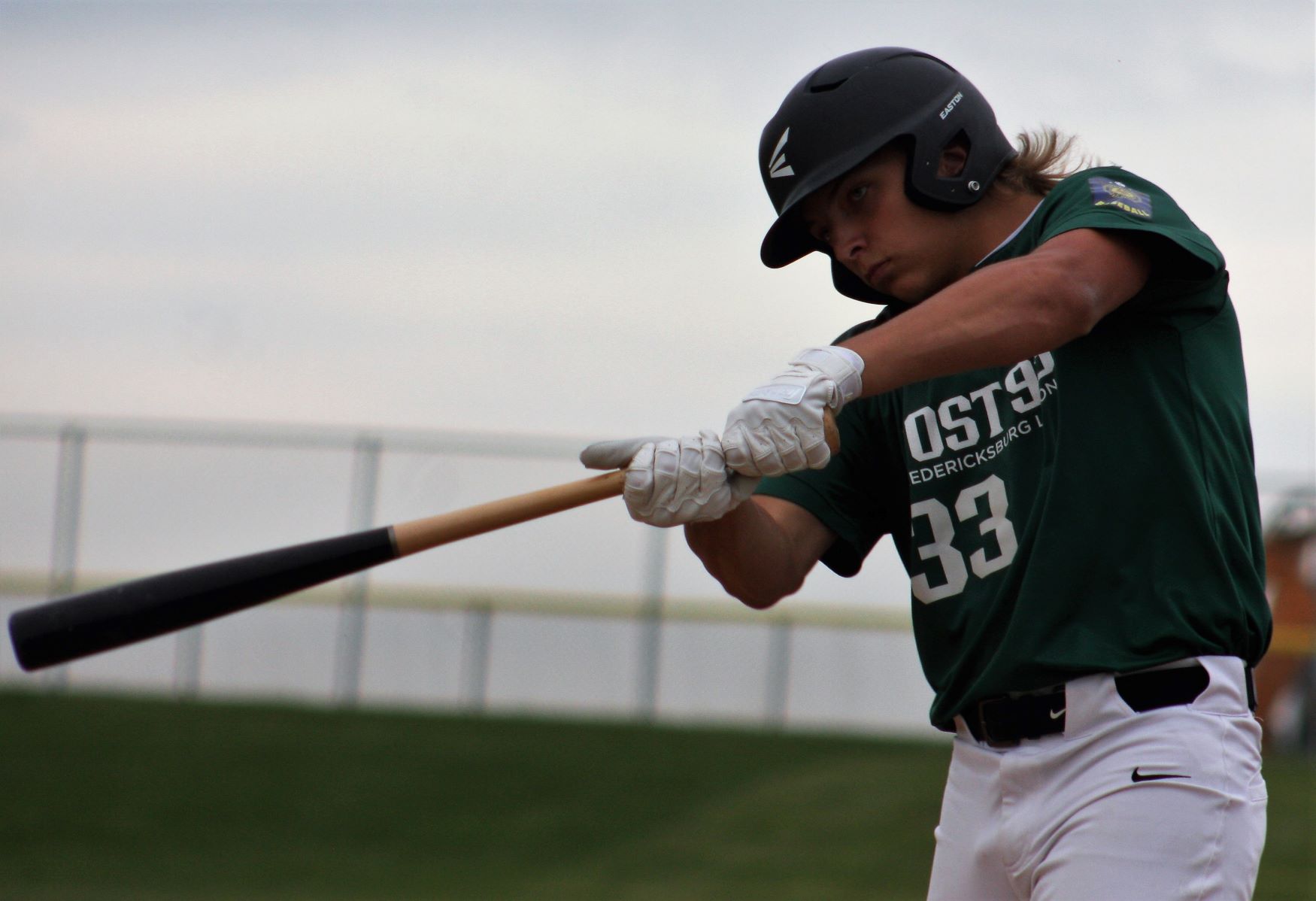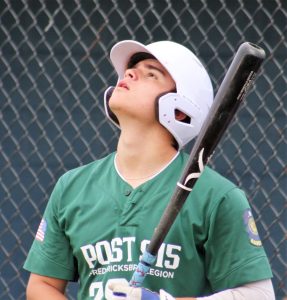 BY JEFF FALK
Editor
MYERSTOWN – No matter the match-up.
No matter the score.
No matter the situation.
No matter what, the goal is always to get better. And maybe a learn a little.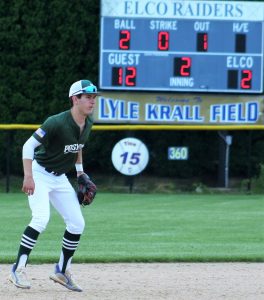 That's what summer baseball is all about.
On a cloudy Friday night at Elco High School's Lyle Krall Field, unbeaten Fredericksburg blasted Richland 13-4 in an early season contest in the Lebanon County American Legion Baseball League. Post 915 all but settled the outcome, and certainly set the tone for it, by plating ten big runs in the top of the first inning.
With the result, Fredericksburg improved to 5-0 on the young campaign. Richland fell to 1-3.
"We have two school districts (Cedar Crest and Northern Lebanon) coming together and both are coached differently in the spring," said Fredericksburg head coach Steve Beard. "My job is to meld them together. But ultimately, it comes down to the kids and them coming together, and how we jell those two philosophies.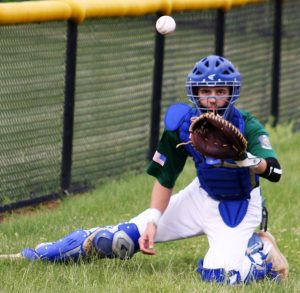 "Coaching them up is still our responsibility," continued Beard. "We want to get them reps. I think it's important for legion baseball to give players an opportunity to play college baseball."
"Summer baseball is for players to come out and show what they can do," said Richland head coach Travis Thome. "We don't have a lot of starting varsity players. We have a lot of players who need development. We're going to coach you, but at the end of the day, if you're not practicing, you're not getting better. Baseball is a game of reps, and we're not getting enough reps in the summer.
"It's not about wins and losses," added Thome. "We want to give kids an opportunity to come out and play. The taste for legion baseball is souring. They don't do anything for the kids."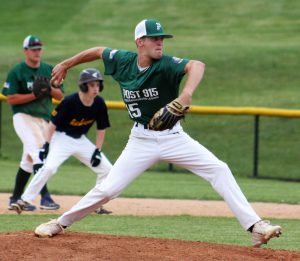 In posting its ten-spot in the top of the first inning, Fredericksburg sent 15 batters to the plate. After its lead-off batter was retired, 12 straight F-burg hitters reached base, on five hits, four walks and three Richland errors.
The big blow was Deklyn Marks' two-run double, while teammates Noah Gonzalez, Zach Johnson, Jason Ecenroad, Colden Rambler, Brian Lowen and Ian Herman also drove home runs.
While Richland certainly settled down and never went away, the damage had been done.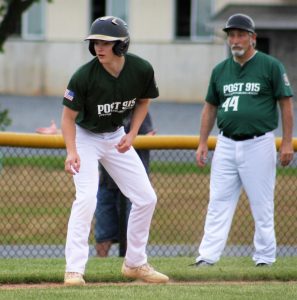 "I remember the patience, and aggression when we needed it," said Beard. "We just stayed within ourselves. We didn't try to do too much at the beginning of the game. It was just passing the baton to the next guy.
"You have all these young men hoping to play," Beard continued. "The goal is to keep everyone involved and do what's best for the team. You shouldn't take your foot off the gas in this league, but we probably do."
"They were hitting the ball," said Thome of Fredericksburg. "They had some good hits. But we had two crucial errors that extended the inning. We didn't help ourselves.
"After that, you want to live to play more than five (avoiding the mercy rule)," Thome added. "Our approach is exactly the same all the time. We want these kids swinging and hitting the fastball. We're not good enough to have these guys changing their approach. We want to have an approach."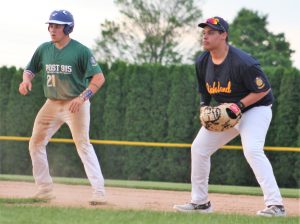 In the top of the second inning, Fredericksburg extended its advantage to 12-0. That rally featured Ecenroad's lead-off double, a Rambler single, a walk to Marks and Austin Beard's run-scoring single.
But in the home half of the second, Richland broke through with three runs against F-burg starter Bailey Wagner.
Post 880 loaded the bases with no outs, courtesy of singles by Lance Weidman and Matthew Fisher, and a walk to James Norris, before Dalton Bressler, Ryan Whitehead and Cade Lutz collected RBIs.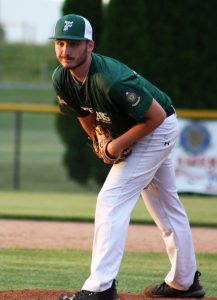 "I think they brought in a relief pitcher who kept us off balance," said Beard of Richland righthander Landon Gettle. "He was more effective. They brought in a different pitcher and that changed things.
"Richland seems young," added Beard. "They're probably not as deep as some of the teams in the league. But you have good coaches over there. They never gave up. They've got some young men who can play. They're going to be fine."
"When a team scores ten runs in the top of the first inning, there is no panic," said Thome. "We haven't even touched the plate yet. We've still got plenty of time. You're in it until they record the last out.
"We had a terrible first inning, and I keep hearing we won 4-3 after the first inning," continued Thome. "But ultimately, they beat us."
It was Ecenroad's lead-off double and Levi Matlosz's run-scoring single in the top of the sixth inning that made it a 13-3 game. The contest's final run was scored in the bottom of the sixth, on Weidman's single and Norris' RBI-double.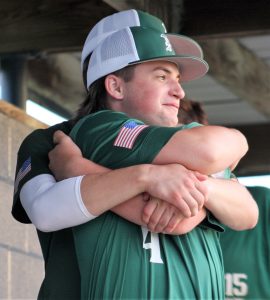 "We've opened up 5-0 and it's come down to three things – pitching, pitching and pitching," said Beard. "We've had outstanding pitching, and we've scored half of our runs with two outs. I've got no quarrels with these kids.
"I feel pretty good," Beard added. "This squad has gelled quickly. They all pick each other up. I've got some leadership, more vocal leadership this year. We're playing really good baseball right now."
"We're missing four players next week," said Thome. "We're hoping we have enough players to play.
"The organization as a whole is not growing legion baseball," added Thome. "They're not doing it any favors in legion baseball's competition with travel baseball."
To purchase images in this article please email jeff@lebcosports.com.