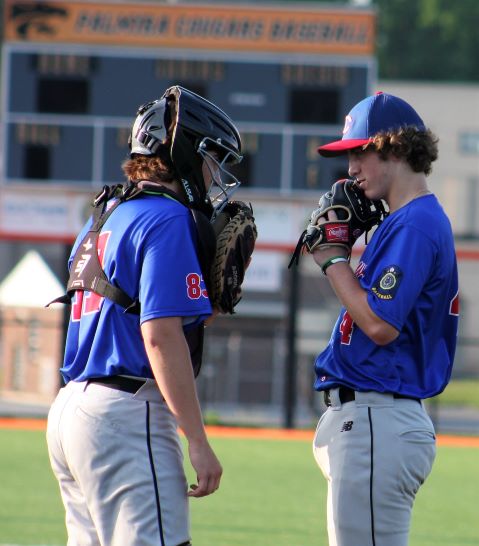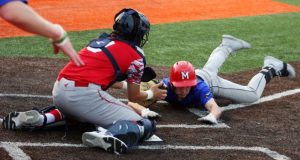 BY JEFF FALK
Editor
PALMYRA – There's a race developing in the Lebanon County American Legion Baseball League. It's a race involving time and internal clocks.
Whoever improves quickly, whoever matures first, wins.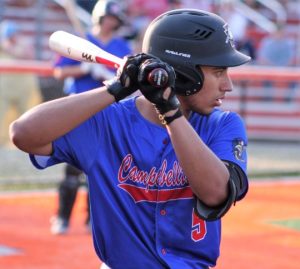 On a muggy Wednesday night at Palmyra High School's OAL Sports Complex, Campbelltown trimmed Myerstown 4-1 in a battle of young and inexperienced county summer clubs. While the contest was evenly matched throughout, ultimately it was Campbelltown which committed the fewer mistakes and emerged with the victory.
With the result, C-Town improved to 3-2 in the Lebanon County American Legion Baseball League. M-Town dipped to 2-3.
"I'm very pleased," said Campbelltown head coach John Binner. "Our young guys stepped up and played well. We had two young pitchers (Braden Sommer, Bryar Echternach) who hadn't pitched in awhile, and they threw well. They threw strikes and hit the corners.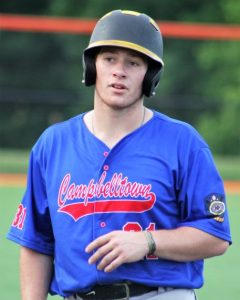 "For the most part, the league is pretty young right now," added Binner. "Travel baseball is putting a damper on legion ball. Kids don't want to play legion ball. They want to play travel ball."
"We're young in a lot of key spots," said Brian McDonnell, Myerstown's rookie manager. "For a lot of our guys, this is their first year of senior legion. We have some excellent veterans and we're improving.
"There's a big difference in senior legion," continued McDonnell. "You're playing against 18- and 19-year-olds, and that's asking a lot when you first come up. But our guys are learning better approaches (at the plate), they're learning how to compete and they're learning where they need to be defensively."
Trailing by a run, Campbelltown took its first lead of the game by scoring two runs in the bottom of the fourth inning. Alex Fuhrman led off with a single and Myerstown committed an error, ahead of Echternach's key, two-out, two-run triple.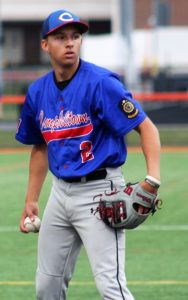 "The first time through the lineup, our guys were looking for the fastball and didn't get it," said Binner. "But they adjusted and hit the ball well after that. I thought once we started hitting they (M-Town) got a little frazzled."
Campbelltown made it a 3-1 game in the bottom of the fifth inning, courtesy of another two-out safety, this one from Fuhrman. Then, in its next at-bat, C-Town tacked on another insurance tally, as Sommer drove home Colby Roe.
"He's a great pitcher, and he's a leader on this team," said McDonnell of right-handed starter Wyatt Menzel, who struck out seven and walked three in five-plus innings of work. "He pitched his heart out. He did a great job.
"The key for Wyatt is pounding the strike zone," continued McDonnell. "He's hitting corners and mixing pitches. I thought he did a great job of keeping them (C-Town) off balance."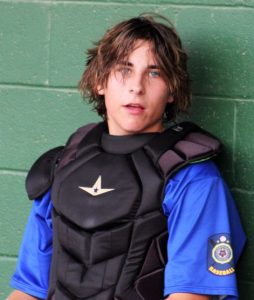 "Their pitcher was pretty strong," said Binner of Menzel.
Myerstown had grabbed a 1-0 lead with a single run off Sommer in the top of the second inning. Nick Pagano led off with a walk, then after a single from Ethan Spang, scored on a Campbelltown error.
After that, Sommer worked in and out of trouble, but didn't surrender a run before giving way to Echternach in the top of the fifth. Echternach earned a save by fanning eight of the nine batters he faced.
"We started the season a little rough," said Binner. "You could tell our guys weren't ready. The hitting wasn't very good, but we've pitched well all season. Now the bats are starting to come around.
"Hopefully, we can make a run," continued Binner. "I'd like to win out the rest of the season, make it to regionals, and hopefully make a run from there."
"They're a good solid team," said McDonnell of Campbelltown. "They fielded the ball well. They pitched well and they got timely hits. They'll be tough down the road.
"We're hoping to be competitive down the stretch," McDonnell continued. "We want the older guys to mentor the younger guys. We're trying to develop. We're trying to get better every game."
Campbelltown out hit Myerstown 8-4.
To purchase images in this article please email jeff@lebcosports.com.
Lebanon County American Legion League Standings