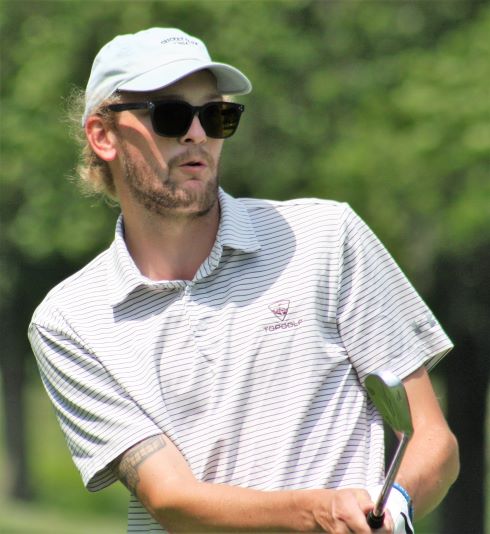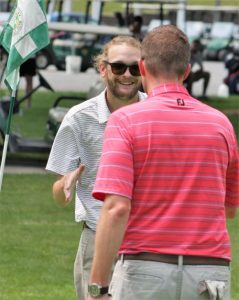 BY JEFF FALK
Editor
MYERSTOWN – Time passes and things evolve. Yet despite its inevitability, change doesn't happen overnight.
Change is both subtle and gradual. But if he or she looks hard enough long enough, one can identify signs of change.
Far from being any sort of savior, Blake Reifsnyder symbolizes a brighter future for the Lebanon County Amateur Golf tournament.
On a sticky Sunday at the par-71, 6,136-yard Lebanon Valley Golf Course, the 25-year-old Reifsnyder captured the crown at the 64th annual Lebanon County Amateur Golf Championship, presented by Perry C. Umlauf, OD. Reifsnyder fired a second-day score of 74, or three-over par, which, combined with an opening-round 71, gave him a 36-hole total of 145 and a four-stroke victory over second-place finisher Justin Arnt.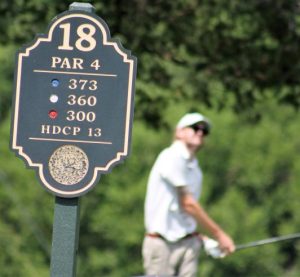 With his total of 75-74=149, Arnt came in as the runner-up for the second straight year. Derrick Brennan finished third, after posting a total of 78-73=151.
Another shot back was Jon Day, with his total of 76-76=152, while Matt Anderson carded a 77-76=153. Bill Massar, Jr. and Jared Brandt tied for sixth place with similar 154 scores.
With his title, Reifsnyder became the sixth different champion of Lebanon County amateur golf over the last six years. The only other time that Reifsnyder had competed in the County Amateur came back in 2018, when then-24-year-old Tyler Massar claimed the championship at Blue Mountain.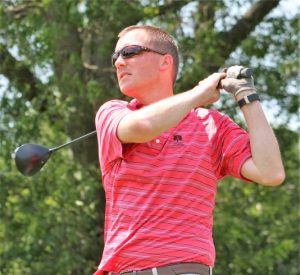 "I want tournaments like this to exist," said Reifsndyer. "It's an outlet. It's something to do outdoors. It's a good time. It's a grind, but it's fun. I'd love more people my age to play in it, but I don't know who's out there.
"Actually, I'd love anyone who has the ability to play, to play," continued Reifsnyder. "I wanted to play because I live here. But mindfulness is very important to me. I'll be back next year to defend it."
"It's a young face, a newer face," said Arnt, who doubles as the co-tournament director, of Reifsnyder. "I think that's definitely a positive. It's exciting to get this younger crowd out here. It's very exciting news going forward. It's something the Association (Lebanon County Golf Association) is working on."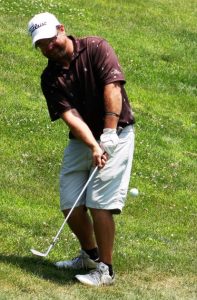 Reifsnyder entered Sunday's final round with a three-stroke advantage, and for the most part, his solid and steady play kept the hunters at bay. But if there was a critical point, one defining moment, it came at the 380-yard, par-four eighth hole, where a double bogey proved to be crucial damage control.
After Reifsnyder yanked his drive out of bounds, he stuck his approach shot to within a foot of the flag. Prior to that, he was at one-under par for the day, courtesy of birdies at the par-four second, the par-five fifth and the par-five seventh, and in possession of most of – if not all of – the lead he had established during Saturday's first round.
"My head was spinning a little bit," said Reifsndyer. "But it was actually a good double bogey. I knew the other guys (Arnt, Day, Massar) were getting it together. I knew I had to settle down and I did. After that, I made some pars.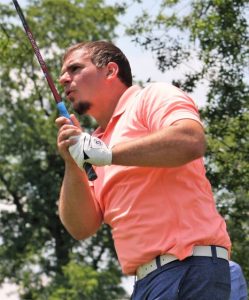 "To be honest, I struggled today," continued Reifsnyder. "I was swinging it well early on, but I could see what the other guys were doing. They got off to slow starts, so I was confident about my lead. I played fairly conservative today and just tried to hit it in the right spots."
With all of his challengers unable to mount serious charges, all that was left for Reifsnyder to do was avoid any further damage. Over his final ten holes, he registered eight pars and two bogeys, at the par-three 13th and at the par-five 15th.
"I definitely feel things as time goes on," said Reifsnyder. "I didn't allow myself to feel anything emotionally today because it affects your golf game. It's been a while since I won a golf tournament, so I wasn't sure if I still knew how to do this."
Needing a fast start to apply some heat to Reifsndyer, Arnt began his final round by bogeying the par-four first hole and the par-four second hole. He didn't register his first birdie until he rolled in a short one at the 288-yard, par-four 17th hole.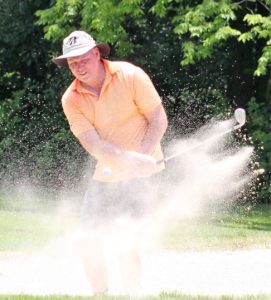 "I always have a goal here of being even-par after four holes, but unfortunately both days I didn't do that," said Arnt. "My irons were a little off. I missed a lot more greens than I usually do. Getting off to a solid start is important. I don't feel like Blake had the pressure of anyone pushing him. I think it (Reifsnyder's lead) was three or four strokes all day.
"For me, it's definitely not championship or bust," Arnt continued. "I try to come out and do the best I can. It's a grind. You have to focus on every shot. I didn't hit the ball as well as I should have, but that doesn't mean if I would have that I would've won. If you get beat, you get beat. That's my motto."
After making the turn at two-over par for the day, Brennan pieced together a modest move on the back-nine. His even-par 35 consisted of birdies at the par-four 11th, the par-three 13th and the par-four 16th.
Day's 76 was made up of matching nines of 38-38.
Meanwhile, Andrew Longenecker captured the championship of the first flight with a total of 78-80=158, while Steve O'Neal garnered top honors in the second flight with a 77-86=153.
To purchase images in this article please email jeff@lebcosports.com.
64th Annual Lebanon County Amateur Golf Championship, Presented by Perry C. Umlauf, OD
(at 6,136-yard, par-71 Lebanon Valley Golf Course)
Sunday's Final Round Results
| | | | | |
| --- | --- | --- | --- | --- |
| Name | Saturday | Sunday | Total | Flight |
| Blake Reifsnyder | 71 | 74 | 145 | 1 |
| Justin Arnt | 75 | 74 | 149 | 1 |
| Derrik Brennan | 78 | 73 | 151 | 1 |
| Jon Day | 76 | 76 | 152 | 1 |
| Matt Anderson | 77 | 76 | 153 | 1 |
| Jared Brandt | 79 | 75 | 154 | 1 |
| Bill Massar Jr. | 74 | 80 | 154 | 1 |
| Kerry Wentling | 78 | 80 | 158 | 1 |
| Andrew Longenecker | 78 | 80 | 158 | 2 |
| Jordan Rhen | 80 | 79 | 159 | 2 |
| Dave Albright | 78 | 81 | 159 | 2 |
| Trentin Brubaker | 77 | 83 | 160 | 2 |
| Jon Hurst | 78 | 83 | 161 | 2 |
| Tony Deraco | 84 | 79 | 163 | 2 |
| Trevor Firestone | 81 | 82 | 163 | 2 |
| Stefan Caporaletti | 79 | 84 | 163 | 2 |
| Steve O'Neal | 77 | 86 | 163 | 3 |
| Jordan Nichols | 83 | 83 | 166 | 3 |
| Perry Umlauf | 80 | 86 | 166 | 3 |
| Cam Shaak | 89 | 80 | 169 | 3 |
| Jim Pesta | 88 | 83 | 171 | 3 |
| Chad Wike | 86 | 86 | 172 | 3 |
| Grant Boehler | 85 | 89 | 174 | 3 |
| Josh Bucher | 93 | 89 | 182 | 3 |
| Brad Stegman | 93 | 107 | 200 | 3 |
Past Champions

(Year, Player, Score and Course)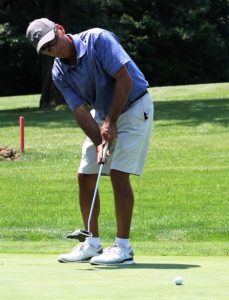 2022 – Blake Reifsnyder, 145, LV
2021 – John DiGiacomo, 146, PM
 2020- Justin Arnt, 138, LV
 2019- Jim Gardner, 134, LV
 2018 – Tyler Massar, 136, BM
2017 – Dan Brown, 136, FV
2016 – Jim Gardner, 139, PM
2015 – Jim Gardner, 141, LV
2014 – Dan Brown, 140, RO
2013 – Mike Schmidt, Jr., 136, FV
2012 – Tony Deraco, 136 BMV
2011 – Dan Brown, 142, PM
2010 – Ryan Schneiter, MV
2009 — Tim Leeper, 138, LV
2008 — Mike Schmidt Jr., 139, RO
2007 — Andy Gibbons, 140, FV
2006 — Jim Gardner, 104 BMV (27 holes)
2005 — Bill Massar Jr., 139 PM
2004 — Blaine Peffley, 144 BM
2003 — Chris Gebhard, 137 MV
2002 — Joe Faller, 139, FV
2001 — John DiGiacomo, 145, RO
2000 — Blaine Peffley, 143, FV
1999 — Roger Karsnitz, 146, MV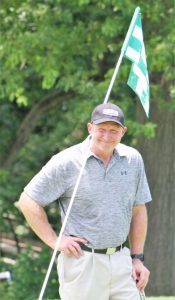 1998 — Chad Schulze, 139, FV
1997 — Chad Schulze, 144, MV
1996 — Chris Gebhard, 141, FV
1995 — Bill Massar Jr., 71, MV (18 holes)
1994 — John Gross, 144, MV
1993 — Mike Schmidt, 143, MV
1992 — Jeff Hoke, 148, MV
1991 — Joe Faller, 147, MV
1990 — Dennis Toomey, 145, MV
1989 — Joe Faller, 146, MV
1988 — Bob Page, 146, MV
1987 — Michael Brooks, 149, MV
1986 — John Gross, 147, MV
1985 — Pete Gebhard, 145, MV
1984 — Bob Page, 139, BM
1983 — Roger Karsnitz, 148, FV
1982 — Pete Gebhard, 72, MV (18 holes)
1981 — Stu Ingraham, 140, LV
1980 — Ben Witter, 141, MV
1979 — Tom Lape, 140, BM
1978 — Stu Ingraham, 144, FV
1977 — Russ Ditzler, 145, PM
1976 — Jim Sherman, 138, LV
1975 — Bob Page, 150, MV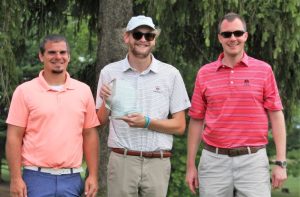 1974 — Kye Golembewski, 141, BM
1973 — George Eisley, 147, FV
1972 — Roger Karsnitz, 144, PM
1971 — William Weik, 142, LV
1970 — Paul Ingraham, 157, MV
1969 — Bob Page, 144, BM
1968 — Ron Will, 147, FV
1967 — Bob Page, 139, PM
1966 — William Weik, 143, LV
1965 — Joseph Spesak, 141, BM
1964 — Tom Donnachie Jr., 149, FV
1963 — William Weik, 149, LCC
1962 — Joseph Spesak, 140, LV
1961 — Tom Donnachie Jr., 144, FV
1960 — Joseph Spesak, 145, LCC
1959 — George Moeschlin Jr., 144, LV
Key: RO — Royal Oaks, FV — Fairview, MV — Monroe Valley, BM — Blue Mountain, LV — Lebanon Valley, PM — Pine Meadows, LCC — Lebanon Country Club