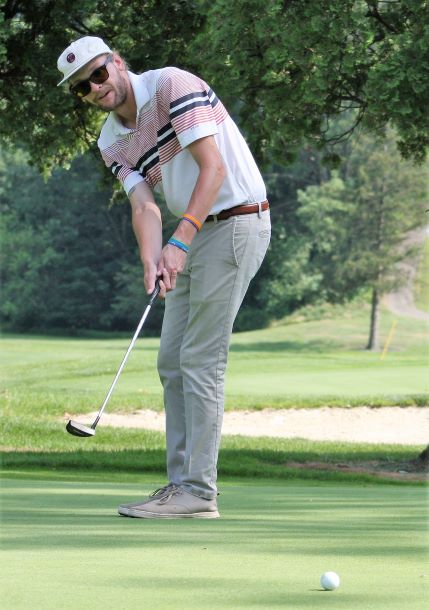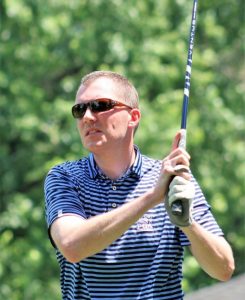 BY JEFF FALK
Editor
MYERSTOWN – It's sort of like the theoretical relationship that exists between potential and execution.
There are any number of circumstances that can create opportunities.  But those opportunities only taken on meaning when they're seized.
On a hot Saturday at the par-71, 6,136-yard Lebanon Valley Golf Course, young Blake Reifsnyder created an opportunity for himself, during the opening round of the 64th annual Lebanon County Amateur Golf Championships, presented by Perry C. Umlauf, OD. Now all that remains for Reifsnyder is the difficult part, execution.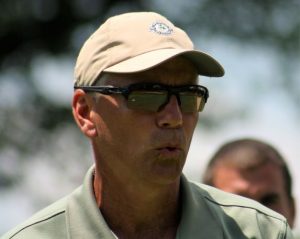 Competing in just his second County Amateur, the 25-year-old resident of Newmanstown fired an even-par score of 71 to establish a three-shot advantage over the rest of the field, as the official championship of Lebanon County golf heads to its conclusion on Sunday. Lurking within striking distance is a group that features former champions Bill Massar Jr., who carded a three-over par 74 and Justin Arnt, who posted a 75, as well as co-tournament director Jon Day and his 76.
Another stroke back at 77 are Trentin Brubaker, Matt Anderson and Steve O'Neal. Firing first-round 78s were Jon Hurst, Andrew Longenecker, Derrick Brennan, Kerry Wentling and Dave Albright.
Defending champion John DiGiacomo withdrew from the competition due to illness.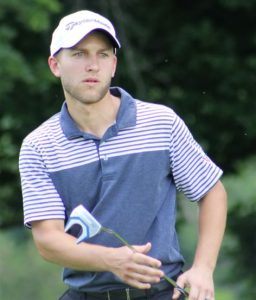 "I took a couple of years off from playing competitive golf," said Reifsnyder. "But this year I decided I was going to play in anything I can. I want to win something. I'm trying to shoot a round, hit shots and do everything the best I can.
"It's a cool event," continued Reifsnyder. "When I was a kid, I played a lot on the Lebanon County junior circuit. It was the spot to be. I pay attention. I see the numbers are dwindling (at the County Amateur). I'm glad I'm playing."
"I thought maybe someone would come in under par," said Arnt. "A few guys, but not a lot. Blake's a good player. He's more than capable. A three-shot lead is definitely different than a one-shot lead."
Hitting fairways and greens, Reifsnyder was right around par most of the day.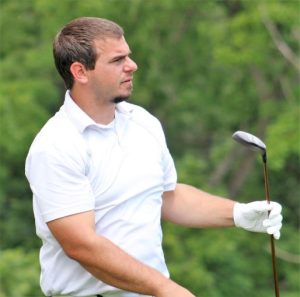 A bogey at the 308-yard par-four 11th hole made him one-over par, but he got that stroke back with a birdie at the 378-yard par-four 12th. Reifsnyder also bogeyed the 180-yard par-three 13th hole, then responded with a birdie at the 288-yard, par-four 17th.
"I played alright," said Reifsnyder. "I kept it in front of me. I didn't do anything stupid. I don't think it was the best round I ever played. But when I made a bogey I made a birdie. It's that stuff that keeps you in it mentally.
"At the end of the day, when I got in and saw that even-par was low, I was surprised," added Reifsnyder. "I thought it was very possible to shoot three- or four-under par, so I was surprised."
Reifsnyder's day began in a similar fashion, with a bogey at the 292-yard, par-four opening hole and a birdie at the 342-yard, par-four second hole. He also registered a birdie at the difficult 473-yard, par-four fourth hole, before making the turn at even-par.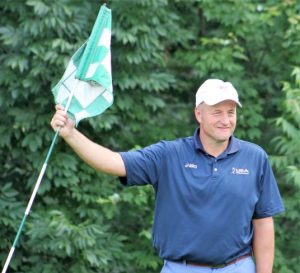 Among his 71 shots, Reifsnyder counted 35 putts.
"If I could win it, it would mean a lot to me," said Reifsnyder. "My grandfather is my best friend and he taught me the game. He's a Lebanon County lifer and he learned the game at Lebanon Valley. That's the cool thing for me.
"I'd like to do it at Lebanon Valley," continued Reifsnyder. "You just have to stay below the hole and make birdies when you get good looks at them. I just want to shoot a score I'm happy with."
Massar recorded seven pars, and bogeys at the par-four 12th and the par-four 18th, to complete his back-nine two-over par. He had completed his front-nine one-over par, after opening his round with a birdie at the par-four first hole.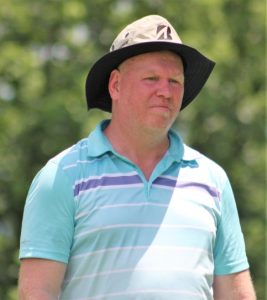 Following short birdies at the par-four second hole and the 497-yard, par-five fifth hole, Arnt's round was at even par. But all he could manage over his last ten holes were six pars and four bogeys.
"I didn't play very well," said Arnt. "The course was definitely challenging. It was a grind. It was a lot of scrambling for ups-and-downs. I made a lot of good par putts. I think the key here is that you can't miss in certain spots, or you're really in trouble."
Playing in the last group with Massar and Arnt, Day's strong finish catapulted him into contention. He was even-par over his final six holes, thanks in part to birdies at the par-five 15th and the par-four 17th.
To purchase images in this article please email jeff@lebcosports.com
2022 Lebanon County Men's Amateur Golf Championship, Presented by Perry C. Umlauf, OD
(at 6,136-yard, Par-71) Lebanon Valley Golf Course
Sunday Starting Tee Times and Score
| | | | | |
| --- | --- | --- | --- | --- |
| 9:00 AM | Brad Stegman – 93 | Josh Bucher – 93 | Cam Shaak – 89 | |
| 9:08 AM | Jim Pesta – 88 | Chad Wike – 86 | Grant Boehler – 85 | |
| 9:16 AM | Tony Deraco – 84 | Jordan Nichols – 83 | Trevor Firestone – 81 | |
| 9:24 AM | Perry Umlauf – 80 | Jordan Rhen – 80 | Jared Brandt – 79 | Stefan Caporaletti – 79 |
| 9:32 AM | Dave Albright – 78 | Kerry Wentling – 78 | Derrik Brennan – 78 | Andrew Longenecker – 78 |
|  9:40 AM | Jon Hurst – 78 | Trentin Brubaker – 77 | Matt Anderson – 77 | Steve O'Neal – 77 |
| 9:48 AM | Jon Day – 76 | Justin Arnt – 75 | Bill Massar Jr. – 74 | Blake Reifsnyder – 71 |
Past Champions

(Year, Player, Score and Course)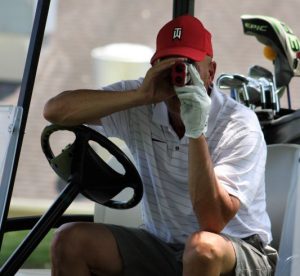 2021 – John DiGiacomo, 146, PM
 2020- Justin Arnt, 138, LV
 2019- Jim Gardner, 134, LV
 2018 – Tyler Massar, 136, BM
2017 – Dan Brown, 136, FV
2016 – Jim Gardner, 139, PM
2015 – Jim Gardner, 141, LV
2014 – Dan Brown, 140, RO
2013 – Mike Schmidt, Jr., 136, FV
2012 – Tony Deraco, 136 BMV
2011 – Dan Brown, 142, PM
2010 – Ryan Schneiter, MV
2009 — Tim Leeper, 138, LV
2008 — Mike Schmidt Jr., 139, RO
2007 — Andy Gibbons, 140, FV
2006 — Jim Gardner, 104 BMV (27 holes)
2005 — Bill Massar Jr., 139 PM
2004 — Blaine Peffley, 144 BM
2003 — Chris Gebhard, 137 MV
2002 — Joe Faller, 139, FV
2001 — John DiGiacomo, 145, RO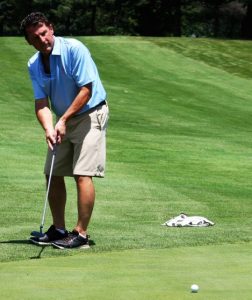 2000 — Blaine Peffley, 143, FV
1999 — Roger Karsnitz, 146, MV
1998 — Chad Schulze, 139, FV
1997 — Chad Schulze, 144, MV
1996 — Chris Gebhard, 141, FV
1995 — Bill Massar Jr., 71, MV (18 holes)
1994 — John Gross, 144, MV
1993 — Mike Schmidt, 143, MV
1992 — Jeff Hoke, 148, MV
1991 — Joe Faller, 147, MV
1990 — Dennis Toomey, 145, MV
1989 — Joe Faller, 146, MV
1988 — Bob Page, 146, MV
1987 — Michael Brooks, 149, MV
1986 — John Gross, 147, MV
1985 — Pete Gebhard, 145, MV
1984 — Bob Page, 139, BM
1983 — Roger Karsnitz, 148, FV
1982 — Pete Gebhard, 72, MV (18 holes)
1981 — Stu Ingraham, 140, LV
1980 — Ben Witter, 141, MV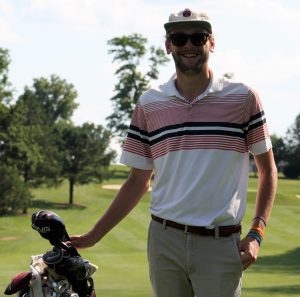 1979 — Tom Lape, 140, BM
1978 — Stu Ingraham, 144, FV
1977 — Russ Ditzler, 145, PM
1976 — Jim Sherman, 138, LV
1975 — Bob Page, 150, MV
1974 — Kye Golembewski, 141, BM
1973 — George Eisley, 147, FV
1972 — Roger Karsnitz, 144, PM
1971 — William Weik, 142, LV
1970 — Paul Ingraham, 157, MV
1969 — Bob Page, 144, BM
1968 — Ron Will, 147, FV
1967 — Bob Page, 139, PM
1966 — William Weik, 143, LV
1965 — Joseph Spesak, 141, BM
1964 — Tom Donnachie Jr., 149, FV
1963 — William Weik, 149, LCC
1962 — Joseph Spesak, 140, LV
1961 — Tom Donnachie Jr., 144, FV
1960 — Joseph Spesak, 145, LCC
1959 — George Moeschlin Jr., 144, LV
Key: RO — Royal Oaks, FV — Fairview, MV — Monroe Valley, BM — Blue Mountain, LV — Lebanon Valley, PM — Pine Meadows, LCC — Lebanon Country Club