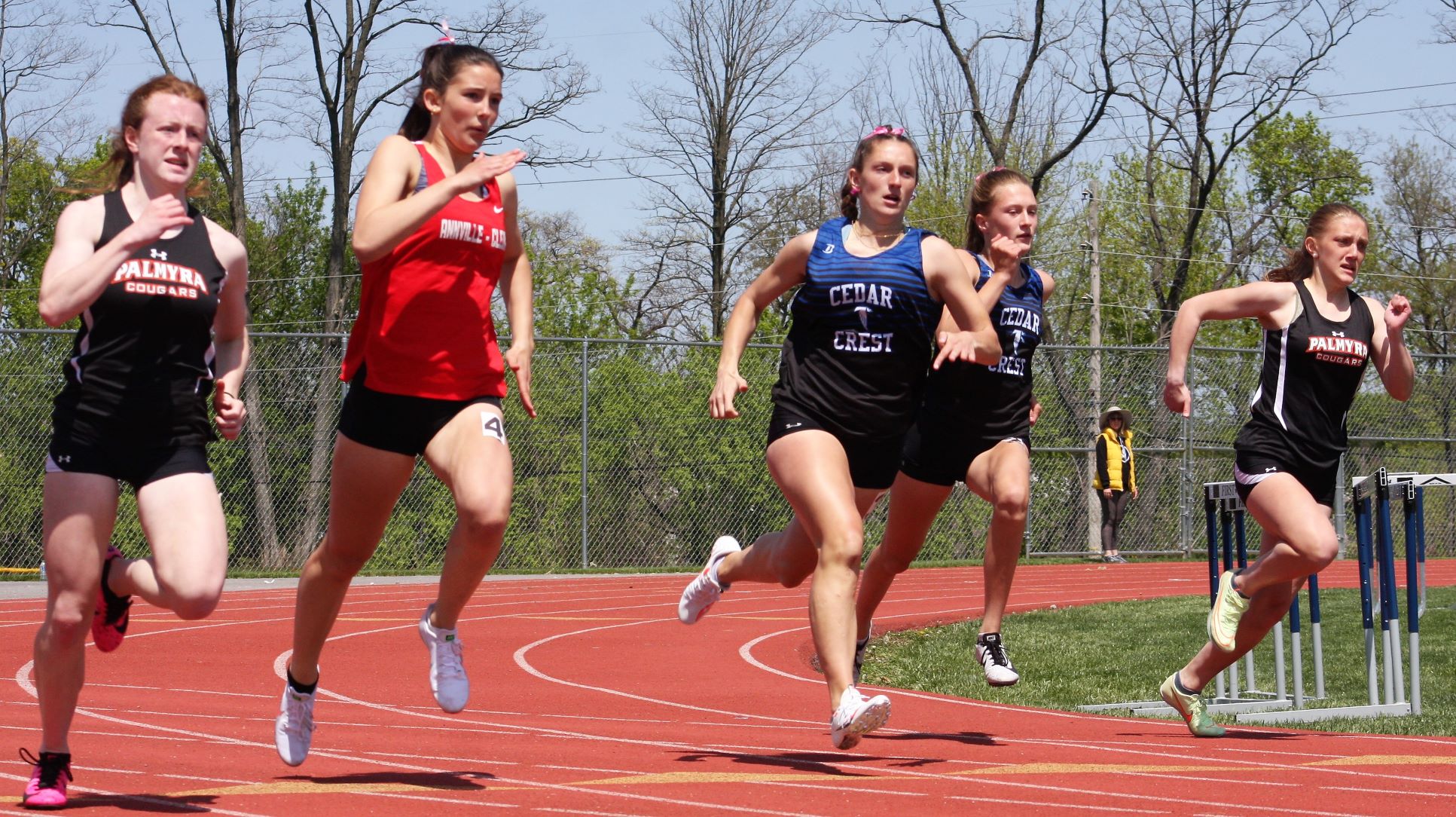 BY JEFF FALK
Editor
Do you know the difference between sympathy and empathy? Sympathy involves sharing another's feelings or emotions, while empathy suggests a detached understanding, while not actually experiencing those feelings or emotions directly.
Here it's used in a sentence: Lily Young is seeking empathy, not sympathy. Young wants you to understand what she's feeling, but she would never want you to feel what she's feeling.
She's not looking for pity, only understanding, simply because she doesn't feel sorry for herself. It's just not part of her DNA.
But if anyone had the right to feel sorry for herself, it would be the steadfast Young.
A talented junior sprinter on the Cedar Crest girls' track and field squad, Young has had both her athletic time and her potential severely curtailed by three very serious – but in her case not debilitating – knee injuries. In a span of three years, Young endured two sports-related ACL/MCL tears to her left knee and one ACL/MCL tear to her right knee.
Yet, through it all – all the doctor's visits, all the hours of rehab and worst of all, all the times of doubt – Young has never wavered, never wondered 'Why me?', never entertained the notion of simply quitting. In fact, not unlike her knees, the entire experience has made Young more determined, made her a better student-athlete, made her a better teammate.
Iron sharpens iron.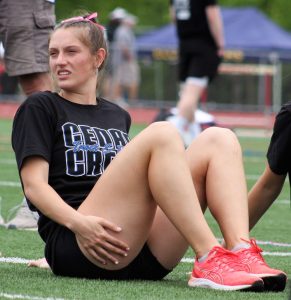 "For me, the biggest thing about tearing my ACLs is not tearing my ACLs, but the challenges that come with it," said Young. "No matter what happens, it's not what defines me. It's how you handle it. I choose to use it as determination and a reason to work harder. It's not about what happens to you, it's how you handle it."
Spirit and mind over body.
Young will be competing at the annual District Three Track and Field Championships at Shippensburg University's Seth Grove Stadium this weekend. She is seeded 24th in the Class AAA 200-meter dash and her Falcon 1600-meter relay team is seeded ninth.
Last week, at the Lancaster-Lebanon Track and Field Championships at Hempfield High School, Young, who also plays soccer, finished a rewarding third, with a season-best 26.51, in the 200 meters and helped the Falcons to a surprising second-place finish in the 1600-meter relay.
"I do think about that," said Young, of what her performances might look like without the injuries. "With my knees, the hardest part has been that they sometimes give out in the middle of a race, and I have to play catch-up. When you're on the sidelines, you can't work on getting faster. But I can't change it. There's nothing I can do about it. But I do think about it."
"It's something we can all wonder about," said Cedar Crest head coach Rob Bare. "You've got to figure that she could be so much ahead with her times. But she's learned to face adversity so many times. Certainly, without the ACL tears she should be running faster. But what she has been able to do is incredible."
Most recently, Young tore her the ACL/MCL in her right knee in June of 2021 while playing soccer. She tore her left ACL/MCL in September of her freshman season running, admittedly perhaps too soon after her initial ACL/MCL tear, which occurred while running track at the Lancaster-Lebanon Junior High Track and Field Championships as an eighth-grader.
"Now that I've gotten through all of it, I'm not mad about it any more," said Young. "It was a very hard experience, both mentally and physically. But I wouldn't trade it. It's made me a better person and I've been able to help other people who have had the same injury. I'm just hoping it's the last one."
"For me as a coach, she's the first person I've know who's had three ACL tears," said Bare. "I know other kids who have had two. It's very rare. It doesn't happen very often. When you look at what Lily has gone through at such a young age, it's been an amazing season. It's incredible to see her come back from one ACL tear, and then another ACL tear, and then another."
Just as painful as the injury itself is the rehabilitation required to recover from an ACL tear. But that nine-to-12 months of recovery also takes a toll on one's mind and spirit.
Enduring it three times qualifies Young as an expert.
"Even before the surgery, you have to go to physical therapy for a couple of weeks because they want it to be mobile before you go in," said Young. "The first couple of weeks after the surgery is horrible. You're in a brace for a couple of months before you start walking. After three months, you can start jogging, At six months, they test your strength and mobility. It's hard mentally. They test you constantly. Between nine and 12 months, you can ease back into practice, a little at a time."
"At the beginning of the season, she was cleared and she came back after not having done much for a year," said Bare. "We eased her back into it. She had gotten clearance and wanted to run at an invitational, but I held her out of it. I knew she was mad at me. But that's the competitive side of Lily. She's a competitor. She wants to be out there. Since then, it's been full gear the rest of the season."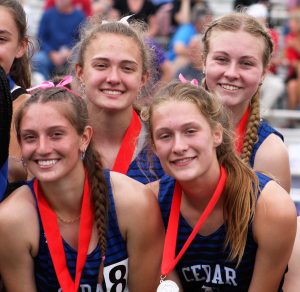 Part of Young wants to make up for lost time and lost opportunities. Another part of her wants to value the time she has been given even more.
That's the sign of a certain maturity that has resulted from the entire experience.
But even though it is constantly hanging over her head, Young will not allow herself to think the unthinkable.
"Yeah, it definitely crosses my mind," said Young. "But I just try to push it away. I don't want to waste the time I do have by being timid. If it did, it did. But if it happened before, I can do it again. I try to improve as much as I can and do as much as I can with the time I have.
"It's definitely the hardest thing I've ever gone through," continued Young. "It takes a toll and it affects you every day. I think I'm more known for getting hurt than the sports I've played. It's hard to hear people say, 'Why do you want to come back and get hurt again?' But that would be the easy way out. This is what I do, so it's worth it."
For now, Young still hopes to go on to college and play soccer. Yet the reality of her injuries mean her opportunities will be limited.
Young is also very aware of the possible long-term effects that three ACL/MCL tears will have on her future physical self.
"It does suck that I missed most of my high school career," said Young. "The one year I didn't have was because of COVID-19. I haven't had a normal year of high school athletics. But I'm still hoping to go to college and play soccer, and maybe get some of that time back.
"I wish I wasn't an expert, but it's not the worst thing ever," added Young. "I think I've taken that role on. I know some other people who have torn their ACLs and every time that it has happened, I've tried to reach out to them, to help them. It makes it worth it in a way."
"Everything that everybody needs to know about Lily happened at the Lancaster-Lebanon League meet," said Bare. "She goes out and runs a 59.3 on her leg of the four-by-four, when her fastest time was a 1:02, and she runs down two other teams to move us from fourth place to second. When she gets the baton, we know she's going to give us everything she's got. If it's close, she's going to pull it out."
Not even three ACL tears can slow Lily Young down.
To purchase images in this article please email jeff@lebcosports.com.