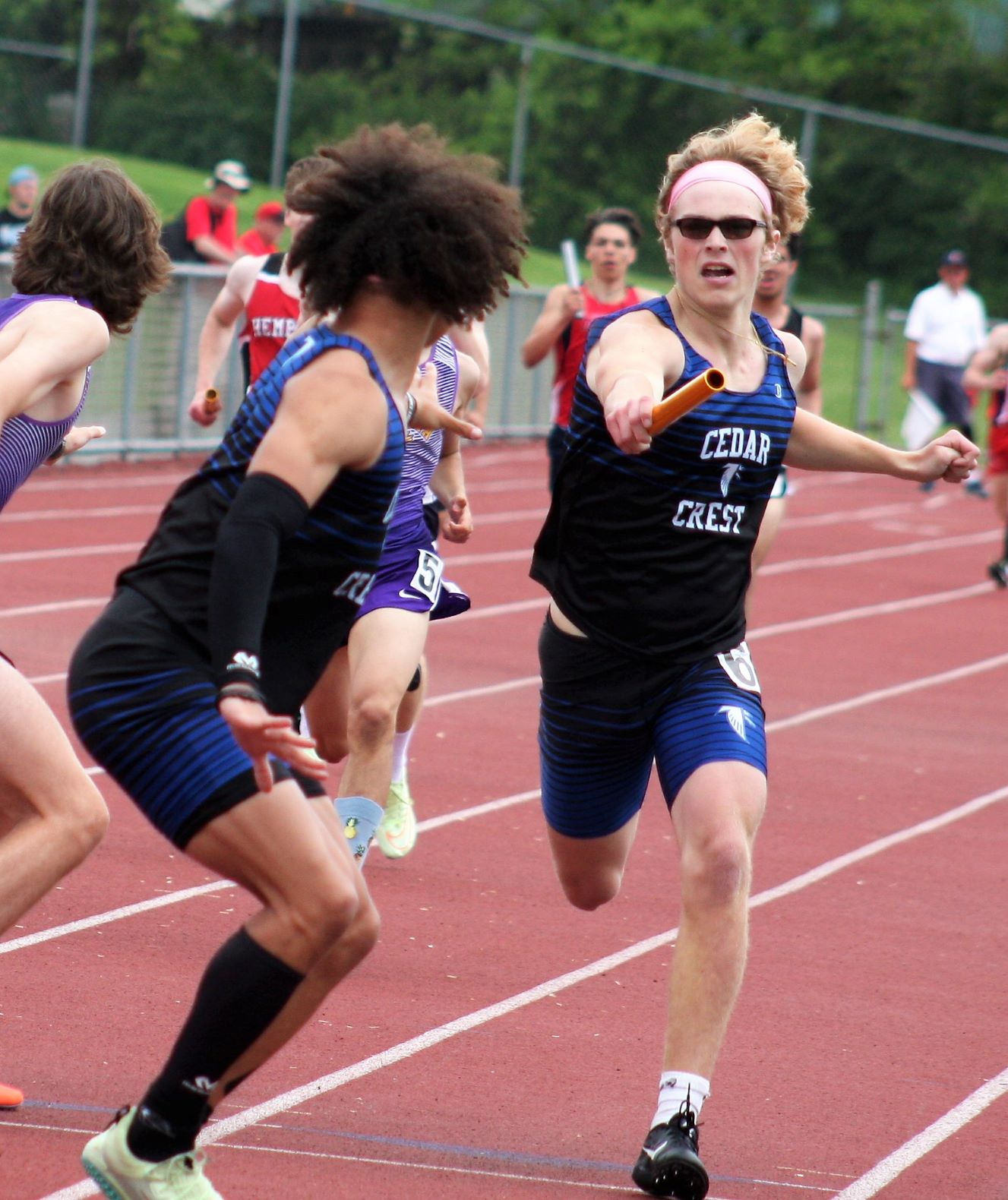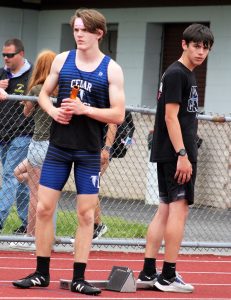 BY JEFF FALK
Editor
LANDISVILLE – Gabe Lewis is a spoke.
He's a very fast spoke, one with the power to make the wheel go faster. But he needs the other spokes to help generate his power, just as much as the other spokes need him.
On a sticky Saturday at Hempfield High School, during the second and final day of the 49th annual Lancaster-Lebanon Track and Field Championships, Lewis starred both individually and as parts of successful Cedar Crest relay teams. The Falcon's junior sprinter struck gold in the 100-meter dash, copped a bronze medal in the 200-meter dash and helped a couple of Falcon foursomes to collaborative gold and silver medals.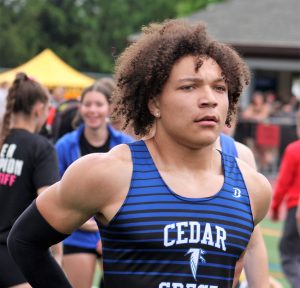 But as impressive as Lewis' personal performance was, so were the Falcons' performance in the relays. Perennially strong in the team events, the Cedar Crest boys finished first in the 3200-meter and 400-meter relays, and put forth a silver-medal showing in the 1600-meter relay.
Over the program's long and storied history, the Falcons have now won a whopping 24 relay championships at the Lancaster-Lebanon league meet. Yesterday's performance by Lewis and the Falcon relays helped propel Cedar Crest to a third-place finish in the boys' team standings, behind champion McCaskey and runner-up Manheim Township.
But all that Falcon speed on the track wasn't the only thing going for Lebanon County competitors at the L-L Championships. The county brought home a boatload of shiny medals, including silvers from four other events and bronze medals from five other events.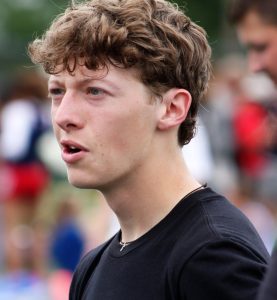 "We love the relays," said Cedar Crest head coach Rob Bare. "We push it all the time. It's all about the team. It's more important to be the best competitor for the team than the best competitor on the team. They willed it. They wanted it.
"I feel great about how we did overall," added Bare. "There's a lot that can happen here."
"Some people say it's genetics, and to an extent, that's right," said Lewis, when asked from where his speed originates. "But you can always get faster, no matter who you are. With sprinting, it's the work you do the week before that helps you the day of the race. You've got to strategically plan it.
"When I sprint, I match my competition," continued Lewis. "When I have great competition, it's going to pull me through. It's very delicate, what you do."
In the 200-meter dash, 'Lightning' Lewis finished behind winner Darren Cammauf of Manheim Township and runner-up Teagan Weaver of Lampeter-Strasburg, in 22.91. He concluded his day by anchoring a Falcon quartet that also included Kyle Rauchut, Nick Garman and Ethan Heisey to a silver-medal showing in the 1600-meter relay.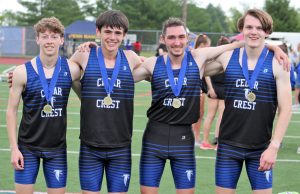 Earlier, Lewis had also anchored Cedar Crest's victorious 400-meter relay team that also consisted of Rauchut, Garman and Joe Santiago. But the highlight of his performance came in the 100-meter dash, where he got off to a fast start and then held off Weaver and the rest of the finals' field, by .02 of a second, in 11:05.
It was Cedar Crest's first victory in the boys' 100-meter dash at the Lancaster-Lebanon League Track and Field Championships since Denzel Pierre in 2014.
"Coming in, I felt good, but not a hundred percent," said Lewis, who has laid down 10.8 in the 100. "I had a really good start. The middle is always best part. I leaned at the end, because it was close.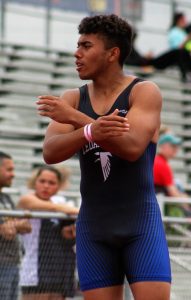 "It feels great," Lewis added. "Last year was my first year in track, and I didn't even qualify. Now, I'm a year older, and I did a lot of work in the off-season."
"The biggest thing about Gabe is that he's one of the most coachable athletes I've ever had," said Bare. "He's so respectful. I've been in his face once or twice, and he's responded."
The Falcon boys started their competition on Saturday by winning the 3200-meter relay competition, as the team of Rauchut, Luke Hinegardner, Caleb Peters and Ryan Wolfe posted an 8:04.59.
On the girls' side, Cedar Crest captured three more relay medals, including in the 1600-meter relay, where Lily Young, Juliana Donley, Alaina Miller and Emilee Walborn ran as the runner-up to McCaskey. In the 3200-meter relay, the Falcon foursome of Grace Tadajweski, Alyssa Stiver, Donley and Lizze Lowe came in third.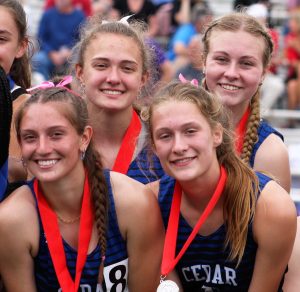 "Our kids know the importance of relays," said Bare. "As individuals, we can do good things, but together we can do great things."
Also claiming a silver medal yesterday was Annville-Cleona senior Braetan Peters, in the 1600-meter run. It was Peters' second silver of the meet, after she finished second in the 3200-meter run on Friday.
Not unlike Peters, Lebanon freshman Liliana Harrison collected her second Lancaster-Lebanon League silver medal on Saturday, this one in the shot put.
But Elco junior Colin Daub's runner-up showing in the discus had a different feel. The top seed in the event, Daub finished second by an inch to McCaskey's John Stewart.
Cedar Crest senior Gavin Popejoy was the bronze medal winner in the boys' shot put, as was Elco junior Sam Nelson in the girls' javelin. Chase Watson, a senior out of Annville-Cleona, came in third in the 400-meter dash, and so did Cedar Crest junior Lily Young in the 200-meter dash.
To purchase images in this article please email jeff@lebcosports.com.
Lancaster-Lebanon League Track and Field Championships
Past Team Champions
Year             Girls                          Boys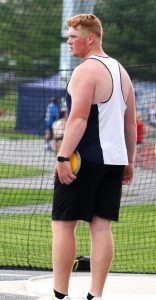 2021                 McCaskey                          McCaskey
2020                 COVID – No Meet               COVID – No Meet
2019                 Warwick                            Warwick
2018                 Warwick                            Manheim Township
2017                 Warwick                            Penn Manor
2016                 Manheim Township            McCaskey
2015                 Hempfield                         McCaskey
2014                 Hempfield                         Cedar Crest
2013                 Ephrata                             Hempfield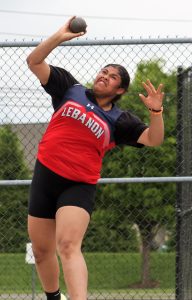 2012                 Hempfield                         Conestoga Valley
2011                 Elizabethtown                    Hempfield
2010                 Hempfield                         Hempfield
2009                 Hempfield                         Hempfield
2008                 Garden Spot                      Hempfield
2007                 Hempfield                         McCaskey
2006                 Hempfield                         McCaskey
2005                 Garden Spot/Hempfield      Conestoga Valley
2004                 Hempfield                         Cedar Crest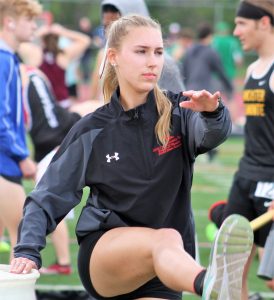 2003                 Hempfield                         Cedar Crest
2002                 Hempfield                         Hempfield
2001                 Hempfield                         McCaskey
2000                 Hempfield                         Cocalico
1999                 Warwick                            Cocalico
1998                 McCaskey                          Cedar Crest
1997                 Manheim Township            McCaskey
1996                 Solanco                             McCaskey
1995                 Solanco                             Garden Spot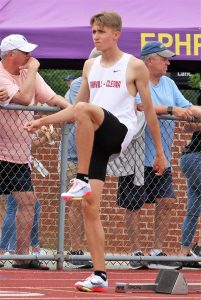 1994                 Solanco                             Garden Spot
1993                 Hempfield                         McCaskey
1992                 McCaskey                          McCaskey
1991                 Solanco                             McCaskey
1990                 Hempfield                         McCaskey
1989                 McCaskey                          McCaskey
1988                 Solanco                             McCaskey
1987                 Solanco                             McCaskey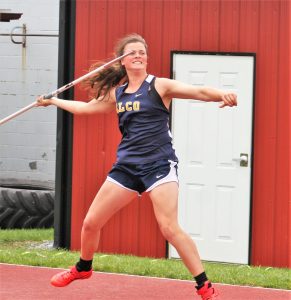 1986                 Hempfield                         Hempfield
1985                 Hempfield                         McCaskey
1984                 Annville-Cleona                  McCaskey
1983                 Lampeter Strasburg           McCaskey
1982                 Penn Manor                       McCaskey
1981                 McCaskey                          McCaskey
1980                 McCaskey                          McCaskey
1979                 Hempfield                         Solanco
1978                 Hempfield                         McCaskey
1977                 Penn Manor                       McCaskey
1976                 Hempfield                         McCaksey
1975                 Hempfield                         Solanco
1974                 No Team Title                    McCaskey
1973                 No Team Title                    McCaskey
Total Team Titles:
 Girls:                                                Boys:
Hempfield         21                            McCaskey          26
Solanco             6                             Hempfield         7
McCaskey           6                             Cedar Crest       4
Warwick            4                             Cocalico            2
Garden Spot      2                             C.V.                  2
Man. Township  2                             Garden Spot      2
Penn Manor       2                             Solanco             2
Lancaster-Lebanon League Track and Field Championships
Individual Meet Records
EVENT
GENDER
STUDENT/ATHLETE
SCHOOL
TIME  DISTANCE
YEAR
100 M Dash
Girl
Brooke Gillford
MT
11.8
1997
Boy
Jaren Hayes
CC
10.3
2001
200 M Dash
Girl
Leah Graybill
WAR
24.6
2019
Girl
Shannon Norris
WAR
24.8
2002
Boy
Jaren Hayes
CC
21.4
2001
400 M Dash
Girl
Leah Graybill
WAR
56.15
2019
Boy
Eric Hiller
ET
48.5
1999
800 M Run
Girl
Meredith Newman
MT
02:14.0
2014
Boy
Jared Weaver
CV
01:52.9
2006
1600 M Run
Girl
Katie Locker
Etown
04:59.6
2019
Boy
Nathan Henderson
JPM
04:11.7
2017
3200 M Run
Girl
Kate Dickow
WAR
10:37.9
2019
Boy
Nathan Henderson
JPM
09:03.1
2017
100M HH
Girl
Jane Livingston
CV
13.6
2019
110 M HH
Boy
Chance Post
CV
14.02
2014
300 M IH
Girl
Mary Witmer
Ephrata
42.3
2013
Boy
Chance Post
CV
37.43
2014
4 x100 Relay
Girl
Leah Graybill, Emily Williamson, Meghan Quinn, Lily Palacio-Lewis
WAR
47.34
2019
Boy
Kelvin Reyes, Tobias Robinson, Michael Fox, Peter Habegger
CC
42.2
2004
4 x 400 Relay
Girl
Lily Palacio-Lewis, Emily Williamson, Meghan Quinn, Cassidy Kline
WAR
03:57.1
2018
Boy
Jamel Henry, Dejon Manning, Anthony Deleon, Leonel DelRosario
JPM
03:21.2
2018
4 x 800 Relay
Girl
Kaitlyn Oliver, Kristine Gutshall, Alli Mannion, Alyssa Grube
WAR
9:29.09
2009
Boy
Shafer, Wagner, Webb, Thiry
COC
07:50.6
2000
Shot Put
Girl
Emily Stauffer
COC
48'3 1/2″
2016
Boy
Kyle Felpel
Coc
60′ 1 1/2″
2012
Discus
Girl
Eliese Mitchell
GS
159′ 10″
1999
Boy
Kyle Long
Hemp.
193′ 9″
2012
Javelin
Girl
Marilyn Senz
GS
146′ 1″
1980
Girl
Kristen Herr(IAAF)
LS
142'1″
2017
Boy
Troy Burkholder
COC
220′ 11″
1995
Boy
Thomas Jordan (IAAF)
CC
213 '6″
2003
Long Jump
Girl
Leslie Hummer
AC
18′ 10″
1987
Boy
Ezra Mellinger
LS
23′ 11″
2019
Triple Jump
Girl
Stephanie Laudien
Hemp
38'7″
2014
Boy
Kyle Murr
PM
47′ 10 1/4″
2021
High Jump
Girl
Angie Messner
GS
5′ 10″
2009
Boy
Dana Hollinger
CC
7′ 0″
1981
Pole Vault
Girl
Mackenzie Horn
MT
13'0″
2018
Boy
Jon Andrews
GS
15'0″
2006

Lebanon Federal Credit Union