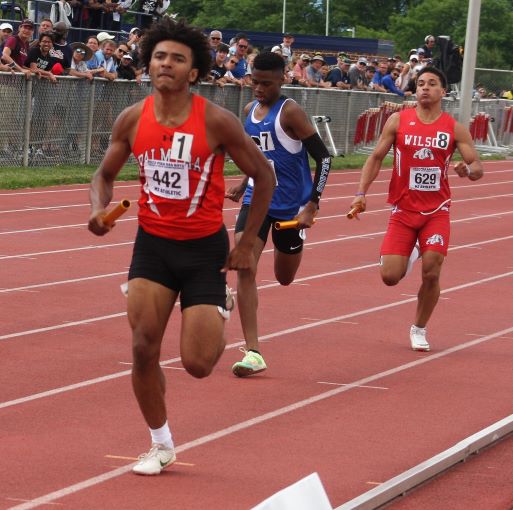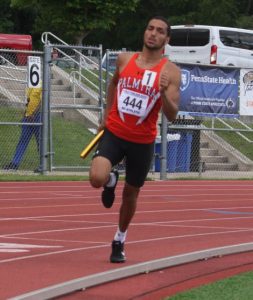 BY JEFF FALK
 Editor
 SHIPPENSBURG – The local sports calendar is based on the seasons of the year and heavily influenced by the scholastic calendar. But broken down even further, there are specific months of the year that are associated with particular sports.
Partly because of Palmyra's success, November is known for field hockey playoffs locally. More and more, August has come to signal the start of Lebanon County's football season. And traditionally, December brings on the onset of local basketball.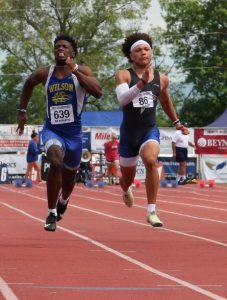 For Lebanon County competitors, May is the month for track and season.
On a sunny Saturday at Shippensburg University's Seth Grove Stadium, during the second day of the annual PIAA Track and Field Championships, the locale closed out another successful spring season with a handful of state medals. The PIAA Track and Field Championships also signaled the conclusion of a highlight-filled 2021-22 Lebanon County scholastic sports season.
Leading the local charge, was a quartet from Palmyra, Jose Morales, Kasen Bixler, Quinton Townsend and Anthony Mansfield, who collected a very satisfying sixth-place medal in the final race of the day, the Class AAA 1600-meter relay, in 3:20.03. Bolstered by a fast start, Palmyra was in contention for an even better medal earlier in the race.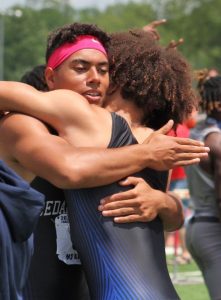 A week earlier at Shippensburg, the same Cougar foursome had run second in the same event at the District Three Class AAA meet.
But the result also featured a degree of redemption for the Cougars, after they had failed to qualify for the finals in their signature event, the Class AAA 400-meter relay. Morales, Bixler, Townsend and Mansfield are the reigning District Three Class AAA champions in the 400-meter relay.
"One hundred percent," said Bixler, when asked if he had higher pre-meet expectations for the 400-meter relay than the 1600-meter relay. "We thought we could pull it off. It (four-by-one) was a disappointment.  But I think it motivated us and we did so much better in the four-by-four. We finished better than we planned.
"We were here multiple hours before the race, and it fuels you," continued Bixler. "Every race you watch excites you. It's kind of like, 'I want to do that in my race.'"
Sort of the way the Cedar Crest Falcons ran in the Class AAA 400-meter's medal race. Clocked in 43.26, Cedar Crest's Kyle Rauchut, Nick Garman, Joseph Santiago and Gabe Lewis came in 7th, and genuinely seemed thrilled by the result.
"It was a team effort," said Lewis. "Last year, we got eighth in the (Lancaster-Lebanon) league in the four-by-one. During the off-season, we put in a lot of work. Coming into the spring, we wanted to do better.
"I feel like I was a little bit of a later bloomer," added Lewis. "Last year was my first full year of track. I also play football and it's two different atmospheres. In football, you're trying to take everyone's head off. This is more friendly. In certain ways, track is more fun. It's more enjoyable. It's easier to have fun when you're relaxed."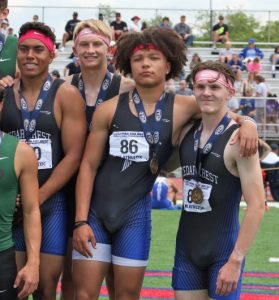 A few events prior, Lewis had finished seventh in the Class AAA 100-meter dash. Lewis posted a time of 11.20, while gold-medal winner Joey Gant of Pennridge registered a 10.74.
"I felt like last week had to happen for me to get to this point," said Lewis of the District Three Track and Field Championships. "Coming into this week, I wasn't nervous at all. This is definitely high on my list of highlights, so far. This was one of my top three performances.
"I'm going to start training for next year five minutes after I walk off this track," Lewis continued. "The goal next year is to win a state championship. But you've got to put the work in. This offseason is going to be the hardest I've ever worked."
During the opening rounds of competition on Friday, Annville-Cleona junior Noah Gunderson came in fifth in the boys' Class AA high jump with a leap of 6-5. Gunderson, the reigning District Three Class AA and Lancaster-Lebanon League champion, had finished eighth in the state as a sophomore in 2021.
Also on Friday, Elco's Carissa Bender finished a rewarding seventh in the girls' Class AAA pole vault.
To purchase images in this article please email jeff@lebcosports.com.