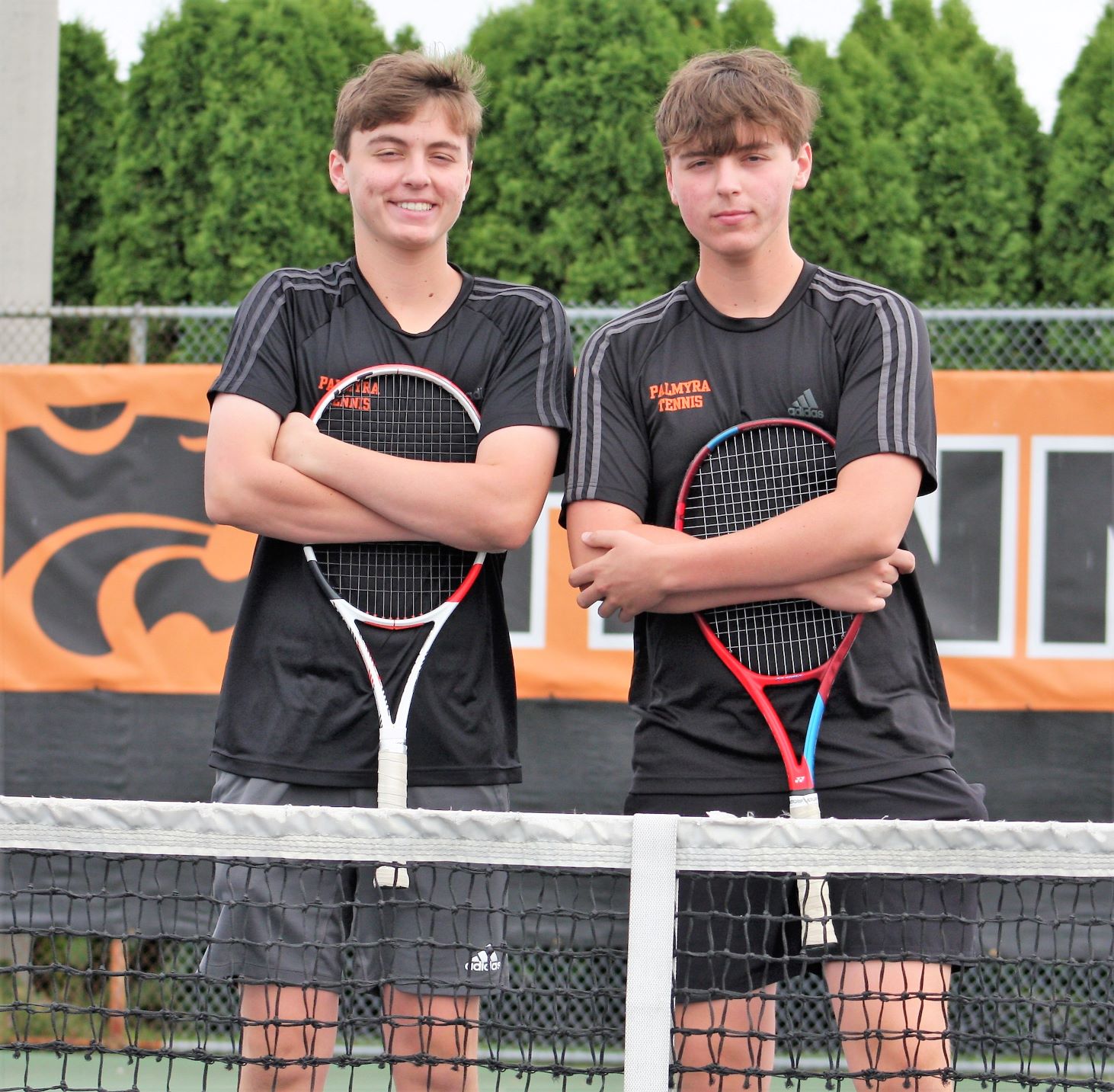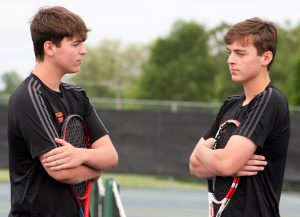 BY JEFF FALK
Editor
There exists this mystical bond, this unique connection between identical twins that is unlike any other on the face of God's green earth or in the history of humankind. It is so difficult to explain and understand, that it is perhaps best characterized through the sport of tennis, and specifically through the game's doubles competition.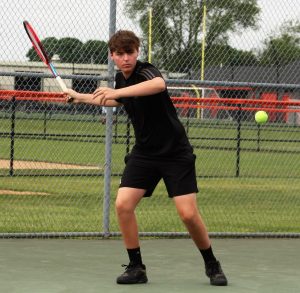 It has been described as 'knowing what the other is thinking'. Like being able to predict the other's movements. Or metaphorically, 'being on the same page'.
Sophomore brothers at Palmyra, Aidan and Tyler Mahaffey are bonded by this identical-twin relationship. It is a connection that creates an almost unfair advantage on the court, and one that tests the boundaries of individuality off of it.
But for the teenaged prodigies, it's difficult to imagine a life without the other one in it – yet one that is almost assuredly enhanced by the presence of the other.
Also unprecedented and unparalleled in the annals of Lebanon County tennis lore is the on-court success that Tyler and Aidan Mahaffey have enjoyed to this point of their young careers. On Friday and Saturday at the Hershey Racquet Club, the Mahaffeys will compete in the PIAA Class AAA doubles tournament, with an eye on taking their next step together.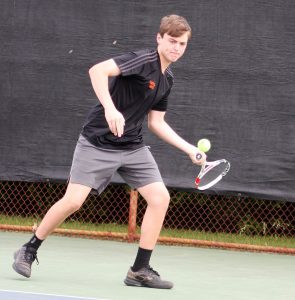 "I think all doubles teams have that level of connection," said Tyler Mahaffey. "But it's increased to a degree when the teams are made up of twins. I can tell what he's feeling by looking at him. Most of the time, I can tell what he's thinking, just by his body language. We pick up on each other. We just know each other very well."
"I have played a few matches with other partners, and it's just not the same kind of understanding," said Aidan Mahaffey. "There just aren't many boundaries on the court when you play with your twin. We can say whatever we need to each other because we know each other. There's just less communication with a different partner. It's (playing with another partner) not something I've worked on, but it could be developed."
This season, the Mahaffeys have pretty much won everything they've set their sights on. Earlier, they were crowned Mid-Penn Conference Class AAA doubles champions and District Three Class AAA doubles champions.
They also paced the Cougars to an historical spring as a team. Palmyra won the title of the Keystone Division of the Mid-Penn Conference by going undefeated in the regular season, before reaching the finals of the District Three Class AAA team tournament and the semifinals of the state team event.

Last season as freshmen, Aidan and Tyler Mahaffey also garnered Mid-Penn Conference and District Three Class AAA doubles championships, then finished fourth in the state.
"I think we have a very good idea of what the other is going to do most of the time," said Aidan Mahaffey. "But it's not an exact thing. If you're playing doubles, you don't learn your partner like I know Tyler. But I think we are where we are because we're choosing to play doubles over singles."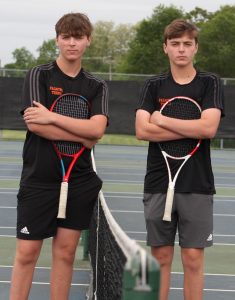 "Doubles is much deeper than you think," said Tyler Mahaffey. "Singles is like checkers and doubles is more like chess. That's why we have more success in doubles, because we know each other and we both have strategic minds. It's a very different game. You see a lot of players who are good singles players, but not good doubles players. There are certain styles that don't translate to doubles, and there are also certain personalities that don't translate."
While the Mahaffey brothers' twin connection may be the biggest key to their success, it certainly isn't the only one. Both began playing the game around the age of four, both are physically gifted and both practice very hard – up to 335 days a year.
All hard things made a little less difficult by someone by your side pushing you.
"We're both taking a psychology class that's dealt with the concept of nature-versus-nurture," said Tyler Mahaffey. "You're never quite sure how much of each is at work, or when. Being twins on the doubles court is one of the biggest advantages that you can have. Success isn't really a formula. It's a combination of all those things coming together."
"I think a big key is just playing a lot of doubles and gaining experience," said Aidan Mahaffey. "If you're good at singles, you're going to have a good baseline game. In doubles, it's less focus on the baseline and more on the net and volleys. You're always looking for an opportunity to hit a volley or finish at the net. You need to practice doubles. There's a lot of learning that goes into it."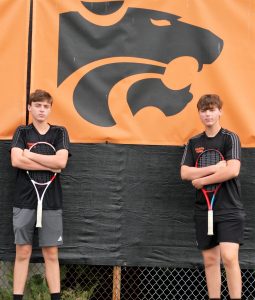 Aidan and Tyler Mahaffey are more alike than they are different, but that doesn't mean they're 'identical' individuals. As they've grown, they've begun to look less and less alike physically.
Tyler is a bit more of an extravert and spontaneous, while Aidan is a little more introverted and calculating.
But they're both extremely intelligent. They're both respectful. They're both very mature for their age.
And they're both very competitive, against opponents and with each other.
"I would say I'm very competitive," said Aidan Mahaffey, who beat his brother during a Mid-Penn singles' match this season. "When I was younger, I was much more competitive, and competitive in everything. I'm much more relaxed nowadays. We just both want to be better. We've played against each other, and we always want to prove we're better. I'm pretty competitive with Tyler in tennis, but not as much in other things."
"As tennis players, we're very different players," said Tyler Mahaffey. "I'm more of an aggressive player. I'm looking for an opportunity. Aidan is very consistent and very patient. But he'll kill you if you make a mistake. Personality-wise, we're up and down, but I'm more outgoing and he's more reserved. You would think because we're identical twins that we're exactly alike, but we're not."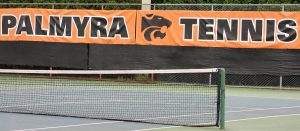 Society's genuine fascination with identical twins revolves around the idea that most of us will never experience the feelings that one can only get can get from living a life with someone we are so closely connected to. But for Aidan and Tyler Mahaffey, they define themselves by each other as much as tennis defines their lives.
"It's definitely something that everyone wonders about," said Tyler Mahaffey. "In everyday life, it can be a big advantage, and it can be a negative at times. I think sometimes people are surprised that we have different personalities."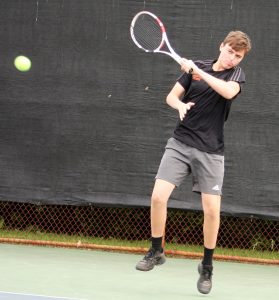 "I think the message is: 'Find what you like doing and do it with people you like,'" said Aidan Mahaffey. "It's not about tennis for us as much as finding an activity to focus your energies. If it wasn't tennis, it would be something else. For both of us, tennis is secondary to academics and learning."
Tyler and Aidan Mahaffey have spent all of their natural lives together. While they're still very young, there will come a point sometime in the future – before or after college – when they strike out on their own and go their separate ways.
"That's definitely something that's on my mind," said Tyler Mahaffey. "We've both been communicating with colleges. We're going to make some visits. I think to a college coach, having a doubles' team coming in that works well together could be an advantage. And that could get us into a better place."
"It's definitely a unique experience," said Aidan Mahaffey. "To this point, I think Tyler and I have gone ways that are pretty similar. In some people's eyes, there are two of you. They think we're tied together. College is definitely up in the air, but I think it's more likely than not that we end up at the same place. We both want to be attorneys, but after college I think we'll go our different ways. I don't think we foresee our lives after college in the same way."
If anyone knows what Tyler is thinking, it's Aidan.
To purchase images in this article please email jeff@lebcosports.com.

Lebanon Federal Credit Union