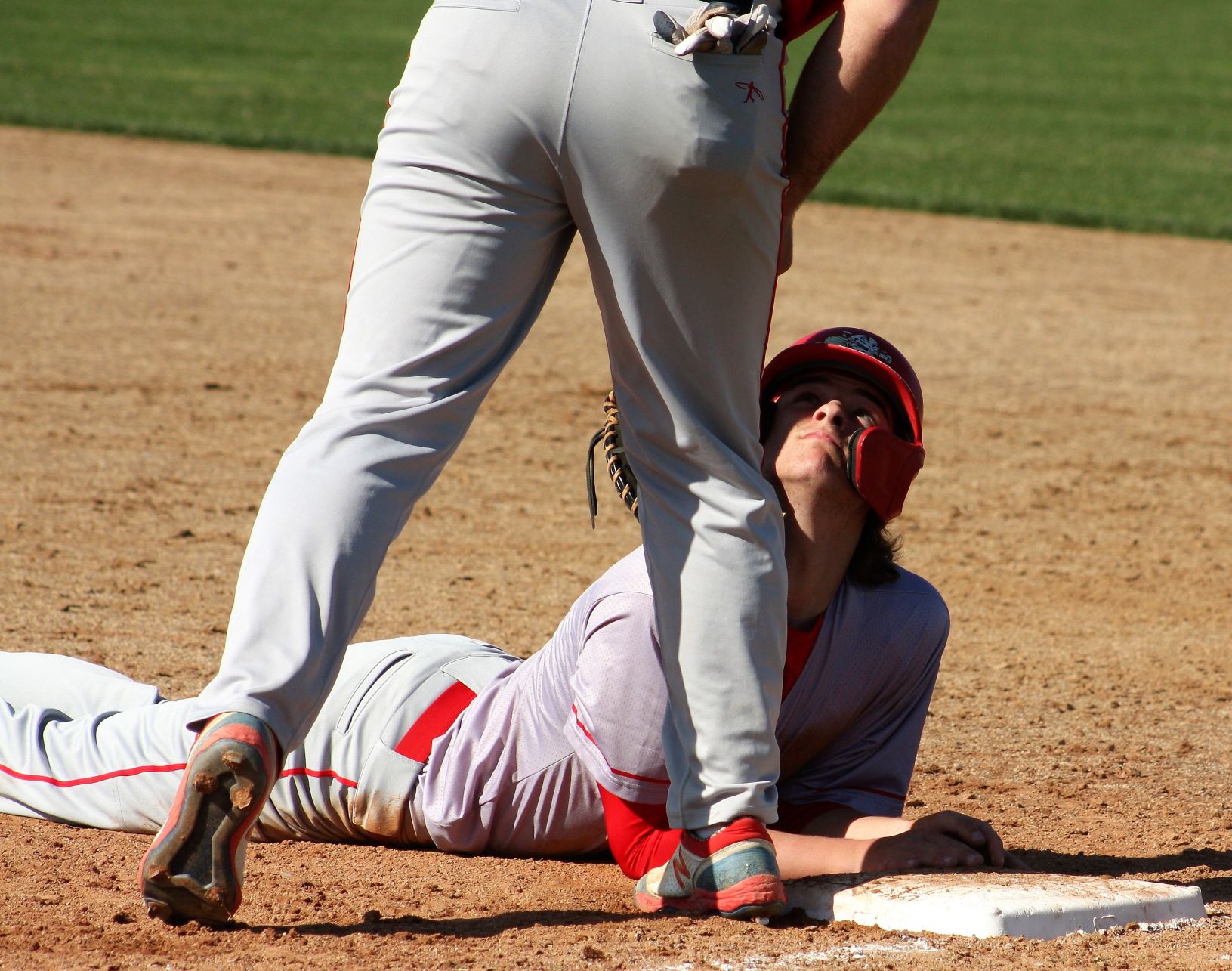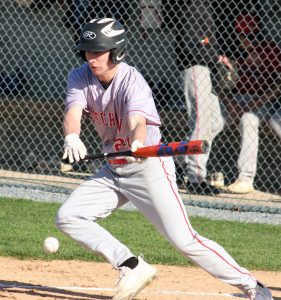 BY JEFF FALK
Editor
ANNVILLE – Missed chances are different than mistakes. But they're just as costly.
The thing with missed chances is that you only get so many, and they almost always come back to haunt you.
On a sun-drenched Wednesday evening at Annville-Cleona High School, missed opportunities proved to be the downfall of the Little Dutchmen, during a 3-2 baseball loss to Octorara. Annville-Cleona scored both of its runs with no outs and stranded a total of nine runners on base, while Octorara notched two of its three runs with two outs and left seven runners on base.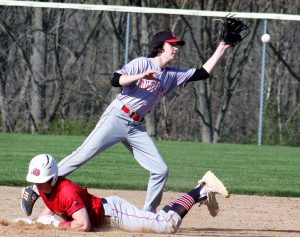 The game ended with Annville-Cleona's potential tying run at third base. Julian Biodollo and Cash Anspach had opened the home half of the seventh inning with a walk and a single.
The Lancaster-Lebanon Section Three-Four crossover result was critical for an Annville-Cleona club seeking to contend for a section championship and hoping to qualify for next month's postseason. It was also the Little Dutchmen's third one-run defeat of the season and dropped them to 4-6 overall.
In the latest District Three power rankings, Annville-Cleona was positioned eighth in an AAA classification which takes eight teams for its playoffs.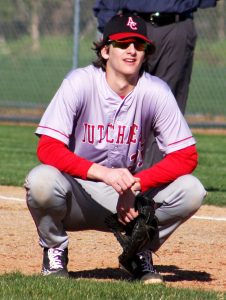 The victory pushed Octorara to 5-7 on the year.
"Our season has been going like this," said Annville-Cleona head coach Mike Miller. "Some bright spots. But we can't dwell on the outcome. It's tough when you lose close games. We've been losing a lot of close games.
"We're running out of games," added Miller. "We've got to get wins."
With the score even at two apiece, Octorara scratched out the eventual winning run in the top of the fifth inning. Weston Stoltzfus singled and stole a pair of bases ahead of Kaden King's run-producing single.
"We aren't putting all three facets of the game together," said Miller. "Today, we had great pitching, we fielded well, but we didn't didn't hit. Jake (Mills) pitched a good game. We are who we are. We need to get better.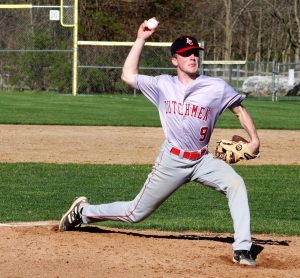 "I think we need a better two-strike approach at the plate," continued Miller. "We have to put the ball in play. We can't just cut away. We have to shorten our swings."
After spotting the Braves an early 2-0 edge, Annville-Cleona fought back in the middle innings to even the contest.
In the bottom of the third, Anspach's RBI shaved the Little Dutchmen's deficit in half. Then in the bottom of the fourth, Biodollo drove in the run that made it two-all.
But on both occasions, Annville-Cleona had loaded the bases with nobody out, before settling for one run.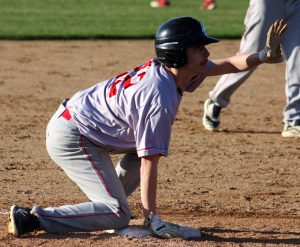 "We had a lot of missed opportunities," said Miller. "Twice we had the bases loaded and only scored one run. They (the Braves) took advantage of their opportunities. It was good hitting on their part, hitting with two strikes. But that's baseball.
"We have to come through," Miller continued. "With runners on base, we've got to put the ball in play. We can't strike out."
Octorara tallied both of their runs with two outs in the top of the first inning. But beyond the first, Mills really settled in and then did not surrender another hit until the fifth.
With 103 pitches, Mills hurled six complete innings, gave up six hits, struck out three and walked three.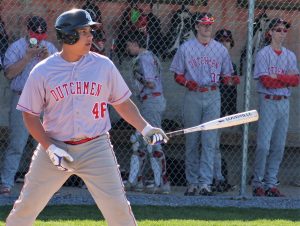 "He pitched well enough to win," said Miller of Mills. "Sometimes he throws too good of a pitch when he's ahead in the count. But that was probably one of the better games he's pitched."
To qualify for the postseason, the Little Dutchmen will probably need to go something like 5-4 or 6-3 over the remainder of their schedule.
"I don't know, but that's our goal, to get to the playoffs," said Miller. "We're going to have to get on a winning streak. Obviously, the potential is there. We've shown we can do it.
"We're going to have to continue to pitch well," added Miller. "We don't need more hits. We need more timely hits."
To purchase images in this article please email jeff@lebcosports.com.
2022 Annville-Cleona Baseball Schedule
| | | | | | |
| --- | --- | --- | --- | --- | --- |
| 2022-03-25 | H | vs | Lebanon(3) | L | 8-7 |
| 2022-03-30 | H | vs | Antietam(3) | W | 13-0 |
| 2022-04-01 | H | vs | Lancaster Mennonite(3) | W | 10-0 |
| 2022-04-02 | A | vs | Hamburg(3) | L | 3-0 |
| 2022-04-04 | A | vs | Pequea Valley(3) | L | 2-1 |
| 2022-04-08 | H | vs | Lancaster Catholic(3) | W | 5-1 |
| 2022-04-11 | A | vs | Donegal(3) | L | 8-5 |
| 2022-04-12 | A | vs | Columbia(3) | W | 10-0 |
| 2022-04-13 | H | vs | Cocalico(3) | | 0-0 |
| 2022-04-14 | P | vs | Oley Valley(3) | | 0-0 |
| 2022-04-20 | H | vs | Octorara(3) | L | 3-2 |
| 2022-04-21 | A | vs | Garden Spot(3) | | 0-0 |
| 2022-04-22 | A | vs | Northern Lebanon(3) | | 0-0 |
| 2022-04-27 | A | vs | Lancaster Mennonite(3) | | 0-0 |
| 2022-04-28 | H | vs | Pequea Valley(3) | | 0-0 |
| 2022-04-30 | H | vs | Middletown(3) | | 0-0 |
| 2022-05-02 | H | vs | Columbia(3) | | 0-0 |
| 2022-05-04 | A | vs | Lancaster Catholic(3) | | 0-0 |
| 2022-05-09 | A | vs | Fleetwood(3) | | 0-0 |
| 2022-05-10 | A | vs | Tulpehocken(3) | | 0-0 |

Lebanon Federal Credit Union