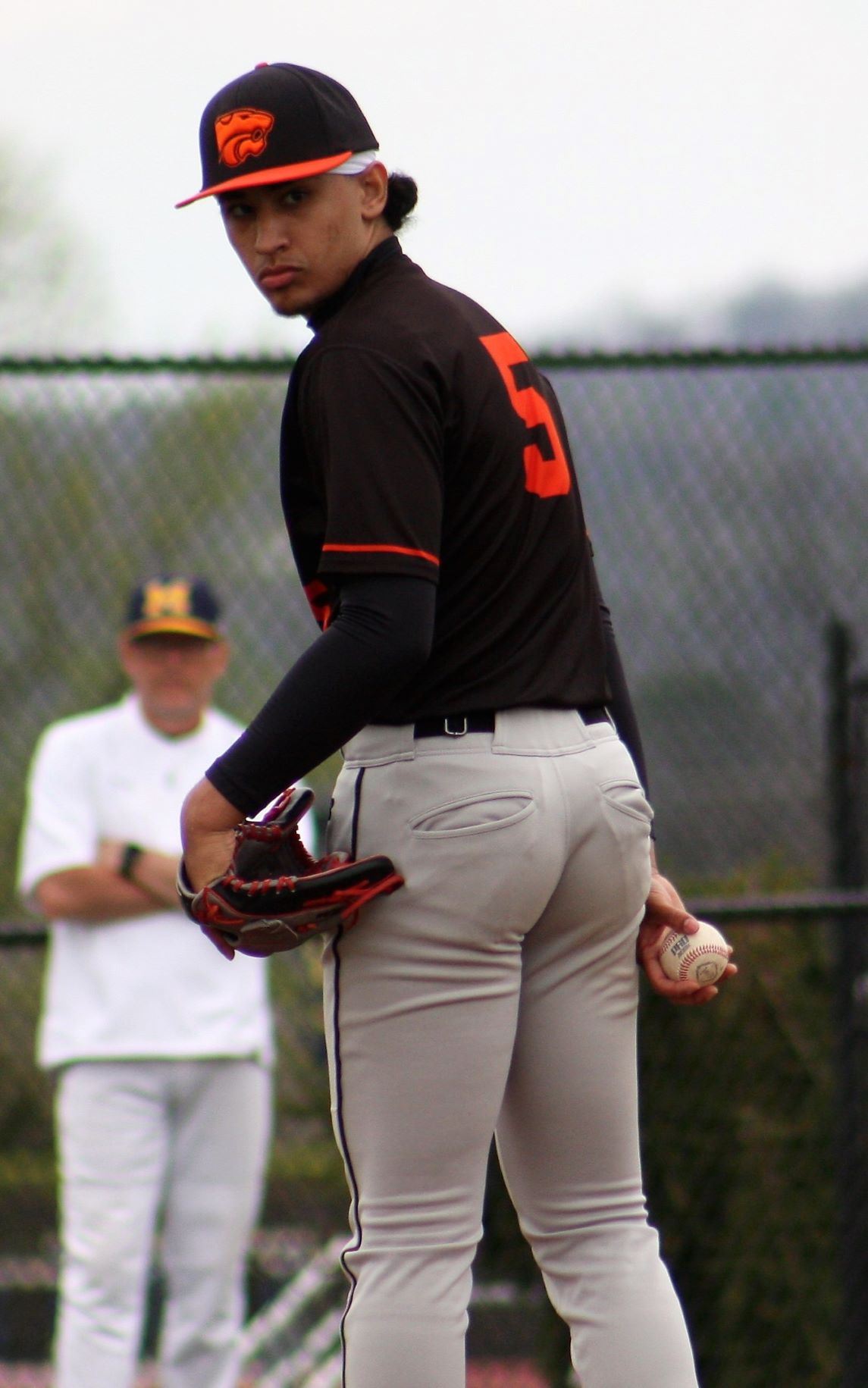 BY JEFF FALK
Editor
READING – They're settling in.
They're rounding into shape.
They're finding their way.
It's that time of the season. And the Palmyra baseball team is beginning to identify who it truly is.
On a partly sunny Saturday afternoon at Muhlenberg High School, the Cougars exhibited plenty of positives while continuing their improvement, despite a tough 8-7 non-league setback to a talented, home-standing Muhls club. The back-and-forth affair concluded with Palmyra's potential tying and go-ahead runs at second and third bases.
The Cougars had entered the top of the seventh inning trailing 8-4, but tallied three runs, after Bryar Echernach, Kaden Reddinger and Peter Stoner all reached to load the bases with nobody out. Cougars Chase Blanchard and Tim Hall came through with RBIs, before Palmyra fell a key hit short.
The outcome snapped Palmyra's three-game win streak and dropped it to 5-5 on the spring. In the latest District Three power rankings, the Cougars were positioned 21st in an AAAAA classification that takes 16 teams for its postseason tournament.
With the win, Muhlenberg, the top rated Class AAAAA team in District Three, improved to 7-0.
"We're a young team," said Palmyra head coach Neil Weber. "We start two freshmen and two sophomores, and a lot of the seniors are new to varsity. We're figuring things out. We're improving and we're starting to put together full games. With these guys, I just want them to keep working hard, learn the game and take it one game at a time.
"When you take a long road trip like this, there's a sense that you could be intimidated," continued Weber. "They're (the Muhls) great players. They're big. They're physical. But we hung in there. We stayed with it emotionally. We were down and came back."
Ultimately, Palmyra was done in by one bad inning, the home half of the fifth. The Cougars had just taken the lead in the top half of the frame, but surrendered six runs, as Muhlenberg opened an 8-4 advantage.
In the fifth, the Muhls sent 11 batters to the dish, three of whom received free passes and two of whom were hit by pitches.
"We just didn't throw strikes," said Weber. "When you throw strikes, good things happen. They (the Muhls) had a couple of big hits. It was just one of those innings where we lost control a little bit.
"Overall, I thought we played really well," Weber added. "We battled. We had a tough fifth inning. We fell behind, but these boys really rallied and put pressure on them (the Muhls)."
After falling into an early 2-0 hole, Palmyra really came to life in the middle innings.
The Cougars got one of those runs back in the top of the second, courtesy of Nelson Gonzalez's RBI-single. Then, in the third, Palmyra tied it on Chase Blanchard's run-scoring safety with two outs.
"Early on, our strikeouts were up," said Weber. "We've cut them down. We're putting balls in play. We want to be aggressive at the plate and put pressure on the defense."
Palmyra notched a pair of runs in the top of the fifth inning to establish a 4-2 lead.
With two outs and nobody on, Jacob Deimling singled, then came around to score on another hit from Blanchard. Blanchard scored on a Muhl throwing error.
"We want to play the best competition we can," said Weber. "Muhlenberg is undefeated and the top seed in District Three. Playing a team like Muhlenberg is only going to make us better. This was a great opportunity for the boys.
"We have a big week coming up, so hopefully we can take the positives from this game and apply it," added Weber.
The Muhls touched Cougar starter Gonzalez for a pair of runs in the bottom of the first. But after that, Gonzalez really found his groove.
Before exiting, Gonzalez struck out five and walked two.
"I thought Nelson Gonzalez threw fantastic," said Weber. "He kept them off balance. He pitched great. He kept us in the game."
To purchase images in this article please email jeff@lebcosports.com.
2022 Palmyra Baseball Schedule
| | | | | | |
| --- | --- | --- | --- | --- | --- |
| 2022-03-25 | A | vs | Elizabethtown(3) | L | 0-2 |
| 2022-03-28 | P | vs | Mechanicsburg(3) | | 0-0 |
| 2022-03-29 | H | vs | Mechanicsburg(3) | L | 4-16 |
| 2022-03-30 | H | vs | Bishop McDevitt (3)(3) | W | 13-0 |
| 2022-04-01 | A | vs | West York(3) | L | 2-4 |
| 2022-04-04 | A | vs | Central Dauphin East(3) | W | 5-1 |
| 2022-04-06 | A | vs | Carlisle(3) | L | 0-3 |
| 2022-04-08 | H | vs | Cedar Cliff(3) | W | 4-3 |
| 2022-04-11 | A | vs | Susquehanna Township(3) | W | 4-1 |
| 2022-04-13 | H | vs | Hershey(3) | W | 4-1 |
| 2022-04-16 | A | vs | Muhlenberg(3) | | 0-0 |
| 2022-04-18 | A | vs | Lower Dauphin(3) | | 0-0 |
| 2022-04-20 | A | vs | Mechanicsburg(3) | | 0-0 |
| 2022-04-25 | A | vs | Bishop McDevitt (3)(3) | | 0-0 |
| 2022-04-27 | H | vs | Central Dauphin East(3) | | 0-0 |
| 2022-05-02 | H | vs | Carlisle(3) | | 0-0 |
| 2022-05-04 | H | vs | Susquehanna Township(3) | | 0-0 |
| 2022-05-07 | H | vs | Lebanon(3) | | 0-0 |
| 2022-05-09 | A | vs | Hershey(3) | | 0-0 |
| 2022-05-11 | H | vs | Lower Dauphin(3) | | 0-0 |
| 2022-05-13 | A | vs | Cedar Crest(3) | | 0-0 |

Lebanon Federal Credit Union