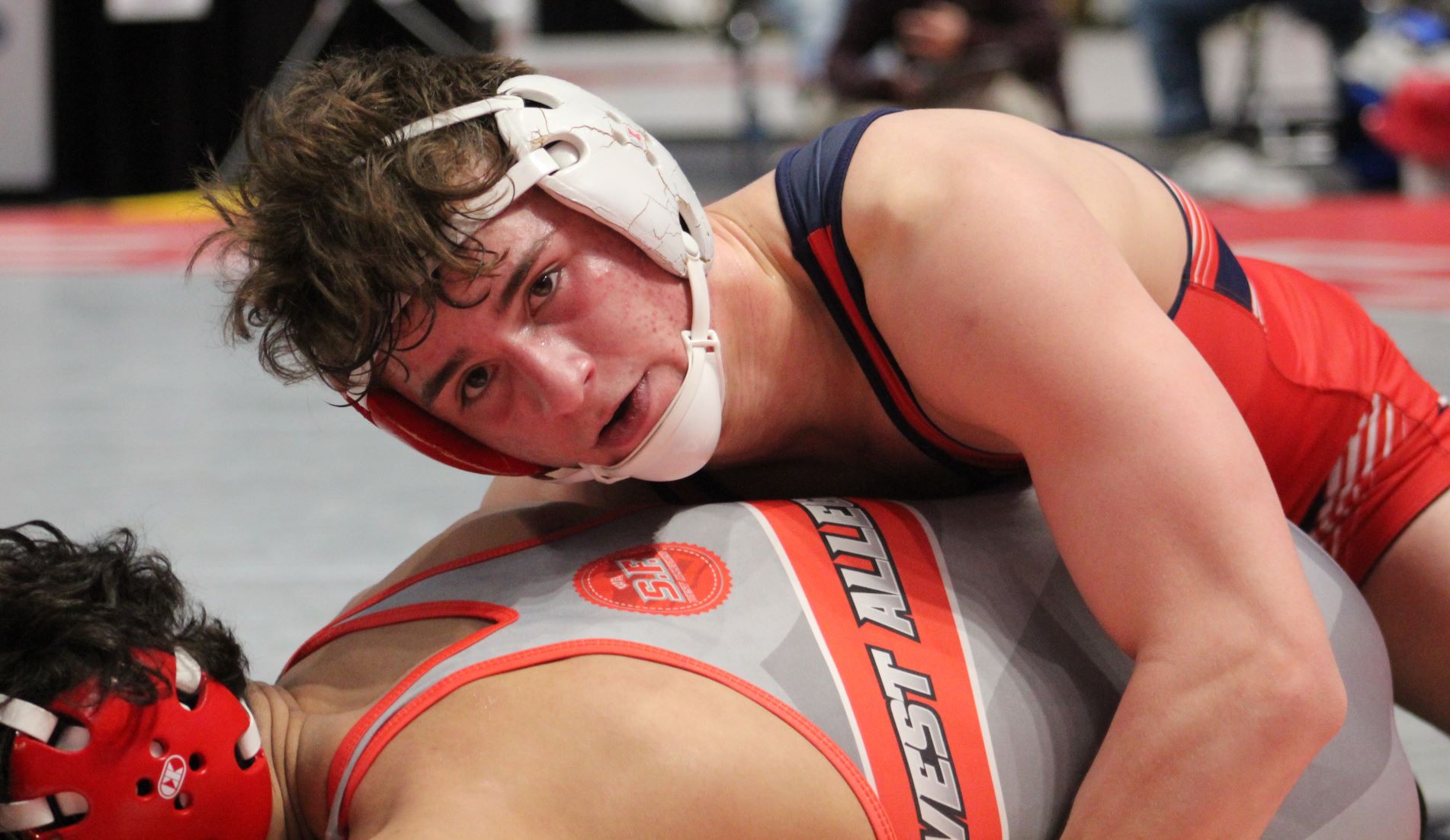 BY JEFF FALK
Editor
HERSHEY – The state wrestling tournament is one of those rare events where reality tops imagination.
Griffin Gonzalez has been looking forward to and working towards the event for the better part of a decade. Now that he's finally arrived, it's even better than he could've anticipated – and to waste that kind of opportunity would be a shame.
On Thursday evening at Hershey's Giant Center, Gonzalez took the PIAA Class AAA Wrestling Championships by storm, capturing two impressive victories during his initial visit. The Lebanon junior upset Dagen Condomitti of Northampton 11-2 in the opening round of the 152-pound weight class, after nudging West Alleghney's Nico Taddy 2-0 in overtime of his preliminary bout.
Those two triumphs propelled Gonzalez, the fourth-place finisher from the Southcentral Region, to 37-4 overall and into Friday afternoon's 152-pound quarterfinal opposite Cathedral Prep senior Kaemen Smith. Gonzalez's PIAA appearance marks the first time a Cedar wrestler has made it to states in more than 40 years, and his two wins tied the school record for career victories.
"Getting here has been my goal since I was little," said Gonzalez. "Last year, I was disappointed I didn't make it. I've been in a lot of big arenas over my career. This is states, but it's not that much different. The goal is to win states, 100 percent. I want to be on the top of the podium.
"No, I'm not surprised," continued Gonzalez. "After my first match, I was very confident."
"I think it's really impressive," said Lebanon head coach Vaughn Black. "He's wrestled at some really big tournaments, but nothing like states. Last year at the super regionals (at Altoona), he thought he could've done better. He's kind of taking the approach, 'That's not going to happen again. I'm going to have a chip on my shoulder.'
"I think getting here was his number-one goal," Black added. "But I also think he wants to be a state champion. Now it's kind of like, 'I want to see how far I can go'. He's soaking it in. He's relaxed. Nothing's really phasing him."
Against Condomitti, the 30-1 champion of the Northeast Region, Gonzalez scored five unanswered points in the middle period to expand a one-point edge to 8-2.
He scored an escape five seconds into the second period, then completed a key four-point move with 17 seconds left in the stanza. Gonzalez notched three more back points in the third period to complete the route.
"I got into his legs right away, but he got me in a cradle," said Gonzalez of Condomitti. "But I kept coming at him. I know that I turned him and then I turned him again."
"We felt like that was a statement match, and he put it all together," said Black of Gonzalez. "We know what he's capable of. He put it together against a quality guy.
"In those two matches, that's probably the best he's wrestled since last year," added Black. "He threw it all out there. I thought in the first match (against Taddy) he was pretty timid. The last match was more of what we expected."
Gonzalez actually gave up the first takedown to Condomitti 15 seconds in, before registering the last 11 points of the bout. Gonzalez used a takedown with 30 seconds left in the first period to take a 3-2 lead he would never relinquish.
"It feels good," said Gonzalez. "I was in control the whole match. I wrestled hard. But there's still work to be done."
"The kid's (Condomitti) tough," said Black. "Both kids were tough. We felt like if we could come in and get off on the right foot, he could compete with anyone in his weight class. He's willing to go up against the best competition he can find."
In the pigtail round, Gonzalez took Taddy down 23 seconds into overtime to advance. Gonzalez had battled the West Allegheny junior on even and fairly conservative terms for the initial six minutes.
"I'm trying to get better," said Gonzalez. "I'm trying to get better every day. I have a lot of confidence right now. I've just got to keep winning, keep scoring points and keep working hard."
"The goal coming in was to hit the podium," said Black. "Last year, he wasn't happy with his performance. He came here to do his best and leave it all out there. No regrets. There should be nothing left in the tank when he's finished. We think he can get to the finals."
To purchase images in this article please email jeff@lebcosports.com.

Lebanon Federal Credit Union