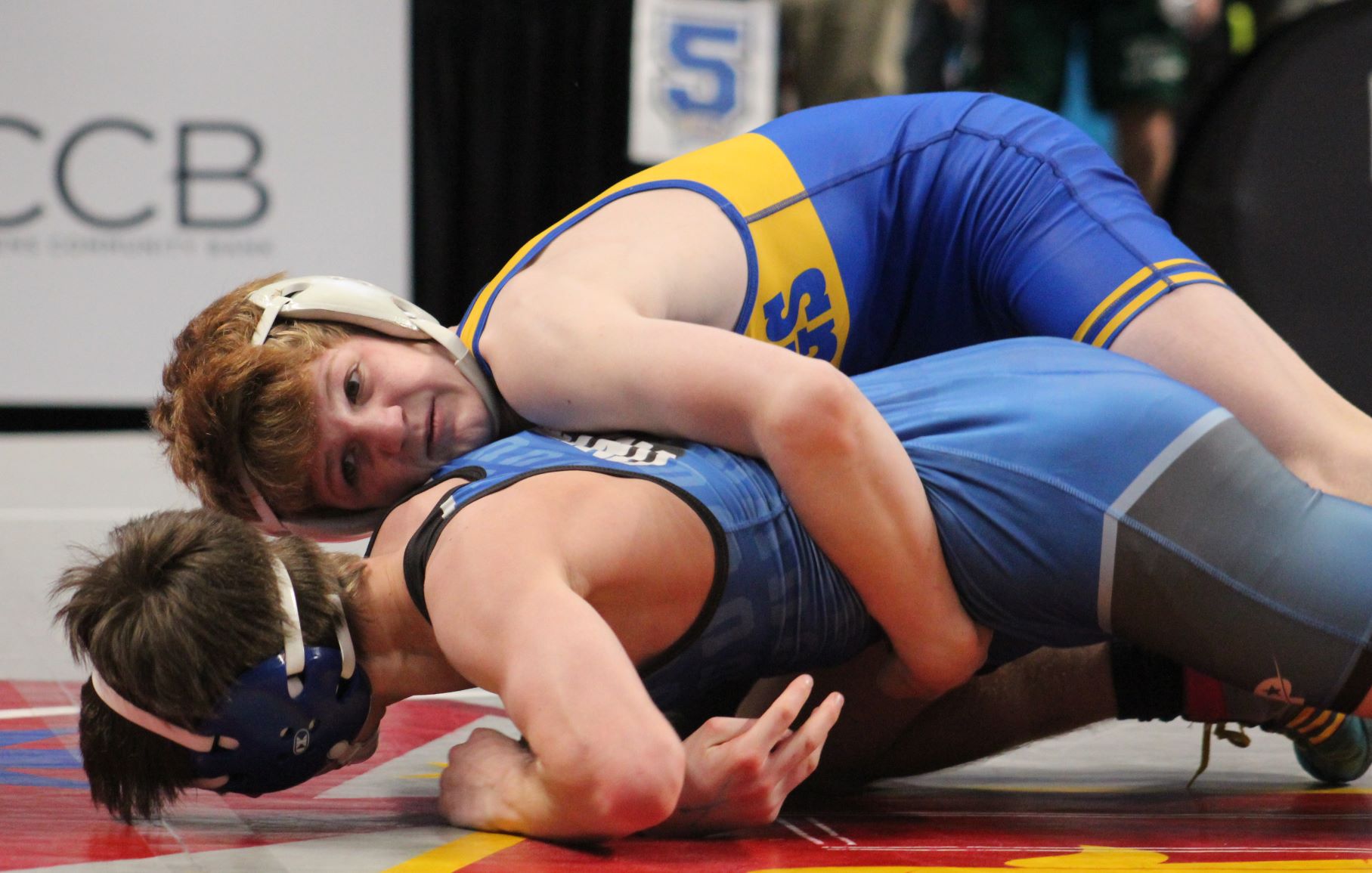 BY JEFF FALK
Editor
HERSHEY – Physically, it's his unrelenting work ethic.
Emotionally, it's his far-reaching support system.
Mentally, it's his years of experience competing in high-pressure tournaments.
It really should be no surprise that Aaron Seidel is enjoying success in his first appearance at the state wrestling tournament. The Northern Lebanon freshman has always enjoyed success on every level on which he has competed.
On Thursday morning at Hershey's Giant Center, Seidel emerged victorious from his first ever match at the PIAA Class AA Wrestling Championships, in both a dominating and business-like fashion. Seidel registered a 15-0, 4:34 technical fall of Jacob Sombronski of United in his opening-round bout at 106.
Wrestling extremely focused on top, Seidel recorded an amazing 11 back points in his victory.
With the triumph, Seidel moved to 46-1 and into Friday morning's quarterfinal round of the 106-pound bracket. There, he will be opposed by Saegertown freshman Carter Beck.
For some, the PIAA Championships – the Super Bowl of high school wrestling in the country – can be a white-knuckle, overwhelming challenge. But the experienced-beyond-his-years Seidel was able to channel his nervous energy into aggression on the mat.
"I was nervous the whole time," said Seidel. "I'm nervous for everything. But right when the match started, it went away and I felt pretty comfortable. I felt like I was supposed to be here. A lot of times I'll jump up and down before the match, and I think it takes a lot of the nerves away. But I know that God is with me the whole time.
"It's pretty cool. But I'm used to wrestling at big events," continued Seidel. "But even though I've gotten used to it, there's still nerves."
"The kid wrestles 365 days a year, since he was five," said Northern Lebanon head coach Rusty Wallace of Seidel. "Wrestling is what he does. I know he was nervous, but he's wrestled on big stages. At the end of the day, I just think it's important to be thankful for the opportunity to wrestle on this stage. Sometimes, we take those things for granted. You've just got to have faith in your training and go do what you do every day."
Seidel wasted little time setting the tone in his opener, taking Sombronski down ten seconds into their bout. Fifty seconds later, Seidel turned him and scored a two-point takedown.
Before the end of the first period, he recorded three more back points to carry a 7-0 lead into the middle stanza.
"I thought I did really good," said Seidel. "He (Sombronski) was really strong. I was happy with how I wrestled on top, and my neutral was pretty good too. Getting the first match out of the way is important. You always want to go out there and get it over as fast as you can.
"The whole game plan is to win states," added Seidel. "The first one is done. Now it's on to the second goal. This is leading up to it. It's important just getting on and off the mat, and scoring. It's just about winning and advancing."
"I thought he wrestled really well," said Wallace. "That kid's (Sombronski) goal was to keep it close. Aaron's his own biggest critic. He just won 15-0 at states and he's a little upset. At states, your job is to win and advance.
"That's (on top) a good position for him," Wallace continued. "He's very tough on top. He spends a lot of time perfecting his craft on top."
Seidel's attack was unrelenting.
After starting the second period on top, he registered six more back points to extend his advantage to 13-0. Then, 34 seconds into the third period, Seidel recorded a reversal to complete the technical fall.
"This week, I didn't do any lifting," said Seidel of his preparations leading up to the state tournament. "At practice, I worked on technique. We also really focused on stretching, resting and a lot of eating good foods.
"If I'm going to win it, I just need to wrestle like I did today," Seidel continued. "I've got to work on technique. I've got to wrestle tough and be tough. Just get through to the next round."
"If you do a good job, you don't care about the big picture," said Wallace. "We look at one match. This was our only goal, to wrestle the kid from United for six minutes. If you look at the venue or the tournament, it can be daunting. Then when we win, we're done for the day and we can back it down. We don't ever want kids to be thinking about more than one match."
To purchase images in this article please email jeff@lebcosports.com

Lebanon Federal Credit Union