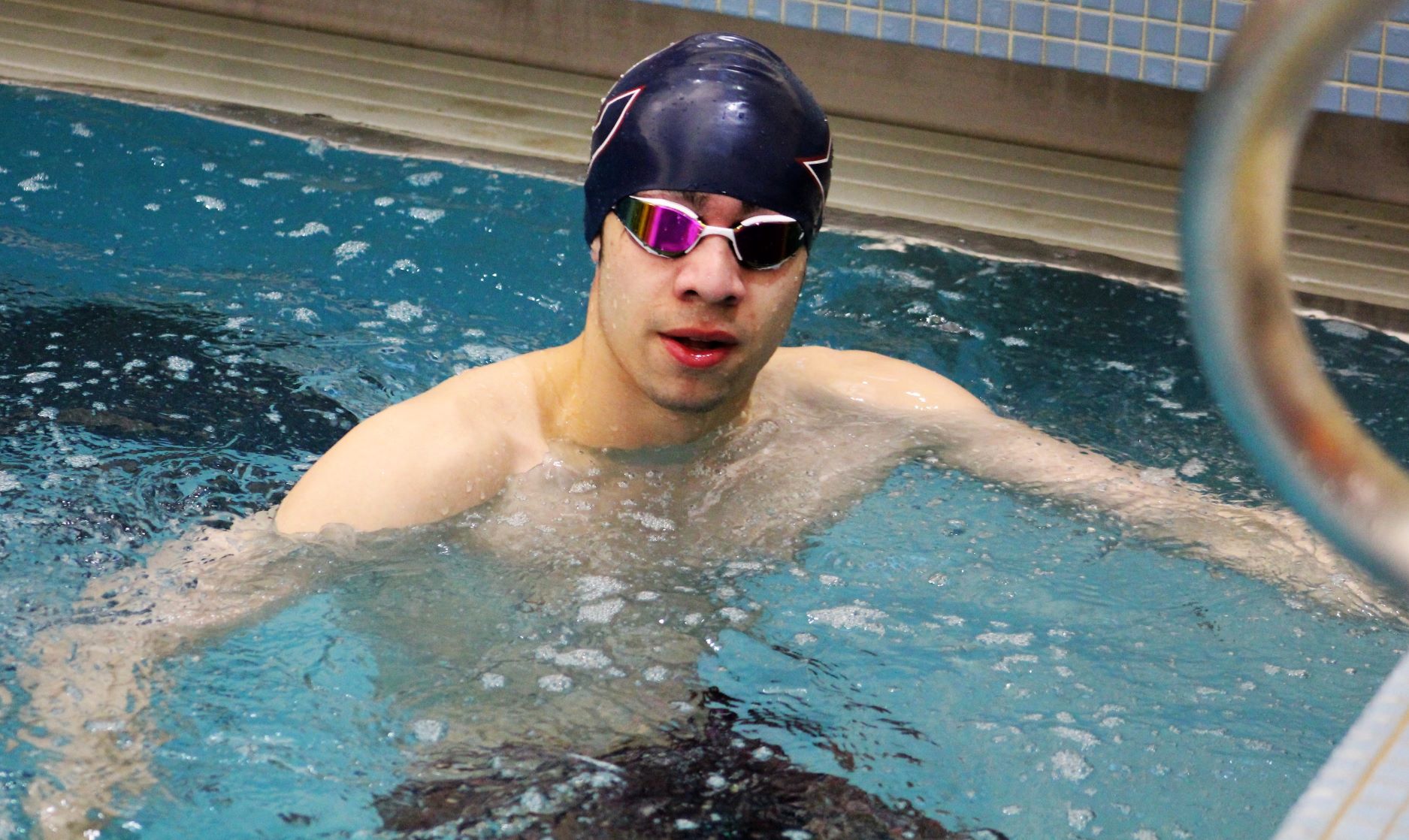 BY JEFF FALK
Editor
LEWISBURG – Trees are really no different than any other living being. In order to grow and flourish, they need strong roots, lots of support, nutrients – and water.
But the way it turns out, these Cedars can swim.
On Thursday evening at Bucknell University's Kinney Natatorium, two Lebanon High students, junior Carlos Hidalgo and sophomore Will Parker competed at the PIAA Class AAA Swimming Championships, and quite successfully at that. Both Hidalgo and Parker competed as independents because Lebanon is one the four public schools in Lebanon County that does not field a complete swimming squad.
But what made Hidalgo's and Parker's appearances even more noteworthy and just a bit historic is the fact that they are believed to be the first Cedars to ever compete at the state swimming championships, or at the least the first in quite some time.  Not only are Hidalgo and Parker trend setters, they're also trail blazers.
"Not having a swim team is not the best situation," said Hidalgo. "But I like how supportive the school has been. When I make it to the top of things, I'm like a kid from nowhere."
"From what I know, I don't think there's ever been a state swimmer from Lebanon," said Lebanon coach Tony Hain-Shipkowski. "At least I don't know of any. From my perspective as a coach, Carlos has set the stage for young men and women to realize that they can be successful, that they can do big things."
Qualifying for the PIAA Swimming Championships is difficult enough, but earning a medal in your first ever trip to states is a whole different level of success. Hidalgo took home two.
On Thursday, Hidalgo swam a 45.80 to cop seventh-place hardware in the 100 freestyle. A day earlier, the Lebanon 11th-grader garnered an eight-place trophy in the 50 freestyle.
Patton was 11th in the Class AAA 100 breaststroke, an event in which Palmyra senior Connor Durand was ninth.
"I was hoping to be better time-wise in the 50, and get a better place in the 100," said Hidalgo. "But I can't complain too much because I've still got next year. I can't say I was really nervous. I like the college atmosphere.
"You've got to think about it before you do it," added Hidalgo. "You've got to have a plan going into it."
"I think it was just a great accomplishment to make states," said Hain-Shipkowski. "If he got a medal it was like icing on top of the cake. But I didn't want him looking back 20 years from now and thinking, 'Hey, I could've done better.'"
Hidalgo picked up swimming when he was eight, and is currently backed by successful training stints at the Lebanon and York YMCAs. His next goal is to start a tradition of Lebanon swimmers qualifying for states.
"When I started out, I didn't want to swim," said Hidalgo. "I was told I had potential so I kept swimming. As I've grown, I've liked it more – the racing, not the hard practices.
"My younger brother's (Jomar, 13) pretty good," continued Hidalgo. "He might be better than I was at his age. He's always following what I'm doing. He's watching my races."
"He's been at the top or near the top ever since he started swimming," said Hain-Shipkowski of Hidalgo. "Wherever he's gone, he's done very well. He did very well here. He's found his passion. He's found his sport."
To purchase images in this article please email jeff@lebcosports.com.