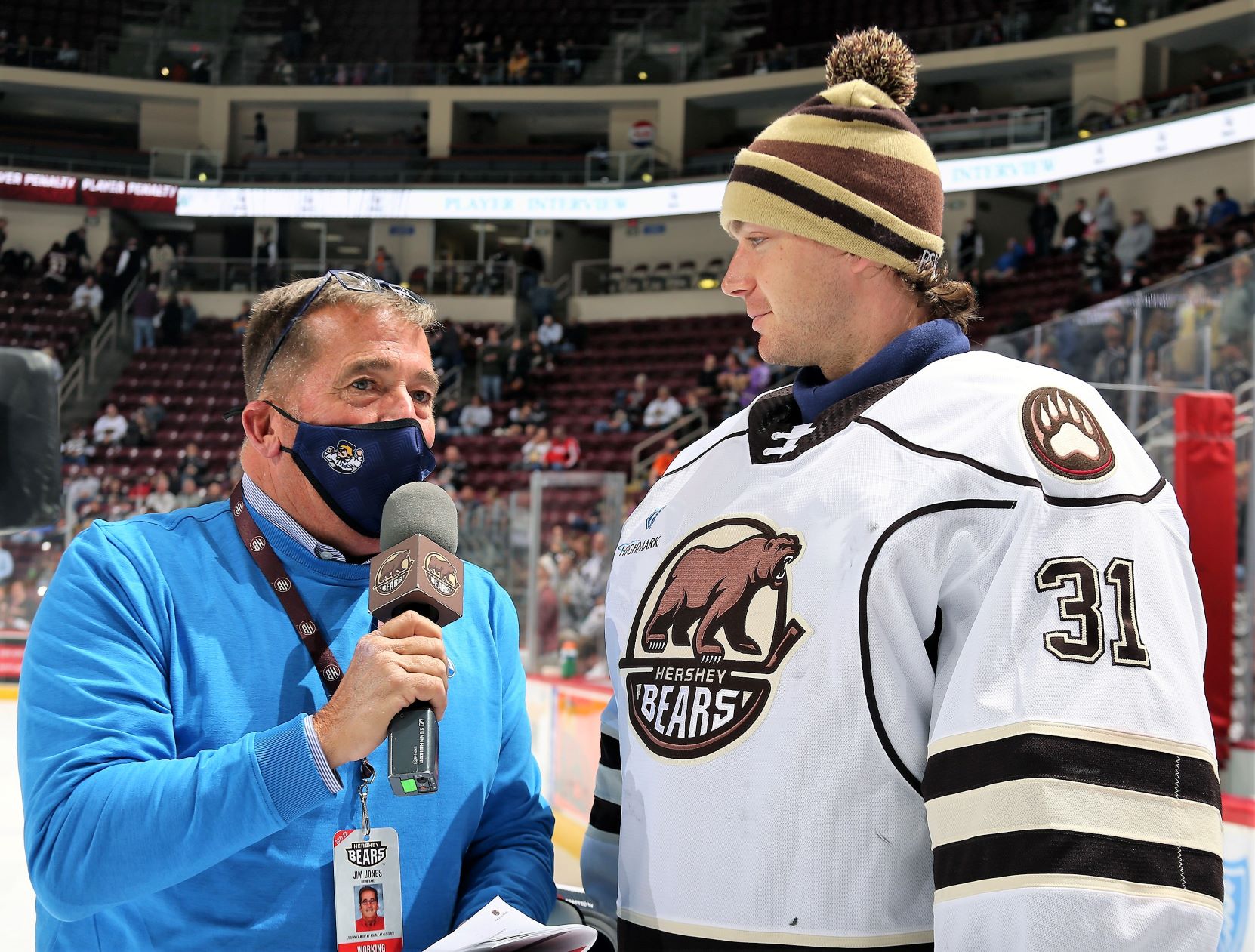 BY DON SCOTT
For LebCoSports
Photos Courtesy of Hershey Bears
Ever wonder how a guy who owns Fairview Golf Course in Quentin ended up being part of over 1,000 Hershey Bears games?
Jim Jones grew up in Orwigsburg and the first hockey game he attended was Game One of the first Stanley Cup final in Philadelphia. That's what lit the fire, and many trips to Hershey to see the Bears followed. After moving here in 1980, Jones became a regular patron of the Chocolate and White.
In the mid-1990s he and close friend Ed Coffey, a morning disc jockey for a Harrisburg radio station, were teamed up to handle the between-period entertainment for Hershey Bear hockey games at Hersheypark Arena.
 It all began when Coffey agreed to do it if he had someone else on the ice with him. He could skate because he had played hockey, but he was hesitant about talking in this environment and asked Jones, who could not skate and had no broadcast experience, to help him.
Coffey always said that they let a genie out of the bottle that first night, and they can't put him back.
"This is my 27th year doing this, but Ed hung it up when we moved to the Giant Center due to family obligations," said Jones. "I really didn't know what was going to happen until about a week before the season started. I talked to Vikki Hultquist and some others as to what and how to do things. The initial steps were almost chaotic and petrifying, because I had to work with cameras and trying to hit marks on time, so it was a little rugged at first.
"I think I was well-liked in the old arena and we always had fun," Jones continued. "In the new Giant Center, the fans didn't understand the TV timeouts at 14, ten and six on the clock at first. You were doing the PA and would say 'Let's go to Jim Jones' and I was booed and made fun of by fans in the stands, because they thought I was the guy stopping play."
When the NHL instituted TV timeouts the league wanted their AHL affiliates to follow the same procedure, so the players knew what to expect when they were called up to the parent club.
"That first fall, because it was just me, was tough because I went from being part of the fun things in the Hersheypark Arena to a different approach and we over-loaded things," said Jones. "I had to do the TV stops, then run down to the ice and people liked that, but they just didn't understand the TV timeouts at first."
Jones recalled the first year in Giant Center going to the Bears Booster Club banquet at the end of the season, where he couldn't get anyone to pass him the mash potatoes or talk to him. That was 20 years ago and they were all good people, but just didn't understand the timeouts at first.
In the past, there was an eight-piece orchestra that played before the start of the game and between periods. The orchestra was replaced by organist Mitch Grand, who was the pianist in the orchestra, before the the move to Giant Center brought about a completely different musical agenda.
The fan base now is a younger crowd, which is necessary if the Bears are going to maintain their usual attendance figures. A sell-out in the 'The Old Barn' was
7,200, while Giant Center's capacity is 10,500 fans.
Jones offered a couple of behind-the-scene stories about Frank Mathers and Doug Yingst that got him over some tough times.
"My classic story is about the night the fans were on me a lot, and I got on the elevator and Frank and his wife Pat were there," said Jones. "Frank asked me why I looked so down-hearted and I told him I was getting killed out there and didn't know how much more of that I could take. He looked at me, put his arm around me and said quietly, 'I don't like what you do, but I like the way you do it. They didn't like me either when I came here. Just keep doing what you're doing and you'll be fine.'"
​Another interesting Mathers-related story had to do with getting ads on the boards.
"(Former General Manager) Doug Yingst told me how he had to work to convince Frank to sell the ads on the boards, like other arenas had been doing," said Jones. "It started with about six or eight ads, and eventually covered every possible spot in the building."
A few years ago, Hershey added Bob Hauer to bring a younger person in to go through the stands on the promotional things that are done to add some excitement for the fans.
Jones switched to doing player interviews and special game night interviews, talks to fans on the concourse before a game and is now helping Zack Fisch on the radio, between the benches in the third period. Over the years, he has worked with the last five radio guys at some time during their stay in Hershey.
"I like this new role as I age, and as long as I can get up and down the steps, I'll keep doing it," Jones said. "I absolutely love our fan base. Being around so long has given me the opportunity to get to know so many families."
"There are so many players who have passed through Hershey that I still call friends today," Jones continued. "AHL and Hershey hall-of -famer Mitch Lamoureux is my daughter Alex's Godfather, so I think I need to look over my shoulder, because they are now using her as 'kid reporter.' You and I, and the rest of the off-ice guys, don't do it for the money, we do it because we feel good about it and love the people we work with, because they are like family."
Recently, Jones conducted his 99th jersey auction since 1998, which reminded him of he first one.
"When Ed and I started, neither one of us had any idea how to do it, but we figured it out as time went on," said Jones. "The most amazing and exciting thing is how generous the fans are and how many charities we have helped.
"Doug Yingst saw something in me and welcomed me into the great big Bears family," added Jones. "Getting to know Doug, Mr. McKinney, Mr. Hatt, Mr. Hancock, Mr. Mathers, and of course Dan "Beaker" Stuck, has probably been the biggest highlight for me, because they are true Hershey icons, in every sense of the word."